home & living
Art Allure: Exclusive Interview with Artist, Deise Dias
Published Date
: 08 Apr 2016 09:58

Hailing from a family of creatives, it is no doubt that Deise Dias also took the similar route of being an artist. Upon arrival in Singapore back in 1996, Deise developed an interest in the rich culture that Asia had to offer. She passed her time by learning a new hobby - Chinese brush painting - which later developed into a huge passion she holds on to till today.
What makes Deise Dias' art different from the rest is that she uses skills, techniques and motifs of traditional Chinese brush painting, and incorporates the vibrant and bold personality of Brazil by using vivid colours. Essentially, she beautifully mixes the influences of both the countries she calls home.
To learn more about her art, creative process and the influences behind her career as an artist, Vanilla Luxury sat down with Deise Dias for a quick chat.
Vanilla Luxury: Can you tell us a bit about how you were growing up?
Deise Dias: I was born and raised in Sao Paulo, Brazil. My mother was very creative, a talented embroiderer and expert in the art of crochet. My father and grandfather enjoyed working with wood; the beautiful wooden toys they created are still very fresh in my memory. One of my uncles was a goldsmith and as a child I would spend hours in his workshop mesmerized as he created beautiful pieces of jewellery. Having grown up surrounded by such amazing people, who were artists in their own right, I was constantly absorbing their creativity, without even knowing it. Sometimes I think that I was lucky enough to inherit a gift from each member of my family.
Vanilla Luxury: What made you decide that you wanted to get into painting?
Deise Dias: I am a teacher by profession and as a teacher, I was always involved with art projects and created new ways to engage with my students. This included crafts in general or anything requiring some kind of manual ability, and I have always loved colors. Painting though, just happened in my life when my family moved to Singapore in 1996. I wanted to learn something related to the culture I was being exposed to after moving to a new country. Everything in Asia was so new and different from anything else I had been exposed to previously.
Vanilla Luxury: What are the different methods you use in your paintings?  
Deise Dias: When learning Chinese brush painting one uses all the traditional tools, such as bamboo brushes, rice paper and ink. It is important to know how to hold the brushes to get the right lightness in a stroke and especially how the ink and colours appear on paper. Copying classical paintings are also part of the apprenticeship. This was how I started. It took me a few years to feel the real freedom of the strokes on the paper. My curiosity and passion led me to experiment with different kinds of paper and techniques, but I am always fascinated with the way the paint and colours work and mix on the paper. That is why I have always used paper, it is challenging but the result is unique and beautiful.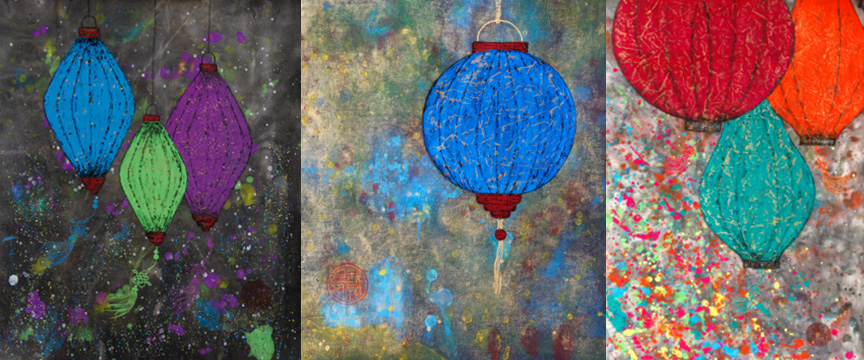 Deise Dias Lantern Collection
Vanilla Luxury: Where do you derive inspiration for your artworks?
Deise Dias: The inspiration for my art is a result of two very strong influences in my life. The first is from many years of living in Asia and learning the techniques and traditional themes surrounding Chinese brush painting and the second is of course my Brazilian background, which brings in the use of vivid colours and boldness which our country is well-known for.
Vanilla Luxury: What changes in your work from piece to piece?
Deise Dias: Each work is very unique, even if the theme is the same. Mood and momentum are important parts of my creating process. No two artworks will ever be the same, even if I try!   
Vanilla Luxury: What has been the most significant challenge to date as an artist?
Deise Dias: As an artist I think the real challenge is to make your work well known, sharing, showing and letting people see it. Making people aware of your art is harder than creating them. Putting myself out there and exposing my art has always been my biggest challenge.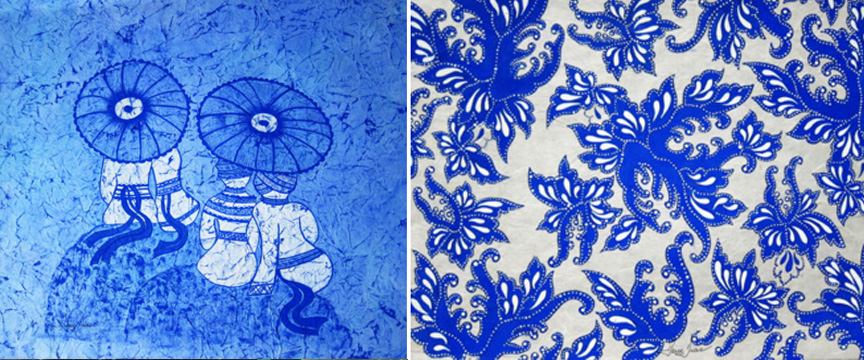 Deise Dias Batik Collection
Vanilla Luxury: What is the most rewarding part about being a painter?
Deise Dias: The best reward is to see the final result after putting in so much work and time into a painting. The best part of being an artist is when I am able to bring to life an idea and I feel happy with what I see. Each work is a labour of love and if someone appreciates it and feels happy just by looking at it, that is all I can ask for!
Vanilla Luxury: Majority of creatives claim that their artwork is an expression of their emotions, how does painting help you on an emotional level?
Deise Dias: Yes, painting is very therapeutic for me. Especially at the very beginning, it served as a remedy, which helped me adjust to life in a new country, which was so different than my own. It also filled my time and prevented me from feeling too lonely in a place without friends or family. Painting keeps me grounded; it is my active form of meditation and gives me a feeling of accomplishment and happiness every time I pick up a brush.
Vanilla Luxury: Music plays a key role for a lot of artists. What kind of music do you listen to while painting?
Deise Dias: Listening to music is an important part of my process of creation. I don't listen to any specific kind of music as it always depends on my mood. It can range from Brazilian Bossa Nova, instrumental, upbeat oldies or sometimes even mantras - whatever gives peace and joy to my heart at that moment.
Vanilla Luxury:  From all your paintings, which is your personal favourite? 
Deise Dias: I am always changing themes. I've painted landscapes, Singapore scenes, flowers, lanterns and recently very detailed mandalas and batiks. But out of all these themes, bamboos are my all-time favorite. They are meaningful and strong but they can also be very light and soft. Even though traditionally bamboos are more commonly painted by the great masters in black ink, when I paint bamboos I feel a freedom to make them very colourful and bold. Despite all of the various themes and phases I have gone through as an artist, bamboos have undoubtedly become by trademark.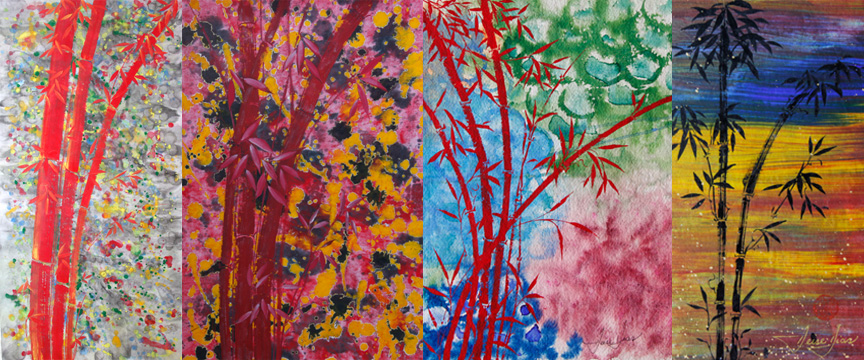 Deise Dias Bamboo Collection
Vanilla Luxury: Is there a particular collection that you are working on right now? Can you tell us more about this? 
Deise Dias: I have just finished a collection of mandalas and batiks for my latest exhibition 'Immersing in Tradition.' At the moment, I am just having ideas of what to do next!
Vanilla Luxury: What is your advice to people who aspire to become artists?
Deise Dias: Making a livelihood out of art is not easy, especially at the beginning. Just like any chosen path it needs a lot of perseverance and patience. We cannot let difficulties and obstacles prevent us from doing what we love and make us happy. My advice would be to keep trying, don't give up, one day you will be ready to show others your own labour of love.
Deise Dias has a wide variety of framed and unframed paintings ranging from SGD100 to a few thousand. All her paintings may be viewed at in her home studio or on her website. For appointments/ viewings drop her an email at [email protected].
Contributor: Heena Paryani 
When not fantacising about her next holiday or dancing to the latest Bollywood tunes, you will find Heena with a glass of whisky in the most underrated joints of the city. Follow her adventure on Instagram.