Corporate gifts in Singapore. Are you on the hunt for good quality gifts and corporate gift hampers for your team and clients? 
Take a look at these brands that sell beautiful corporate gifts that are perfect for the upcoming festive season, a new launch or even as a care package. What's more, some of these can even be personalised and wrapped to your specifications. 
From top food hampers and boozy treats to luxury leather ware and self-care indulgences, these are the best corporate gifts in Singapore to send out to your team! 
Looking for that perfect gourmet food hamper? Gourmet Grocery by OurChoice is a leading gourmet grocery in Singapore that is dedicated to indulging the most refined palates with Europe's finest epicurean foods. 
Carefully curated and sourced from reputable suppliers, they are passionate about providing the finest and freshest ingredients for both home gourmands and professional chefs alike. 
OurChoice are also the exclusive distributors for leading brands like Taylors of Harrogate, Tiptree Wilkin & Sons, Acetaia Leonardi, Rodda's, Shortbread House of Edinburgh, Grandma Wilds, Pipers, Cartwright & Butler, and several others that you enjoy in Singapore.
You can find gift hampers for birthdays, festive occasions and corporate gifts aplenty here. What's more, their competitive pricing and next day delivery allow for extra room both in your budget and for last-minute gifts. You can even choose the price range of corporate gifts and have the team customise these for you!
With plenty of options for European fare, made with natural ingredients, this is truly a gourmet experience at a reasonable price. Pocket-friendly to luxury gourmet hampers, you can opt from carrier bags, gift boxes or gift chests for gift packaging. The team can also curate corporate gift hampers and snack packs based on your preference of brands and products.
If you are stuck for ideas on the most suitable corporate gifts for your team, just give their friendly team a call and they'll provide you with the best gourmet and premium options.
Year-end virtual parties around the corner? If you decide to hold Zoom parties for the office, do consider OurChoice's range of cheese platters, that come with or without a cheeseboard and make for excellent party bites at your virtual event.
Gourmet food hampers using the best artisanal brands in the world and personalised to your price point - corporate gifts couldn't get more delicious than this!
Next-day delivery FREE for orders above S$50(except Sundays and PH)! Island-wide delivery for bulk corporate orders.
Our Choice. Phone: (+65) 8121 4249. Whatsapp: (+65) 9058 9256
Email: [email protected]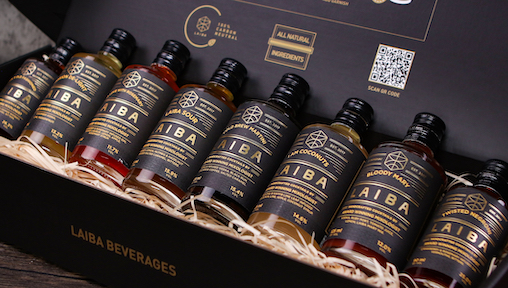 How about some award-winning cocktails that your colleagues can enjoy at home, simply by pouring over ice!
Laiba Beverages sell luxurious creations, all made by a world-class mixologist and served in some of the most prestigious hotels around the world.
The ultimate gift set includes 8 unique cocktail flavours, packaged in a beautiful gift box with a personalised handwritten note. With these classic cocktails and original creations, you'll be sure to impress your colleagues, clients or partners to mark the end of a memorable year!
What's more, Laiba Beverages cater to any order size and can deliver directly to your recipients' homes with their convenient next-day delivery.
Have a global team? Laiba Beverages also operate in many other countries, including the UK, Hong Kong and China! Enquire today to sort out your Christmas and EOY gifts hassle-free.
Simply email [email protected] or visit sg.shop.laibabeverages.com/corporate-gifting for more information.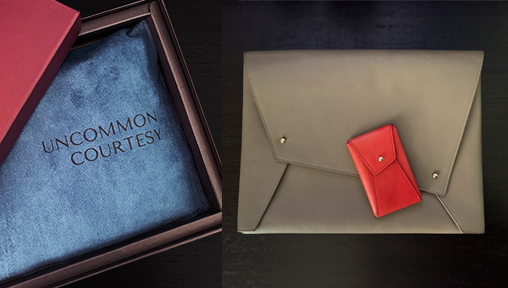 If you are seeking specially designed, bespoke corporate gifts in Singapore, Uncommon Courtesy offers a perfect blend of quality and design that is hard to beat. A design studio that specialises in crafting and producing bespoke gifts and accessories, Uncommon Courtesy gifts leave lasting impressions through every touchpoint created for your brand. Whether it's a corporate gift, an unforgettable keepsake or an exclusive welcome pack, you'll find they blend thoughtful designs with carefully selected quality materials, to curate exceptional gifts tailored to your brand.
Any gift can be customised with your personal touch. Looking for a stylish personalised leather gift this festive season that makes your present stand out? Uncommon Courtesy allows you to make your gift one-of-a-kind with a wide range of gift personalisation options. From deboss and foil personalisation to embroidery and silk printing, the many options will ensure your gift is uniquely special.
When creating a bespoke corporate gift for clients and partners, Uncommon Courtesy will work with you every step of the way to design it from scratch. Their designers experience in working for global fashion brands, and in producing gifts for global brands will ensure you get the highest-quality gift designed to exacting standards. Because of their expertise, expect that development time and costs to also be reduced.
Uncommon Courtesy designs gifts for both private and corporate events that fit the occasion and your budget. These include wedding gifts, event door gifts, launch gifts, corporate anniversary gifts and more. You can also opt for Customised Gift Boxes where each item is carefully selected according to your target audience as well as specific requirements and preferences, making each gift box unique to your brand and gifting occasion.
Skillfully incorporating thoughtful designs together with high-quality materials, Uncommon Courtesy delivers beyond traditional gifts. Just share your vision and they will bring it to life.
Check out their website at www.theuncommoncourtesy.com for details on corporate customization as well as offerings this holiday season.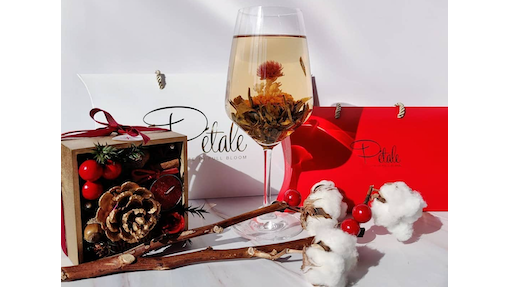 Gift a tea experience to your colleagues and clients this year with Pétale Tea. Awarding winning Pétale Tea, is a conscious Tea gifting brand, that offers over 30 varieties of hand-sewn, flowering teas made of organic Maofeng green tea and dried flowers.
Meeting two of the UN's SDGs, their minimalistic packaging design cuts down packaging waste and reduces its carbon footprint by 50%. Pétale Tea use natural and organic ingredients and these EU certified teas help to support a healthier lifestyle too. Full of antioxidants and amino acids that boost the immune system, they increase the body's ability to safeguard itself from infections and even calm mental anxiety. 
Pétale's therapeutic and elegant teas are widely loved, offering a unique experience to clients and loved ones alike.
What's more, they are so pretty, that they bring joy and visual excitement to any event, tea party or gifting occasion. These gifts are sure to impress bring smiles and happiness to whoever they are gifted to!
Give an experience. Gift Pétale. Pre-order their Xmas Gift Sets today!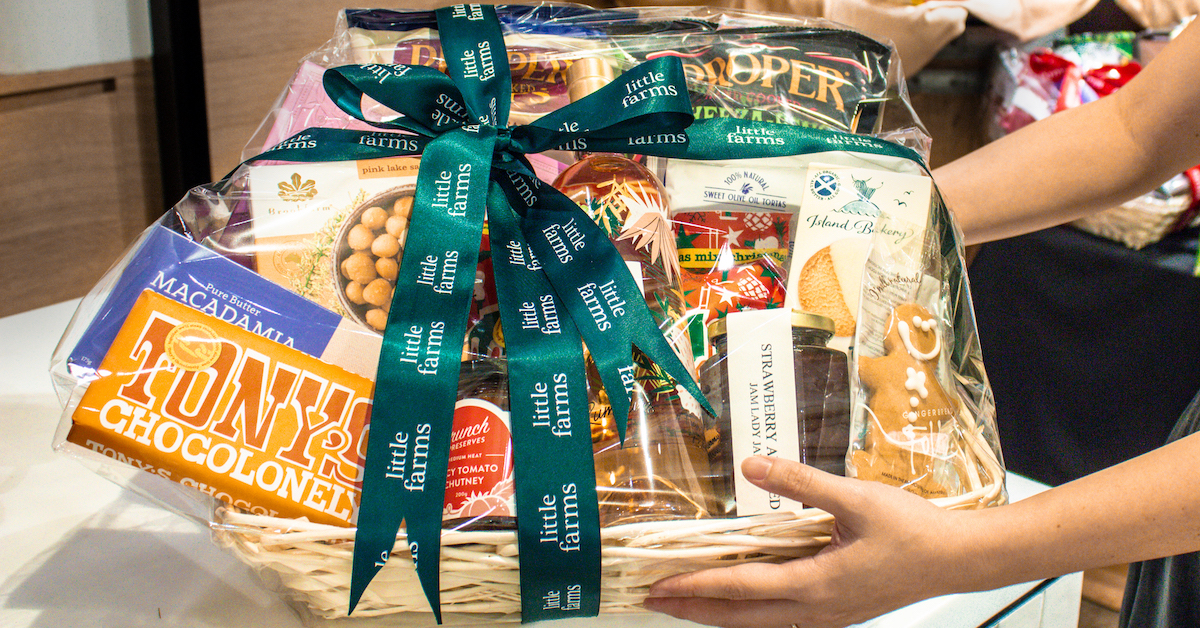 Singapore's friendly neighbourhood market, Little Farms specialise in the highest quality and freshest all-natural and organic produce, meats, seafood, dairy and grocery.  They've also got your Xmas gifts and celebrations sorted for you! 
Bring joy to the world with their specially curated hampers for the people you care about. These amazing Little Farms hampers are filled with the most delicious finds and lovingly wrapped with a bow! Included inside are Christmas treats from all over the world - from beautiful bottles, minced pies, artisanal chocolates to candy and nuts, there's surely a hamper for someone you have in mind. To get your hands on these delectable delights, pre-order Christmas hampers early via this link.
Searching for corporate gifts in Singapore that will please everyone on the team? Little Farms can also help with custom orders and corporate gifts using your handpicked selections. For custom enquiries and bulk orders, just drop them an email at [email protected] and watch the team do their magic!
Spoil your clients and colleagues a little bit more with the range of tipples at Little Farms. You can order sparkling Prosecco from Italy or Champagne and red wine from France! And don't forget the sweet treats – load your gift hampers with the best of festive panettones, mince pies and gingerbread cookies. Order online or at the butcher counter at the Valley Point or Katong Point outlets. 
Order all your Christmas corporate gifts in Singapore here: https://littlefarms.com/christmas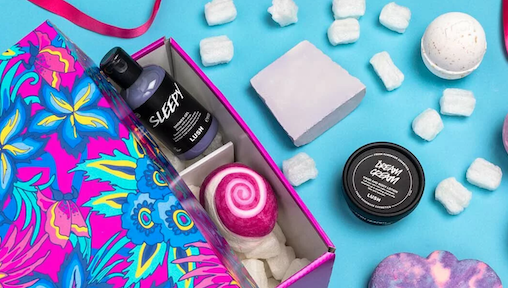 If there's one thing your colleagues are looking for this year, it is a pampering self-care gift from their organisation! From affordable stocking fillers to budget adaptable gift boxes, the gifting collection by Lush is always as much fun to give as they are to receive. Think colourful bright packaging, with boxes full of personal vegan skin treats, loaded with incredible scents, bold colours and lots of fun! 
You can shop by price too! Simply head over to their website and choose your budget for this year's corporate gifts. There's a wide range too! With gifts under S$40, S$40-70 and above S$70, the range gives enough room to play with for small door gifts or larger-hearted festive presents. 
What's more, Lush uses 100% recycled plastic for its pots and bottles. The gift packaging includes paper made out of 100% recycled materials including cotton t-shirt offcuts and banana paper. Their glitter is plastic-free, 100% free of microbeads and 100% mineral oil-free.
Lush gifts are available in stores, sg.lush.com, ZALORA Beauty and Shopee Mall.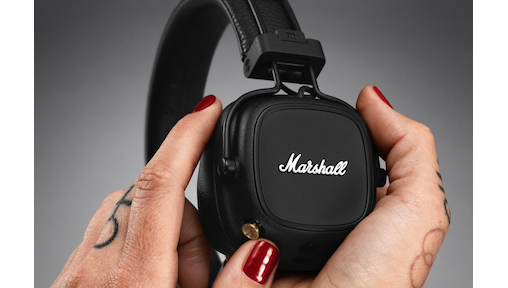 Give the gift of sound to your employees this year with Marshall. Celebrated by some of the world's greatest bands and musicians including: Jimi Hendrix, Eric Clapton and Oasis, today the brand sells a range of stylish and durable headphones complete with noise cancellations and Bluetooth functions.
From in-ears to over-ears and everything in-between, there's a Marshall headphone that's perfect for you and your team! Take Minor III for instance. These wireless earbuds allow you to hear Marshall signature sound without any clutter. Enjoy up to 25 hours of wireless playtime and the freedom of listening without wires with zero compromises on sound! These wireless earbuds do all the heavy lifting for you, so all you have to do is grab your music and go.
If you prefer over- the-ear headphones, your team will love ​​Major IV, the iconic headphones from Marshall with 80+ solid hours of wireless playtime, wireless charging and a shiny new ergonomic design. With more than three full days of power, you can stop worrying about your headphones dying on you when you need them. Music, calls, noisy WFH, are all easy with its customer-tuned dynamic drivers that deliver roaring bass and brilliant treble.
The best part? Marshall run corporate gifting deals and welcome bulk orders for the office. Whether it's headphones or speakers you need, just get in touch with their team for the best corporate gift ideas in Singapore. 
We're all for relaxing and calming gifts this year! A symbol of true handcrafted Singapore luxury, Artisan of Sense designs many of its fragrances to ease the symptoms of anxiety and calm the mind. Look forward to botanical fragrances that come in elegant, reusable containers with sustainable packaging - truly a luxe gifting experience.
Proudly presented in their stunning containers are handcrafted fragrances products with a sophisticated blend of natural and luxury. Whether it's uplifting or soothing scents you are after, with over 20 natural fragrance options for you to choose from, you can easily create that special ambience of fragrant notes for your team.
Need specialised packaging? Artisan of Sense can also create bespoke fragrances with customised packaging to suit your brand, clients and associates.  
If you are looking for inspiration, try the Luxury Reed Diffuser Gift Set. Containing diffuser oil that is formulated in Australia, and has no alcohol or DPG (Dipropylene glycol). There's also a Medium Hand Poured Soy Candle that is made using eco-friendly soy wax from US-grown soybeans and 100% pure, therapeutic-grade essential oils.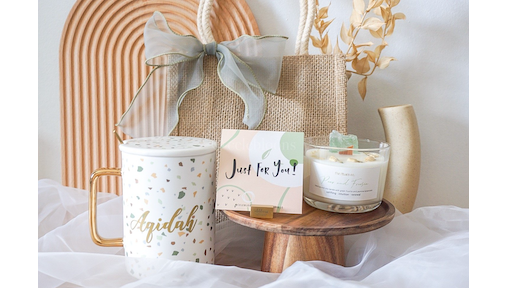 Specialising in customised gifts, Celebloons hope to celebrate life's every occasion with you. Whether it's sending your thanks, encouragement, appreciation or just a care package for your colleagues, you'll find a range of products on here that make the cut.
Pick from a range of curated general occasion gift sets and their latest collection, ​​ specially put together to make gifting a breeze. Want more flexibility? Simply create your own here!
​​Not sure what to get for your next corporate gifting occasion? Browse Celebloons recommendations on this page, based on the different categories of occasions and gifts! You can also view their collection pages that have a section on recommended occasions for each type of gift.
These include personalised mugs, phone stands, accessories holders and boxes along with preserved floral arrangments, crystal candles, diffusers, trinket trays, watch holders, mask cases and more, all wrapped up beautifully in a jute bag or gift boxes.
Free courier for orders over S$100!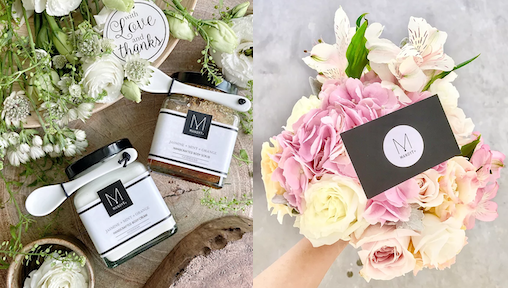 Holistic remedies for the mind, body and soul? MandyT's award-winning products are freshly handcrafted in small batches at their boutique workshops in Singapore. This ensures the highest quality ingredients and delivers a powerful yet natural final product that keeps your skin fresh, healthy, and radiant. 
You'll love the packaging - notably beautiful yet functional, eco-friendly, and in recyclable glass bottles. Glass bottles are much kinder to the environment than plastic as they don't leak toxins into stored skincare products as well as their surroundings like plastics do.
Choose from 15 different varieties of bath and body care products ranging from body scrubs, body cream, bath salts, bar soaps and aroma essentials. ​The Indulgence gift sets come with a mix of body scrub, bath salt, body cream, home aroma, bar soap, a gift box and gift card for a handwritten message. Did we say they smell fabulous too?
If you'd rather have your team pick products for themselves, consider the Self-Care Gift Card by MandyT where your recipients can use credits to buy these luxury indulgences up to one year from the purchase date.