When it comes to kitchen appliances and gadgets we bank on ease of use, smart technology and versatility. And that's exactly why we couldn't wait to get our hands on the Ninja Intellisense Kitchen System, a multi-tasking smart kitchen gadget that will help create a world of possibilities in your kitchen.
As the number 1 blending and processing brand in the USA, and newly launched in Singapore last year, Ninja is known for its range of kitchen appliances and gadgets that make life easier. This philosophy translates to its kitchen system too, where one magical base works across 4 different appliances and gives you access to fresh, easy-to-make food at home.
Here are all the reasons why you too need the Ninja Intelli-Sense Kitchen System in your kitchen! 
1. A Smart, Touch-Screen Base and 4 Different, High-Performance Parts
This top-selling kitchen mixer is far more than just that. With one smart base(and it really is quite intuitive!), the Ninja Intelli-Sense System comes with four high-performance appliances. These allow for crushing and blending, high-speed blending, food processing and a great one for health fanatics - spiralizing!
All 4 appliances come with a range of 6 Blades and each blade can be used for a different function including extract, chop and mix, crush and spiralize. Each of these along with the appliances are easy to clean and dishwasher safe. You'll also get a cleaning brush to reach any hard-to-get-to corners.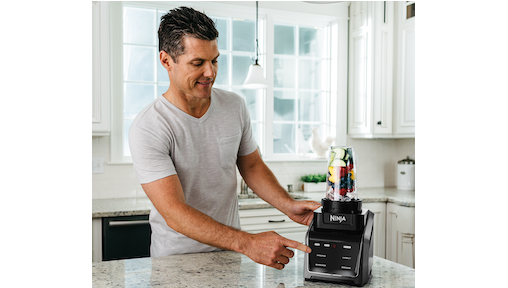 2. Intelligent Programming
Ninja wasn't kidding about the smart programming on the IntelliSense Kitchen System! Featuring Smart Vessel Recognition that recognizes which attachment is on the base. The Smart Touch Screen Display responds to touch and lights up with appliance-specific options with pre-fixed programs (smoothies, dips, dough etc) or manual options to blend or mix as you like. 
12 chef-designed Smart Programs effortlessly create an endless array of delicious recipes and take away any guesswork. Your blender and food processor knows exactly how long and hard it needs to work to deliver the recipes you need. Precisely calibrated patterns of
pulsing, pausing, and speed create everything from fresh salsa and pizza dough to margaritas and decadent ice creams.
Simply press one button and let Auto-iQ do the work for you.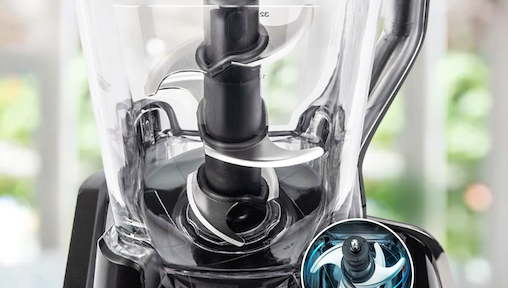 3. Power and Safety!
We've all had our fair share of kitchen appliances that aren't strong enough. The Ninja Intelli-Sense CT682 changes all that! It comes with 1200 watts of power which makes it perform almost any heavy-duty task easily. Crushing ice? No problem! You can also slice, dice, chop and run a whole host of other high-performing actions via its powerful processor. 
Oh, did we mention it's all hands-free? The base has 4 sided slip-proof pads at the bottom of the blender to ensure stability. The blender and processor itself comes with all safety locks in place and will only switch on when you're locked in. Post that, go about your usual day and come back to smoothly blended produce in a quick minute or two. Snap, tap and go!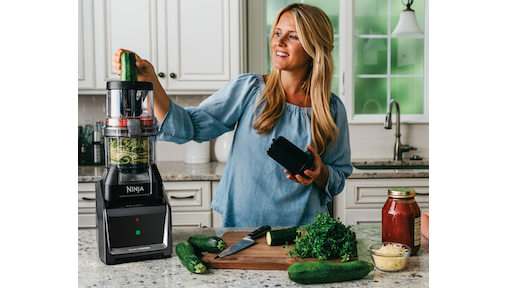 4. Move to a Healthier Lifestyle
With the ability to make a variety of smoothies, juices and spiralized vegetable noodles at your convenience, the Ninja Intelli-Sense is a great investment in your family's health. A pretty comprehensive recipe booklet gives you access to easy to follow recipes that can help churn healthy and nutritious food quickly! You'll also be able to tweak recipes for pizza or cookie dough on your own. Prefer gluten-free pizza bases? Simply, change up your ingredients and let the Intelli-Sense knead it for you.  
If your kids love ice cream and snow cones, these are fairly easy to make on the Ninja Intellisense Kitchen System too. Get your ingredients together or swap for healthier versions - we promise, you'll be able to experiment with a whole range of fruits or superfoods without anyone knowing!
What if you could make a range of healthy vegetable noodles, curly fries, vegetable chips and more, right in your kitchen? The Ninja Intellisense Kitchen System is a kitchen appliance that truly promotes ease of cooking and healthy eating. Just choose from the range of blades for the spiralizer and you'll be able to whip up vegetable crisps, zoodles, vegetable spaghetti and more! And if you want to go on a detox, get your hands on the Ninja 7 Day Detox, a well-planned 7-day recipe chart that will guide you through your liquid smoothie diet easily.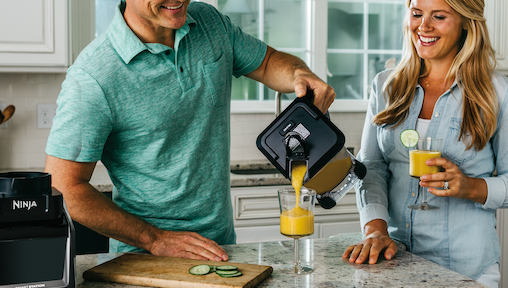 5. Warranty, Ease of Service and Spare Parts
All validations have been made that it is safe to use in Singapore and Safety Marks have been acquired through safety-related experiments. Plugs and voltages are made to Singapore standards.
Buy through the official Ninja store and you get a 1-year warranty, free delivery and dedicated support. There's even a  15-days-money-back-guarantee should you not be happy with your purchase.
Stuck with kitchen appliances that don't sell spare parts here? We've had quite a few unexpected shocks in the past so this was a big plus for the Ninja Intellisense Kitchen System. You get a range of spare parts from their website and all at affordable prices. 
A Whopping 20% Discount for Vanilla Luxury Readers
Want more? You can now get a whole 20% off your Ninja Intellisense Kitchen System using the promo code "Vanillaluxury682". Just apply the code at checkout and you'll get 20% off the usual price of S$499. What's more, there's NO EXPIRY DATE to the promo code!
For more details on how to use the Ninja Intellisense Kitchen System watch the video below.