As we build up to the National Day festivities, Vanilla Luxury can't help but gush over things that are truly Singaporean. From the predictably yummy Kaya to Singlish inspired art, there's so much that our little dot has to offer; we found it tough to keep the list to a winning 10.
Singapore Breakfast Tea from TWG
Most people assume TWG is from the land of tea-drinkers, Britain; but the fact is, it is inherently Singaporean. TWG Tea, the finest luxury tea brand in the world, was established in Singapore in 2008. Tea tasters travel across the globe every year in search of the most desirable harvest. This results in over 1,000 fine harvest teas created with the world's most renowned estates. Described as the evocative of the sophisticated harmony of Singapore; we look forward to sipping on our Singapore Breakfast Tea this National Day. Oh and pass those delicious macarons too! 
A Shirt from CYC The Custom Shop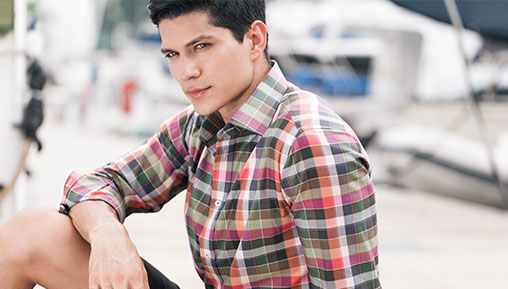 Shirt from CYC Custom Shop
Established in 1935, this is where our Late PM Lee Kuan Yew got his shirts made-to-measure. Being Singapore's oldest and most established bespoke tailor, you can be assured of quality and a perfect fit. Whilst they offer a range of wardrobe options, if there was one product that you must have tailored, it would have to be one of their classic custom shirts. These comfortable shirts are made from long staple cotton yarn and brought exclusively from Albini Italy, to ensure you have the softest fabrics that last well over the years.
Earrings from Carrie K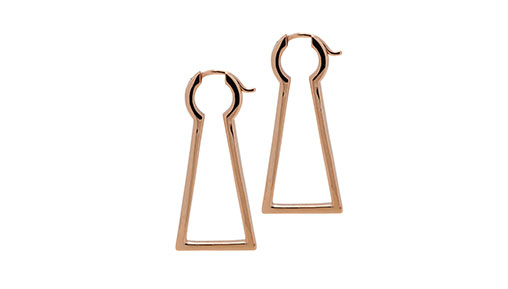 Key Hole Earrings from Carrie K
Homegrown artisan Carrie K is a legend who left her fast paced advertising job to pursue her dream of being a silversmith. Her jewellery is playfully provocative as 'an antidote to a world that takes itself too seriously'. Her online store could mean hours of surfing and serious damage to that credit card but we fell in love with her Key Hole Earrings in Rose Gold. Simple yet defining, this piece is from Disney and Carrie K's collaboration which is inspired by Alice in Wonderland!
I AM NOT KIASU Notebook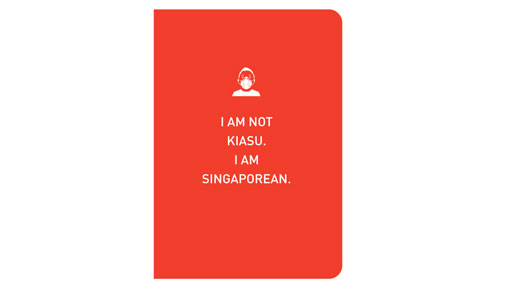 I AM NOT KIASU notebook by Naiise
Available at our favourite Naiise, there are a total of 30 different notebook personalities to choose from. Most of the options made us smile or think of someone we know, however this red 'I am not Kiatsu' version hit home in more ways than one! Embrace being Singaporean and scribble away on those balmy afternoons we say!
Dairy Folks Ice Cream
The original cow farm of Singapore delivers the freshest milk and ice cream right to your door step! The farm started in 1936, before the war, and now has grown to become a Singaporean institution. Touted as the creamiest ice cream you will ever find in sunny Singapore, be rest assured that it is 100% natural and made with just milk, cream and sugar. The dark chocolate version makes us go weak in the knees but this tub of gorgeousness also comes in original milk and caramel flavours.
Crazy Rich Asians, The Book
For those of you living under a rock or too busy to be reading fast fiction, Kevin Kwan's depiction of the Singaporean elite has taken the world by storm. We took to his first book Crazy Rich Asians, at a recent holiday, when all other fiction paled in comparison. From old money to classic stereotypes, this page turner is quite the roller coaster ride. With a sequel and an impending Hollywood movie release, we think this Singaporean novel demands your attention and now!
Tiger Balm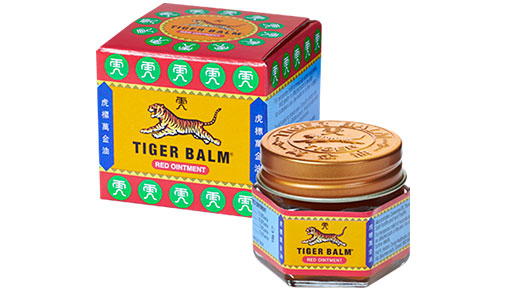 Tiger Balm
With every visiting relative, come the obligatory tubs of Tiger Balm export. Dr OZ keeps it in his SOS cupboard and Gwyneth Paltrow calls it her go-to cure-all balm for pain relief. We discovered the power of this magic pot when no other natural ointment could counter the post gym work-out aches and pains. With Singaporeans spending an ever increasing amount of time on the laptop, this could well become an essential item for your bag. Doesn't hurt that it keeps away the mosquitos too!
Ya Kun Kaya
Admittedly we have tried several brands of Kaya. Some delicious, others not quite there but Ya Kun's Kaya wins every time. With more than 70 years of heritage, Ya Kun Kaya Toast is one of the most popular kaya toast chains in Singapore. Warm toast and experience aside, we keep going back to buy versions of their Kaya jar also packaged in a handy souvenir version. Hands down the creamiest texture and right notes of pandan and coconut tingling through, there's a reason this kaya is a Singapore staple.
BIY Bamboo Bike Frame Kit
What's more Singaporean than cycling through East Coast Park? Bamboo Bee is a made-in-Singapore sustainable bike brand that is making waves in the cycling community. This platform offers a variety of customization options for all types of riders - whether you're an adult, child or a mountain biker.  They also run workshops on how to build your own unique bike. The BIY Bamboo Bike Frame kit is revolutionary approach to bringing  personalisation to the sustainable living space. They promise that you don't need to have engineering expertise to build your own bicycle frame. Basic tools, time and their handy guide make this a fun activity and one you could talk about for years!
Gem Biscuit Cufflinks from The Little Link
The Little Link is our secret gifting haven for men. Sourced from ethical suppliers, we love how you can choose cufflinks by the personality of the person they are meant for. Family man or geeky, chances are you will find their designs quirky, affordable and handy as presents to pass around. We particularly like these Gem Biscuit cufflinks that are nostalgic and full of fun. Rust proof and beautifully handmade, they will evoke childhood memories like no other accessory in a man's closet.