Including sunscreen in your skincare routine is a no-brainer! As one of the easiest and most affordable ways to prevent premature ageing and skin cancer, sunscreen is an essential step that you simply cannot afford to skip. 
Who should be using sunscreen? Literally, everyone (except babies under 6 months of age) should use sunscreen every day. Whether you are indoors or outdoors, on a cloudy or rainy day, applying sunscreen is the first step toward ensuring a blemish-free, youthful complexion. 
This is also why finding the right sunscreen for your face is so important! When you find a non-sticky, flattering sunscreen for your face that doesn't leave it an oily mess, chances are you'll continue to use it diligently. 
We've rounded up some of the best sunscreens for the face available in Singapore. From world-class brands to 100% mineral formulas, there's definitely a sunscreen for the face on here that will suit you too!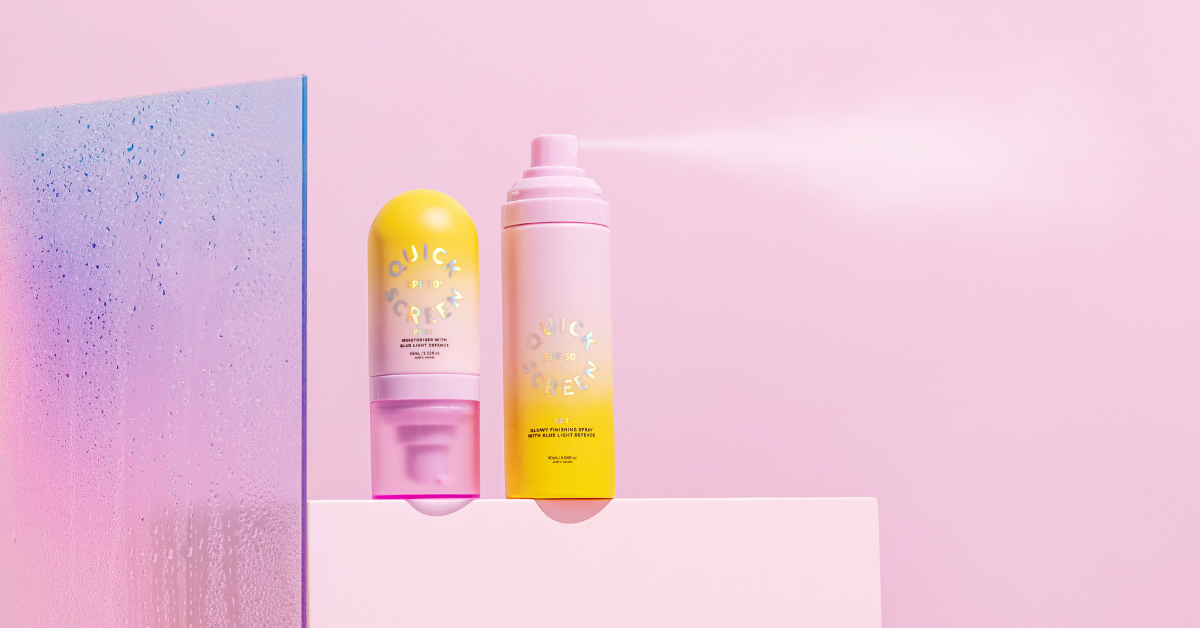 Quick Screen is a 4-in-1 sunscreen, primer, moisturiser, with a blue light defence that everyone needs to wear. It is ultra-lightweight in texture, making it fast-absorbing, and its non-greasy formula leaves a gorgeous satin glow with no white cast. With hyaluronic acid and vegan squalene added to it, your skin stays hydrated and plump. Raspberry seed and tomato extract add antioxidant protection and leave your skin looking brighter.
We absolutely love that this sunscreen comes in a spray formula, which makes it so convenient, especially when you have makeup on and have been under the sun all day!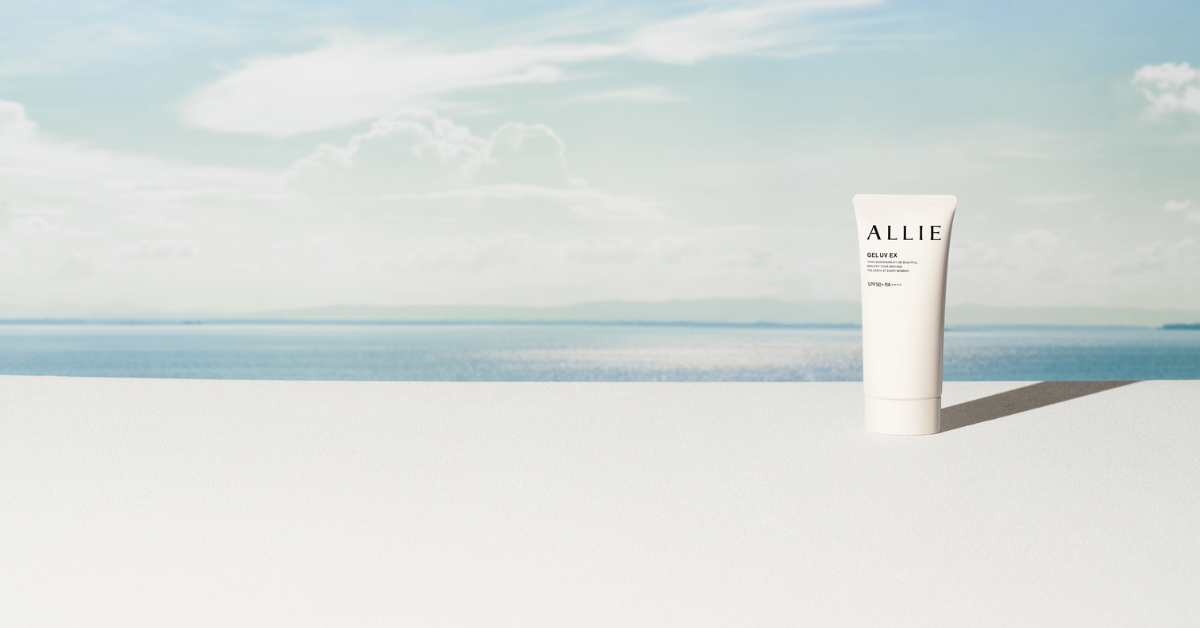 With over 20 years of experience, ALLIE is considered among the top brands for sunscreen and sun protection. Its mission is to make customers want to wear sunscreen rather than just having to. This is why you'll find ALLIE's formulas to go beyond just protection. These are fun, friction proof, white cast-proof and complexion-enhancing. 
The latest ALLIE Chrono Beauty Gel UV EX protects from harmful UV rays by providing a wear-resistant protective film over the skin. Even when staying home, it provides the necessary prevention and protection for the skin. A smooth gel textured sunscreen, it is resistant to sweat, water, and friction. The new and improved formula provides a moisturizing finish that lasts for hours without leaving a sticky residue - perfect for our tropical climate!  Colourant-free and unscented, it is suitable for usage on both the face and body and leaves behind a light and fresh finish on the skin with a soft sheen. 
An SPF50+ PA++++, means it powerfully blocks out UV rays, and does not rub onto masks or towels but is easily removed with facial cleansers! Additionally, it can be used as a hydrating makeup base as it contains moisturizing ingredients such as sodium hyaluronate, leaving the skin with a beautiful, lasting glow.
If you need a tone-enhancing option instead, try the Chrono Beauty Tone Up, a suitable option for the face and body. It brightens complexion, blurs dullness and evens out skin tone, providing a radiance that lasts.
There's also ALLIE's Chrono Beauty Milk UV EX, a smooth emulsion that adheres evenly to the skin. It moisturizes without leaving a white residue for sustained beauty and is a non-tightening emulsion UV product that is also resistant to sweat, water and friction.
ALLIE's range of sunscreens is available for purchase at selected stores such as BHG Welcia, Don Don Donki outlets, and Watsons. They are also available on Lazada and Shopee.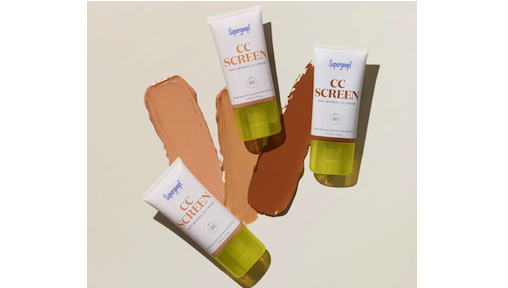 Fans of the legendary Unseen Sunscreen will know that Supergoop! is in the business of making you love using sunscreen! Not your usual goopy sun-protection formulas, Suypergoop! sell over 40 different options so you can find the perfect sunscreen for the face. 
The new Supergoop! CC Screen is the ultimate, super clean, skincare-meets-makeup-meets-SPF. With high broad-spectrum, 100% mineral UV protection and skin-nourishing ingredients, CC Screen redefines what a CC cream is.
Finally launched after three whopping years in product development, the Supergoop! CC Screen SPF 50 is a non-nano mineral formula that provides complete care for your skin with natural, buildable coverage. 
Available in 15 flexible shades this breathable, shade-flexing formula instantly evens skin tone, covers imperfections and delivers luminosity. Want more coverage? Simply wait a couple of minutes after applying a layer and then double up!
*Supergoop! CC Screen SPF 50 is made without D4 and D5 cyclical silicones, PEGs, talc, phenoxyethanol or any potential skin sensitizers.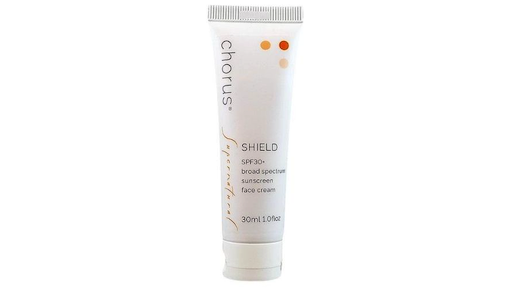 A 100% natural mineral sunscreen that gives your face a matte, poreless appearance? Yes, please! Chorus SHIELD offers SPF 30+ broad-spectrum UVA/UVB protection and is a luxuriously smooth, matte tinted sunscreen for the face. It reduces pores and any skin discolourations and is a perfect addition to your makeup and skincare routine that will leave you glowing without any extra slick. 
Non-nano, no oxybenzone, it combines the protective benefits of the micronized minerals with moisturizing Buriti Oil, that is an antioxidant,  anti-inflammatory and photo-protective. Chorus SHIELD also contains Calendula and Evening Primrose oils that promote a healthy, clear and soothed complexion with enhanced radiance! Worn alone or under make-up, this smooth tinted matte sunscreen is suitable for all skin tones. Its gentle formulation is suitable for even sensitive skin types.
Like all of Chorus Supernatural award-winning products, the Chorus SHIELD is formulated by skin experts to provide an uncompromised high efficacy formulation with maximum safety for your health, completely free of nasties like parabens, sulphates (SLS/SLES), propylene glycol, PEG, synthetic fragrance, synthetic colours and mineral oil.
*Chorus full product line is certified by CertClean, with top safety ratings by EWG Skin Deep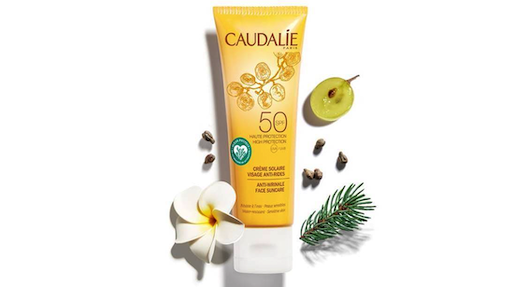 The Anti-Wrinkle Face Sun Care SPF 50 by Caudalie features a new generation of sun care and a patented antioxidant complex that comes enriched in grape polyphenols. With its rooted belief in sustainable beauty, Caudalie spent years of research on sun filters and launched, Caudalie Anti-Wrinkle Face Sun Care SPF 50 marking a new generation of formulas that provides maximum UVA/UVB protection with Caudalie's system of 4 best grade filters - safe for both, the skin and marine life.
This sunscreen offers the skin maximum UVA/UVB protection for a natural, radiant, long-lasting tan while preserving its youthful look. Made with organic grape water, its light and creamy, non-sticky texture moisturises and soothes sensitive skin and its summery fragrance will leave you with notes of frangipani flowers. Equally protective for the skin and nature, its water-resistant formula is highly biodegradable and non-toxic for the marine ecosystem.
As with all Caudalie products, no parabens, phenoxyethanol, phthalates, mineral oils or animal-derived ingredients are used.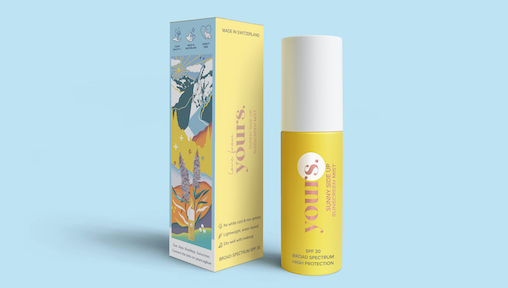 Does sunscreen remain a pain point in your skincare routine? Clean skincare brand Yours, conducted a survey with over 300 users and found that the majority of respondents knew the importance of sun protection but still chose to avoid it. 9 in 10 wanted a sunscreen that didn't feel oily while 7 in 10 wanted a sunscreen that didn't leave a white cast.
What followed was the formulation and introduction of #DreamSunscreen – Sunny Side Up, a lightweight, broad-spectrum, water-based sunscreen mist designed for everyday urban wear both under and over makeup. Absorbing easily into the skin and providing effective SPF 30 protection, the formulation is non-greasy, doesn't clog pores, and leaves an invisible, dewy finish. Its mist format makes it easy for users to reapply SPF on-the-go, providing all-day UV and blue light protection.
Rooted in Swiss excellence, Yours' Sunny Side Up Sunscreen Mist is formulated with powerful active ingredients like Buddleja AO Alpaflor and Soliberine extracted from the Swiss Buddleja flower. Growing in the high altitude of the Swiss Alps, the Buddleja flower has adapted to survive high solar radiation by developing a natural ability to protect against harmful UV rays and blue light from digital screens. The natural anti-ageing and anti-oxidative properties of these Swiss actives help to reinforce the skin's natural light barrier.
Yours Sunny Side Up Sunscreen Mist SPF 30 Broad Spectrum (40ml) officially launches on Tuesday, 13 October 2020 at 12pm SGT, at lovefromyours.com.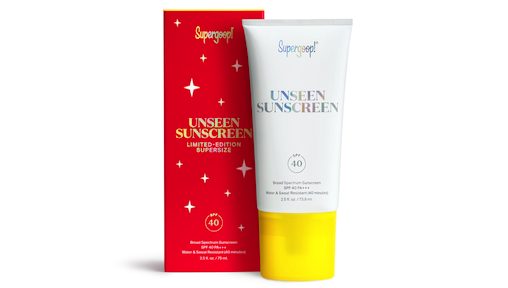 Founder Holly Thaggard is often known as the Sunscreen Queen! There's no wonder then that she's figured out a way to make sunscreen invisible, and with a velvety touch so you don't think twice before applying it every day. For those that haven't tried the Unseen Sunscreen yet, its smooth and invisible texture works on all skin types without leaving a greasy finish. And because it is non-comedogenic, it won't clog your pores - no post-sunscreen bumps! 
There's even more good news to be had. This super-popular Supergoop! Unseen Sunscreen now comes in a jumbo size for the new year. This bigger size is limited edition so we suggest grabbing one as soon as possible. 
The Supergoop! Limited Edition Chinese New Year Unseen Sunscreen Jumbo SPF 40 is available in-stores and online at Sephora and at the e-store.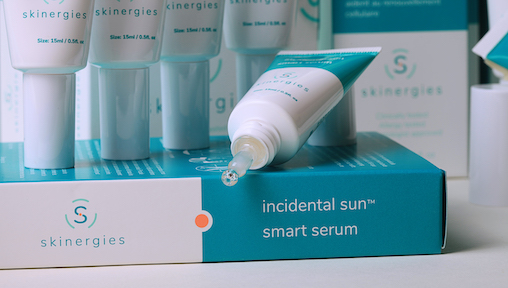 Skinergies Incidental Sun Serum combines the anti-ageing benefits of antioxidants and star ingredient hyaluronic acid with natural and powerful filters of UV-A rays, blue light and Infra-Red (IR).
These harmful rays are the number one cause of premature ageing and worse, melanoma. In addition, because our daily exposure to ambient sunlight is incidental, sporadic and made of short moments, Skinergies' technology restores the natural properties of the skin to optimally manage the good and the bad of UV-B rays.
One of the differentiating factors is that Skinergies Sun Smart Serum uses non-SPF technology that does not hinder the production of Vitamin D in your skin while still fending off the risks of sunburns, especially for fair skin tones. Specifically formulated for the face and other delicate areas of the body such as the neck and décolleté, its proprietary technology simultaneously acts at 2 levels: It naturally stimulates your skin's own sun defence system by mimicking the action of sunlight on the skin. Also with potent natural anti-oxidants and star ingredient hyaluronic acid for a full anti-photoaging solution. 
Just mix the serum with your daily moisturiser before applying on a clean face or on other sensitive exposed body areas!
The Skinergies Incidental Sun Serum is available online from Charis Naturals.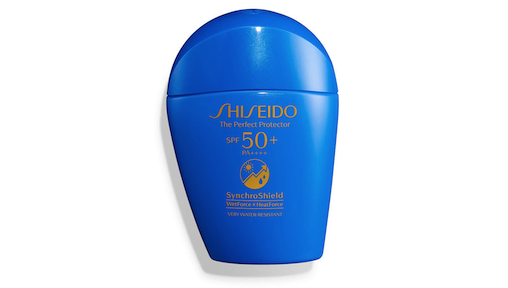 Often found in countless beach bags across Asia, Shiseido Perfect Protector SPF50+ is a popular sunscreen for the face that will leave it protected without feeling sticky! Made with WetForce technology, it provides multi-protection against extreme heat and sunlight. This protection, in fact, gets stronger as you sweat! 
Worried about it being too thick for your face? This powerful sunscreen for the face and body is quite lightweight and almost feels like you are wearing no sunscreen at all.
Shiseido Perfect Protector SPF50+ sunscreen is made with more than  50% skincare formula ingredients, which means it's good for your skin beyond just sun protection too! It includes a Triple Block Formula that helps to suppress visible damage caused by UV rays such as wrinkles, dark spots and dullness and Profense CEL™ technology that helps to prevent photo-ageing and skin damage linked to the formation of wrinkles and dark spots.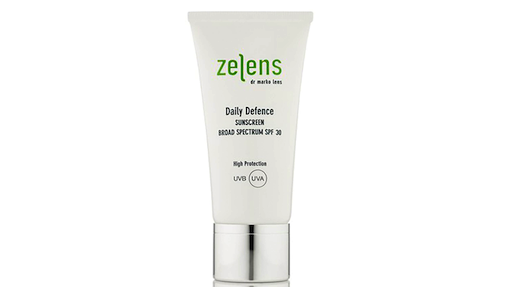 Providing daily broad-spectrum sun protection against UVA and UVB rays, the Zelens Daily Defence Sunscreen SPF 30 strengthens the skin's natural barrier and helps to delay signs of ageing.
Fortified with micro-encapsulation technology, the sunscreen delivers organic UV filters embedded in silica-based capsules that create an invisible layer over skin, shielding from the sun and free radicals that can lead to the formation of fine lines and wrinkles. Innovative Imudilin® reinforces the immune system, whilst a dose of Vitamin C brightens dull skin and lightens pigmentation spots. The body is soft, smooth and protected without greasy or sticky residue. Hate white cast leftover from sunscreen? Don't worry, Zelens Daily Defence Sunscreen is loved by users for its ability to protect without leaving any white residue!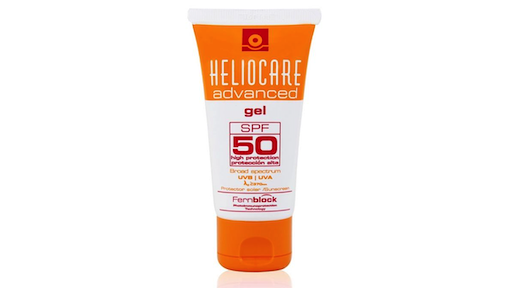 Heliocare products are known the world over for their advanced anti-ageing UV protection formulas. The range consists of ultra-smooth, easy-apply advanced sunscreens combining high technology physical & chemical filters with phytobiological protectants, featuring Fernblock®, a natural fern extract unique to Heliocare. 
Fernblock® is derived from a natural fern that has adapted and evolved to protect itself from the harmful effects of UVA and UVB radiation. 
Hate thick, sticky sunscreen for the face? The Heliocare Advanced Topical Sunscreen Gel SPF50 is an oil-free gel that has an easy to apply, light to the touch formulation, that you'll love using on a daily basis. Ultra-advanced physical and chemical filters expertly combined to provide high-level UVA/UVB protection with an elegant skin-feel and look. 
Available for purchase along with other dermatologist-recommended brands at dermaskinshop.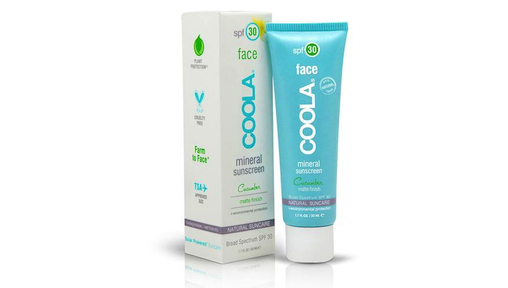 Offering broad-spectrum UVA/UVB plus environmental protection, the COOLA Face Mineral Sunscreen Matte Finish comes with a light, natural cucumber scented formula that gives skin an immediate line-smoothing finish. Infused with anti-oxidants, the mineral matte formula is made with organic Rose Hip Oil, and rich in free-radical fighting Vitamin C. 
It also contains organic calming Evening Primrose and Flax Seed Oils, that deliver an abundance of Omega-3 and Gamma-Linolenic Acid and improve elasticity in the skin. Wait, there's more! Organic Shea Butter smoothes and hydrates while the phyto-protector Plankton Extract rejuvenates the skin. Ideal for all skin types and tones, including those that are especially oily or sensitive!
As the number 1, best-selling sunscreen brand in Japan for the last 19 years, Anessa have carved a name for itself when it comes to sun protection. The Annesa Perfect UV Sunscreen Skincare Milk is a popular sunscreen for the face in Singapore, that spreads evenly on the skin while providing strong UV protection.
Featuring the Anessa Triple Defense Technology, its UV protection veil increases with sweat, water and even heat. It also prevents photoaging with its ingredients that stop vasodilation and skin oxidation caused by UV rays. Perfect as a primer before your makeup or just worn on its own, you'll find its formula non-sticky and easy to love.  It also comes with a refreshing citrusy scent that'll keep you feeling fresh all day long.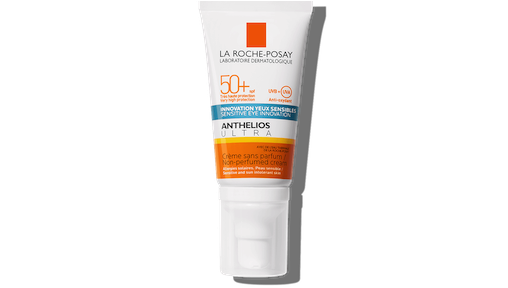 This no fragrance, minimalist formula offers no compromise when it comes to sun protection. Its broad-spectrum protection shields skin from UVA and UVB rays and helps to prevent damage caused by Infrared-A and pollution. A great sunscreen for the face in Singapore's humidity, the Anthelios Ultra Cream SP50+ is extremely water and sweat resistant. It is anti-eye stinging and will not leave white marks across your skin.
Made with Intelligent Polymers that give an even, non-greasy finish, this is indeed a breakthrough ingredient in suncare and sunscreen technology. These polymers lock the oil within the formula in between micro-crystals, making it non-greasy and providing very resistant protection.