If you are after the top subscription boxes and subscription services in Singapore, this one's a treat! For people who love to plan, subscription boxes ensure you get your favourites delivered on time, every month. However, if you are one for surprises, subscription services are also a great way to sample new goodies, indulge in some TLC and enjoy opening a box of stuff every single week or month. 
From skincare and beauty boxes to monthly coffee packages, surprise flowers and books - these subscription boxes and services will light up your days, month after month!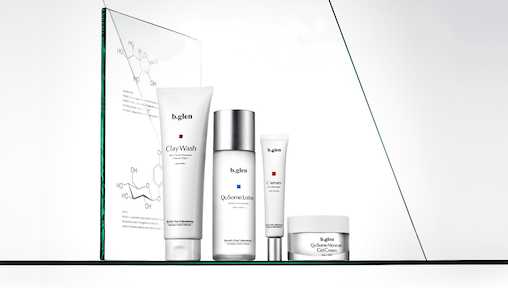 A Japanese luxury brand backed up by patented penetration technology for deepest absorption, b.glen offers a targeted skincare subscription service at exclusive rates.
b.glen ensures that the subscriber's journey is a flexible and focused one - there are no cancellation fees or minimum amount requirements! Subscription packages can be customized to the subscriber's needs, and rates are based on the number of items in the subscription set (3 items at 15% off, 4 or more items at 20% off). On top of that, subscribers get to receive free gifts from their second subscription order onwards. Sounds amazing, doesn't it! 
b.glen's best-selling subscription set is Luminous Glass Skin Set, which gives brighter and glowing skin. If used continuously for 90 days, customers can expect their pigmentations to fade. And to prevent disruptions in your skincare routine when you get too busy, this convenient subscription service is delivered every 2 months, without the hassle of placing repetitive orders. 
For those who are focused on anti-ageing, the ACE Set (Vitamin A, C & E) is highly recommended. It contains all 3 serums which are uniquely developed by b.glen.
Still not convinced? b.glen offers trial sets to give it a go before committing to any subscription sets too.
Can't find a set that suits your skin needs? Why not create your own custom set! Ask one of b.glen's skin experts and they will gladly help make a set just for you!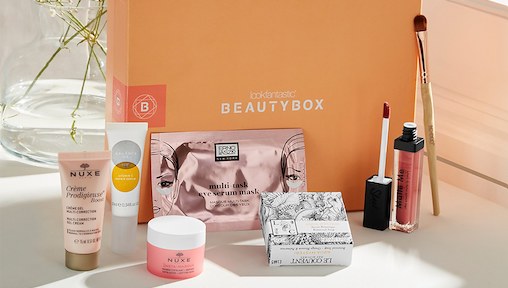 Don't you love a beauty box? The excitement of receiving a beauty box filled with the latest beauty products, makeup and more is something that's hard to describe! We are so chuffed that Lookfantastic can deliver these goodies to us in Singapore and what's more they have FREE DELIVERY on international orders!
 It's pretty flexible too - choose from a 1, 3, 6 or 12 month rolling subscription and opt out should you want to.  Receive a monthly curation of 6 beauty products worth over $88 and the latest electronic edition of ELLE UK. Whether it's cult favourites or trending beauty brands, the Lookfantastic Beauty Box is a great way to try out new products. The best part? Should you like a product, you can always get the full size at Lookfantastic.
If you want a sneak peek at July's Beauty Box, there are 2 variants and subscribers could receive any one of them. Variant 1 includes a mix of makeup, Thisworks Morning Expert Hyaluronic Serum, Myvitamins Beauty Sleep/Hair, Skin & Nails  and the Mádara Regenerating Night Cream amongst other stuff. Variant 2 has a mix of makeup and skincare too including NUXE Crème Prodigeuse Boost Multi-Corrective Gel Cream and an Insta-Masque Exfoliating Mask!
Keep your eyes peeled for some of their limited edition Beauty Boxes too. Previous beauty boxes that have been popular include the Chinese New Year Beauty Box, Easter Egg, Caudalie x Lookfantastic, Pai x Lookfantastic and the latest upcoming one with Sarah Chapman!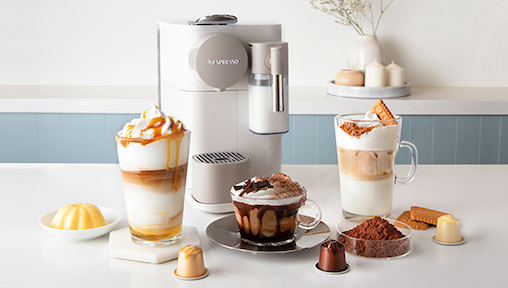 Simple to sign up and easy to customise, Nespresso coffee's 12-month subscription plan offers you the choice of a coffee machine that suits your needs together with the coffee capsules. Drink two cups of coffee a day? They'll send you the number of coffee capsules accordingly, enough for a month's worth of supply, delivered to you every month!
Choose a machine and coffee that you best enjoy. For the classic espresso experience, go for the compact Inissia; the Essenza Mini and Aeroccino Milk Frother Bundle is for the coffee and milk lover; the Lattissima Touch is perfect for one-touch lattes and cappuccinos. Pay just $1 for your selected coffee machine and your first monthly fee. Once your plan is confirmed, credit will be added to your account monthly which you can use at Nespresso boutiques or the online shop to buy coffee and accessories. What's more, you get free delivery and two years warranty!
If you're feeling a little more creative at home these days, the Nespresso Barista Creations have been designed to create coffee recipes at home including dessert coffees such as Caramel Creme Brulee Latte and Iced Vanilla Cheesecake. Nespresso has also recently launched a coffee range suitable for making iced coffee such as Iced Rosemary Latte and Fizzy White Iced White Peach.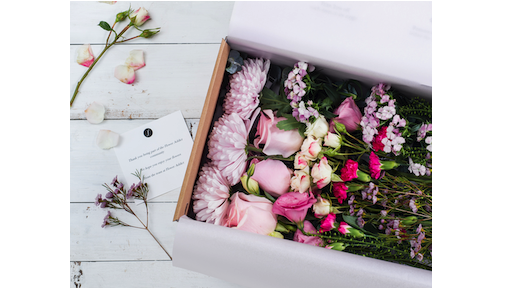 Make flowers an everyday part of life with flowers delivered regularly to your home or office with Flower Addict's floral subscription. One of the best value flower subscriptions in Singapore, Flower Addict's customers love their offering and re-subscribe again and again. With 3 tiers of subscription: Dainty ($89+), Pleasure ($109+) and Indulgence ($129+), each of their arrangements come in either Style Yourself (loose flowers) or Bouquet presentation. You can also choose your frequency from weekly, fortnightly or monthly and your duration from either 1, 3 or 6 months. Opting to pre-pay? Receive up to 10% off when you choose to pay in advance!
The Style Yourself subscription comes in bespoke boxes ready for you to style yourself. And with your first delivery, they'll even send you a free vase and secateurs so you're all set to go! Delivery is also free for their subscribers. And don't worry, you won't get repeats! The head florist at Flower Addict designs a different arrangement each week to keep it interesting, based on the value of the subscription and what's fresh and in season.
Going on holiday, moving home or not able to accept flowers for some time? No problem at all - you can pause or amend your subscription at any time with Flower Addict.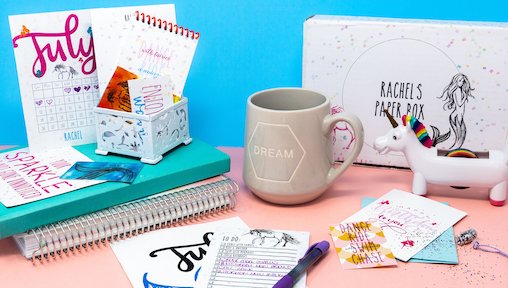 Stationery addict? In a world of digital zombies, if you are still true to using your stationery and love the details on personalised products you have to subscribe to Paper Box. As simple as choosing a box, choose a plan and enjoy a world of personalised stationery delivered to your doorstep, month after month. Every box includes freshly designed, themed stationery products inscribed with your name. My Paper Box makes an excellent gift for stationery lovers and all are guaranteed to bring a smile to your face.
The Grand box has Personalized stationery & office accessories.  Items such as: Notepads, Cards, Stickers, Books, Journals, Envelopes. Need something smaller? The Mini has 3 personalized notepads. They've even got personalised stationery subscriptions for kids.
From personalised notepads to make each note extra special with fun and witty Personalized Stationery!