home & living
Where to Buy Your Christmas Trees and Christmas Decorations in Singapore
Published Date
: 18 Oct 2023 10:00

From real to hyper-realistic Christmas trees in Singapore, our list also includes the most beautiful baubles and Christmas decorations in town
Have you shopped for your Christmas tree yet? We may live in the tropics, but Christmas trees and shopping for Christmas decorations is as much a tradition here as it is in other wintery lands. If you are new to Singapore, you will realise how our city comes to life in the months leading to Christmas and the New Year. From various Christmas markets and fairs(some even with snow!) to malls and shopping destinations decked in festive splendour, it truly is one of the most wonderful times of the year.
And of course, everyone flocks to garden centers and specialty stores to select their favourite Christmas trees and decorations. Whether it's lush artificial trees or beautifully fragrant real fir and spruce varieties, the choices are diverse but heads up, these do sell out quickly! 
Luckily for you, we've rounded up the best places to buy Christmas trees in Singapore - both online and in person. Add to that a stunning selection of baubles, and Christmas decor that you will be saving for years to come. It is beginning to feel a lot like Christmas!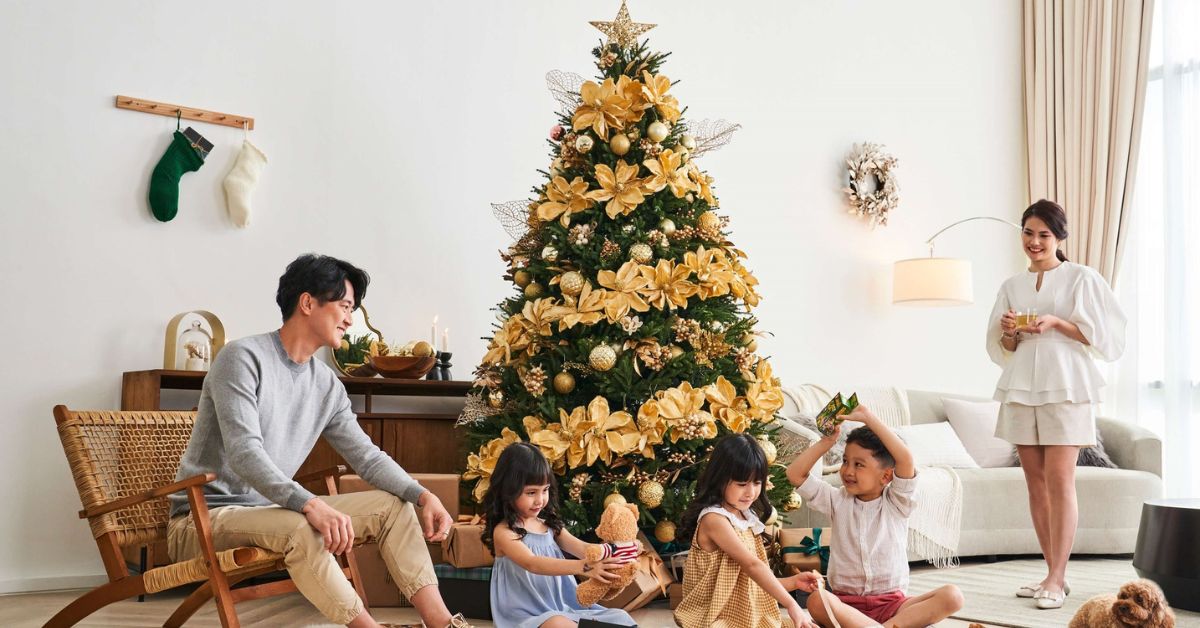 Looking for a Christmas tree that lights up your home this festive season? As the one stop online destination for all things Christmas, Masons Home Decor, sell some of the most hyper-realistic Christmas trees that you can find in Singapore. Crafted with precision using German Engineering,  these Christmas trees boast immensely dense fir with easy-open branches. 
Amongst their wide variety of Christmas trees and decor, are the recently unveiled five new Christmas tree designs. Not only are these stunning to look at, but they also allow you to choose the direction of branches, shade of green, and size of tips - giving you full autonomy over how your tree will look.
Need some inspiration? Those after white Christmas feels, should take a look at the Angelus (Ultra Wide and Dense) Hyper Realistic Frosted Balsam Fir Christmas Tree (S$469-S$669). Engineered with the patented FirTECT technology, all it takes is a quick 5 quick minutes to unfold and you will have the perfect snowy Christmas tree for your home. Alternatively, for a tree that truly wows, get the Ariana (Ultra Wide and Dense) Hyper Realistic Douglas Fir Christmas Tree($369.00 – $1,399.00). Going as high as 12 feet, the Ariana is ideal for big spaces, and looks majestic on its own or laden with ornaments. 
Speaking of Christmas decorations, Masons Home Decor also has a wide collection of decor such as baubles, ribbons, tree picks, and decorative items in every colour, to match any Christmas theme you have in mind!
We have our hearts set on the Glittery Poinsettia – Silver (S$8.90, U.P. S$15.90), 4D Snowflake – White (S$7.90, U.P.S$14.90) and the Giant Stella Tree Topper – Silver (S$21.90, U.P.S$29.90). You can even add a brighter touch to your tree with the Luci di Natale – Christmas Tree String Light (S$15.90-S$17.90) and watch as your Christmas marvel shimmers in the dark. 
But that's not all! The new collection also includes captivating decorations like trains, nutcrackers, snowmen, Santa figurines, gnomes, LED candles, and stockings. These enchanting additions will bring joy and cheer to your home throughout the holiday season. 
Shop at:  https://www.mason.com.sg/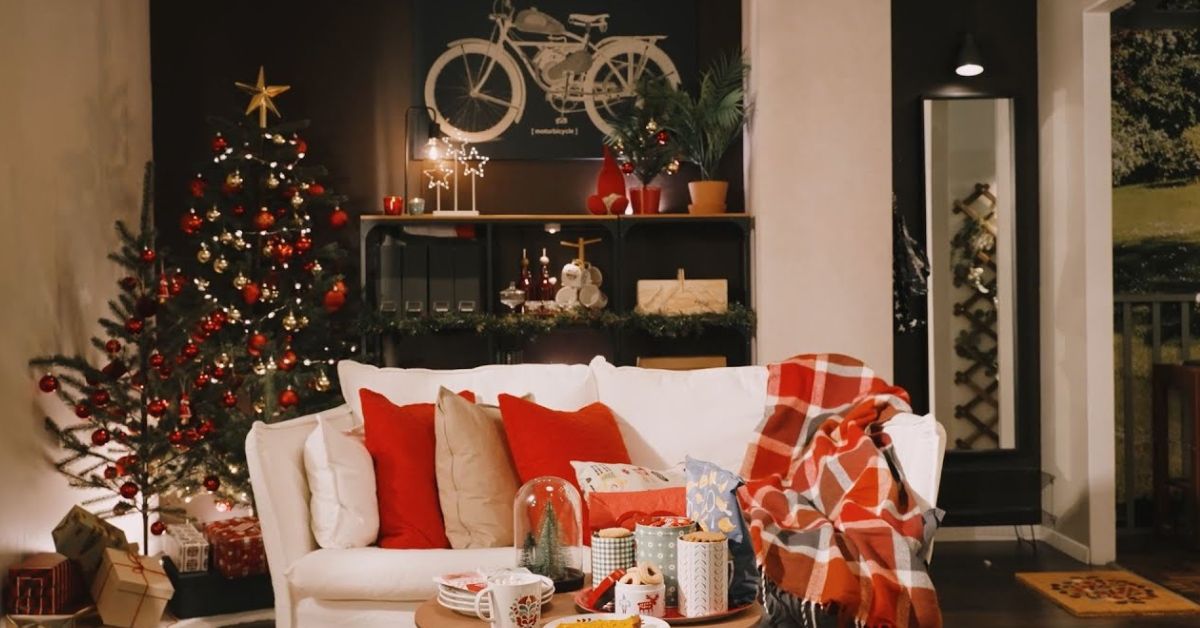 Get ready to toast and rejoice in the Christmas festivities this year with IKEA's offers of Christmas trees, decorations, lightings and even a jolly Santa! Sick of dealing with tangled lightstrings? The IKEA VINTERFINT LED artificial Christmas tree (S$105) is an absolute fuss-free choice as it comes pre-equipped with 156 LED lights. All you have to do is to hang your ornaments and plug it in – a hassle-free setup indeed. With a height of 160cm, you can easily find a spot around your home to place the tree without it taking up too much space as well. Couple that up with the VINTERFINT Christmas tree mat (S$19.90) for a warm and cosy Christmassy corner in your home. Not only do the festive colours and patterns of red and white bring attention to your Christmas tree, this Christmas tree mat also helps protect your floor from any scratches under the tree. Made of jute and cotton, it is a durable and natural material that will match the tree well. 
Who says you can't fill up the home with mini Christmas trees during the festive season? Get yourself one or a few adorable VINTERFINT Artificial potted plants with pot (6cm) (S$3) and scatter them around your home for that festive touch. Taking up minimal space, these pots are perfect to be placed around your table, chest of drawers and by the windows to remind you of the Christmas cheers.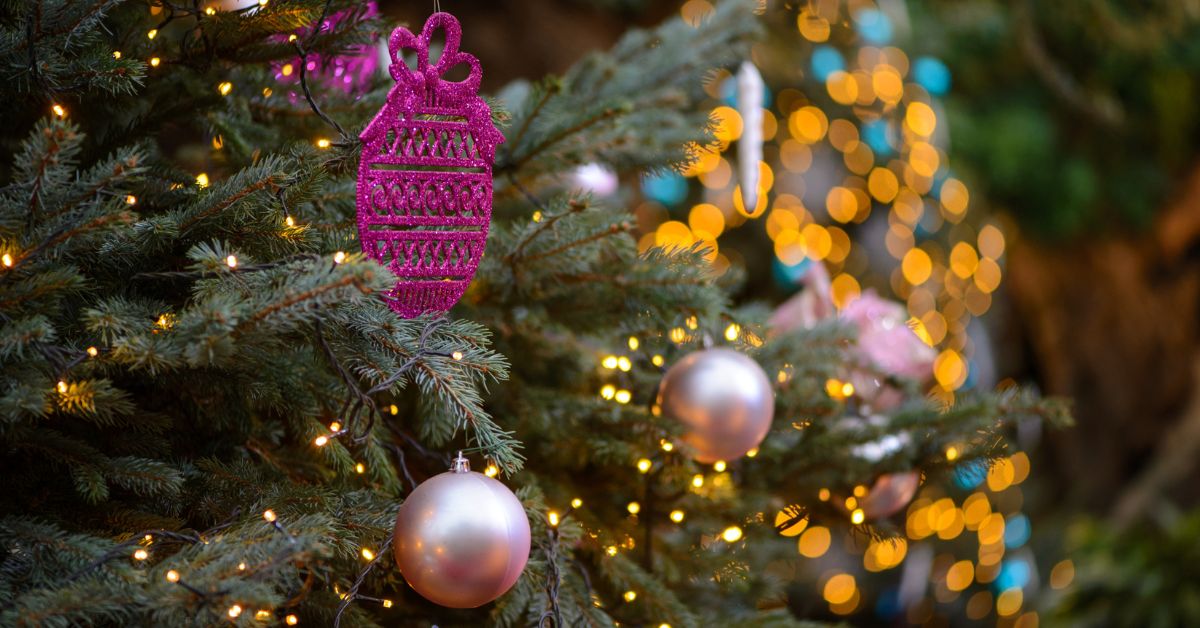 Anyone looking to buy a live Fir Christmas tree in Singapore would have heard of The Green Corner. Known for offering the loveliest varieties for the best price in Singapore with delivery services, the Green Corner is undoubtedly one of the best places for one to purchase beautiful live Fir Christmas trees. Sustainably farmed and shipped over from Oregan, USA, the 7ft Noble Fir – Premium Grade Live Christmas Trees from USA (S$429) is a stunning addition to any event and space. Strong with extremely sturdy branches, they can easily hold the heaviest of Christmas ornaments or lighting – making the options of embellishments endless on these trees. Their soft blue-green needles also emit a welcomingly distinct fragrance that helps soothe and invite the senses. 
The Green Corner has also collaborated with APSN Centre for Adults, to have 10% of the sale proceeds go towards supporting beneficiaries from APSN Centre for Adults in their vocational training programmes and employment support services. In light of the season of gifts, love and warmth, there is never a better time than Christmas for you to show your compassion and kindness towards one another. So hurry along and get yourself a fresh, healthy and stunning live Christmas tree now!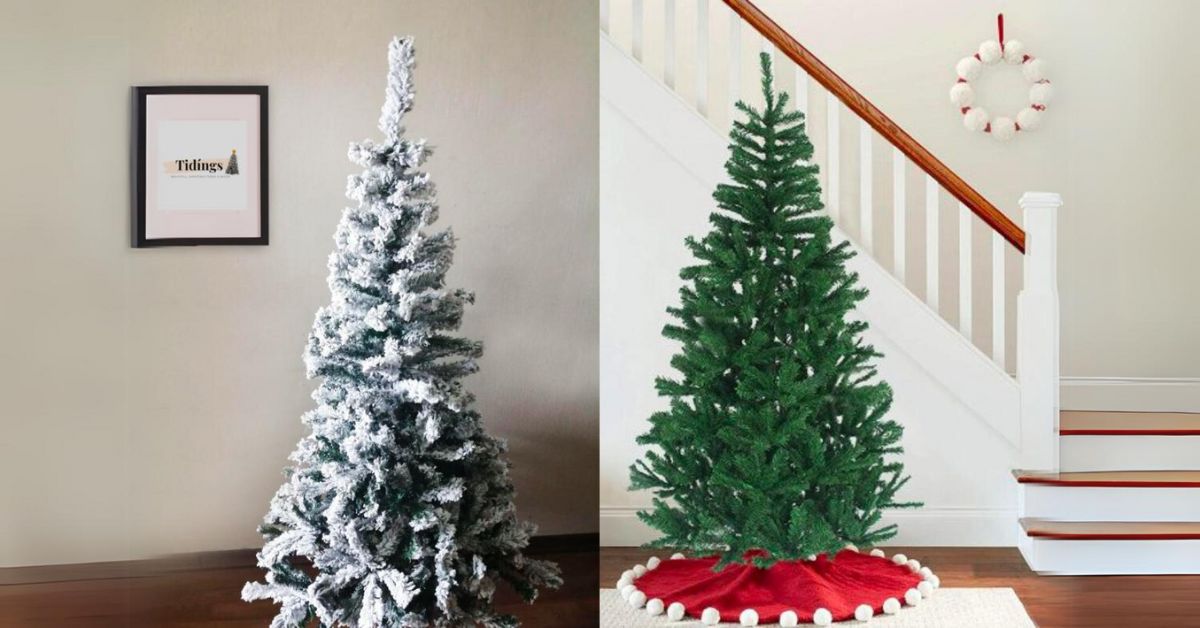 Starting out as a family business in a brick-and-mortar store Tidings has evolved to become an online store that brings the magic of Christmas with their premium quality Christmas Trees and Gifts. Offering both premium live and artificial Christmas Trees with free delivery, you will be spoilt for choice at Tidings Christmas Trees! 
If you have any difficulties choosing, browse through the many value bundles available as they customise each bundle for one's preferences. For instance, if you are looking for a wallet-friendly option or simply do not wish to spend too much on a tree, pick the Wallet Friendly Bundle – 2.1m (7ft) Aria Tree [CT-01] Christmas Set (S$229, U.P.S$282.70). The Aria Tree features glossy dark and light green coloured pine needles to give off a leafy and dense outlook. The colours and textures help add realism to the tree and the ornaments and lights that come along with it help amplify the festive feel of the Christmas tree. You are free to pick between gold and silver for the star topper and a variety of colours for your ornaments! The iron base that is included will ensure that your brightly lit tree stays up all season as you celebrate this season of joy.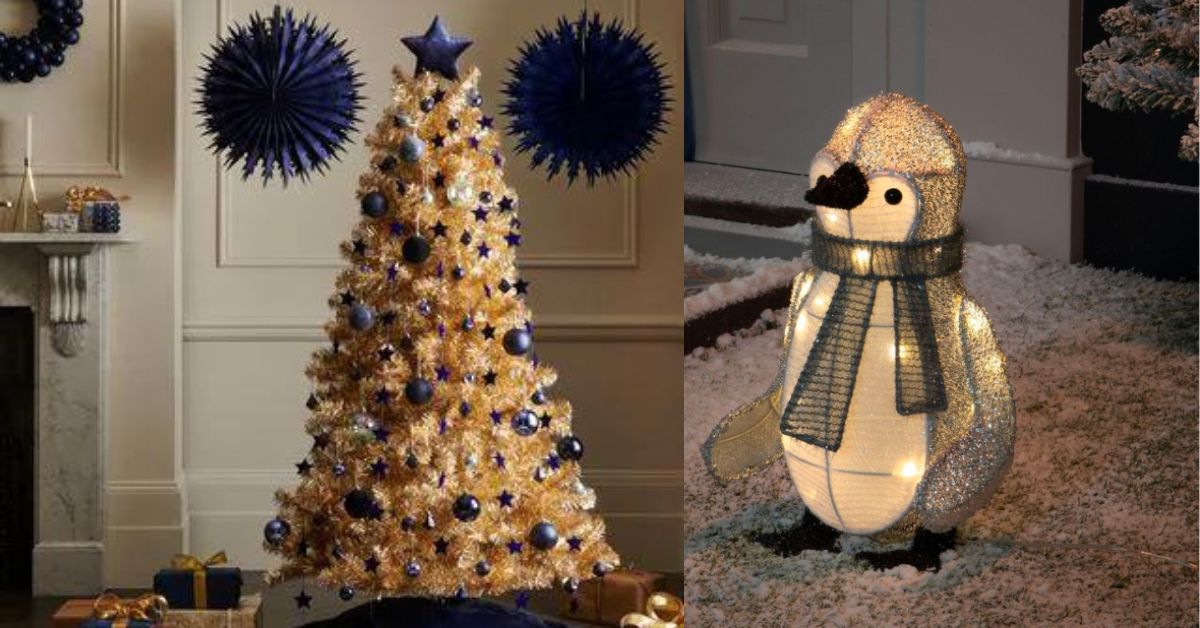 A luxuriously golden Christmas tree may be just what you are looking for this Christmas. The 6ft Christmas Tree in Gold (S$158) from Next looks just as breathtaking as you can imagine a golden Christmas tree to be. At a height of 6 feet, this Christmas tree is sure to impress your guests from a distance with its eye-catching colour and size. Not sure how to dress a gold Christmas tree? Take inspiration from Next, where they also show you just how gorgeous it can look with contrasting colours. 
For the Christmas ornaments, try the well-priced and intricately designed Hanging Paper Decoration (S$16). With a velcro fastening and pre-tied hanging string, this ornament is simple and easy for people of all ages to try their hand at decorating the tree. Alternatively, get the cute fluffy Faux Fur Reindeer Christmas Bauble (S$8) which is sure to be a crowd-pleaser. 
And don't forget the wreath! Decorate the surrounding space or your door with a navy Bauble Christmas Wreath (S$56) – a stunning piece made up of different-sized baubles with varying techniques.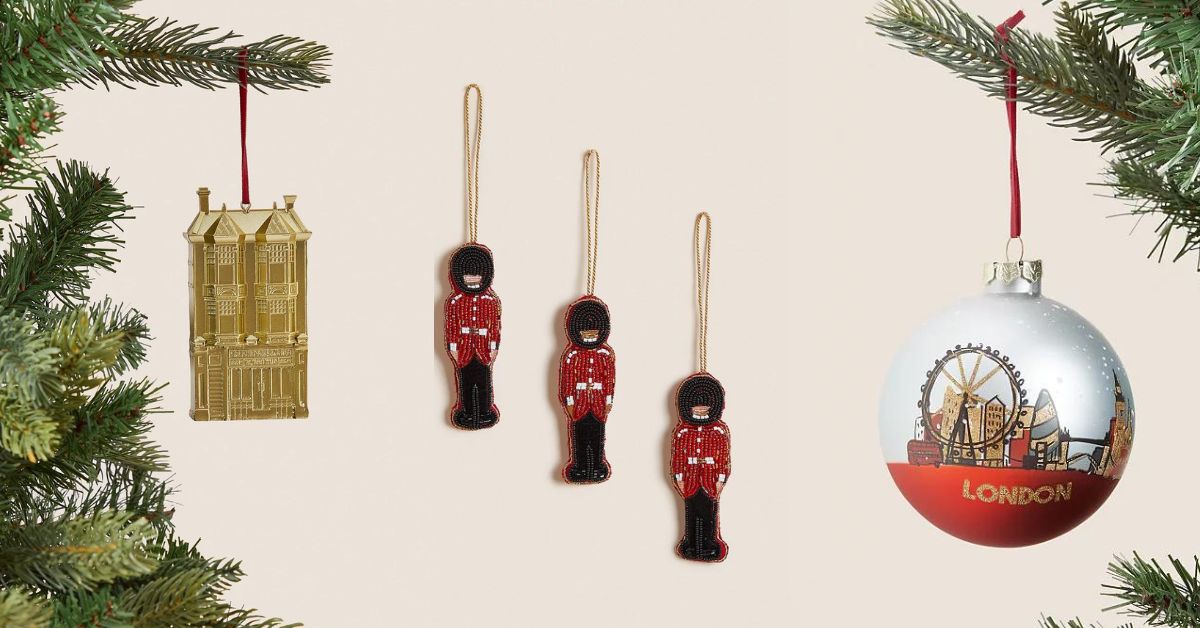 Yes, it's Christmas season at M&S! Make your Christmas tree shine with a sprinkle of British charm this year with the range of London-inspired Christmas decorations at Marks and Spencer. We are personally eyeing the quirky 3pk Hanging Soldier Decorations (S$49.90) where little hanging soldiers have been skilfully crafted from fabric and adorned with intricate beading and embroidery. Each soldier comes complete with its own gold hanging loop, adding a touch of elegance to your holiday decor. 
For an additional dose of British influence, why not showcase London's most iconic attractions on your tree? The 4pk Glitter Glass Hanging London Decorations (S$45.90) showcases the St Paul's Cathedral, Tower Bridge, Big Ben and Buckingham Palace with a beautiful exterior decorated with glitter for the extra sparkles.
Make your Christmas tree feel like royalty with the 3pk Hanging Crown Decorations (S$39.90) from Marks and Spencer. These fabric crown decorations covered with beading and glittery embroidery will be sure to stand out majestically on your tree. For a personalised touch, add the Hanging Photo Frame Tree Decoration (S$29.90) all around! It is the perfect time to reflect on the past year and celebrate so slot in all of the photos of your loved ones and look back on the fond memories together as you gaze upon your tree.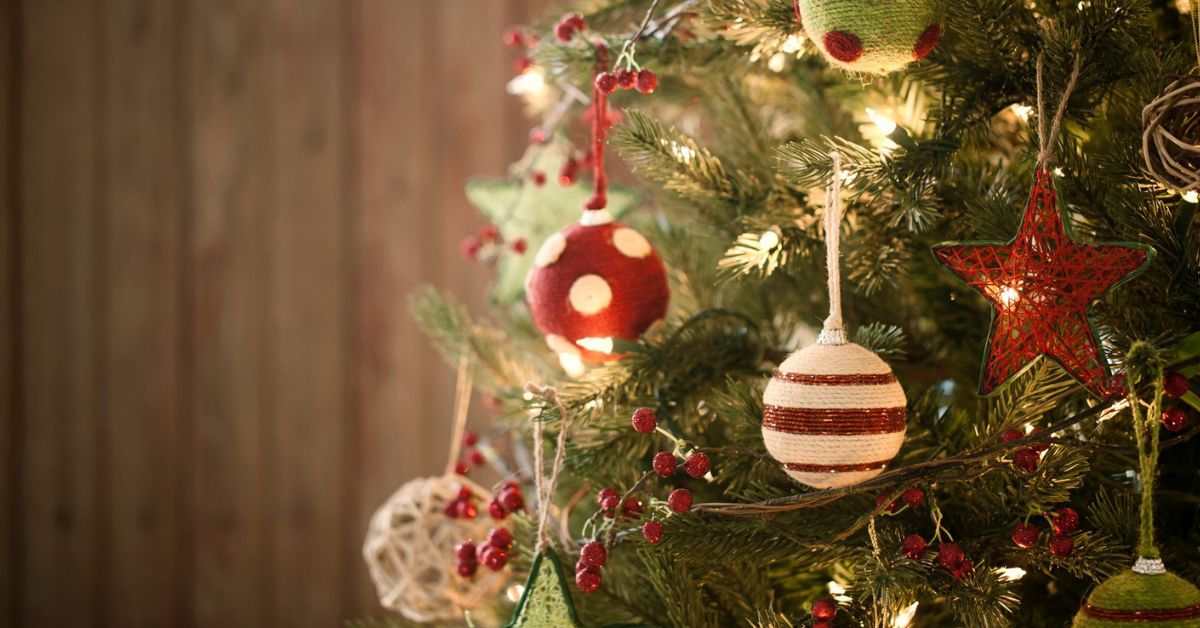 Dazzle all Christmas with some of the best Christmas trees from Dazzle Decor in Singapore. A wholesale festive decorative shop that offers decorative services, they are sure to keep things unique and of expectations. Brighten up the room this Christmas with a soft yet outstanding pink Meri Rose Artificial Christmas Tree (S$69-S$109). Designed with sparkling tinsel foliage, this pink Christmas tree can easily be left unadorned and still be the star of the show. The tree also has a modern and classy look to it with the extra sturdy build and base to prevent the plastic tips from scraping your floors. 
In case you have no desire to own and store a Christmas tree, Dazzle Decor also provides rental services. Available to rent for up to 45 days, the rental service helps take away the stress of holiday decorating as they will even set it up for you! These also come up with decorations, ornaments and lighting to spruce up your Christmas trees. Say goodbye to the mad holiday rush and simply opt for the rental services for you to have some relief during the busy festive season.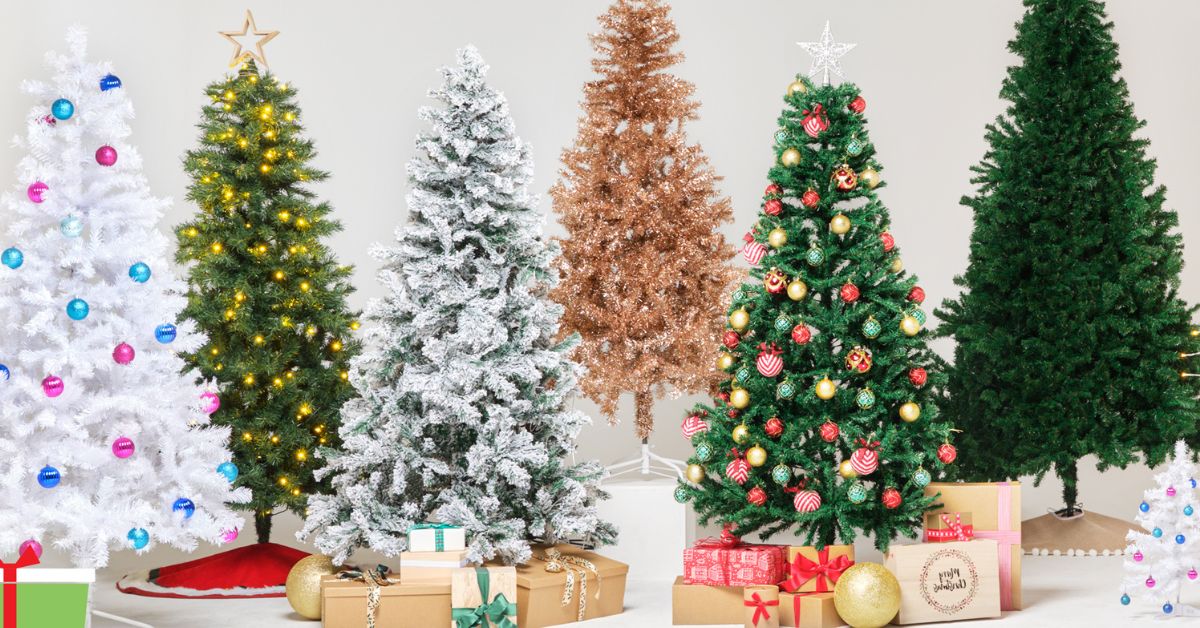 For all you creative souls and DIY lovers out there, Spotlight is Christmas heaven! Steer clear of the typical Christmas trees, baubles and decorations and get creative and crafty with Spotlight this Christmas. 
This year, break the norm and get yourself a Bouclair Whimsical Nature LED Glitter Christmas Tree (S$21) instead of a green fir version. As its name suggests, this tree adds a whimsical touch to the magical season of celebration – and will be sure to garner the attention of your guests this Christmas. Crafted from high-quality metal and wired in a sophisticated manner, this tree is also embedded with LED lights to offer a mesmerising golden exterior with warmth radiating off it. 
Take this chance to bond with your family and friends with the Jolly & Joy DIY Christmas Tree Decofoam (S$9)! Put in your own twist to the Christmas tree and watch the deco foam come alive with everyone's paintings and colours on it. This will undoubtedly be a great activity to have – allowing both the kids to have a go at being artistic and the adults to bring out the child in them. Not a fan of painting? Opt for the Jolly & Joy Fillable Christmas Circle Bauble 2 Pack Clear 12 cm (S$10.50, U.P. S$14) where you can easily change up the fillings of the baubles. This is as crafty as Christmas can be!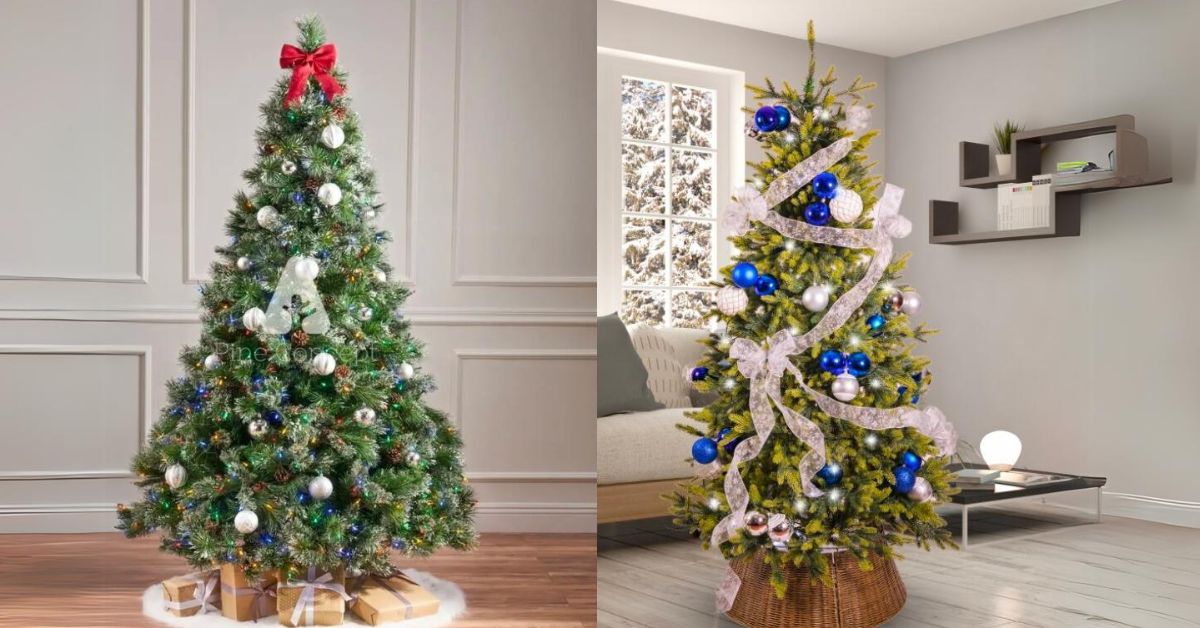 Don't want to switch out your Christmas tree every year? Christmas Tree Singapore is a great option for those who want quality and long-lasting Christmas trees – with their dense green fir that looks almost real and their reassuring 10-year warranty for each tree purchased! 
Known for their hyper-realistic touch and feel, it will be as if you are getting a fir tree without any of the extra work that comes with it. Be impressed by the extremely durable branches which will branch out beautifully and easily as they are self-collapsible. With a simple and easy-to-follow guide that comes along with each tree, you won't have any trouble setting up your beautiful festive piece. 
If you have no idea how to decorate your tree or are too lazy to think of the additional ornaments and baubles to purchase for your tree, Christmas Tree Singapore also sells value bundles. These bundles come with bright and colourful baubles to make your tree come to life, making your life so much easier – especially during the busy month of celebrations. An elegant choice could be the Granfeur 6ft Christmas Tree Bundle (S$160-S$190.30), featuring the premium Granfeur Scotch pine Christmas tree. Along with its grand presence, this bundle comes with 2 Feliz baubles of your choice, 1 Christmas Tree Topper and also 2 LED lights.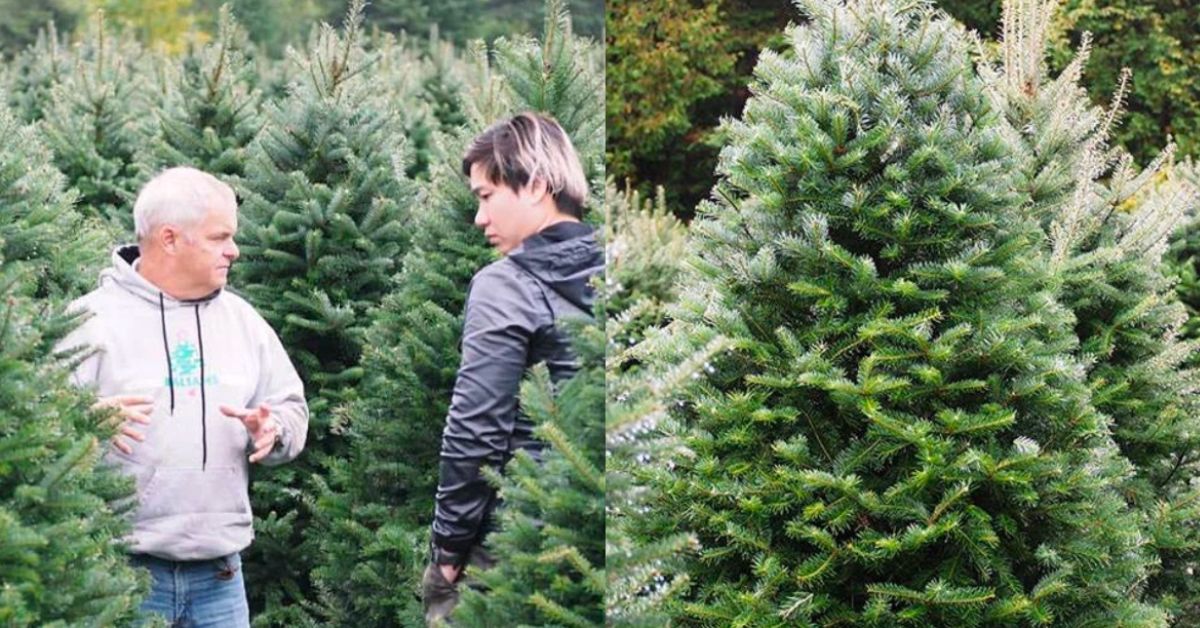 One other great location for live Fir Christmas trees in Singapore would be Sing See Soon, a hugely successful family-owned business with a prominent portfolio of original and breathtaking floral creations. Sealed with love, Sing See Soon is not to be missed during the Christmas season for its gorgeous Christmas trees. 
Voted as the most beautiful tree in Canada twice, the Fraser Fir, is an evergreen tree that can measure up to 25 meters tall with an average trunk diameter of 30cm – becoming the centre of attention at first glance. It is impossible to miss out on this tree if you are looking to add a show-stopper to your space during Christmas. Organic in nature and freshly cut, you can look forward to receiving trees of varying height and colour but still retaining those straight horizontal branches and a thin smooth bark. For those of you who love the fresh scent of pine, you will be delighted to know that Fraser Fir trees are renowned for retaining their needles longer than other trees. Hence, the fresh scent of pine will linger in your home for a longer time. Get yourself the Fraser Fir Christmas Tree 5-6ft (S$235) and couple it up with the disposal service (S$45) for convenience!