F&B
Where to Buy Nut Butters, Seeds, Dried Fruits, Superfoods and Quality Nuts in Singapore
Published Date
: 23 Sep 2021 10:00

Healthy snacking with nuts and plant-based snacks in Singapore
A handful of nuts a day will keep the doctor away. If you're looking for healthy snacks in Singapore,  nuts, seeds, and superfoods may just be the way to go. Not only do nuts contain fats, fibre, and protein, they are also a great source of nutrients and antioxidants. Packed with energy-giving calories, nuts are great for so many occasions - breakfast booster, midday snack, party snack, picnic tidbits, and more!
Check out our curated list on where to buy nut butters, seeds, dried fruits, superfoods, and quality nuts in Singapore.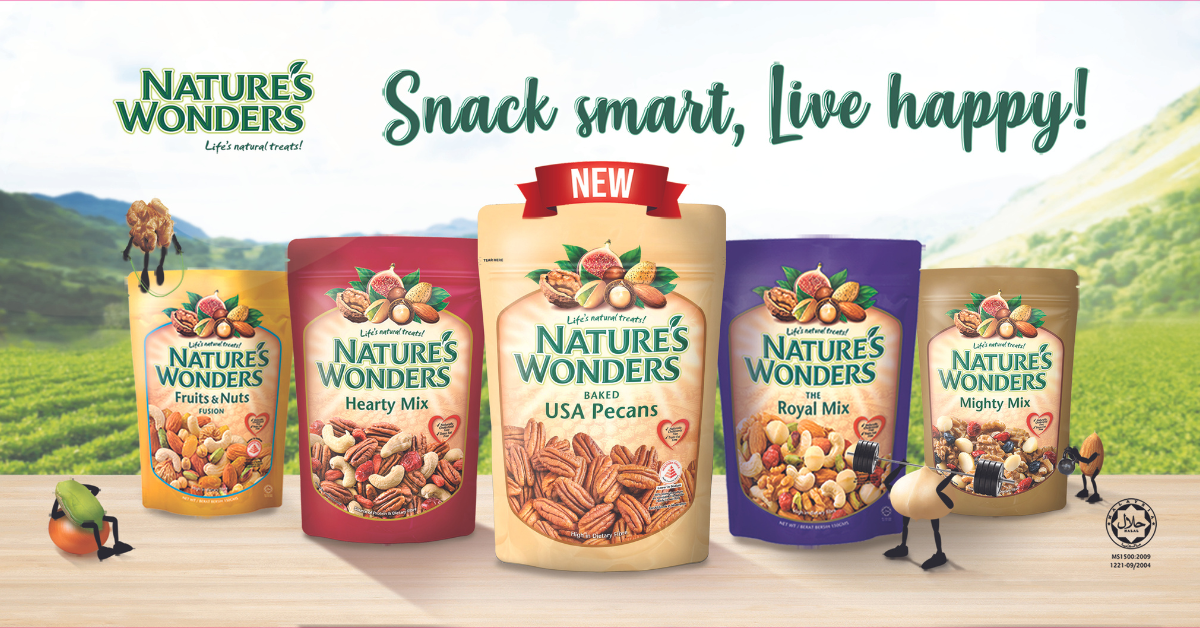 Homegrown company, Tai Sun, has collaborated with renowned pâtissière, Jeanette Aw and local design and lifestyle goods brand, Supermama to launch a limited edition porcelain plate to celebrate its 55th birthday. Fusing two types of well-loved nuts in each pack, the newly launched Duo Nut Mix premium products offer a thoughtful combination of baked almonds, cashews, macadamia or walnuts.
Nature's Wonders also added Baked USA Pecans to its range of heart-healthy goodies recently. From single baked nuts to duo mixed nuts, and mixed nuts and dried fruits, there is something for everyone to enjoy. Pecans are ranked high among the most nutritious nuts. They are an excellent source of good fats, dietary fibre and different vitamins and minerals. Carefully handpicked from the best plantations and speciality growers from the USA, Nature's Wonders Baked USA Pecans are lightly baked to perfection with no added sugar and salt and naturally loaded with rich nutrients that are free of cholesterol and trans-fat.
All the nut packs come in a resealable design for freshness, convenience and portability. Just keep it on your work desk for a midday snack or bring it along on your next hike for an energy boost. Snacking can be healthy and easy. With a recommended daily intake of a handful of nuts a day to snack on, nut lovers can enjoy this delicious treat in varying ways. From adding them to salads and main dishes for an added crunch to topping them off in desserts for added nutrients, nuts are highly versatile and a great addition to meals.
The plate and a set of four Nature's Wonders Duo Nut Mix packs retail at S$68, available exclusively at Supermama Online Store. 100% of the proceeds from the sale will be donated to Autism Association Singapore.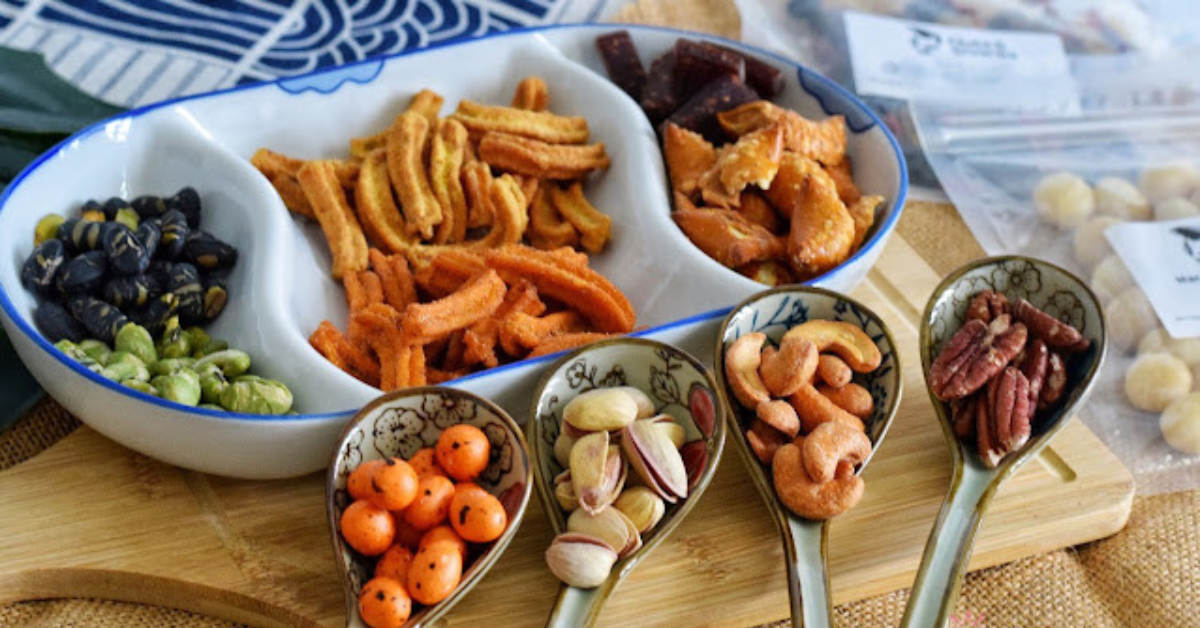 Nuts And Snacks is a place to go to for quality and price affordability. Their brand carries a wide selection of nuts, seeds, snacks, as well as mixed nuts and dried fruits. 
Their mixed nuts are a hot pick. Specially curated, their tasty mixtures can be enjoyed on their own or by adding to your choice of cereal, salad or yoghurt. You can find more than 15 different mixtures! If you fancy a healthy mix of nuts, dried fruits and seeds, check them out! 
Buy more to save more! Their 500g packs are currently on 10% OFF. If you purchase 2 or more 500g packs, you can enjoy 20% OFF. Mix and match any 500g packs and get this storewide discount. Apart from this, you may create an account on the website to earn points and use them for further discounts on your purchase.
Thinking of gifting? Their Nuts And Snacks gift box is loved by many. You can choose up to 5 or 10 food items depending on your budget and include a personalised message for free! 
How about a 30g single-serve pack for one-time consumption? These fun-sized healthy packs allow you to enjoy nuts wherever you are. Put a pack in your bag or pocket, it is a snack on the go! 
Be it for an event or a choice for welfare pack, gift box or pantry snack, N&S supplies regularly to many different businesses, schools, government agencies and religious organisations. If you are looking for a corporate snacks provider, you may request N&S for their corporate catalogue with pricing. They will also strive to meet your requirement and budget by offering a customisable selection for you. A friendly and dedicated sales manager will get back to you in no time.
Wait no more, head over to their website now to check out their full range.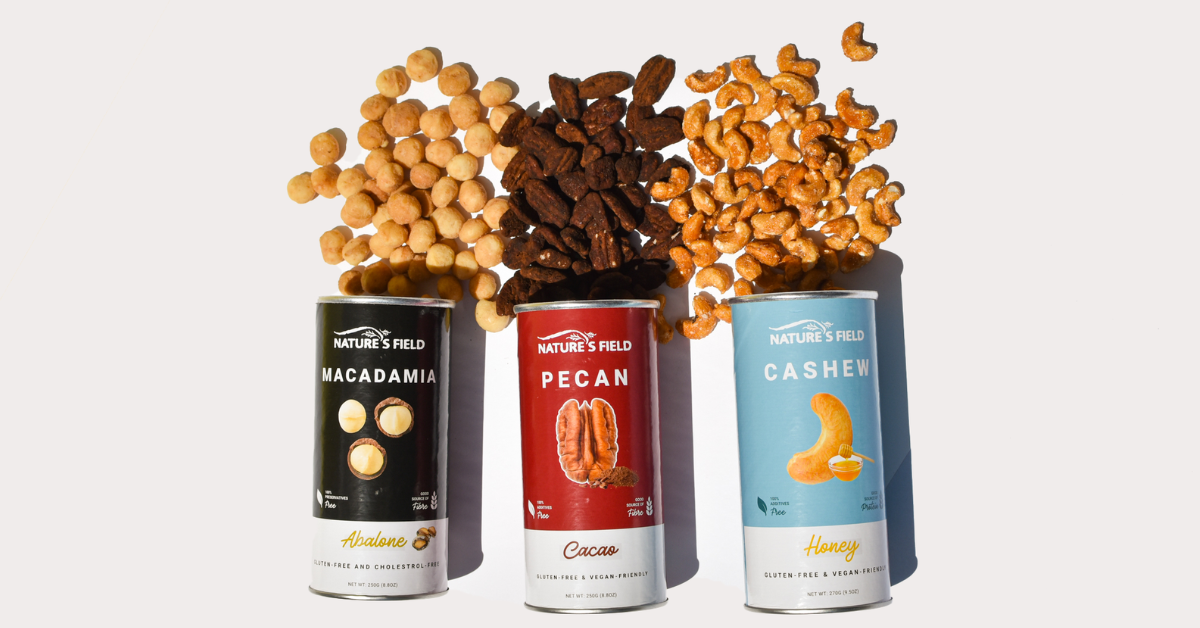 Nature's Field is passionate about developing a wide variety of premium flavoured nuts catered to different palates by using the highest quality food products possible and minimal ingredients. They believe that what we fuel our body with should make us feel good – well nourished and energised.
With over 20 years invested into R&D, Nature's Field have successfully formulated their own recipes and offer products that are 100% natural, baked without oil, free from preservatives and food chemicals.
Feeling adventurous? Nature's Field got you covered with robust nut flavours such as Abalone Macadamia, Garlic Macadamia, Garlic Turmeric Cashew, Cacao Cashew, and Honey Cashew, all while providing your body with the right nutrients, vitamins and minerals you need on a daily basis.
You'll also find dried fruits including dried guava, dried mulberries and Persian figs. 
Nature's Field pioneered the nut kiosk concept back in 1999 with the launch of their retail store, Nuts & Nibble at Takashimaya Basement 2. With a minimum order as low as 100g per item, you are able to try all sorts of interesting flavoured nuts, seeds and dried fruits. You can also customize a mix of your choice or select from their range of specially curated nut mixes.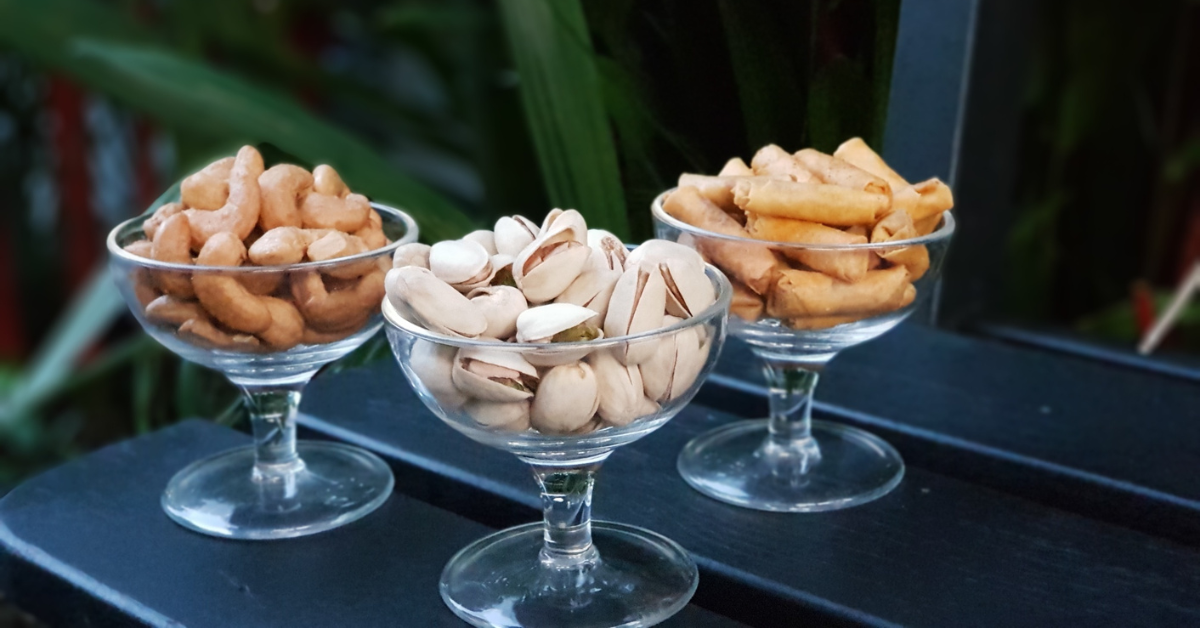 Image Source: Bega Nuts Facebook
Bega Nuts are manufactured locally in their production factory to ensure the freshness and highest quality possible. Their range of Nuts and Snacks uses traditional family recipes and roasting methods that have been passed down from the founders.
You'll find all sorts of nuts ranging from broad beans to seaweed cracker peanuts, and even local favourites such as ikan bilis with salted peanuts. Also on offer are various mixed nuts such as the baked Hearty Trail Mix consisting of pecans, sunflower kernels, pepitas, hazelnuts, topped off with juicy raisins and blueberries; and the Premium Mix consisting of Roasted Cashews, Almonds, Macadamias and Butter peanuts.
Going to a party and need to bring snacks? Check out the section on party packs. The Kachang Puteh Party Packs comprises 6 individual tubs of all-time favourite nuts and snacks: Mix Muruku, Cashew Nuts, Sugar Peanuts, Broad Beans, Green Peas and Curry Sesame Peanuts. Plus, the pack comes with 100 pieces of paper cones and a peanut scoop to go along. Go nuts!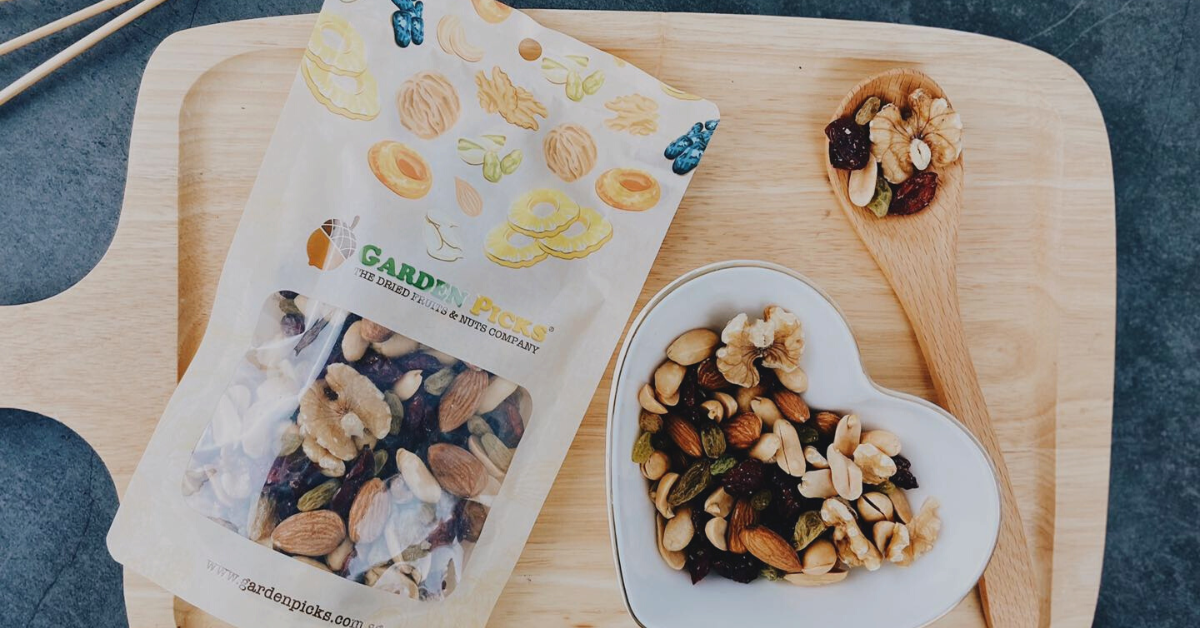 Image source: Garden Picks Facebook
Co-founders Francis and Eunice started Garden Picks fresh out of university combining their passion for entrepreneurship with their love for healthy snacking.
The product range has grown to more than 100 varieties of wholesome snacks including nuts, dried fruits, superfoods, snacks, cereals and nut butters. Their mission is to tirelessly pick the best fruits and nuts for you that aren't just of better nutrition, but are oh-so-delicious!
Feel like your energy level is dipping? Pick up one of their dried fruits packets which come packaged in resealable zip pouches. These ready-to-eat dried fruits are excellent sources of vitamins, minerals and fibre which are essential to having maximum productivity at work, and are a convenient pleasure to keep on your work desk so there are no excuses.
Love to snack but don't love the guilt that comes after? Check out Garden Picks' range of unique and addictive snacks such as Soya Crisps, Rice Crisps, Fruit Chips, Mushroom Chips, Vegetable Chips, Pretzels and more.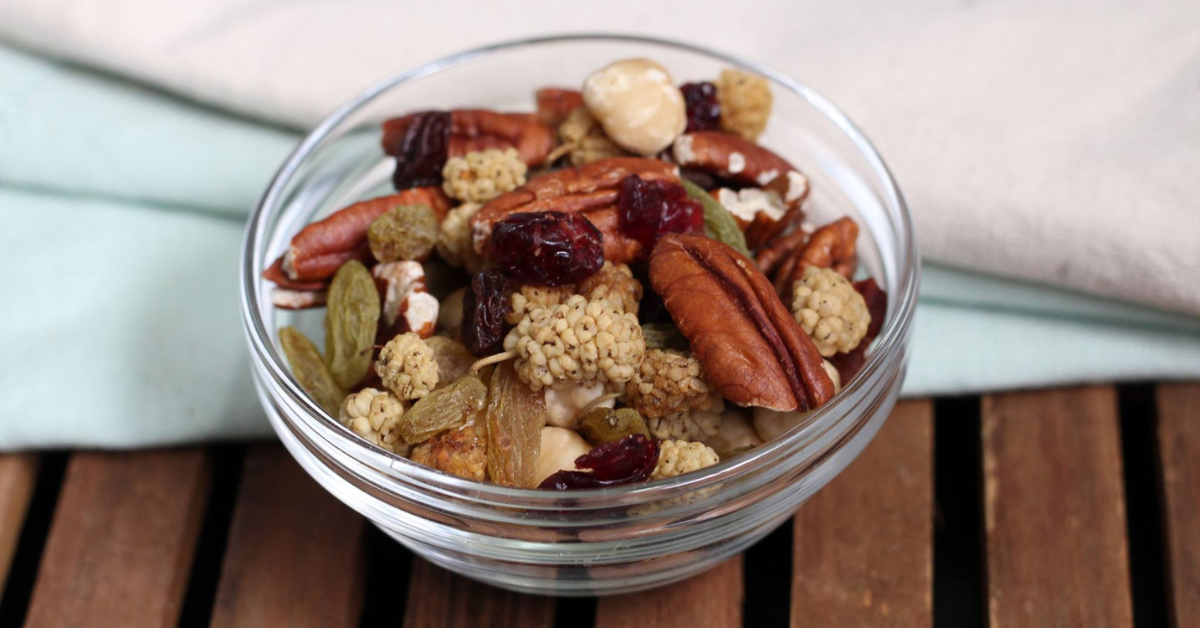 Image source: Pat's Oven Facebook
Known as the homegrown nuts 'bakery', Pat uses her own recipes to bake the nuts and adding glazes made from ingredients such as sea salt, olive oil, and pure honey to make these simple snacks more tasty and indulgent.
What comes out of Pat's Oven? Classic crunchy nuts that can be eaten as is or used as ingredients for baking cakes, desserts and biscuits; for making foods such as vegan cashew cheese; or for adding to soups, salads and other dishes.
Pat also creates assorted savoury nuts such as garlic herbs cashew nuts, chilli macadamias, coffee pecans, honeyed walnuts, sea-salted pumpkin seeds and more.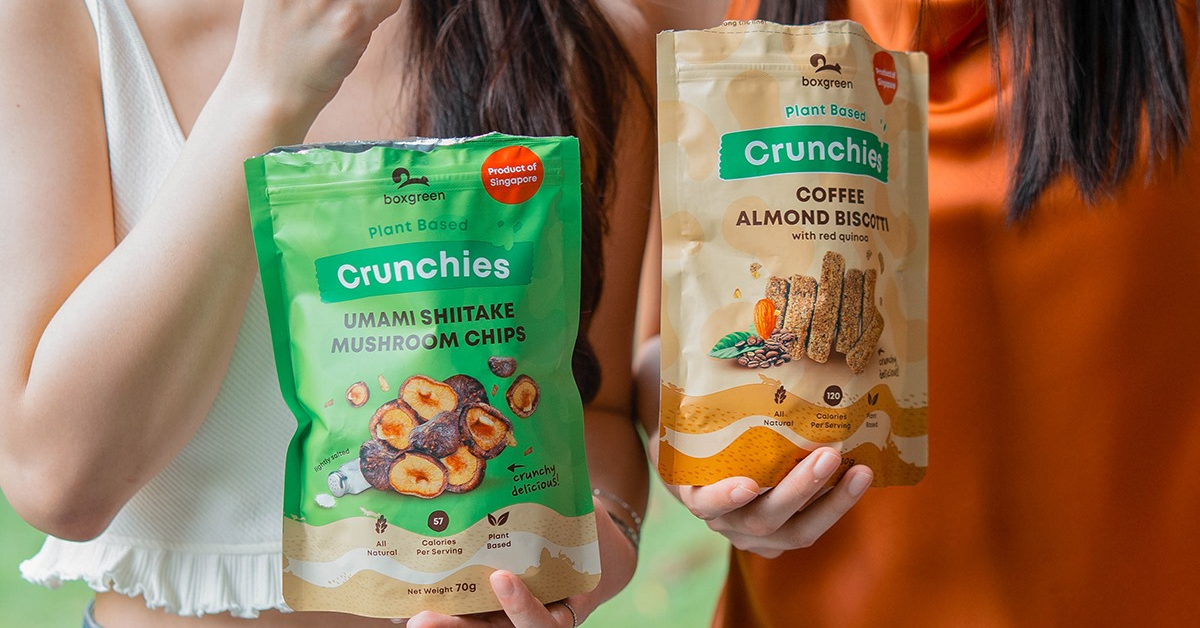 Image source: Boxgreen Facebook
Healthy snacks that taste good! Boxgreen want to change the perception that healthy snacking equals bland snacking. With tasty plant-based snacks, they offer an alternative to snacks that are high in sodium, and full of artificial preservatives, colouring and flavours. Using interesting ingredients and blends, you'll find a variety of sweet and savoury snacks that are nutritionist-approved.
What can you find? Peanut Butter in 3 different flavours - Sea Salt, Dark Chocolate, and Perky Coffee; Crunchies such as Mexican Rice Crackers, Sriracha Multigrain Crackers, Honey Mustard Soy Crisps, Umami Shitake Mushroom Chips, Coffee and Almond Biscotti with Red Quinoa; vegan-friendly snacks including Berry Apricot Bursts, Peri Peri Lime Soya Crisps, Brown Sugar Magic Beans, and Pretzel Power Crunch; Snack Good Do Good nut mixes; and lots more.
You can even build your own box based on your dietary needs whether you're looking for a protein punch or a happy gift box.