home & living
Where to buy Asian-Inspired Home Decor and Chinese Antique Furniture in Singapore
Published Date
: 22 Feb 2022 14:15

Here are the furniture stores in Singapore if you are looking for Chinese antique furniture and Asian-inspired home decor

China Collection
A leading antique and vintage furniture store in Singapore, China Collection has been offering beautiful and elegant home decor to the island for over 20 years. The furniture store curates pieces from the North of China featuring a wide variety of furniture and Asian-inspired home accents.
The eclectic selection of rare antique pieces, unique vintage furniture and home accessories holds wide appeal as does their old elegant shophouse with its colourful Peranakan architecture and stained-glass windows. Set over two floors, there is an impressive array of original 19th-century elmwood cabinets, painted sideboards, trunks, altar tables and chairs.
China Collection's knowledgeable store owner Doug Lockett is a passionate expert on Northern Chinese country antiques, and hand selects the collection to impress every single time!
Eyeing China Collections' antique sideboards? Made in wood, these feature original artworks that are reflective of a typical home of a Northern Chinese family circa late 19th into the early and mid 20th century. Yes, these can be up to 100 years old! 
Looking for smaller pieces or an exquisite feature point for your home? At China Collection, you'll also find a colourful variety of modern accessories including antique maps, lamps, chairs and benches, porcelain jars, and bronze rain drums. For the perfect dash of colour, consider their best-selling signature jade and silk tassels too! 
We love that their store is ever-changing - with new shipments arriving regularly, you'll find it brimming with new ideas, pieces and decor ideas. 
If you need help choosing China Collection's in-house interior stylist is also available to assist you with your selections and offer valuable home decorating advice.
Whether you shop online or head to their stunning Joo Chiat store, you'll find a wide variety of Chinese antique furniture to your liking! China Collection even offers international delivery for overseas customers.
China Collection, 252 Joo Chiat Road, Singapore 427506. Opening Hours: Monday to Saturday 10 am to 5 pm, Sunday 12 pm to 5 pm. Phone: (+65) 9858 6889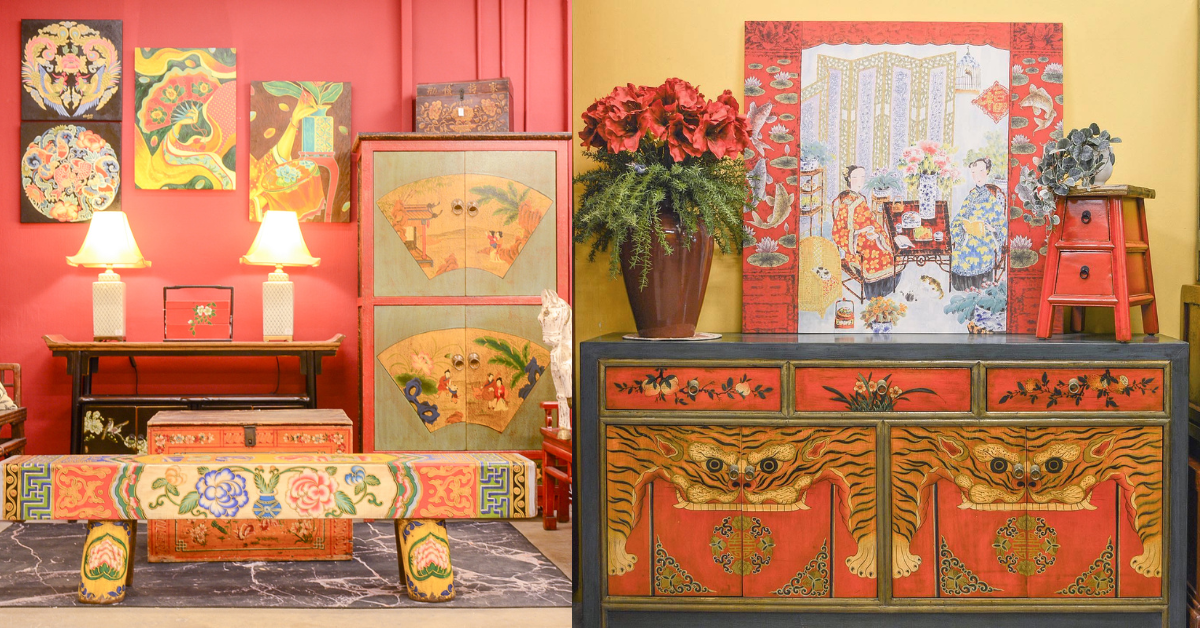 LIMS Legacy
A household name in Singapore, Lim's Arts and Living is the go-to place for all things furniture and home decor. The founder, late C.P. Lim, was an apprentice under master wood carver at the former C.K. Tang. It was there where he learnt and mastered the art of teak and camphor wood chest carvings and gained an appreciation of fine furniture, Chinese antiques and Asian arts and crafts.
Check out the Orient Collection for cabinets, consoles and sideboards made from sturdy elm wood and featuring brass faceplates on their swinging doors. They come in a variety of colours including dark wood, light wood, white wash, grey wash, and turquoise.
Inspired by the wedding cabinets from ancient China, the Fleur Collection focuses on showcasing the natural wood grain of the elm, the elegant construction and the hand painted motifs that the era was famed for.
Lim's Arts and Living also offers porcelain lamps, hand painted bowls, drum stools and more in oriental designs.
LIMS Legacy, multiple retail outlets. Showroom (by appointment only): 3015A Ubi Road 1, #01-12, Singapore 408705. WhatsApp: (+65) 96625712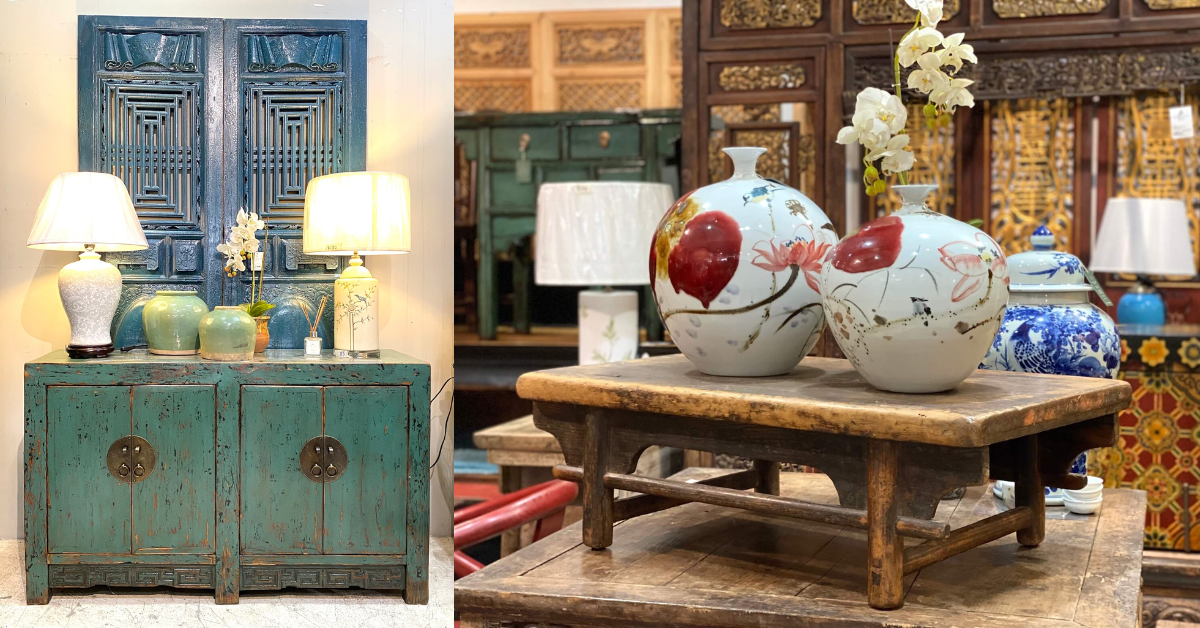 Just Anthony
Just Anthony is a Chinese antique furniture and accessories store in Singapore. Just like the Chinese traders of the past, their team regularly travels to China to find extraordinary pieces, thus bringing the Chinese heritage to you. You'll find everything from cabinets, sideboards, consoles, and chests to chairs, stools, ceramic table lamps, Chinese accessories and more. 
Want all the attention to be in your bedroom? This Late 19th Century Canopy Bed from Shanxi province, China is the perfect centrepiece! Other notable pieces of furniture include an old painted sideboard from Gansu, China, approximately 60-80 years old and Antique Chinese Wedding Cabinet from Zhejiang province, China, approximately 100-120 years old. 
Besides furniture, there are decorative items such as figurines, baskets, boxes, door panels, pots, and even an old Cantonese carving turned into a mirror. Achieve a Chinese-inspired interior by adding some of Just
Anothony's modern Chinese ceramic accessories. Whether you are looking for a simple yet elegant ceramic ornament or something that features an intricate design, you can find it at this antique furniture store.
Just Anthony, 379 Upper Paya Lebar Road, Singapore 534972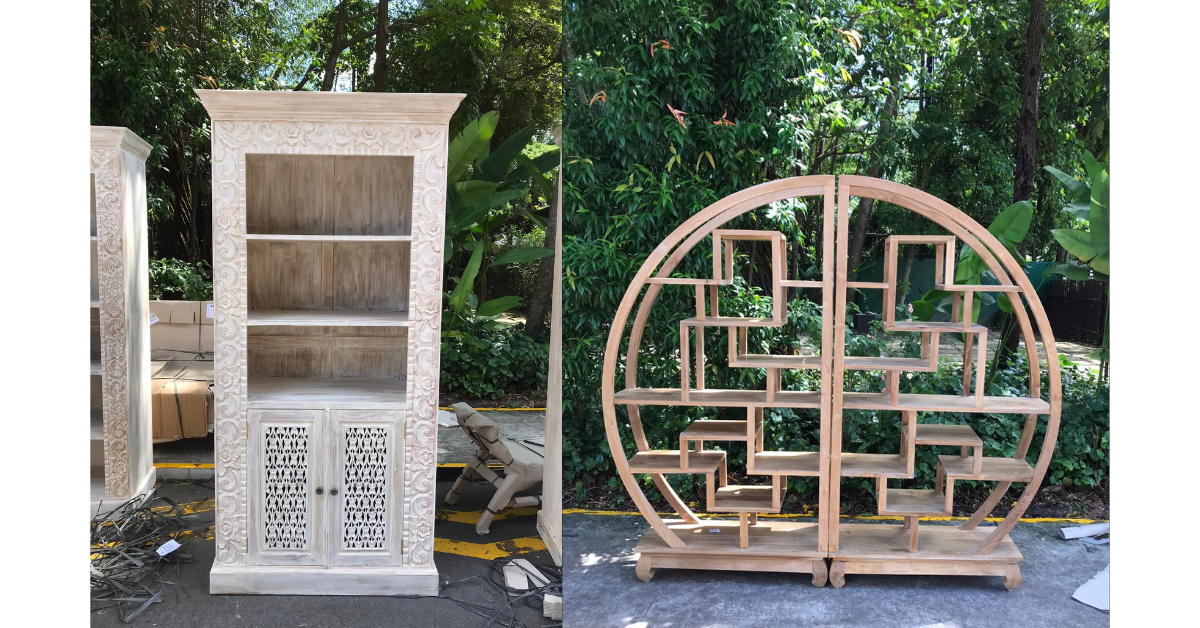 Woody Antique House
Woody Antique House offers a wide range of Asian furniture and antiquities. Their collection includes a large selection of Chinese reproductions and antiques sourced from all over Asia such as China, Tibet, Mongolia, India, Myanmar, Thailand and Indonesia. They also have a large collection of Indian furniture consisting of both new and vintage pieces of different types of solid wood.
For those with a taste for vintage pieces, there is an attractive range of antique furniture such as Mongolian and Tibetan sideboards and cabinets, Chinese cabinets, and Indian coffee tables, dining tables and cabinets. As a specialist antique shop in Singapore, all products are meticulously restored to retain and reveal their original beauty.
Another popular range is the Reborn Teak series whereby each furniture item is made from 100% recycled teak collected from old houses in Indonesia. Besides being eco-friendly, these recycled wood furniture pieces can be finished in a variety of natural finishes such as smooth or rustic so as to add a warm, natural feel to your interior.
Woody Antique House, Blk 13 Dempsey Road, #01-05, Singapore 249674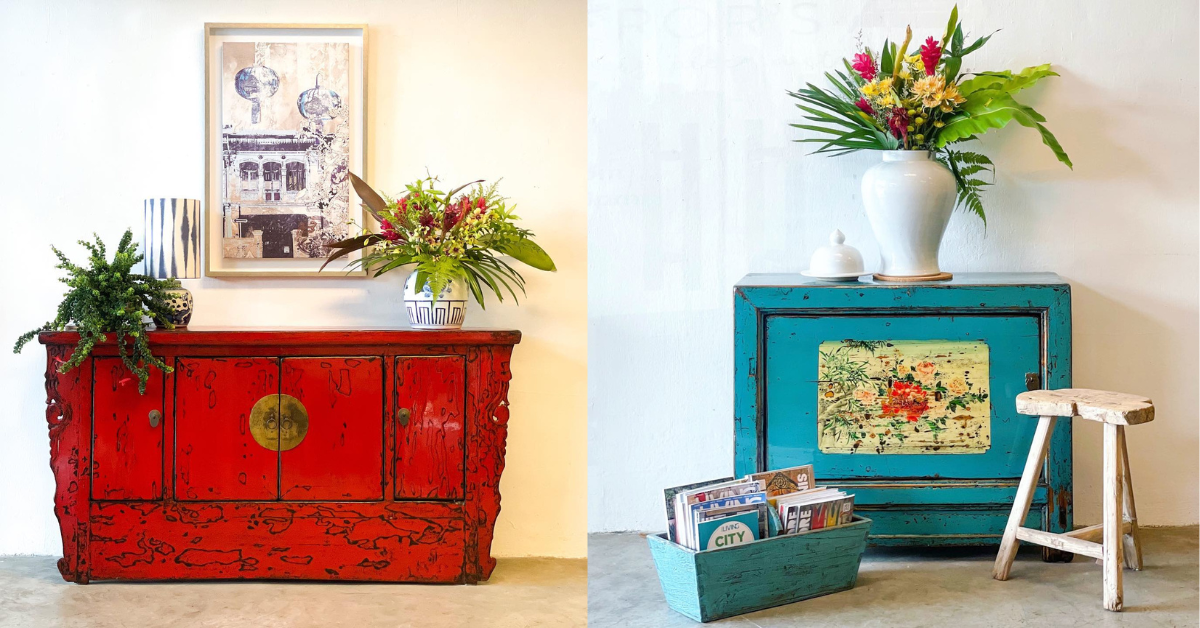 Emperor's Attic
Known for sourcing some of the best traditionally handcrafted furniture, Emperor's Attic offers a range of Chinese antique and vintage furniture and home decor.
The team personally selects and authenticates each item to be sure of its age, origin and material. As such, each piece of furniture and home decor is unique in style, colour and finish. No two pieces are alike!
Emperor's Attic works with a handful of trusted suppliers from Northern China to bring these rare pieces to Singapore. The handmade pieces are made to last a lifetime and more. As with any handmade or antique item, there are imperfections that form part of its story and charm. If you have something specific in mind, they can help you source for that too.
Emperor's Attic, 315 Outram Road, #01-10 Tan Boon Liat Building, Singapore 169074. WhatsApp: (+65) 9011 0380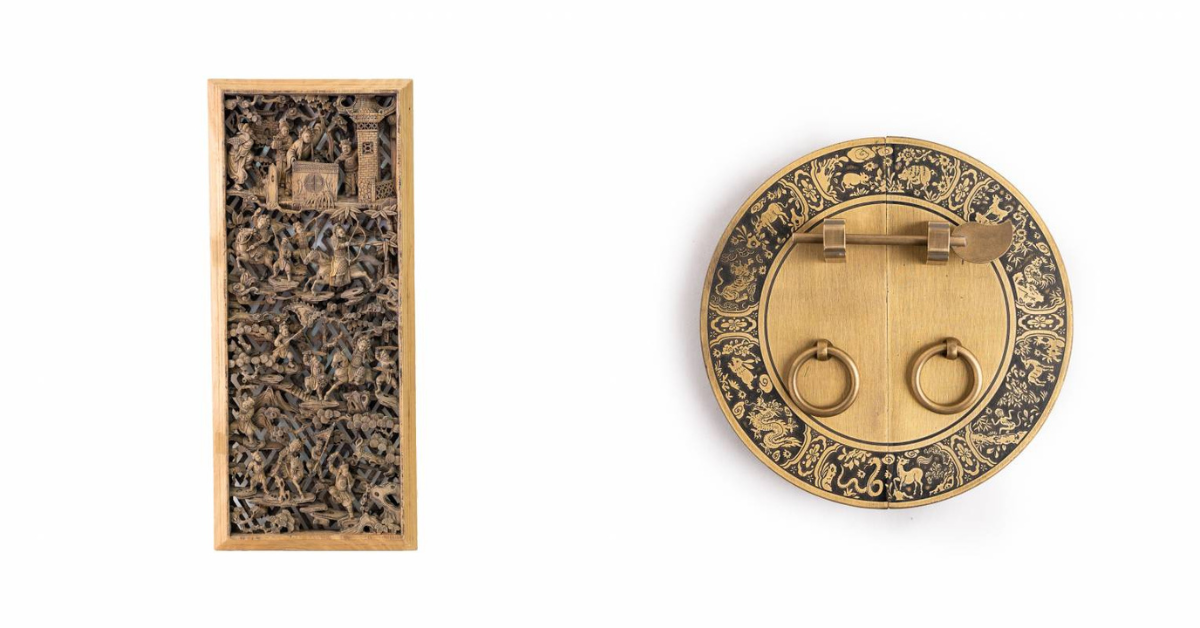 Hidden Treasures Singapore
Founder Mr Yau Kian Keong started Hidden Treasures in 1999, having grown up seeing his father collect Chinese antique furniture and art pieces. Mr Yau prides himself on the quality and uniqueness of each Chinese furniture product he sources from all over the world.
Hidden Treasures specialises in old and unique fine pieces of Chinese furniture. Specialties include antique wooden window panels, antique Chinese door panels, antique Chinese bed frames, and antique wooden screens tailored to specific measurements. They also carry Chinese buddhist art, lacquered wares from Myanmar as well as many other curios from the villages of Mainland China. Curios include Chinese porcelain, Chinese embroideries, Chinese paintings, leather boxes, food containers, wedding baskets, carving panels, antique wooden money boxes, and more.
Hidden Treasures also customise quality furniture like cabinets, beds, tables and chairs as well as wooden door panels and screens if you have something specific in mind.
Hidden Treasures Singapore, Showroom (by appointment only): 48 Hillview Terrace, #07-07B Hillview Building, Singapore 669269. Phone: (+65) 9769 0706
SCENE SHANG
With Asian-inspired furniture that is entirely designed and crafted in Singapore, Looking for something that is inspired by Asian antiques but has a more modern take? SCENE SHANG pays homage to the rich Asian heritage with iconic designs that blend classic Chinese elements with modern-day sensibilities. Visit the SCENE
SHANG Loft - a creative showroom space that celebrates classic Asian elements and heritage through modern furniture design - to see their furniture and homeware.
SCENE SHANG's founders work closely with traditional artisans from Asia to reimagine the traditions of yesteryear for the urban home, amassing in a trove of heirloom furniture and decorative fittings, each with its own story to tell.
In furniture you'll find everything from chairs and sofas to coffee tables to side tables. Homeware is abundant with bath accessories, lacquerware, lamps, cushions, plants, fragrances and more! Let's not forget the art collection featuring artwork by Arthur P.Y.Ting and original prints by Louise Hill Design.
SCENE SHANG, 42 MacTaggart Rd, Level 7, Singapore 368086
Born and raised in Singapore, this foodie spends her weekends exploring new cafes, restaurants and bars. If she's not at the gym busting out a yoga pose, she probably has her nose in a book or is binge-watching a brilliant whodunnit.