wellness
Wellness Essentials: #SelfCare Through Aromatherapy, Diffusers and Quality Essential Oils in Singapore
Published Date
: 15 Nov 2021 12:47

Here are the aromatherapy essentials to add to your self-care routine: essential oils, diffusers, bath bombs, candles, and more!
For all its benefits to our physical, mental and emotional wellbeing, aromatherapy is a wholesome healing treatment that uses the scents of natural plant extracts and other aromatic materials. It has been known to improve the health of the body, mind and spirit.
Whether you need to relieve stress and tension, improve your quality of sleep, help you focus, or slip into a relaxing state, there's an essential oil blend for you. Pure essential oils, aroma diffusers, essential oil candles, bath bombs, and other natural wellness products are easy to incorporate into your self-care routine.
Check out our curated list of wellness products and aromatherapy brands in Singapore.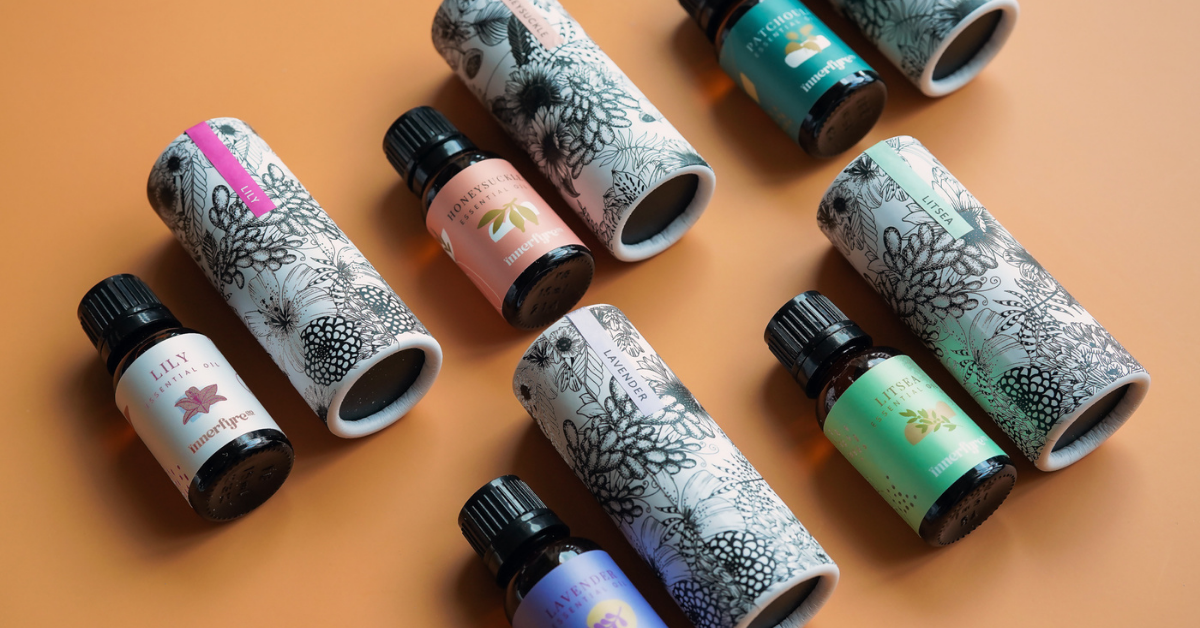 Make your self-care routine a special occasion with local brand Innerfyre Co's line of vegan-friendly, non-toxic essential oil candles, therapeutic essential oils that come in the form of scent blends, room sprays, and roll-on perfumes.
Enchanting with goodness from the inside out, the new Innerfyre Co Alchemy range of 100% pure essential oils boasts a total of 25 different essential oils at affordable prices and features less common essential oils such as Honeysuckle and Lily. These oils are in their pure and unadulterated state, having been sourced directly from producers. The Alchemy series was created to encourage you to create your own scent blend. The cheery, gorgeous botanical designs also make these a great idea for wellness gifts. Featured scents include Lavender Essential Oil, Lily Essential Oil, Patchouli Essential Oil, Litsea Essential Oil, and Honeysuckle Essential Oil.
Also on offer are Innerfyre Co Essential Oil Candles. Take a deep breath and relax with these 100% natural candles, and without worrying about any nasty stuff. These essential oil candles are made with a luxurious wax blend containing coconut wax and rice bran wax, free from paraffin, additives, and phthalates. A perfect complement to anyone's self-care ritual, the Innerfyre Co Aromatherapy Candles are naturally fragranced to bring the mood-boosting effects of essential oils to your living space. Another option is the range of feel-good Innerfyre Co Affirmation Crystal Candles that come with positive "I am" messages such as "I Am Blessed" and "I Am Loved".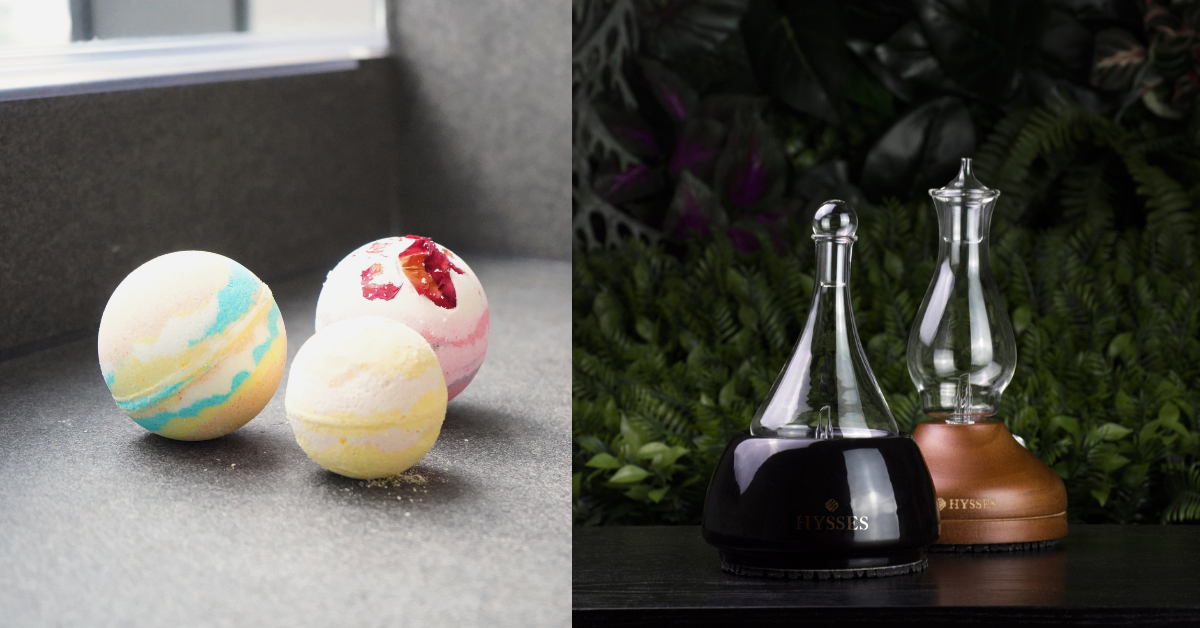 Inspired by the wisdom of nature, Hysses offer essential oils and natural aromatherapy products. Each Hysses product is consciously designed to honour its fresh ingredients and deliver the treasures of the earth into your hands. All products contain only natural botanical and bioactive ingredients to provide healing therapy and nourishment; the formulas avoid any harmful toxins or synthetic silicones.
Do you face respiratory issues or breathing problems while sleeping? Consider having a nebuliser in your room during the night and during your essential oil aromatherapy sessions. Often considered the best type of machine for the therapeutic use of essential oil diffusion, the Nebuliser uses cold air nebulising technology to break down the essential oils into microdroplets which are then dispersed into the air as a mist.
These microdroplets are the optimum size for inhalation through the lungs, entering the bloodstream and allowing deep therapeutic action. In addition, the microdroplets are able to stay suspended in the air for longer periods of time, maximising the scenting effects and therapeutic benefits of essential oil.
Need more self-care ideas or wellness gift ideas? Newly launched Hysses bath bombs are treats to the body, soul and mind. These handcrafted balls come with dedicated scents that provide specific benefits such as nourishing and moisturising the skin, relaxing the muscles and bringing calmness to the mind. They are Instaworthy too! One of the highlights of Hysses bath bombs is that they spin and fizz as they react to water which provides a spectacular sight in the tub.
A total of 8 bath bombs have been launched. Amongst many other beneficial properties, Helichrysum Lavender for soothing; Peppermint for relieving aches; Bergamot Geranium for calming; Rose Geranium and Vanilla Grapefruit for insomnia; Verbena Rose and Lemon Geranium to reduce anxiety and for relieving stress; and Plum Yuzu for energising.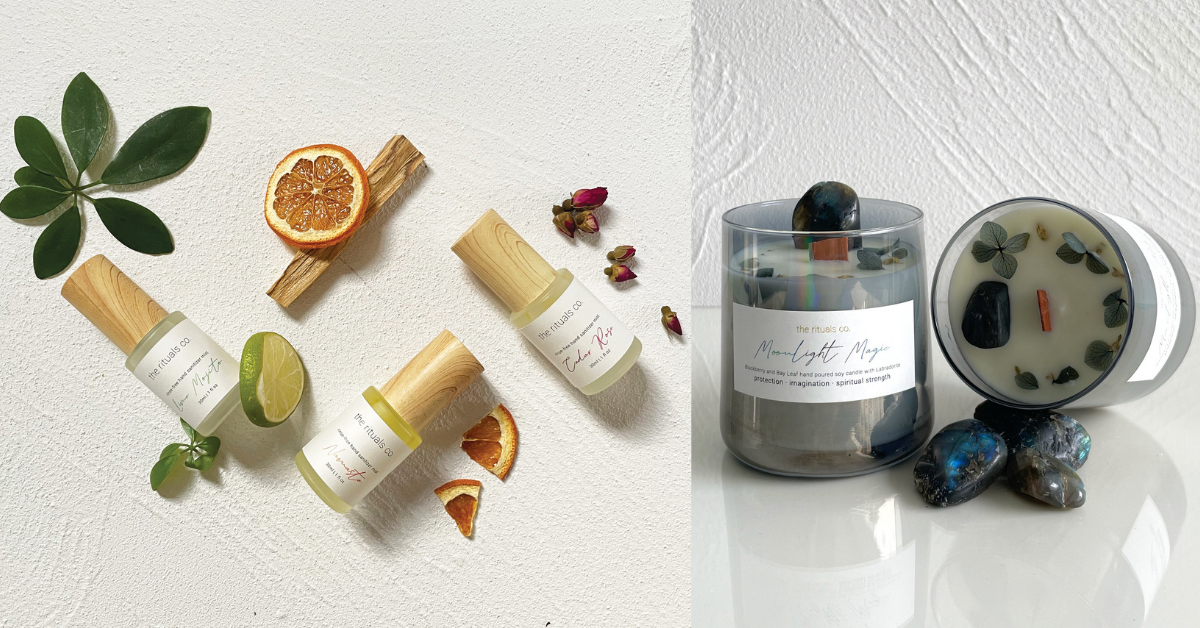 The Rituals Co.'s philosophy is to create meaningful #selfcare rituals with aromatherapy to heal your mind, body and soul. Uplift your senses and refresh your space with a wide range of scented healing candles and reed diffusers from The Rituals Co.
Talk about being vegan, eco-friendly, and child and pet-friendly! Their bestselling Crystal Candles are made with soy wax from US-grown soybeans and naturally derived scents and essential oils. Choose from eco cotton wicks or signature wood wicks that give a soothing crackling sound when burned.
The Rituals Co.'s aromatherapy products are handcrafted with all-natural botanicals and infused with natural healing crystals, such as Rose Quartz, Purple Amethyst and Citrine to empower you with gentle healing energy. 
Check out their recently launched Day and Night Holographic Crystal Candle Set - a scent ritual to take you from day to night. Daylight Dancing is scented with White Tea & Ginger, an invigorating infusion of warm ginger and bergamot, floral freshness and a medley of citrus. This daytime scent is infused with Opalite crystal to bring a sense of joy and positivity to your day. Moonlight Magic is scented with Blackberry and Bay leaf, a vibrant burst of tart blackberries blended with the freshness of bay leaf, cedar and rustic woods. This verdant nighttime scent is infused with Labradorite crystal aids dream recall for a restful night, and holds protection against negativity.
Also on offer is The Rituals Co.'s new range of Rinse-free Hand Sanitizer Mists which is tough on germs and viruses yet gentle and moisturising for extra care to your skin. The formulations have been blended with pure essential oils for a natural longer-lasting scent. The bestselling Lime Mojito Rinse-free Hand Sanitizer Mist is inspired by the zesty Mojito cocktail, to give you an instant perk-me-up. This sanitizing mist doubles up as a mask freshener too! Spread love, not germs.
Furthering their bid to be eco-friendly, The Rituals Co. uses only recycled and recyclable material in their packaging. Once your product has finished, upcycle the bottles and jars into useful lifestyle objects such as vases and trinket holders.
Every product is hand-poured and blended in small batches with love and your wellness in mind, making them especially thoughtful gifts to treat yourself and your loved ones.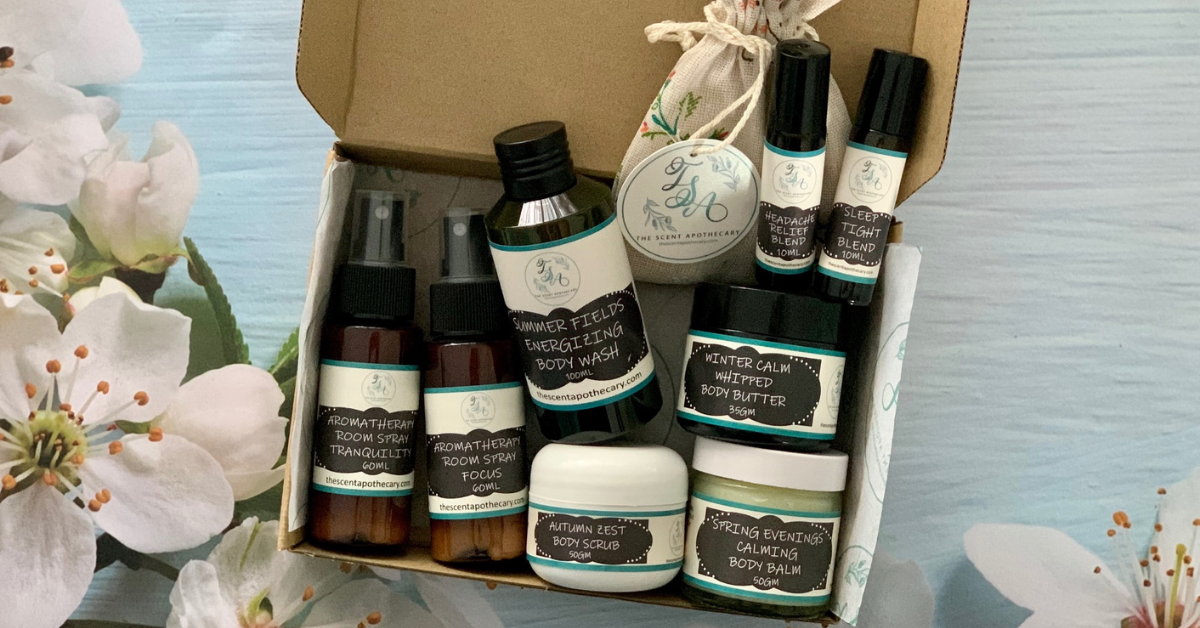 The Scent Apothecary's (TSA) mission is to harness the restorative and regenerative properties of nature to develop products that are naturally good for everyone. Their offerings come in the form of pure essential oils, carrier oils, body butters, waxes, diffusers, and more. Most importantly, they want to bring all these wellness products at an affordable price and great value to as many as possible.
The essential oils used in the formulation of the products are of high quality and sourced carefully from different countries. Formulated to optimise the benefits for the user in terms of both emotional and physical wellness, TSA's essential oil blends are not just nice scents. When blended well, these essential oils have properties to help manage our emotions such as calming anxiety, uplifting moods and helping to get peaceful sleep!  In addition, when used topically, they aid in improving our skin and hair conditions.
One of the more popular items is the All Natural Massage Roller Oils blends (Sleep Tight & Headache Relief) which are great for mini massages of pulse points and temples. So handy in size, you can keep them in your purse or on your bedside table whenever you need help with anxiety or tension relief. These massage roller oil blends can be customised to provide calming relief for the mind or for focus and concentration when you work. 
Room sprays are the fastest way to freshen up a space.  They get rid of unpleasant odours quickly and can transform a space into your oasis.  Some essential oil blends even purify the air! The Aromatherapy Room Sprays (Tranquillity, Focus & Clarifying) made with 100% pure essential oils can energise your workspace and keep you calm.
Don't forget to check out the all-natural Body Cleansers, Scrubs and Whipped Body Butter while you're on the TSA website. They are the ultimate gift of #selfcare!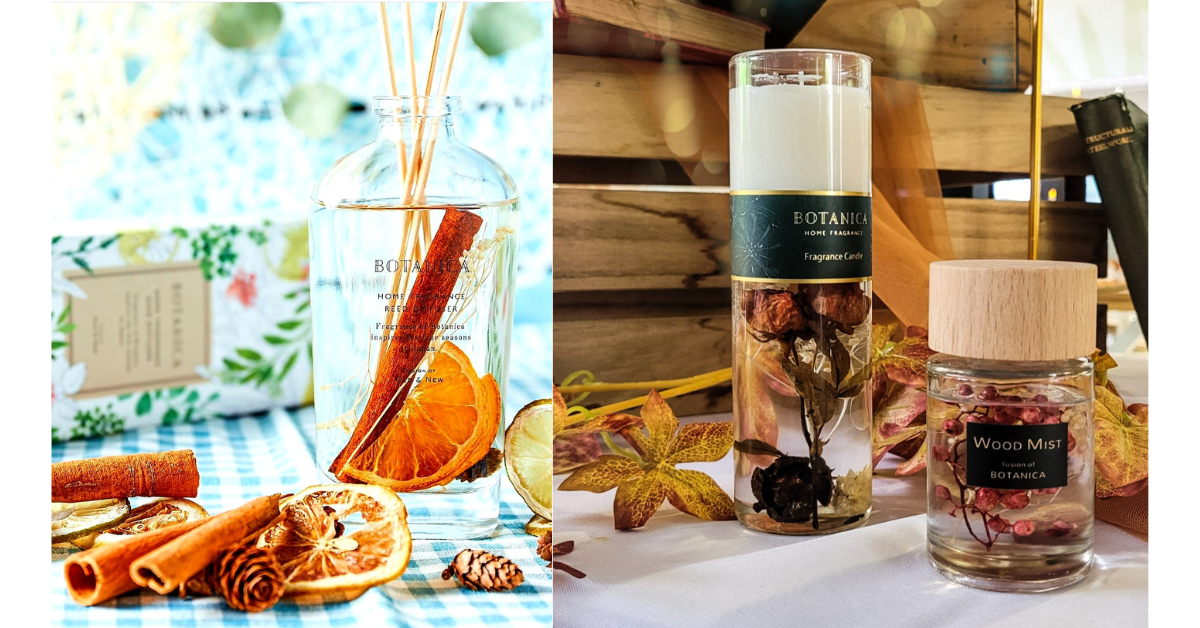 Botanica Fragrances are inspired by the four seasons in Japan, created with the "nice to meet you" concept in mind – so you know they are perfect for homes and as gifts!
The minimalist designs of the wood mist bottles fit any home interiors and bring focus to its content instead – real preserved flowers and natural plant extracts. The lush floral scents are not overpowering, but is like a walk in the park where you get pleasant whiffs of the fragrances.
The wooden cap is designed to become scented over time, absorbing the fragrance from the reed sticks so you can stick the cap in your car or shoe cabinet, wherever needed!
The different series feature different combinations of scents to enable different moods within your space. The pink and orange series are warm and welcoming; the blue series  is relaxing; and the green series is calming and promotes clarity of mind.
The Fleur Candle collection is gel-based and can be used as a decorative home piece even after the scented wax is finished. If you prefer wind-proof ambient lighting for alfresco dining or for using in the balcony, try the Gel Light collection instead.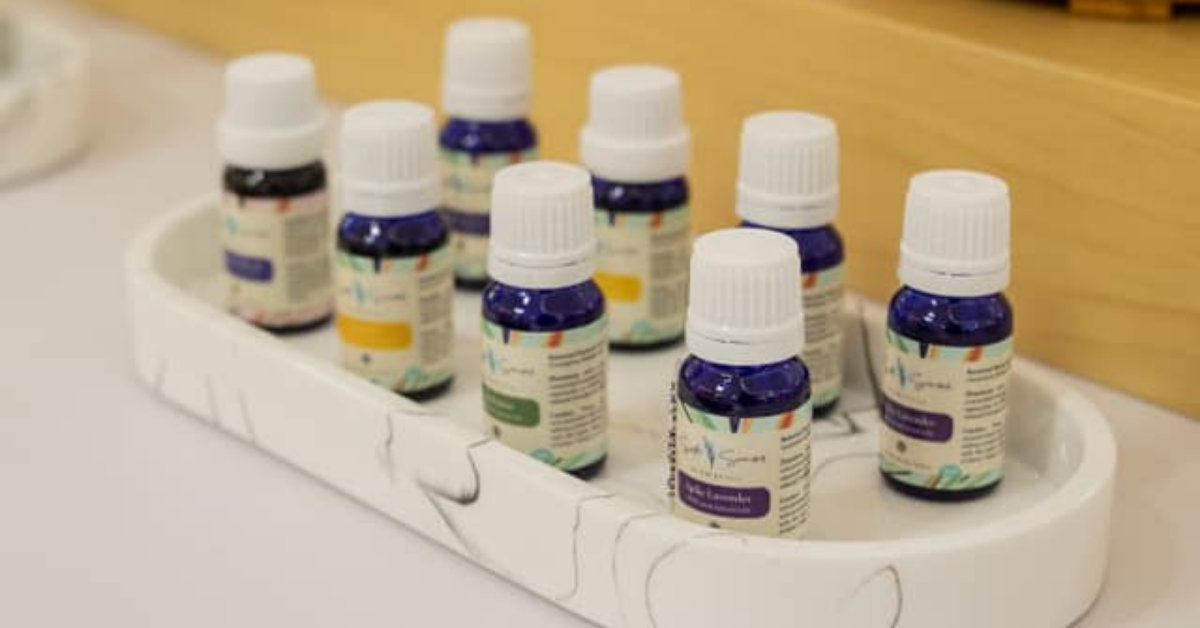 Sixth Senses Aromatics is a homegrown local boutique that customises and blends handcrafted products in Singapore. They purchase 100% pure and natural essential oils and natural aromatherapy products from importers who directly source from farmers and distillers from different countries. They are committed to providing the best quality and premium essential oils, blends, roll-ons, and face and body mists, as well as diffusers.
Their best-selling Sleep Well Blend is a relaxing blend of essential oils that helps to relieve symptoms of insomnia. It includes a variety of pure essential oils such as lavender oil and sandalwood oil. Also on offer are Tea Tree Essential Oil, Bergamot Essential Oil, Geranium Essential Oil, and more.
Looking for something to make your surroundings calmer and smell incredible? Check out the Natural Wood Waterless Aroma Nebuliser Diffuser that can be placed in any room to instantly improve the scent. Sixth Senses Aromatics also sells car diffusers, and wearables such as pendants and locket diffusers so you can bring your favourite scent around with you.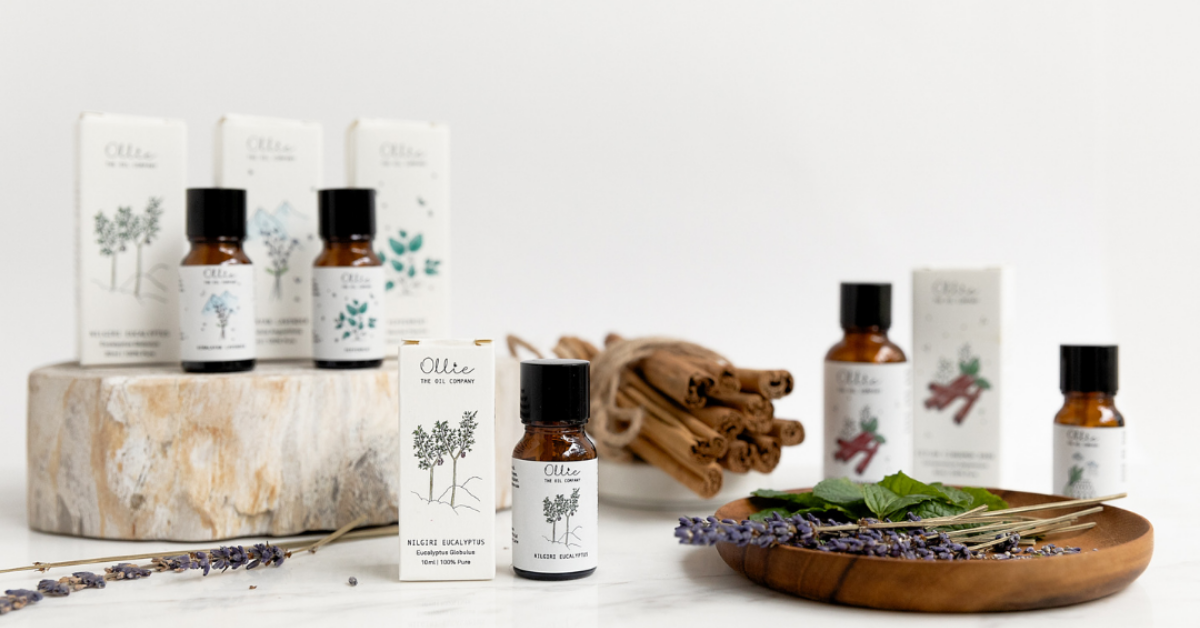 With countless options to choose from, Ollie can help bring new meaning to your aromatherapy. This brand is on a mission to make the best quality essential oils accessible while putting people and the planet first.
Although Ollie the brand was launched just late last year, their founder, Rithika, hails from a family of essential oils producers who have been doing this for 100 years!
This growing company provides 100% pure essential oils that they either source directly from local farmers and distillers, or produce themselves – ensuring quality raw materials. Their commitment to ethical and sustainable sourcing rivals that of other brands. 
In an effort to help people better harness the power of essential oils, Ollie's product line also includes oil-based products. The brand's hand sanitiser spray, mosquito repellent and yoga mat sanitiser are free of nasty chemicals and safe to use for adults and children alike. Let the countless user reviews speak for themselves!
If you are looking for the utmost quality in your essential oils at a budget-friendly price, look no further!