Beyond a world of wonderful scents, aromatherapy has been known to relieve stress and tension. Pure essential oils, aroma diffusers, and other natural wellness products are easy to incorporate into your daily routine and can help improve your wellbeing.
Check out the top brands for wellness products and aromatherapy in Singapore.
Launched earlier this year, the latest Reed Diffusers by Pristine Aroma have already become some of the top trending diffusers in Singapore.
Begin your aromatherapy journey with Pristine Aroma, which seeks to provide you with the experience of a tropical island getaway in the comfort of your home, office or any other space. Unlike the electronic diffusers, their Reed Diffuser provides your environment with a subtle and long-lasting aroma using curated scents for your comfort and well-being.
Pristine Aroma's Reed Diffusers are made with a higher proportion of fragrance and essential oils for a longer-lasting scent. Pristine Aroma's Signature Series has been inspired by prestigious hotels Shangri-La, Hilton, Marriott and Ritz Carlton. You'll find a variety of floral, citrus and soothing scents as well, such as Lavender, White Freesia, Lily &  Jasmine, Sakura and Lemon & Citronella.
The minimally aesthetic diffusers can easily blend with your home decor and even make for perfect gifts for friends and family.
*If you are purchasing the diffuser as a gift, you can even include a customisable note
Wanting to move away from chemical-laden products? My Pure Earth offers you the opportunity to live a greener, healthier life with the highest quality essential oils that are always sustainably produced and ethically made.
If you want to learn how to use essential oils to boost your wellbeing and create non-toxic products, My Pure Earth has all the resources and workshops you need to learn how to. The essential oil singles are of the highest quality and purity available. In fact, each batch has been assessed by verified labs independently for quality assurance.
From zero-waste agricultural practices to 100% recyclable packaging materials, My Pure Earth makes sure their choices are responsible to the earth and people they work with. The process of selection begins with looking at the region of product origin and the production or harvesting and its impact on the community or culture. You can also find detailed information about the source of your choice of product from their website.
My Pure Earth advocates a 'Bottle Take Back Programme' which keeps products out of the landfill and extends the life of any empty essential oil bottles. Simply return your empty bottles to their collection locations in Singapore and play your part in saving the environment.
Shifting to a natural lifestyle doesn't have to be overwhelming. Let My Pure Earth's products, resources and workshops help you boost your wellbeing and lead a greener, healthier life!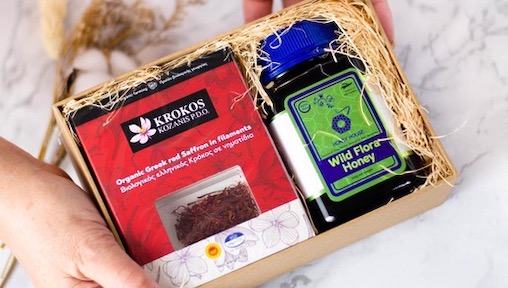 Have you heard that the Mediterranean diet is known to contribute to longevity, better health, good skin, and so many more health benefits?
Making it easy to incorporate Mediterranean wellness into one's daily life, Botana&Tea has carefully curated a series of gifts featuring Greek products. The sets feature relaxing, calming and caffeine-free teas such as Greek Saffron Herbal Tea, organic Greek Mountain Tea, and organic Greek Lavender Tea; paired with assorted honey, organic Greek herbs and organic Greek red saffron.  For more options, there are gifts that are paired with high-quality teawares and mugs. Besides these curated gifts, they also customised gifts based on a customer's request, for both individual and corporate needs.
Give the gift of wellness as each gift set is packed with high-quality products from Greece that are mostly organic and sourced from established cooperatives, small-scale producers as well as farmers that practise sustainable and environmentally-friendly farming, and have a lower carbon footprint. The wellness products have been handpicked and hand-packed, as opposed to being mass-produced in industrialised areas, all in an effort to be more conscious of the environment.
Botana&Tea also offers Tisane Teas which are caffeine-free and specially infused with Greek red saffron and selected herbs. They come in a variety of flavours including rosemary and thyme, mint and lemongrass, and apricot and mango. Other ranges of exquisite Greek products are also available through their e-shop including organic Greek herbs (excellent to enjoy as tea for overall wellness), organic Greek red saffron, and their superior organic Greek extra virgin olive oil (EVOO), which are both P.D.O. [Protected Designation of Origin] certified.
Savour the taste of Greece with Botana&Tea today!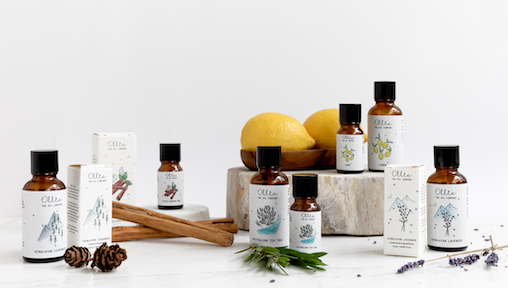 With countless options to choose from, Ollie can help bring new meaning to your aromatherapy. This brand is on a mission to make the best quality essential oils accessible while putting people and the planet first.
Although Ollie the brand was launched just late last year, their founder, Rithika, hails from a family of essential oils producers who have been doing this for 100 years!
This growing company provides 100% pure essential oils that they either source directly from local farmers and distillers, or produce themselves – ensuring quality raw materials. Their commitment to ethical and sustainable sourcing rivals that of other brands. 
In an effort to help people better harness the power of essential oils, Ollie's product line also includes oil-based products. The brand's hand sanitizer spray, mosquito repellent and yoga mat sanitizer are free of nasty chemicals and safe to use for adults and children alike. Let the countless user reviews speak for themselves!
If you are looking for the utmost quality in your essential oils at a budget-friendly price, look no further!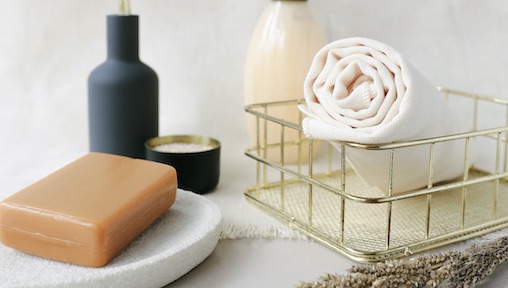 Looking for skincare and wellness products made from all-natural plant-based ingredients? Sugar & Spice offers handmade soaps, essential oils, and handcrafted skincare products in Singapore which are free from toxic chemicals and palm oil.
Their online shop lists Cold Press Soaps such as Sunshine Calendula, Bamboo Charcoal Lavender, Aloe Vera, Camelia and Shea Butter; and Essential Oils such as peppermint, tea tree, grapefruit, and eucalyptus.
Based on your skin type, you can also find Natural Organic Skincare including anti-ageing and anti-pigmentation serum; anti-ageing moisturiser for sensitive skin; body lotion made with Olive oil, Grapeseed oil, Rosehip seed oil, Vitamin E, Carrot seed essential oil and Frankincense essential oil; as well as baby lotion.
If you prefer to design your own personalised skincare for your skin type, check out Sugar & Spice's DIY Skincare Kit. Each kit is designed to either improve skin texture, slow down ageing, brighten skin, or provide relief for sensitive skin.
Finally, if you want to try your hand at crafting your own natural soaps, Sugar & Spice also conduct easy-to-learn Soap Making Workshops & Classes.
A luxury wellness brand all the way from Thailand, THANN draws inspiration from Asian botanicals such as Rice Bran Oil and Shiso. This best-selling, extra-rich formula boasts the ultra-therapeutic and nourishing Asian Rice Bran Oil, which Thann famously uses in all its skincare products. Adding to its potency is the Rice Callus Culture Extract, which contains powerful antioxidants. Together with a host of other premium ingredients, they synergistically rejuvenate the skin, and enhance collagen expression and skin barrier function.
Combining natural ingredients with dermatological science, THANN formulates wellness products that are lab-tested to achieve desired results. Every product is developed and refined with Thai wellness heritage in mind to evoke a spa-like experience. The wellness products including skincare, body care and aromatherapy products and services are designed to delight all the senses. Smells are mindfully concocted to evoke calming and positive emotions, and creams are texturally pleasant and feel luxurious to the touch.
Star products include their Rice Extract Moisturising Cream, Shiso Revitalizing Face Mask, Oil-free Facial Sunscreen SPF30, Time To Refresh Moisturising Aromatherapy Balm, and Aromatic Wood Bath & Massage Oil.