Singapore sure is a foodie's paradise. Thanks to our melting pot of cultures, you can easily eat a different cuisine every day of the month. With so much variety in food, it's not difficult to find vegetarian and vegan dishes. But where would you go for some of the tastiest vegan and vegetarian restaurants in Singapore? We've rounded up a few of our favourites. Even a meat lover will have to admit that these plant-based dishes are worth a try.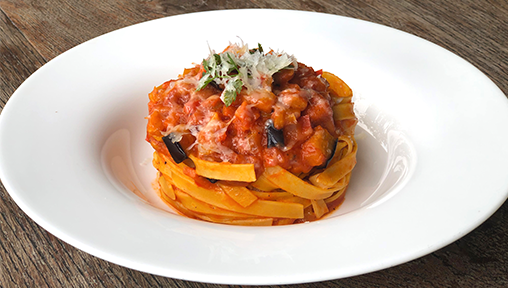 Make your way down to Ricciotti where you can savour homemade Italian specialities and dine by the Singapore River. From north to south Italy, there are many traditional regional dishes that are vegetarian or vegan and Ricciotti offers various vegetarian food options including Gnocchi, Aglio e Olio, Bruschetta, Arrabbiata, Caponata, Pesto Siciliano, Pomodoro Fresco e Basilico, Focaccia Pugliese and many more.
At Ricciotti, "Fettuccine al Ragù dell'Orto" is the incredibly flavourful vegan version of the traditional Bolognese, made instead with Mediterranean vegetables and herbs in tomato sauce with organic EVO oil. Ricciotti also offers inventive thin-crust pizzas, complemented with a lengthy collection of Italian wines, cocktails, premium whiskies and craft beers.
Address: 20 Upper Circular Road, B1-49/50 The Riverwalk, Singapore 058416
Contact Number: (+65) 6533 9060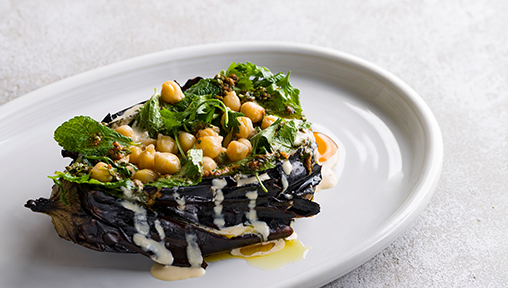 Inspired by nature, The Botanic celebrates plant-based dishes with vegan, vegetarian and gluten-free plates. Being a vegan himself, Group Executive Chef Shannon Binnie has designed dishes that are more substantial, fortified with nutrient dense superfoods, whole grains and punchy sauces and herb oils that pack intense flavours in every bite.
The Botanic menu showcases eclectic Asian flavours and Mediterranean inspirations with vegan and vegetarian dishes such as Charred Eggplant, Kale Salad, Pressed Tofu, Red Curry, Gnocchi and Organic Carrots. The Botanic has also reinvented an Australian classic with a local twist. The Chendol Pavlova is a vegan version which combines an eggless meringue made from chickpeas with coconut cream, jackfruit granita, harum manis mango and salted gula melaka.
Address: 252 North Bridge Rd, #01-22A, Raffles City Shopping Centre, Singapore 179103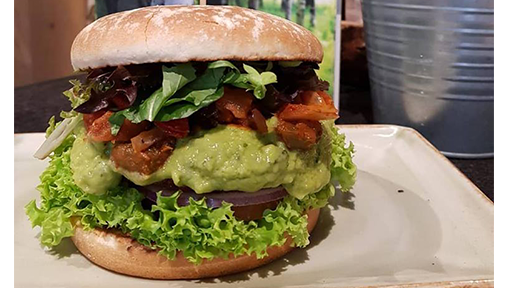 Source: HANS IM GLÜCK Facebook
Have you been lucky enough to tuck into any one of the vegetarian tasty burgers at HANS IM GLÜCK? Serving a total of four types of vegan and seven types of vegetarian burgers, HANS IM GLÜCK elevates the humble burger into a never-boring, healthy, nutritious and delicious meal. They are also cooked separately from the meat patties in a separate fryer.
Made from fresh ingredients, HANS IM GLÜCK vegan burgers feature wheat patties with various toppings such as mushrooms with pepper sauce, avocado cream, and grilled vegetables tartare. The vegetarian burgers use an olive patty, spinach and cheese patty or walnut patty with various sauces including spicy pepper, fig jam and pesto.
Locations: Various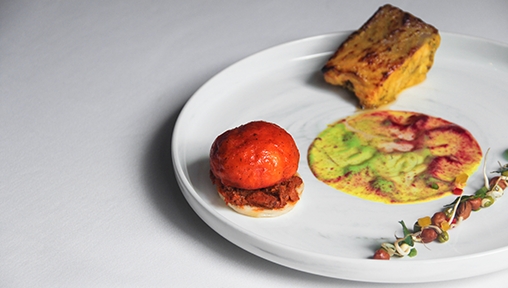 While Indian cuisine has a plethora of vegetarian and vegan dishes, Indian fine dining restaurant Rang Mahal has taken things up a notch. Chef Milind Sovani has taken Mumbai's special minced masala lamb served with buttered buns and created a new dish using Impossible Foods for vegan and vegetarian food  version of the Kheema Bao for everyone to enjoy. The other change made from the original dish was to remove the egg so it is 100% vegan!
Address: 7 Raffles Blvd, Level 3 Pan Pacific, Singapore 039595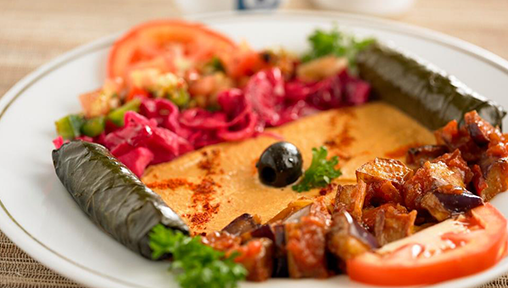 Source: Sofra Facebook
Sofra, Turkish for dining table, is great for communal dining and sharing plates. You'll find authentic Turkish food with various vegetarian food options such as hummus, babaganoush, eggplant salad, musakka and pide. The Salad Plate is vegetarian dish consisting of Sofra salad, fried eggplant, chickpea hummus and vine leaves roll is a must-try with sesame bread. End off on a sweet note with Turkish Rice Pudding or Baklava while sipping on Turkish tea.
Address: 100 Beach Road, #02-42/44 Shaw Tower, Singapore 189702
Source: Herbivore Japanese Vegetarian Restaurant Facebook
Herbivore Vegetarian Restaurant offers Japanese dishes that are also vegan-friendly as no eggs are used in preparing. Even and garlic and onions aren't part of the cooking. Apart from Japanese classics such as Bento sets and sushi, Herbivore also offers Western food such as burgers, sandwiches and steaks. The owner, Mr Ho, a vegetarian himself for over 23 years, has been actively creating new dining choices which will attract more vegetarian and non-vegetarians to enjoy vegetarian dishes.
Address: 190 Middle Road, #1-13/14 Fortune Centre, Singapore 188973​​​​​​​