Singapore sure is a foodie's paradise. Thanks to our melting pot of cultures, you can easily eat a different cuisine every day of the month. With so much variety of food, it's not difficult to find vegetarian and vegan dishes. Where would you go for some of the tastiest vegan and vegetarian food in Singapore? We've rounded up a few of our favourite restaurants. Even a meat lover will have to admit that these plant-based dishes are worth a try!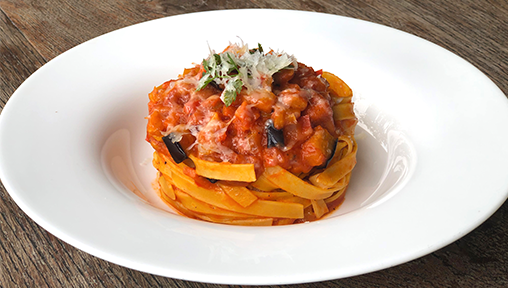 Make your way down to Ricciotti where you can savour homemade Italian specialities and dine by the Singapore River. From north to south Italy, there are many traditional regional dishes that are vegetarian or vegan and Ricciotti offers various vegetarian food options including Gnocchi, Aglio e Olio, Bruschetta, Arrabbiata, Caponata, Pesto Siciliano, Pomodoro Fresco e Basilico, Focaccia Pugliese and many more.
At Ricciotti, "Fettuccine al Ragù dell'Orto" is the incredibly flavourful vegan version of the traditional Bolognese, made instead with Mediterranean vegetables and herbs in tomato sauce with organic EVO oil. Ricciotti also offers inventive thin-crust pizzas, complemented with a lengthy collection of Italian wines, cocktails, premium whiskies and craft beers.
Address: 20 Upper Circular Road, B1-49/50 The Riverwalk, Singapore 058416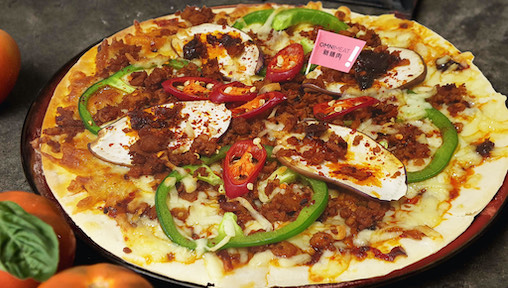 Originally started as Yuan Vegetarian in 1982, Botanict draws inspiration from the evolution of vegetarianism to current environmental and health concerns. At Botanict, they pay special attention to food quality and ingredients to break the stereotype that vegetarian dishes are full of gluten mock meat and are high in carbs. All that is history!
With a new form of dining expression, the Botanict menu showcases plant-based dishes with vegetarian, vegan and diabetic-friendly options. With many positive reviews on social media, their signature Boneless Chicken is a must-try. A lot of their ingredients are made in-house including their gong so eryngii mushroom congee, teriyaki fish, vegan otah, as well as various flavoured pastes - curry, tom yum, mala and laksa.
Set as a casual-dining setting, Botanict aims to bring diners on a journey to discover food and drinks that not only satiates the palate but also nourishes your body. Botanict has recently launched its second edition menu which features new dishes such as Mala OmniMeat Pizza and Kimchi Pizza.
Address: 2 Kallang Ave, CT Hub, #01-07/14, Singapore 339407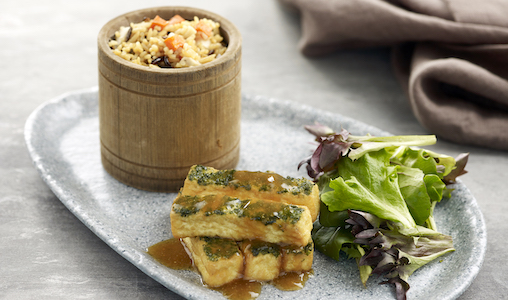 Elemen is a dining concept focused on a modern interpretation of natural and plant-based cuisine. Featuring wholesome meatless recipes using natural ingredients, Elemen restaurants offer a pleasant dining experience with the motto "Love Self, Love Earth". Their focus is on serving healthy and natural food, without compromising the sustainability of the environment.
Go for the Blue Flower Tofu with Black Truffle Wild Rice which offers a good source for protein, fibre, folate, magnesium and other nutrients. If you're a fan of sushi, tuck into the Tempura Tofu with Avocado Roll. The latest addition to their menu is a Sea Salt Porcini Mushroom Pizza with a thin crust.
Multiple locations across Singapore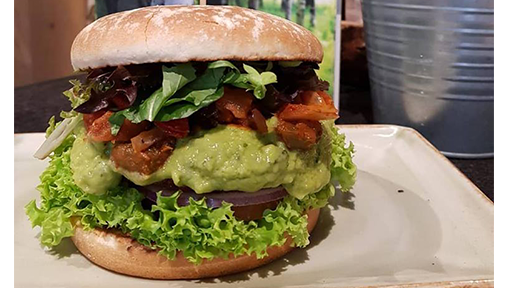 Source: HANS IM GLÜCK Facebook
Have you been lucky enough to tuck into any one of the tasty vegetarian burgers at HANS IM GLÜCK? Serving a total of four types of vegan and seven types of vegetarian burgers, HANS IM GLÜCK elevates the humble burger into a never-boring, healthy, nutritious and delicious meal. They are also cooked separately from the meat patties in a separate fryer.
Made from fresh ingredients, HANS IM GLÜCK vegan burgers feature wheat patties with various toppings such as mushrooms with pepper sauce, avocado cream, and grilled vegetables tartare. The vegetarian burgers use an olive patty, spinach and cheese patty or walnut patty with various sauces including spicy pepper, fig jam and pesto.
Multiple locations across Singapore
Source: Herbivore Japanese Vegetarian Restaurant Facebook
Herbivore Vegetarian Restaurant offers Japanese dishes that are also vegan-friendly as no eggs are used in preparing. Even and garlic and onions aren't part of the cooking. Apart from Japanese classics such as Bento sets and sushi, Herbivore also offers Western food such as burgers, sandwiches and steaks. The owner, Mr Ho, a vegetarian himself for over 23 years, has been actively creating new dining choices which will attract more vegetarian and non-vegetarians to enjoy vegetarian dishes.
Address: 190 Middle Road, #1-13/14 Fortune Centre, Singapore 188973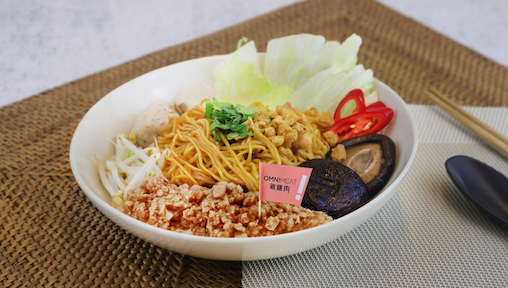 Debunking the notion that plant-based eating is inaccessible, local hawker Daily Green has rolled out plant-based renditions of Singapore's favourite local food including Vegetarian Nasi Lemak, Vegetarian Chicken Rice and Vegetarian Prawn Noodles.
Daily Green's two best-selling vegetarian dishes are their rustic and comforting Vegetarian Porridge as well as the Signature Vegetarian Noodles. For a limited time, they are substituting these two traditional Chinese mock meat dishes with all-purpose plant-based meat, OmniMeat.
Multiple locations across Singapore