Have you been struggling to lose fat on specific parts of your body - despite trying exercise, diets and a lifestyle change? Vanquish ME Fat Removal could probably be the answer we have all been looking for! We recently spoke to 8 Medi-Aesthetics Group about this non-invasive treatment, its benefits, risks and getting results.
Vanilla Luxury: Most people are cynical about fat removal treatments. What is the actual process when it comes to Vanquish ME Fat Removal?
8 Medi-Aesthetics: The multi-awarding winning Vanquish ME Fat Removal is the world's first and only contactless fat removal treatment that is also US FDA-approved and European CE marked.
Vanquish ME Fat Removal employs state-of-the-art technology that eliminates unwanted fat cells naturally - without even touching your body!
Unlike other devices that work to temporarily shrink your fat cells, its ground-breaking patented RF technology is capable of removing unwanted fat. This is done by initiating fat cells 'apoptosis' (where fat cells actually die) without damaging any surrounding tissue aka without any downtime unlike Liposuction or a tummy tuck. Fat cells generally don't regenerate. So when these fat cells are destroyed and die off, they are gone for good!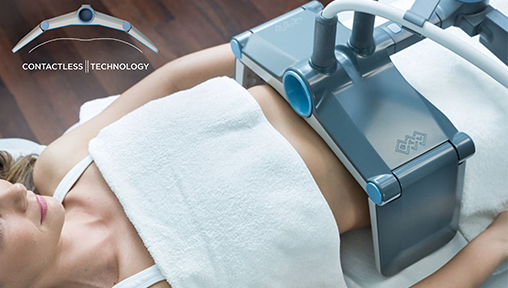 Vanilla Luxury: What is the success rate for the treatment? How much of a difference does it make?
8 Medi-Aesthetics: Clinical studies show that Vanquish ME Fat Removal is at least 50% more effective than any other non-invasive device on the market, in eliminating unwanted stubborn fat cells. It has also has shown to have subtle skin tightening capabilities.
Vanquish ME Fat Removal helps customers achieve aesthetic improvement regardless of lifestyle and does not require one to exercise or alter any dietary habits.
Clinical trials have shown Vanquish ME Fat Removal to be safe and effective in use across men and women, of all skin types and ethnicity.
Vanilla Luxury: Who is the right customer for the treatment?
8 Medi-Aesthetics: Vanquish ME Fat Removal treatments are designed for those who want to decrease the circumference of their abdomen and thighs. Contrary to other clinical grade devices in Singapore, the treatment is available to patients with any BMI. It is especially recommended for those who have tried exercise and diet control but are still unable to target stubborn fat pockets and those who desire aesthetic improvement without the cost, risks and recovery time of surgery.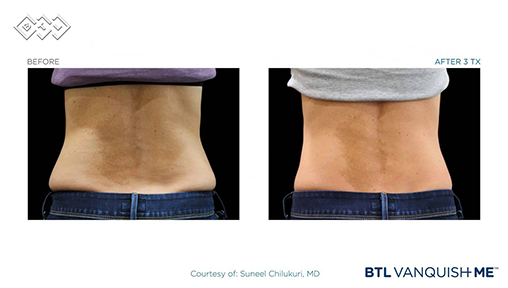 Vanilla Luxury: What about pain, how painful is the treatment?
8 Medi-Aesthetics: Comfort is the main advantage of Vanquish ME Fat Removal compared to some other body shaping therapies. All you will typically feel is a warm sensation in the treated area which may last for a few hours post therapy. The treatment is performed in a lying position so you can relax while your fat is being selectively targeted and disrupted.
Vanilla Luxury: With regards to downtime, how many days does one need and what is the recovery like? Can one be seen in public post-treatment?
8 Medi-Aesthetics: One of the most appealing features of the Vanquish ME Fat Removal is that no anaesthesia is required prior to treatment, and there is literally no downtime. Clinical trials report no adverse effects.
The technology has built-in safety measures that help to ensure patient comfort during the treatment and protect the body as the fat cells are targeted. You can easily have the treatment during your lunch break, and return to your daily activities immediately.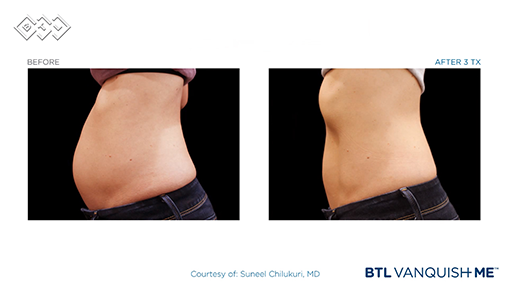 Vanilla Luxury: How expensive is the treatment?
8 Medi-Aesthetics: The Vanquish ME Fat Removal treatment features the industry's largest spot size covering the entire waistline or the whole thigh! Its large treated area not only saves time but also makes the therapy typically more affordable - with more fat removed compared to other procedures. Readers are welcome to a trial session at $128 (U.P. $600) at 8 Medi-Aesthetics, and find out more.
Vanilla Luxury: Why 8 Medi-Aesthetics? In a market saturated by clinics, why would I choose 8 Medi-Aesthetics?
8 Medi-Aesthetics: If you are in or around 8 Medi-Aesthetics, clinically proven results and great service come as standard. In an age when beauty is an investment, we'll help you spend your money wisely. We believe that each patient is unique, requiring his or her own treatment that is different from anyone else's. When you come in with something you'd like to change about your appearance, our first step is determining a proper treatment plan for you.
This is done with a thorough consultation and assessment. In your initial complimentary consultation, we will go over what you wish to improve and create an aesthetic plan to help you achieve all your goals.
Watch the video to find out more about this popular fat removal treatment.
As intrigued as us? Find out more about fat removal here and try a session at $128 (U.P. $600).
8 Medi-Aesthetics, Orchard and The Cathay, Phone +65 31575989, +65 98603440, Whatsapp http://bit.ly/Whatsapp8Medi