Whether you are fighting stress, humidity or age; remember it shows on your skin first. And men, as much as women need to take care of their skin by actively investing in treatments and grooming regimens.
Now that we've cleared that up, we've also gone and done the hard work for you. These top 5 treatments for your skin and body are certainly worthy of your time; simply pick, click and make that booking today!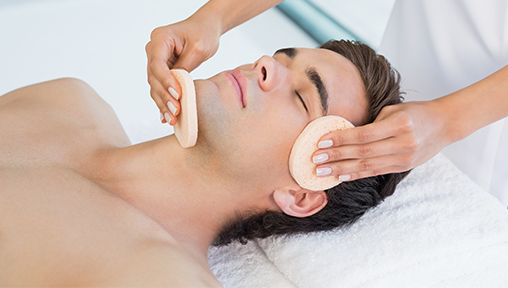 If you shy away from investing in good skin, listen up! Men, in general, have oily skin but hardly ever go for facials. This makes dead skin pile up leading to clogged pores and that dreaded acne.
Pore extraction facials are the best solution to counter oily and pimple-prone skin; why wait for it to scar when you can solve the problem right away!
Award-winning spa, My Cozy Room offers one of the best extraction facials in Singapore. Gentle and thorough extraction with minimal pain and redness gives you effective relief from acne, pimples and clogged pores. Using BABOR, Germany's no 1 award-winning skincare brand, this treatment gets rid of zits and pimples without stripping away your skin's natural goodness.
This is truly indulgent as an extraction facial can be - no wonder My Cozy Room win award after award for the Best Pore Extraction Facial in town!
Expect a gentle yet meticulous extraction accompanied with a premium Alginate Peel-off Mask Kit, BABOR's premium skincare range and a pampering head and shoulder massage.
My Cozy Room Boutique Spa, 56A Cairnhill Road, Singapore 229667, Tel: +65 6732 0030.
(Located behind Paragon Shopping Centre)
Brazilian waxing is becoming more and more popular, and with the tropical weather we live in, some see it as a hygiene necessity.  Whether you are doing it to please your partner or merely looking for comfort in the hot summer, make sure you go to the right professionals!
Founded in 1993, Thomas D'Esthetique are the pioneers of Brazilian Waxing in Singapore. From employing professionally trained therapists
(accredited for Male Brazilian Waxing) to ensuring a high standard of hygiene, you can rest assured that you are in the best of hands when you walk into Thomas D'Esthetique.
So what really happens during a Brazilian wax? And how can it not be painful - it is hot wax, after all! It all boils down to the skill set of your therapist, quality of products used and the speed at which it's done - all a given at this luxurious salon. In case you still have the jitters, Thomas D'Esthetique is well-trained in the intricacies of the art of Brazilian waxing. In fact, the founder Mr Thomas Tong himself has a whopping 26 years of experience in the industry!
And if you are shy about going to a general salon for your Brazilian waxing, don't worry. This is a 'Men's Only' salon and offers complete privacy for all customers. Phew - they have literally thought about everything!
Thomas D'Esthetique, No. 5 Coleman Street #03-01 Excelsior Shopping Centre Singapore 179805. Phone +65 63376858, Whatsapp +65 97332788.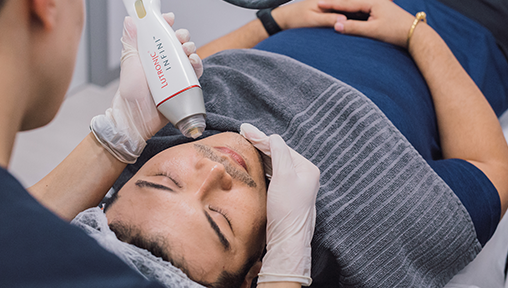 Acne scars bringing you down? Again, while women find it easy to seek help for cosmetic issues, men are often unaware that many of these can be easily resolved. If you've got pimples that left scarring, the Acne Scar Treatment Program by Sozo Clinic should be on your to-do (and promptly so) list.
Involving three different treatments, Subcision + Filler, Fractional CO2 Edge Laser and INFINI Laser, this is the big daddy of all scar programs!
Step one is Subcision or Subcutaneous Incisionless Surgery that helps make your scars easier to remove. It involves releasing fibrous scar tissues that hold down the depressed acne scars from the horizontal plane. Next in line is the industry-leading Fractional CO2 Edge Laser treatment. Laser targets the scarred areas and old collagen but also leaves areas of healthy tissue to regenerate through collagen production. Lesser downtime and side effects in comparison to fully ablative lasers mean you get great results without having to hide for a week! Finally, there's the INFINI Laser to target the deepest of scars with radiofrequency energy up to 3.5mm deep - that's way deeper than all other lasers. To speed up your recovery and to have optimal results, stem cell and growth factor recovery serums are available at Sozo Aesthetics.
Why Sozo Clinic you ask? Offering one of the most comprehensive Acne Scar treatments in the region, Sozo Clinic are industry leaders in Facial Aesthetics. Dr Justin Boey is a featured Acne Scar expert on DoctorxDentist who has successfully treated more than 400 acne scar patients. Dr Boey treats individuals using a customised combination for best scar removal results. This means there's personalisation and complete guidance through the entirety of the procedure. Needless to say, you are in the best of hands!
Sozo Aesthetic Clinic, 1 Raffles Place, #05-12/13, Singapore 048616. Phone +65 6935 1811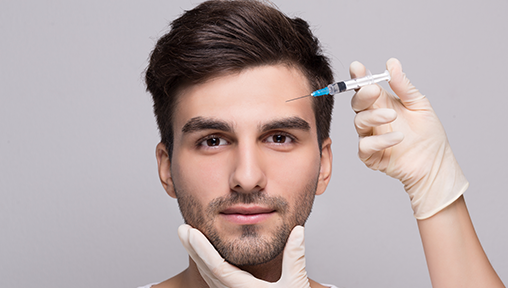 Looking for a compelling anti ageing solution? Give those creams a ditch and say hello to Dermal Fillers.
As one advances in age, collagen and hyaluronic acid deplete leaving your skin flat and with sagging skin (yes, that applies to men too!). Dermal fillers at Freia Aesthetics can help you look younger without having to undergo surgery. Reversing the effects of age on the face these dermal fillers help with laugh lines, wrinkles, sagging skin and sunken temples - all in proportion to you AKA in a natural looking manner. Pain is minimal; throughout the entire process the treated area is numbed with a cream so you can sit back and relax whilst your face undergoes treatment by their acclaimed doctors.
Freia Aesthetics only use well known, quality products such as Juvederm, Restylane, Radiesse and Sculptra, that are US FDA approved and more importantly work!
And the best part? There's barely any downtime with most patients going back to work the very same day! How's that for a lunch break win!
Freia Aesthetics, 435 Orchard Road, #19-03, Wisma Atria Office Tower, Singapore 238877. Phone + 65 6735 8180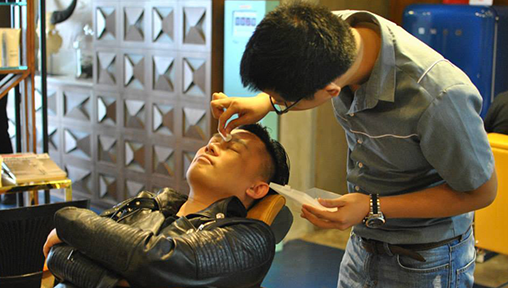 Getting those brows in order can take years off your face! For a well groomed, put together look invest your time and money in brow shaping, on a regular basis. The team at We Need a Hero will make sure your brows get all the TLC they need. From shaping, threading to clipping off awry tendrils, you can rest assured this is as good as masculine threading gets! Lighter haired guys can also opt for colouring of eyebrows to really bring out those gorgeous eyes below.
We Need a Hero, Tiong Bahru Estate, 57 Eng Hoon Street, #01-86, Singapore 160057. Phone +65 6222 5590