Frizzy hair? If your hair doesn't agree with the humidity in Singapore, it may be time to embrace an anti-frizz hair treatment. As the mecca of all things hair care, Singapore also offers a wide range of hair solutions for frizzy hair. Gone are the days of harsh chemicals treatments or those that gave you poker-straight hair. Now, with a plethora of options available at hair salons in Singapore, you can choose exactly what you are after, ingredients included! 
From permanent straightening to rebonding, keratin, hair botox and plenty more - we separate the good from the 'meh' to bring you the best hair treatments for frizzy hair in Singapore.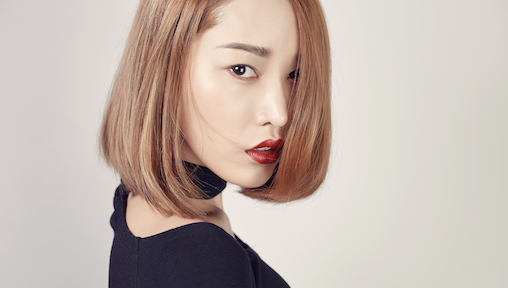 Say goodbye to stick-straight hair and severe damage that's usually associated with rebonding services. This all-new, Anti-Damage Soft Rebonding treatment is the gentlest way to get rid of your frizzy hair. 
A technology developed by hair experts Chez Vous, this ground-breaking treatment reduces frizz and unruliness by 50%, while promoting manageability, shine; hydration, softness, and repair, all at once!
This demi-permanent hair smoothening method produces naturally straight-looking hair –rather than the out-dated pin-straight hair that lacks movement – for hair that is not overly resistant, curly and coarse. 
The best part? Anti-damage Soft Rebonding does not produce any harmful fumes or have any known negative implications for future in-salon services, as opposed to its other counterparts. 
It also makes use of lower temperature. The reduced heat used in the procedure drastically minimise damage caused to the hair and avoids dramatic loss in hair volume, when compared to traditional Rebonding services. This also creates a naturally smooth finish rather than a stale and stiff-looking effect, that no one likes!
Anti-damage Soft Rebonding is priced at $336 + 7% G.S.T and includes a complimentary haircut and Homecare Treatment* (90g)
Chez Vous Hideaway, 391b Orchard Road #14-04, Ngee Ann City Tower B, Singapore 238874. Phone +65 6219 3558, [email protected].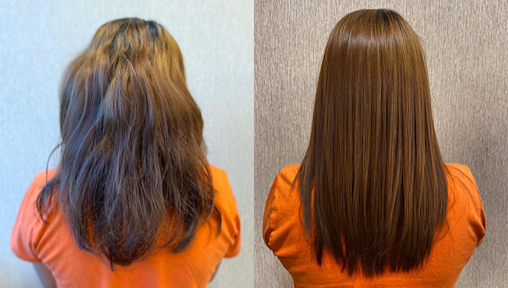 Holding a long-standing record for delivering innovative hair technologies to Singapore, Kimage are truly the masters of all things hair!
Established in 1994, Kimage now boasts 10 outlets, a hairdressing school and some of the most popular hairstylists in the city. 
When it comes to frizzy hair, Kimage highly recommends investing in a Keratin treatment. This smoothing treatment that tames frizzy flyaway hair and delivers shine to it. The treatment starts off with a Keratin treatment deep cleansing shampoo that is used to cleanse the hair of any residual product or grime. Keratin treatment is then applied on to the hair and left for the hair to absorb. Blow-dry helps to set the shape and tame the frizziness in the hair. It also straightens out your hair, so speak to your stylist about how much structure you want! Finally, a flat iron is used to seal the Keratin in to give the hair shine and smoothness.
You'll also need to take home a set of Keratin home care shampoo and conditioner to maintain the shine and smoothness of the treatment.
You can also choose to top up your haircare needs by buying the Oleo Frizzy Hair Set from Kimage's E-Shop. This smoothing hair care set for frizzy hair includes a shampoo, masque and hair oil that result in shiny hair that is soft to the touch. You can also get 10% discount on this best-selling hair set by using the code VLFRIZZ10 (valid till 15 Nov 2020).
Want 10% off your Keratin Treatment? Vanilla Luxury readers also get 10% off the Keratin Treatment Services at Kimage. Book via WhatsApp (+65) 9643 2700 with code "VLFRIZZFREE" by 15 November 2020 to enjoy this promotion.
Keratin treatment at Kimage is priced at S$450 for long hair up to the underarm level.
Kimage, Multiple locations. Kimage, Multiple locations. Book here or email [email protected] with your queries.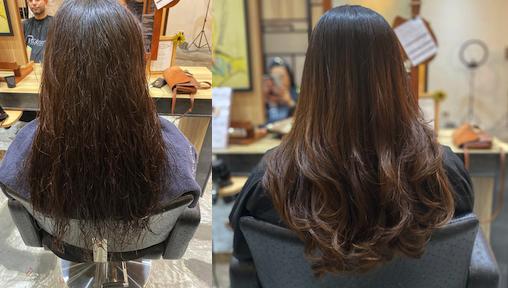 Known for offering over 15 types of Rebonding and Perming treatments, Picasso Hair Studio has brought leading, innovative services to the island. 
Amongst their many options for hair treatments, Picasso also caters to those looking to smoothen hair with anti-frizz elements.
If you want to get rid of frizzy hair with minimal chemical intervention and the ability to perm your hair after, you should try the Brazilian Blowout.
Brazilian blowout is a smaller form of keratin that is even more natural-looking, all while anti-frizzing the hair. Another huge advantage of this treatment is that it will not affect the hair should you decide to get a perm 4-6 months later. 
Brazilian blowout service gives anti-frizz results for up to three months and you'll love that your hair still looks natural and soft, instead of stiff and heavy from the straightness.
What's more, results can be customised! Speak to your Picasso stylist to decide if you prefer to maintain natural waves in your hair or want a smooth, sleek finish. Your stylist will be able to adjust the ironing process accordingly.
Hate having to wait 24-48 hours for a hair wash after your straightening treatments? The Brazilian Blowout allows you to rinse out your hair right after the service so you can see immediate results. You'll find hair that looks natural, flowy and with volume maintained - just like your own hair, only better!
The Brazilian Blowout service is priced according to your hair length: S$275 (short), S$300 (medium), and S$320 (long), and comes with a complimentary haircut by Picasso's hair designer.
Picasso Hair Studio, Multiple locations - Bugis, Phone (+65) 6291 0691. Novena, Phone (+65) 6224 0221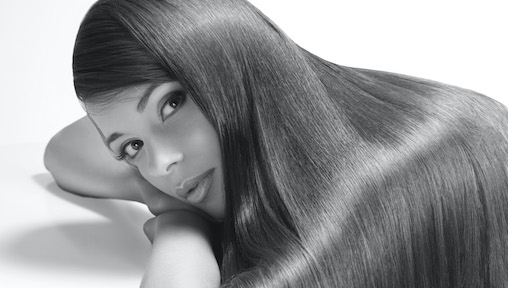 Whether you perm or colour your hair, it slowly begins to accumulate damage from frequent chemical processing. Over time, this affects the internal structure of our cuticles, and essential nutrients and keratin are leached out. Result? Dry, rough and frizzy hair that is prone to breaking!
Chez Vous' Hair Botox + Fillers Programme is a deeply conditioning, smoothing and reparative semi-permanent in-salon treatment programme that restores unruly, frizzy and damaged hair by transforming it into smooth and healthy-looking hair for up to 90 days (when maintained with the prescribed homecare products).
This treatment does not contain any hair relaxers or softening agents that break the disulphide bonds in the hair, making it suitable for women whose hair can no longer undergo any further corrective chemical procedures.
Botox for your hair? The first-ever salon hair treatment to be inspired by aesthetic beauty treatments, Chez Vous' Hair Botox + Fillers Programme works like Botox and hyaluronic fillers for the skin – smoothening out your hair instead!
This ground-breaking hair therapy fills up the "holes" in hair cuticles with long-lasting reparative hair supplements, and keratin concentrates to strengthen and reduce breakage. 
Stubborn frizz is smoothed away with silk protein and ceramide, and the hair is saturated with hyaluronic acid for intensive hydration. Ah, bliss!
Hair Botox + Fillers Therapy starts from $405 + 7% G.S.T.
Chez Vous, 391 Orchard Road #05-05 Ngee Ann City Podium Singapore 238872. Phone (+65) 6732 9388, email: [email protected]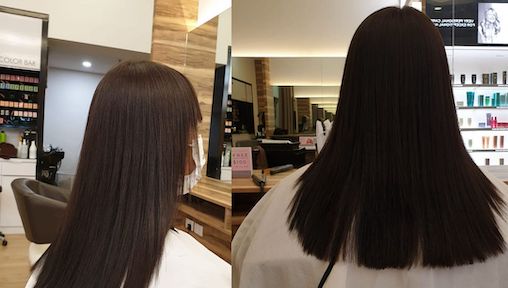 Apgujeong Hair Studio offers full Korean hair and makeup services. Our pioneering, award-winning styling team strives to push the boundaries and set the trends when it comes to hairdressing.
Partnering with premium hairdressing brands such as MUCOTA, Apgujeong Hair Studio offer a range of frizzy hair treatments including the low-chemical Mucota Rebonding. Full of enriching elements and like a straightening process, the formula allows for nourishment to frizzy hair while changing its inherent structure. 
A revolutionary hair treatment that uses Formaldehyde-free enriching ingredients, the process is as much a structural change as it is to increase the health of your hair. You start off with a carefully considered consultation where your stylist will ask what you are hoping to achieve. Don't want poker straight hair? This is the time to speak up! Tell your hairstylist exactly how straight you want your hair to look and they'll tailor the amount and type of product used accordingly. 
Have a hair cut in mind? The stylist will also give an honest opinion on what will stick with the rebonding process and your hair type - such as thin hair may not work well with a fringe etc. Post the treatment - cream application, blow-dry, ironing and wash etc, you can expect softer hair with no frizz. 
But, you will also feel the moisturising goodness of this formulation, something it is famous for. And it has longer-lasting power than an average Keratin! Your Mucota Volume Rebonding can last 6 months or even longer and can be paired with a perming session too. 
Soft, nourished, frizz-free hair that looks as special and natural as you. Say hello to the future of better rebonding!
Mucota Volume Rebonding starts from S$230 and varies by hair length.
Apgujeong Hair Studio, Multiple locations, E-appointment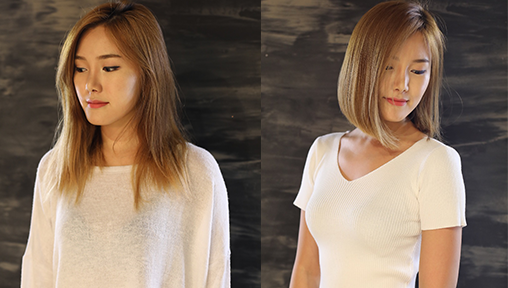 Overtreated hair? Whether its the humidity of Singapore or constant use of chemicals that are giving your frizzy hair, the Cinderella Treatment by LeeKaJa Beauty Salon can help! What's more, this is a treatment without the nasties!
The Cinderella treatment, a rage in South Korea, helps achieve soft, smooth locks without the use of harsh chemicals. Similar to Botox for hair, it uses organic ingredients like Aloe Vera, vitamins and Collagen, to leave your hair moisturized and nourished. And did we say low maintenance?
If you have dry, damaged, bleached or frizzy hair; the use of organic products will help achieve an easy to manage mane in a mere 1.5 hours. If you aren't a fan of poker straight hair - that's even more reason to go the Cinderella route. Perfect for that subtle smoothness and not resulting in a super-straight look that often comes with Keratin or Rebonding sessions; this is a great way to achieve a natural glossy look.
The treatment by nature of its ingredients is less offensive and hence won't last as long (in comparison to Keratin or Rebonding). A typical Cinderella treatment stays up to 3 months and can be prolonged with the use of the right aftercare products such as sulphate-free shampoos. What's amazing though is the way your hair grows-out after the treatment fades away. No kinks that come from regular straightening or Rebonding!
The Cinderella treatment starts from S$300+.
LeeKaJa Beauty Salon,333A Orchard Rd. #03-13 Mandarin Gallery. Phone (+65) 8133 0818. Email: [email protected].
*Top banner image: Chez Vous Hideaway