Herbal infusions have been used for generations by various communities including those in the Mediterranean region as well as in India where Ayurvedic practices were natural remedies to ease ailments and boost the immune system.
Many spices have antimicrobial properties while herbs have antioxidant properties.  If you're looking to detox, alleviate restlessness or mental stress, herbal teas can provide relief. Further to that, you can live a more conscious, healthy, and happy life with these herbal and organic wellness teas.
Nilufer Tea was created to inspire the discovery of herbal teas to improve one's well-being and quality of life. Discover the joys of calmness and zen through the relaxing herbal teas offered by Nilufer Tea where each ingredient is grown organically or without the use of any pesticides. Some of the unique ingredients you'll be able to find are lemon verbena, calendula, milk thistle and more.
Working closely with small independent villages and farms in Japan and all over the world to promote ethical farming, Nilufer Tea also serves as a social enterprise by boosting employment in these small villages. You can also attend one of their workshops to find out more benefits of drinking herbal teas.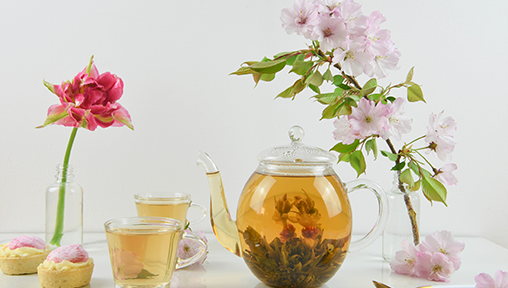 Pamper yourself with Petale, Singapore's first blooming tea specialist that has more than 30 types of French-inspired handsewn blooming teas. Known for beauty and health benefits, Petale is made of organic Maofeng green tea infused with various dried flowers such as jasmine, osmanthus, gomphrena, marigold, rose, lavender and lily.
Try Antoinette's Affair which is infused with lychee if you're looking for something sweet yet tart. Or go for the classic Antoinette's Love with its subtle floral notes of gomphrena, jasmine and marigold. Besides the health benefits of these teas, they are so pretty, they bring joy and visual excitement to any tea party. They also make great gifts! Join a workshop if you'd like to make your own blooming tea.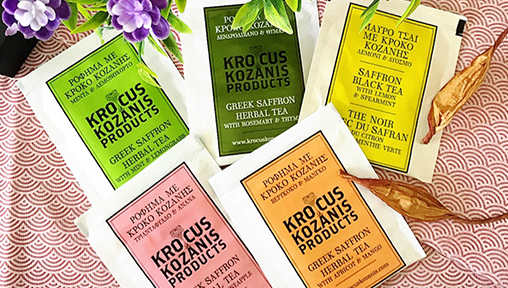 Inspired by the nutritionally balanced Mediterranean diet, Botana&Tea offers wellness and functional teas that incorporate unique and rare wild herbs and spices. Spices such as saffron, cloves, cinnamon, turmeric, ginger, and peppers have been known to provide natural remedies to ease ailments and boost immunity. Botana&Tea's five different blends are functional teas filled with flavour and texture, targeting specific needs such as refreshing teas that aid digestion and fruity teas that work well for weight loss management.
The range of teas uses a key ingredient - 'Greek red saffron' from Krokos Kozanis Products.  This range of saffron teas is now available in Singapore exclusively by Botana&Tea. Savour a taste of Greece with the top grade red saffron which is known as one of the most expensive spices in the world and provides a variety of health benefits. Botana&Tea also truly believes in sustainable agriculture, supporting producers that pay attention to sustainability and protect the environment, as well as providing jobs to the locals.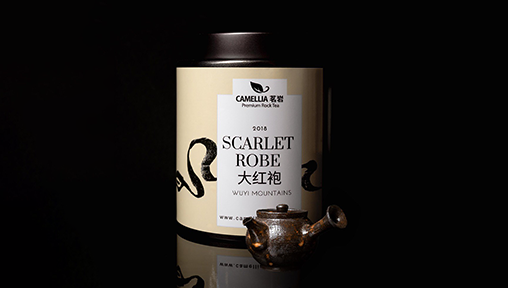 CAMELLI茗岩 is a Singapore boutique tea retail and wholesaler offering premium tea and specialising in Wuyi rock oolong. Once a known imperial tribute tea, the extravagant Wuyi rock oolong tea is sourced directly from farms and keeping close ties with the craft inheritance masters ensures the standard of quality.
All of the loose leaf teas are thoughtfully grown, harvested and crafted strictly in Wuyi Mountains, a UNESCO World Heritage Site dedicated to enhancing biodiversity, and is reputable for its microclimates and mineral-rich volcanic soil. The best selling flavours from the CAMELLIA茗岩 Signature Collection are Sparrow's Tongue and Scarlet Robe.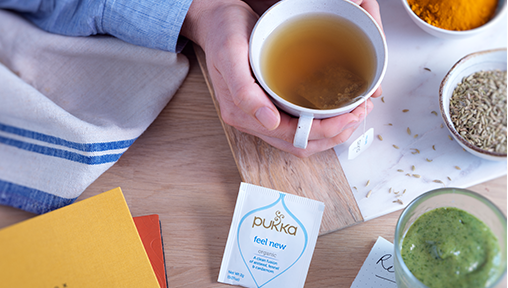 Originating from the UK and inspired by the ancient wisdom of Ayurveda, Pukka Herbs range of teas are made from 100 per cent certified, organic and ethically sourced ingredients. Pukka teas are designed to taste as good as they look, make you feel as good as they taste, and do as much good as they can for people, plants, and the planet.
Each Pukka tea is expertly blended by trained herb smiths and meticulously created with therapeutic wisdom using high-quality ingredients such as turmeric, matcha, elderberry and echinacea. Eight variants are available for enjoyment at different times of the day and targeting specific functional benefits. Three Mint aids digestion after a meal, Turmeric Gold nourishes, and Night Time soothes and relaxes, getting you ready for bedtime and a good night's sleep.
Brew yourself a cup of wellness tea, and live a healthier and happier life through the power of herbs!