I know it seems like Singapore imports almost everything that we consume but there are lots of things that are #MadeinSingapore too!
In a bid to #SupportLocal businesses, we are putting the spotlight on homegrown brands in Singapore. Inspired by our history and heritage, these homegrown brands in Singapore have injected local flavours and designs into their products celebrating this vibrant city and its melting pot of cultures.
If you are looking for gift ideas or just want to indulge in something uniquely Singaporean, check out our list of homegrown brands ranging from local snacks and alcoholic drinks to wellness products and stylish fashion wear.
Upgrade your self-care routine with local brand Innerfyre Co's line of vegan-friendly, non-toxic essential oil candles, therapeutic essential sprays, and roll-on perfumes.
Our sense of smell has a profound effect on our emotions and state of well-being, and it is with this knowledge in mind that the founders of Innerfyre Co embarked on the quest to create creative, mood-boosting products such as Affirmation Crystal Candles.
The Innerfyre Co Affirmation Crystal Candles (S$38) with compelling "I am" messages such as "I Am Blessed" and "I Am Loved" are made with essential oils and a sustainably sourced vegan coconut wax blend. Not only do these candles look good and smell good but they also have real aromatherapeutic effects. The candles burn clean without soot and have a stronger scent throw compared to soy wax candles. To enhance the experience, listen to Innerfyre Co's curated Spotify playlist of songs that go perfectly well with each of the candles in the Affirmation Series.
For those who can't wait to travel again, the Innerfyre Co Wanderlust Essential Oil Roll-on Perfumes (S$22) will transport you to your dream destinations without the need for a plane ticket. Transform the energy of your living space immediately with just a spritz of the Innerfyre Co Essential Oil Room Sprays (S$36). 
Shop local with Innerfyre Co and bring a little light and positivity into your lives and those of your family and friends through aromatherapy-driven gifts, and by spreading messages of self-love that come with each candle, perfume, or room spray.
Free delivery on orders over S$50.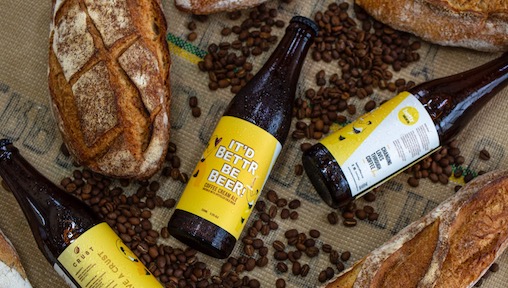 Homegrown speciality coffee company Bettr has collaborated with CRUST Group to launch a delicious Cold Brew Cream Ale made with surplus bread and upcycled coffee grounds. Talk about sustainability and creating a positive impact through beer!
It'd Bettr be Beer! is light and caffeinated with Bettr Coffee's upcycled Heart Blend Cold Brew. The beer comes in a single bottle (for a limited time only), pack of 6 and carton of 12.
Want to try more of their products? The Heart Blend Taster Box features products made from Bettr's signature blend including their Heart Blend Single Drip coffee, the ever-popular Black Cold Brew, and their brand new caffeinated beer - It'd Bettr Be Beer! 
Over the last 10 years, Bettr has worked relentlessly to positively impact the world by going completely straw-free, using solar energy, composting their coffee grounds and ethically sourcing their coffee beans.
Inspired by the spices and botanicals in multicultural Singapore, SoulSister Spirits created this London Dry Gin with a Southeast Asian twist. The Singapore Edition is complex in nature, with a surprisingly smooth and citrusy character.
Crispy notes of lemongrass, citrus and kaffir lime greet you on the nose. On the palate, slightly spicy floral notes of galangal lend it depth and roundness. The finish has an elegant ending with a beautiful hint of tamarind. Enjoy on the rocks or mixed in a cocktail; a great companion for all occasions!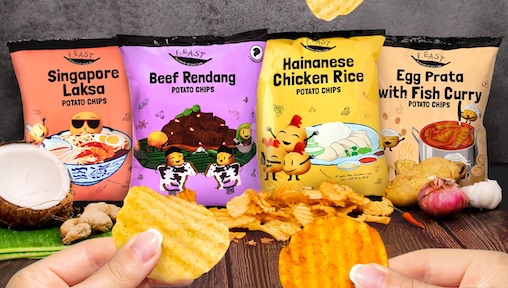 Founded by a Singaporean couple, F.EAST is short for "Flavours of the East". As the name implies, the brand aspires to represent the delectable diversity of Asian cuisine for potato chip lovers across the world.
Most potato chips tend to be base flavours, or single note flavours, i.e. sour cream, sea salt, cheese. Apart from special local flavours, F.EAST chips flavours tend to be dishes. These are more complex and use uncommon flavour elements such as ginger and coconut powder to complete the taste of the unique Asian dishes. Their unique local flavours include Singapore Laksa, Hainanese Chicken Rice, Beef Rendang and Egg Prata with Fish Curry.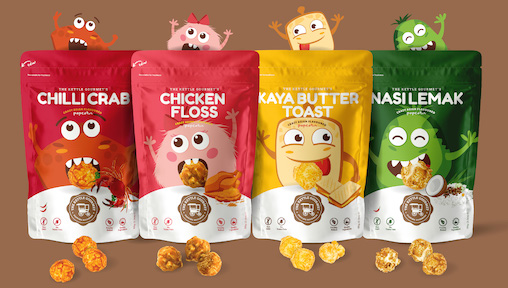 Bite into the joyful goodness of The Kettle Gourmet popcorn made with the best kernels from around the world before hand-baking them to crispy perfection. Their gourmet popcorn is certified trans-fat free as they use only 100% pure Canola Oil throughout the baking process. 
The Kettle Gourmet are also Halal-Certified and offer so many unique local flavours! They have classic sweet flavours such as salted caramel and chocolate, as well as locally-inspired flavours including nasi lemak, kaya butter toast, chilli crab, and chicken floss.
Singapore's beloved footwear brand with 7 local stores islandwide is launching their August collection that offers better foot support with unique design heels, softer straps, a well-cushioned base, extra-comfy inner lining, a wide toe box specifically suited for wide feet and bunions as well as the latest pastel sneaker mules trend.
If flats are what you're after, check out the Woven Up Flat Sandals, designed with a cloud-like cushioned base to give you comfortable feet hugs. Easily slip them on for your quick coffee runs and errands. Regardless of your outfit, these will match perfectly. For something a little more trendy and to elevate your basic outfit, go for the By Your Side Block Heel Sandals that come embossed in a croc print coupled with the soft straps. Achieve an effortlessly smart look by matching them with a simple blouse and straight cut pants in the day and with a classic LBD at night!
Sophia and Eileen Goh have been hustling to continue their mother's legacy by revamping the homegrown brand to be more than just a Singaporean fashion brand. Their footwear focuses on inclusivity and making sure that all women, including those with foot deformities such as bunions, are able to find stylish and comfortable footwear.
Drawing from decades of experience in the leather trade, Tresse's leather accessories for men and women are designed to withstand the test of time and aesthetics that never go out of style. The brand was started to give the market another option when it came to woven leather goods and to make them more accessible at an affordable price.
Their intimate understanding of leather is translated into specially created weaves realized in durable vegetable-tanned goatskin leather accompanied by supple and smooth hair sheepskin leather interiors. Besides possessing an instantly recognizable look by using their signature weaves, the wallets and purses have been designed to be practical, intricate, unusual and beautiful.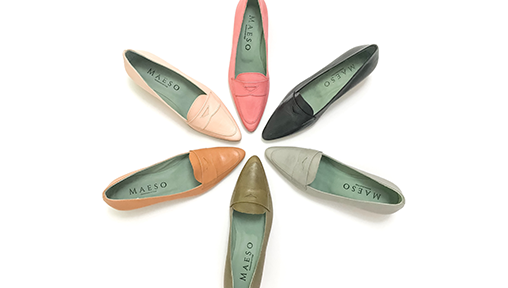 Nothing beats the elegance of fine craftsmanship. The Singapore brand MAESO brings you beautifully handmade full-grain vegetable-tanned leather shoes. MAESO works with experienced craftsmen at artisanal factories in Italy whose skills have been passed from generations. With time, this vegetable-tanned leather develops into a unique, gorgeous patina that is nothing but extraordinary. Its natural tanning process also makes this leather recyclable and more eco-friendly, compared to the usual chrome leather.
From reinvented classics to timeless essentials, the shoes are thoughtfully designed to last beyond seasons, offering you quality and durability without the hefty price tag of luxury. These chich loafers are crafted with an emphasis on comfort and versatility to bring you from work to a weekend out. Effortlessly stylish, these shoes will easily pair with anything from your wardrobe. What's more? A part of their profit goes into #FundSocial to support selected social and environmental projects.
Calling all cat lovers out there! Kattoe is a local fashion brand whose designs are inspired by icons of their era mashed with a love for cats and a touch of stylistic influence from Japan. The brand's inspiration flows from every facet of life – art history to the contemporary; cinema to music, and even to F&B – and puts them into the world of cats. Sometimes satirical, sometimes imaginary, but mostly, as a homage to pop culture from past to present.
For example, The Great Wave off Kanagawa by Hokusai, which is Japan's most recognisable ukiyo-e, has been turned into a cat tsunami; PAWS is Kattoe's version of the thriller, JAWS, a cult film by Steven Spielberg with an equally iconic movie poster; and Chinese cat Vampire zombies are now out for the hunt!
Their collections include tees in sizes for men, women, kids, toddlers and even onesies for babies, as well as tote bags. You can also choose to personalise your tee for a small fee by adding your name or initials on the inside back collar. What's more? The tees are made from 100% combed quality organic cotton - good quality, comfortable and really soft.
#SupportLocal business, Kattoe, and spread that love, one tee at a time!
Kattoe has temporarily stopped production. Check out their Facebook page for updates.