If you are new to eyebrow embroidery, know that it can change your life. Aside from giving you a fuller, lusher-looking eyebrow, it can also help to sculpt your face structure, making it look more youthful. The trick, though, is to find a salon that does this service well! 
Known as one of the best eyebrow embroidery salons in Singapore, JPro Beauty's artists have been trained at renowned institutions such as Phi Academy and Academy S, so you know you're getting professionally trained artist here. 
They emphasise the use of high-quality semi-permanent pigments imported from the USA and Europe. Poor-quality pigments can cause patchy effects and ultimately blend unevenly into unsightly hues.
JPro Beauty specialises in combining microblading and powder-shading. This hybrid technique mimics hyper-realistic hair-like strokes and texture while offering a defined shape that looks really natural.
Want to know more? We sure do! Today, we look at what exactly happens when you undergo an eyebrow embroidery treatment at JPro Beauty - what to expect, how to manage post-treatment and why exactly are they known to be amongst the best!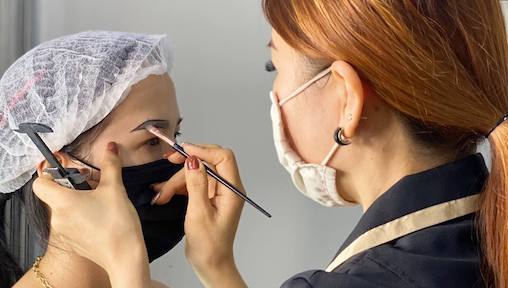 The Process of Eyebrow Embroidery at JPro Beauty
Step 1 - Detailed Consult
The brow artist will begin a detailed consultation to explore both the different styles as well as the type of eyebrow embroidery suitable for you based on your lifestyle, skin condition etc. 
Happy clients, make happy eyebrows! At JPro Beauty there is an extra step where they take the time to understand your expectations so that the final results of the eyebrow embroidery are what customers will love.
Step 2 - Pain Management
Afraid it will hurt too much? Don't worry as once you've decided on the brows of your choice, the team at JPro Beauty will apply numbing cream. Numbing cream helps to significantly reduce any pain or discomfort that may arise during the eyebrow embroidery process. 
The team at JPro are extra generous with their numbing cream application and will only start the eyebrow embroidery process AFTER the numbing effect kicks in.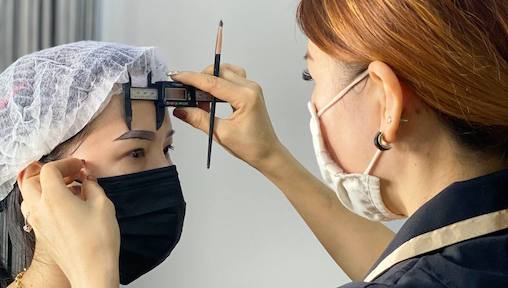 Step 3 - Eyebrow Mapping
While waiting for your numbing cream to take effect, the eyebrow artist will begin mapping your brows in accordance with your facial morphology. During eyebrow mapping, JPro Beauty's artists will meticulously pencil-in your new brows. These may appear heavy or block-like, but don't get worried as this is merely because a pencil is being used to draw them out. The real colour and shape will be as per your expectations and brief. 
Feel free to let them know at this stage, as JPro Beauty's staff are happy to adjust the eyebrows mapped. After this step, the brow artist will begin customizing and blending a suitable colour pigment, based on the colour of your hair, skin and personal choice.
Step 4 - Choosing the Right Eyebrow Embroidery Colour
From years of eyebrow embroidery experience in Singapore, JPro Beauty have noticed that clients usually pick a softer colour tone for fear that their eyebrow embroidery may appear too dark. This concern is unfounded because eyebrow colour will typically turn one to two shade lighter than the original tone after healing. So, their advice is to opt for a darker tone pigment during the eyebrow embroidery process.
Step 5 - The Process of Eyebrow Embroidery
Lastly, once the skin is numbed, your technician will begin the process of embroidery or tattooing. It takes 1.5-2 hours on average to complete the embroidery process. For clients that opt for the signature Hyper-Realistic Microblading or Hybrid Combo Brows, will experience a non-painful scratching sensation when the hair-strokes are intricately created into their existing brows.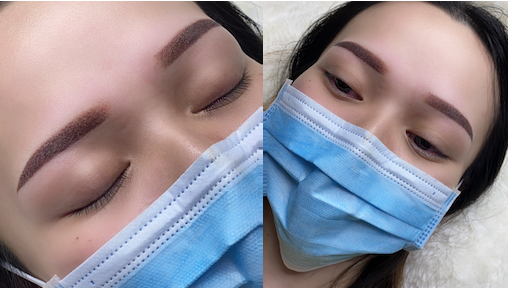 Post Eyebrow Embroidery
Your eyebrow embroidery should last anywhere between 1-2 years although this relies heavily on your upkeep, skin type and more. The eyebrow embroidery at JPro Beauty comes with a one touch-up service within the first six months of your first appointment.
Now that you are sporting new eyebrows, there will also be a few things to keep in mind. Experts suggest staying away from any laser facials or treatments in the weeks following your treatment. You will also be given a list of do's and don'ts including not touching your eyebrows, not getting them wet or sweaty in the early days as well as peeling off any skin that may start to crust. Speak to your technician on how to manage your brows after the eyebrow embroidery and what to expect right after.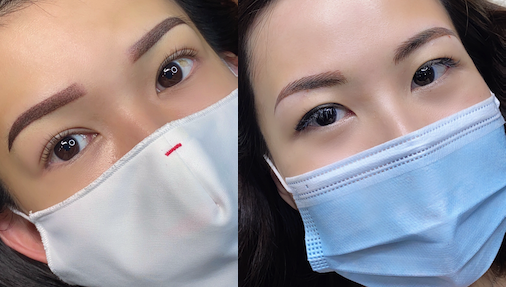 What Makes Eyebrow Embroidery at JPro Beauty Different? 
With so many eyebrow embroidery salons in Singapore, what makes JPro Beauty so special? One look at their reviews and awards will have you recognise what this eyebrow embroidery salon in Singapore is known for. Their service and technical expertise! 
Skilful, meticulous and patient. These are amongst the several reasons customers have quoted JPro Beauty as their favourite eyebrow embroidery salon in Singapore. You can have complete faith that you will receive the highest quality of pigment (no colour fading or turning blue or red here!), tools and skilful expertise here. 
Botched Brows? If you've previously had an unfortunate encounter with eyebrow embroidery, JPro Beauty is also the place for fixing or removal of old or botched brows. They use non-laser PhiRemoval to repair your brows, so you don't have to be concerned about your arches or any leftover hues any more.
JPro Beauty is an award-winning salon specialising in Eyebrow Embroidery, Eyeliner Embroidery and Lip Embroidery. If you'd like access to JPro's latest promotions and offers, don't forget to visit their website for more details. 
JPro Beauty - Brow. Lash. Nail
104 Jurong East Street 13, #01-102, Singapore 600104
5 Coleman St, #03-22, Excelsior Shopping Centre, S179805 
Phone: (+65) 98003928