Back to the Basics
The skin on our scalp contains sebaceous glands that produce oil aka sebum. Sebum serves as a natural serum for our hair in maintaining shine and softness. However, in excess, the Malassezia furfur yeast (a species of fungus that is naturally found on the skin surfaces of humans) feeds on the sebum which can lead to the development of seborrheic dermatitis, more commonly known as dandruff. When the hair follicles get blocked with excess sebum and dandruff, the follicles shrink and this reduces the number of hairs growing out of it resulting in hair thinning or hair loss.
Most people will argue that "Well but I shampoo my hair frequently or every day?" (especially in humid climate like Singapore). However, it is important to note that there is a huge difference between shampooing and exfoliating.
What is Scalp Exfoliation?
Scalp exfoliating is an important part of your hair care routine just like scrubbing your face as part of your facial routine. Most people do not think about the health of their scalp until there is a problem. Exfoliating the scalp regularly clears sebum buildup and prevents blockages which in turn helps the hair to grow healthier and appear fuller.
How to Exfoliate the Scalp?
There are 2 ways of exfoliating which I strongly recommend. First, brush your hair every day. Watch this 'Right Way To Brush Your Hair' video for step-by-step instructions. My personal favourite is the Natural Bamboo Pins Hairbrush from The Body Shop.
Next, using an exfoliating scalp mask once or twice a week. Exfoliating masks gently lift away flakes and helps to return the rate of skin cell turnover on the scalp to a normal, healthy level. However, exfoliating is not for everyone, especially not for people with psoriasis, cuts, sores, infections, or eczema on the scalp. People with these issues should shampoo gently with PH balance or clarifying shampoo instead of exfoliating because scrubbing the scalp will actually increase the risk of scalp flake formation.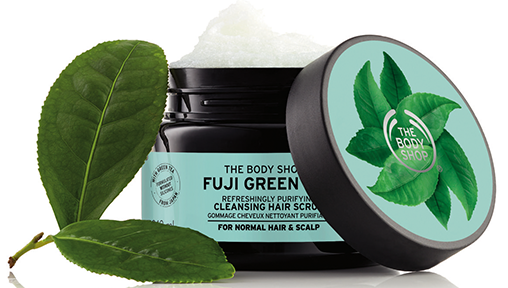 Katherine's Favourite Products:
Fuji Green Tea™ Refreshingly Purifying Cleansing Hair Scrub
A cool minty refreshing feeling on the scalp and it won't burn a hold in your purse. Suitable for all scalp types.
Alterna Caviar Clinical Exfoliating Scalp Facial
Right up your alley if you are obsessed with luxury scents and it comes with an attached brush for easy application. Suitable for all scalp type.
Kiehl's Deep Micro-Exfoliating Scalp Treatment
Control dandruff and nourish your hair at the same time. Suitable for all scalp types especially if you have long and dry hair.
PHS Hairscience Adv Purifying Scalp Cleanser
Tames hair and strengthens the scalp's protective barrier to promote a strong foundation for healthy hair. Suitable for sensitive scalps.
A clarifying cocktail to eliminate build-up and 'detox' congested tresses. Sulphates and parabens free.