F&B
Restaurants and Bars in Singapore: New Menus and Openings in 2021
Published Date
: 15 Nov 2021 15:39

Find out what's cooking in our food paradise by checking out our list of new openings and menus at these restaurants and bars in Singapore
What's cooking in Singapore's vibrant F&B scene? We've rounded up the exciting new openings as well as new menu launches at some of our favourite restaurants and bars in Singapore.
Bookmark this page and keep checking back as we update the list every month!
New Menus and Openings in November 2021
In conjunction with World Gourmet Summit, Thomas Farms and Shabestan Singapore have curated a 5-course dinner, available for one night only. On 10 November 2021,  feast on Australian lamb from Huber's Butchery with a Middle Eastern twist.
Start the dinner with a refreshing Pomegranate Salad followed by a Beetroot Hummus dip. Then comes a hot dish - Dawood Basha - an Egyptian-style stew with lamb meatballs braised in tomato sauce.
For charcoal-grilled main, choose between Australian Lamb Tenderloin or Grounded Boneless Lamb Shoulder and Boneless Lamb Legs. Finally, end off with Cheese Kunafe - a Turkish sweet cheese pastry with unsalted akawi melted cheese.
Make your reservations online.
Situated on Amoy Street, the unusual Corduroy Palace is an unpretentious dining experience blending fine dining with casual American fare. The cosy, effortless yet off-the-wall ambience reminds one of the legends like David Bowie and Iggy Pop, perfect to unwind and soak in after a long day of stress.
The wine hall prides itself on their team of experienced sommeliers, headed by Marcus Chen, from the two-Michelin-star rated JAAN by Kirk Westaway, who'd gladly recommend you a choice you'll love, from their selection of over 300 bottles chosen by Chen himself. Corduroy's Palace's spirit collection ranges from the crowd favourites to rarer, more exclusive options to suit every palate, occasion and budget. Desiring to create a more intimate, personal experience for their guests, a shortlist of classic drinks they currently love like Hanky Panky, Manhattan, and a John Daly will be used in place of a typical cocktail list.
Feeling hungry? Choose from Executive Chef Ariana Flores' classic pairings of oysters, only the freshest they could find in Normandy, and authentic xiao long bao dumplings created in collaboration with hawker stall You Peng, topped with a helping of lavish caviar. Or, eat your fill with steak tartare, 300g prime ribs, casual chicken sandwiches, a Chicken Cordon Bleu or a John Dory.
Enjoy a Japanese twist on the classic sandwich dish from the new FUKUSANDO! Striving to create the perfect sandwich to suit all taste buds, the brand promises only the best ingredients. Must-tries include their signature Japanese Hot Chicken Sando (S$12.90) that features pickled chilis, cabbage slaw, homemade 'umami dust' and your choice of spice level (mild, medium, hot, extreme) to up the level of fun in your meal!
Other items include the classic Yakiniku Steak Sandwich (S$18.90), Pork or Cod Katsu, and your choice of add-ons that include smoked cheddar, soy buttered onions, avocado and fried eggs. 
Create the perfect meal to satisfy your craving with sides like the Furikake Fries (S$5.90) and the Togarashi Chicken Karaage (S$6.90)!
New Menus and Openings in October 2021
A MICHELIN Plate awarded restaurant with an urban farming concept, on the foothills of Dempsey, Open Farm Community launches Farm Feast. A new family-style tasting menu for friends and families. Ideated as a celebration of homegrown produce and inspired by the convivial way of kampong dining, the Farm Feast features inventive, communal dishes that best showcase ingredients sourced from close to home.
A farm fresh feast awaits you for S$88 per head from 6pm - 9pm daily. Of course, you have to add on the exquisite wine pairing (S$40 per person) for a wholesome experience. Did we mention that the menu is vegan-friendly, and features a lot of vegetarian and gluten-free options!
The Spa Esprit Group's F&B concepts never disappoint when it comes to the way they cook with cauliflower. The vegan Cauliflower Wings in tamarind miso are such an addictive snack - sweet yet balanced by the sourness of the tamarind.
When we think of raw farm-to-table food, the vegetarian SG Grown Radishes are absolutely what we would expect - clean and fresh, and we love the touch of in-house cultured cream.
Anyone with a love for the local Chinese cuisine is going to love their rendition of vegan Chips and Dips made with Chai Poh aioli. It's a win! Goes great with the house-made corn tortilla made from organic masa. 
The Seared Hokkaido Scallops need no further explanation - they're simply delicious. The Grass Fed New Zealand Short Ribs doused in a Mexican mole sauce, paired with the SG Green Salad is another highlight dish.
Here's a Japanese-Mexican Taco affair you just can't miss! MEZCLA (the Mexican term for blend) marries the vibrant flavours from Japanese cuisine and Mexican cultures to bring you unique tacos and refreshing fruit margaritas. 
Choose from their range of tacos (from S$7.50 to S$32), featuring ingredients like cured salmon, wagyu brisket, grade A uni, soft shell crab, and even a vegetarian option with grilled tofu and Chipotle salsa. Our absolute favourite was the Unagi Taco, a must-try in our books! The Japanese-forward tacos were definitely clear winners on the menu.
To accompany your meal, order a frozen margarita (S$18) crafted by Diageo World Class Singapore champion and co-owner Boo Jing Heng and his team, that comes in 6 different flavours. End off your meal with mini but luxurious Churros Tacos (S$9) made with rich vanilla cream and drenched in chocolate and gold flakes for dessert.
Can't get enough of Japanese food? Make a stop at the cosy Sushi Ichizuke, Zouk Group's first omakase restaurant! Made from only the freshest and best ingredients imported twice a week directly from Tokyo's Toyosu Fish Market, dig into a seasonal selection of dishes prepared by head chef Ryoichi Nakatani, and prepare to be impressed with his expert knife skills and curing techniques.
Menu highlights include House-special Handroll featuring otoro (fattiest portion of tuna) that melts instantly in your mouth; Ichizuke Don topped with generous portions of fresh seafood like Uni, Ikura and Hokkaido Hairy Crab; Zuke Maguro for sashimi-lovers; and Monk Fish Liver with Tomatoes and Ice Plant for an interesting mix of textures you'll be hard pressed to find elsewhere.
Sushi Ichizuke's lunch menu starts from S$80++ for five courses, and S$180++  for seven courses, while the dinner menu starts from S$220++ for seven courses to $380++ for eight courses.
Don't let the cute name fool you – Here Kitty Kitty is Zouk Group's newest offering to Singapore's bar scene, in the form of a Japanese speakeasy bar located in a discreet corner of the bustling Clarke Quay. Reminiscent of 1950s nightlife in the bustling Shinjuku district, this bar is furnished luxuriously and is split into three rooms, each with a different concept. 
Treat yourself to the speakeasy's signature cocktails expertly created by the team. Here Kitty Kitty Highball (S$22++) is a classic mix of Kaku-bin whiskey, Chita whiskey, lemon and soda; earthy, toasty Haku Hai (S$24++) consists of matcha, Haku vodka, Calpis and lemon. Feeling a little more adventurous? The bar recommends the Here Kitty Kitty Martini (S$24++), Ume Whiskey Sour (S$24++) and Golden Hour (S$22++).
Here, you can also indulge in maki rolls and izakaya snacks like their bestselling Wagyu Sando (S$58++), a Japanese-style sandwich stuffed with premium Wagyu beef, caviar, uni and caramelized onions. Or try the Here Kitty Kitty Signature Maki (S$28++) featuring soft-shell crab, flying fish roe and mixed salad, and the bite-sized Kawa Ebi (S$16++), deep-fried river shrimp, to go with your drinks.
Following the huge success of previous menus v1 and v2, The Old Man created v3 with literary icon Ernest Hemingway in mind. Known for his influential writing style, sense of adventure and his many tragic loves, the new line-up parallels his experimental spirit, and stars the use of edible essential oils and essences largely in place of fresh fruits for more sustainability. 
Each item on the menu pays tribute to the most notable years in Hemingway's life. We love #1899, named after his birth year, which features fermented textured vegetable protein Havana rum, soy milk kefir, rotovap pandan distillate, gomme and orange phosphate, creating a feeling of comfort and innocence reminiscent of childhood.
#1917, an earthy cocktail inspired by his years serving during the First World War that presents flavours like Monkey Shoulder, hydrated sous vide fungi, honey brine and cheese wax. Lastly, #1952, the year in which the author published the famed The Old Man and The Sea, captured our hearts with Casa Elemental Reposado, sous vide capsicum distillate, Cointreau.
Cocktails from the v3 menu are conveniently priced S$22+ each.
What's better than a grill with a huge spread of the freshest catch straight from the sea? One with a spectacular view of course! Offshore Bar & Grill at Tanah Merah Ferry terminal offers you a casual dining ambience by the seaside so you can enjoy the salty breeze while you indulge in the feast of lobsters, fresh seafood, meat and vegetables smoking on the grill.
Priding themselves in having an affordable menu anyone can enjoy, a "Happy Feast" here sets you back only S$69++ per person to enjoy lobsters and a buffet-style selection of fresh meat and vegetables grilled over charcoal or served shabu-shabu style. Feel "Super Happy" when you top up S$49 per table to enjoy premiums such as a whole lobster and a fish, or "Really Super Happy" at S$29 per person for free-flow booze with your BFFs!
There's also a small selection of cooked food and various condiments to pair your grilled seafood and meats with. Here's a tip: melt the cheese over the grill and you get a cheesy dip for your wedges or prawns!
Seek comfort during these uncertain times with your favourite local dishes like Dry Mee Siam (S$8.80) and Lontong (S$8.80) from Nusantara's pop-up outlet at the historical Gedung Kuning mansion in Kampong Gelam!
Other than the must-tries like their potato curry puffs (S$2 each), sardine curry puffs (S$2 each), Beef Rendang Bowl (S$12.50) and more, don't forget to sample the newest highlight on the menu, the Korean Chicken Nasi Lemak (S$10). Besides the familiar flavour of rice cooked in coconut milk, the rest of the dish is given an unexpected Korean twist, with the chicken being coated in Yangnyeom sauce, a sweet and spicy Korean concoction, Prawn Kimchi Pancake, and Korean-style stir-fried anchovies (myulchi). 
Your vegan friends can now tag along, as Nusantara provides two delectable options - Vegan Sayur Lodeh Bowl (S$11.20) and Vegan Nasi Sambal Goreng Bowl (S$12.80) - for them to choose from.
Can't dine in right now? The restaurant also offers you the option of delivering food right to your doorstep.
If you've tried the delightful sweet treats from local artisan dessert Chef Janice Wong and want to see where it all begins, here's your chance! Introducing Pure Imagination, a chocolate-focused concept at Great World City, that walks you through the bean-to-bar process of chocolate-making.
In this hands-on experience that'll fulfil all your senses, you get a mini tour of the facility where cacao beans are being churned into chocolate bars. The concept will also offer a Degustation menu with samples of cascara tea, cocoa nibs, sorbet, and a single-origin chocolate mousse - all for just S$40!
From November onwards, DIY chocolate kits will also be up for grabs on their social media platforms, complete with fresh cocoa beans, fermentation containers and even a mini electric grinder so you can craft your very own artisanal chocolate from scratch at home.
Why be content with eating store-bought sourdough when you can make your very own? Tiong Bahru Bakery presents their very own sourdough workshop held by their sourdough expert, Paul Albert and his 160-year-old, all-natural sourdough mother. 
Launching officially in November 2021, the bakery offers beginner and intermediate workshops depending on your level of experience. You'll learn all about the benefits of sourdough bread, try new techniques and recipes, and leave with your very own loaf at the end!
Excited to make your own bread? Register for the workshops and you'll also get your hands on a starter kit, including the 160-year-old starter and a customised bread lame to make your own bread at home.
New Menus and Openings in September 2021
Argentinian steakhouse boCHINche has recently moved to 27 Club Street and we highly recommend it for anyone craving steaks cooked using traditional grilling techniques paired with a beautiful list of Argentinian wines. 
What stood out for us was their Argentinian Spring Roll with Pig Ears (S$14) that goes very well with a sweet-savoury brown miso mayo that I would suggest asking for more, Empanadas stuffed with Provolone cheese and smoked ham (S$5), their charcoal-grilled quail ($28) which was so good that I preferred to eat it on its own, and of course, their steaks.
When I think of Argentinian steaks, I think of a nice charred crust, that smoky aroma, with a juicy centre and I was so satisfied with their  Vintage Galiciana Striploin bone-in aged 38 days MBS 3+ (S$140), Solomillo Sirloin Steak from Australia (S$65), and their Argentinian Rib Eye Steak (S$65).
What's a meal without wine? Rutini Torrontes 2018, Animal Malbec 2019, Siesta Cabernet Sauvignon 2014, Moscatel de Alejandria 2012 are all available by the glass. 
P.S. They have got Tres Leches Milk Cake and "Dulce de Leche" on their menu.
When you enter Firangi Superstar, it is not only a feast for your soul but your eyes. Firangi Superstar has pieced together textures, materials, decor and furniture that brings you on a cinematic journey through India.
The first thing you absolutely need to do is order their "Chai Masala Milk Punch" as you browse through their menu that is going to surprise you. As the name suggests, "Firangi" which means "foreign or foreigner", the menu is definitely a foreigner's take on modern Indian cuisine. 
Prata Waffle??? (S$24), Salvador Thali (S$41),  Indian Saddle (S$19 per 100g), This Is Not Aloo Gobi (S$16) were some of the dishes that stood out although there were a lot more to try which means a trip back definitely awaits especially for their Rasam Lobster Bisque!
Located within the five-star luxury urban resort, Greenhouse showcases a variety of authentic dining experiences with its exciting line-up of five different cuisines. Clad in lush greenery and bountiful botany, the forest-themed restaurant blends in with the surrounding landscape of the resort, while the floor-to-ceiling windows flood the dining space with ample natural light and offer an unobstructed, picturesque view of the Masters Course.
Embark on a gastronomical journey and indulge in a delectable range of offerings at Greenhouse's five show kitchen concepts — the brand's signature Thai cuisine, Yue cuisine, Punjabi Tandoor cuisine, Mediterranean cuisine as well as Japanese cuisine.
As an extension of the resort's hospitality experience that is rooted in Thai culture and tradition, the Thai show kitchen features authentic dishes from Northern and Southern Thailand. Look forward to a generous spread which encompasses the appetising Pla Kapong Nueng (S$28), of steamed barramundi fillet topped with spicy green chilli, garlic and lime sauce; Phad Thai Goong, Gai or Phak (S$25), one of Thailand's national dishes; and the quintessential Tom Yum Goong (S$24), a spicy broth complemented with river prawns and aromatic spices. For the sweet-toothed, a serving of Khao Niao Mamuang, familiarly known as Thai Mango Sticky Rice (S$12) or Ma Prao Orn – Young Coconut with Chendol Ice Cream (S$12) is sure to satisfy.
Super Loco Group is delighted to announce that Taco Tuesdays have landed at Lucha Loco and Super Loco, and are bolder, bigger and juicier than ever with DIY taco platters that are perfect for sharing. Inspired by the Mexican tradition of bonding over a good meal with family and friends, the DIY taco platters have been made to share the love of tacos with your amigos!
Served up on a wooden board with six soft traditional white corn tortillas, mixed cabbage slaw, pickled red onions, jalapeños and all-time crowd favourites guacamole and pico de gallo with a generous serving of crumbly cotija cheese, each venue's taco platter features their own delightful spin on classic taco proteins.
At Super Loco Robertson Quay, share a leisurely meal by the riverside, choosing from smoky Chipotle Barbecued Chicken, tangy Citrus Braised Pork with crunchy chicharron and red mojo sauce, juicy Mojo de Ajo Prawns with achiote mayo or crunchy Tajín Roasted Cauliflower accompanied by spiced chickpeas and cashew lime crema.
Drink in the scenic views of Marina Bay down by the water at Super Loco Customs House while indulging in braised Chipotle Beef Brisket with burnt onion salsa, Achiote Roasted Chicken with spicy pineapple salsa, tender Cilantro Barramundi with yoghurt verde topped with pea cress or gluten-free Battered Tajín Cauliflower with aromatic coriander and vegan-friendly mayo.
Lucha Loco's lush garden bar offers a cosy catch-up under the fairy lights where friends can feast on a hearty selection of Mexican spiced Chicken Tinga with frijoles, smoky Ancho Skirt Steak Fajitas with tobacco-rubbed onions, tomatillo salsa, Roasted Mixed Mushrooms with Mexican truffle, chimichurri or spicy Blackened Prawns with coriander mayo.
One of the most beautiful restaurants in Singapore, FIRE at 1-Atico is a contemporary "fire-in-the-sky" Argentinian restaurant located at ION Sky.  From chapa, parrilla, rescoldoto to caldero, FIRE specialises in a variety of Argentine wood-fired cooking techniques, while a curated selection of woods including apple, oak and almond, fuel the fires and add soulful flavours to the restaurant's show-stopping cuisine. 
Their summer menu kicks off with FIRE's interpretation of a Patagonian Shrimp 'Cocktail', following with the Chilled Summer Tomaticán.  Next is the delightful Summer Baby Purple Artichokes mixed with fava beans, and lightly dusted with powdered nduja and delicate parmesan crackers.  And then the Poached Black Cod, paired with Salicornia on Torrontes Pil Pil sauce, and the 25 day Dry-Aged Devesa Grain-Fed OP Rib 'on-the-bone' lusciously rubbed with chimichurri, and served with a side of grilled vegetables and horseradish dressing.  End this Argentinian-centric meal with a twist with the Caramelised Summer Peaches and Nectarines, served with Yerba Mate infused sorbet, an Argentinian caffeine alternative.
Wild Child centres its food menu around Neapolitan style pizzette which is typically used to reference smaller sized pizzas, a snug 10 inches to be exact. The heart and soul of each pizzetta are baked on a slow-fermented, Neapolitan style crust that starts with a traditional Italian pre-yeast Biga and undergoes two stages of fermentation that takes no less than 60 hours each time.
Departing from the traditional toppings that Cicheti's pizzas are known for, Wild Child chooses to adopt a more modern flavour profile while remaining decidedly and authentically Italian. Playful variations such as Crispy Fried Margherita (S$21) dunks the pizza dough into a deep fryer before topping it with creamy stracciatella, semi-dried San Marzano tomatoes, fresh basil and aged parmigiana. The Bikini is made with grass-fed beef, cheek marmalade with layers of taleggio and provolone that can be paired with their Pilsner from Garage Project, New Zealand.
Flavour bombs come in all forms—three, to be exact. A simple Marinara (S$15.50) packs its punch from Cicheti's famed "mother sauce", a hand-milled, slow-simmered house tomato sauce loaded with heaps of garlic. Old is spun into gold with Trio Formaggio (S$19), a three-cheese deviation from the traditional four-cheese classic that swaps out the funkiness of gorgonzola with taleggio's mild, fruity tang, while caramelised onions lend an irresistible sweetness to every bite. On the other end of the spectrum, Spiniata Calabrese (S$19) is a feisty number named after a spicy salame from Calabria characterised by its fiery pepperoncino flavour and topped with a heavy-handed drizzle of Sichuan chilli honey.
For sweet endings, choose the Pecan Tart with Bourbon (S$13) and pair it with their organic whisky. You have to check out their very inclusive beverage list featuring the most beautiful wines, sakes, beers and even non-alcoholic beverages.
Japanese brand ANAORI, a leader in manufacturing carbon graphite products, has developed a groundbreaking cooking tool that combines new technologies and natural materials in a unique design - the ANAORI kakugama.
Thanks to the properties of carbon graphite exploited by ANAORI kakugama, the cellular destruction of cooked ingredients is minimized and their original avor is concentrated. As a result, regardless of the source of heat and the mode of cooking, the essence of each ingredient is enhanced. Kakugama can be used for grilling, simmering, poaching, frying and steaming. Its dual-purpose lid locks in umami and can be used as a grilling pan.
At Colony, three dishes created by Executive Chef Massimo Pasquarelli with the ANAORI kakugama are featured in the restaurant's new menu. They include: ANAORI Carbon Pu Walnut Bread, Ligurian Extra Virgin Olive Oil, Aged Balsamic Reduction; Black Vinegar Veal Ossobuco, braised in ANAORI Kagugama Carbon Pot; and ANAORI Kagugama Warm Chocolate Fondant, Organic Egg Mascarpone, Espresso Granita, Madagascar Vanilla Ice Cream.
Colony's three dishes expertly created in the ANAORI kakugama by Chef Pasquarelli offer a taste of and an insight into the gastronomic possibilities of cooking with this unique cooking tool designed for the professional chef as well as passionate home chefs. The special menu will be available for Vintage Champagne Brunch at Colony until mid-November 2021.
New Menus and Openings in August 2021
Award-winning cocktail bar Jigger & Pony launches 'A Decent Menu', the fourth in a series of annual themed menuzines, which offers over 20 cocktails ranging from redefined classics and signature tipples to punch bowls for sharing.
A Decent Menu is an exploration of what it means to be decent today. The starting point: Revisiting the classics. The spirit of collaboration was the catalyst behind the next-gen Espresso Martini which features Grey Goose Vodka, coffee flower honey, a cacao tuile and the exclusive PPP x Jigger & Pony Espresso Martini Blend. Then there is the Supermojito, Jigger & Pony's version of the refreshing minty cocktail that originated in Havana, Cuba which took over 2 years of R&D to finally get the right combination of rum with a few varieties of mint.
Humble kitchen ingredients take centre stage in A Decent Menu, a reminder that there is magic in the everyday. Think buttered popcorn, but better – so much better – in the Corn Colada that is a riff on the Piña Colada.
A reflection of Singapore's unique mix of local and global citizens, Jigger & Pony's team hails from different parts of the world. This diversity and mindset is celebrated in A Decent Menu in cocktails such as the Spumoni. Italy meets Japan in Singapore in Jigger & Pony's interpretation with citrusy Nikka Coffey Gin and bittersweet Campari. A touch of France comes in refreshing Perrier Grapefruit for a zesty lift, while universal tonic water finishes this cocktail that offers a fresh take on the aperitif.
Dolce Vita at Mandarin Oriental, Singapore presents a menu showcasing the best of Italian cuisine, specially created with the freshest seasonal produce and finest ingredients. And if you're a wine connoisseur, you'll be delighted to see the wine chiller filled with hundreds of labels.
Recently appointed as the new Restaurant Chef, Niccoló Ferrazzani brings his passion for cooking to his gastronomic creations. Savour dishes such as Asparagi - marinated blanched white asparagus served with frisée salad, feta cheese, orange, aged balsamic vinegar.
For mains, choose between handmade pastas, risottos, and other dishes including roasted black chicken breast, pan-roasted wagyu beef, and seared cod fish.
End the meal on a sweet note with Dolce Vita's signature Tiramisu or the exquisite Pan di spagna ai frutti do bosco - almond genoise tart, citrus marmalade, chantilly cream, seasonal berries, meringue sticks, and coconut lime ice cream.
MO BAR has launched a new weekend brunch menu topped with the personalised service for which MO BAR is renowned. Soak in the breathtaking views of Marina Bay while indulging in this delightful menu (S$98++ per person).
Whet your appetite as you start your dining experience with fresh succulent seafood, with selections of snow crab, Maine lobster, seasonal oysters and prawns. From there, pick three more from a plethora of sweet and savoury dishes from the different selections - Starters and Soups, Rice and Noodles, Main Courses and Sweets. Timeless favourites include Tiger Prawns, crisply cooked with curry leaves and masala mayo, Braised Angus Beef Cheek cooked to perfection in wine sauce, and Tagliatelle Tartufo, a pasta dish coated with creamy black truffle sauce and roasted mushrooms.
End on a sweet note with the sumptuous Gran Cru Chocolate, a 72% dark chocolate mousse that is everything to love. Further enhancing the experience is the option to top up (S$58++ per person) with free-flow champagne or sip on one of Asia's 50 Best Bars' bespoke cocktails.
Available on Saturdays and Sundays from 12pm to 2.30pm.
New Menus and Openings in July 2021
The Butcher's Wife, a natural wine bar and kitchen in Tiong Bahru has launched a new all-day dining concept—stretching from 11.30am to 9.30pm every Tuesday to Sunday.
Continuing the success of the previous menu debuted by Brazil-born, Paris-trained head chef Mariana Campos, strong Brazilian influences continue to take precedence throughout the menu, while a new communal dining design has optimised all dishes to be easily shared amongst the table. The menu is further defined by a cooking from scratch philosophy that favours ingredients sourced from close to home, enlivened with a fervent fermentation know-how. The natural processes spurred by the introduction of wild yeasts guide the gut-friendly culinary affair are intended as the perfect complement to the bistro's natural-leaning wine programme curated by Drunken Farmer. This is all underscored by an unapologetic and creative disposition towards gluten-free cooking.
Have a taste of authentic Amazon living with homespun Brazilian cooking abound from "small shares" to "not so small shares" across the menu. Sago and Coconut Prawns (S$25) shines a different light on two household ingredients from Asia and Brazil. Sago is tossed with desiccated coconut to form a crunchy coat around the deep-fried prawns; and açai berries is whipped into a savoury mayonnaise to showcase a different side of the Amazonian superfood.
Moqueca ($37) is a traditional Brazilian seafood stew typically served in Brazil with farofa—a toasted cassava mixture— has been switched up with a toasted banana oats farofa that's inspired by Singapore's cereal prawns.
Desserts are offered in tropes found up and down the menu, from a classic Brazilian coffee break snack of Tapioca and Coconut Fudge (S$15) that's served with coffee ice cream churned in-house using Common Man Coffee Roasters beans; to Ice Cream "Magnums" (S$12), featuring chef Mariana's playful reimagination of the classic store-bought Magnum ice cream in an eclectic rotation of any two flavours at each time, such as miso with buckwheat and chocolate or mango purée ice cream coated with coconut milk.
For the most complete experience, opt for The Wife's Feast (S$60 per person), a curated selection of sharing plates for the table that's most representative of the different flavours, influences and textures found across the menu. Top up S$40 for a curation of three glasses of natural wines to pair with the meal.
Lady M introduces an exciting new boutique concept with Lady M Champagne Bar – the first of its kind globally! Located amidst luxury fashion houses in ION Orchard, the Champagne Bar offers tiered champagne sets, along with the returning Champagne Mille Crêpes.
Fashioned in reflective rose gold columns illuminated with custom-designed hanging lights, get ready to be whisked into grandeur and indulgence. The menu at Lady M Champagne Bar carries a full selection of cakes that are hand-made fresh daily with a house flair of French baking artistry and Japanese delicacy. Available by slices or in whole are the Signature Mille Crêpes (S$14) and flavoured variants of Green Tea (S$14), Rose (S$14) and Pistachio (S$16), alongside a display of cakes and individual pastries.
Making a comeback in conjunction as an exclusive is the Champagne Mille Crêpes (S$25) – a bubbly infused adaptation of Lady M's signature, enlivened with hand-brushed layers of strawberry-laced pastry cream and finishing glitters of champagne gelee atop for a gentle intoxication.
Those seeking further satiation with savouries can now do so with a concise selection of appetisers and mains. New on the menu and also exclusive at the boutique is a Chilled Caviar Angel Hair (S$40) for umami twirls of angel hair pasta in house-made Shio Kombu dressing and finishing speckles of imported European caviar; and Creamy Lobster Fettucine (S$32) in a velvety base loaded with sustainably-caught wild Maine lobster chunks and fresh chives.
Rounding off the menu is a curation of beverages a focus on champagnes that are proudly showcased by the island counter. Categorised into Vintage and Multi-Vintage, selections are predominantly sourced from esteemed wineries with an emphasis on Bruno Paillard Champagnes that are regarded for their precise blending of vintages to deliver an elegant complexity.
Following months of eager anticipation, Mr Holmes Bakehouse Singapore has officially reached our sunny island! Pastry lovers can expect to get "Baked in Singapore" at Pacific Plaza with a promise of buttery heaven through signature cruffins, croissants and other baked goodies that were trending all over social media. 
Being the trademark owners that kickstarted 'Cruffin' mania, it goes without saying that the opening menu revolves around a playful manipulation of its signature croissant dough. Hand-crafted daily with a mix of traditional techniques and house stylings, sheets of laminated dough are shaped into classic but boldly coloured Croissants (from S$4), or brand-synonymous Cruffins (all at S$5.80) that are essentially rolled hybrids baked in muffin trays.
Step into the bakehouse and you will be spoilt for choice at the glass display counter with an assortment of indulgent, cream-piped Cruffins – from Peanut Butter Milkshake that tastes just as decadent as it sounds, to a lady-finger crowned Tiramisu Cream for the coffee and sweet addicts. Offering a fruitier contrast is duo of Lemon Meringue Pie croissant that comes piped with lemon curd and a topping of torched meringue, and a Raspberry Hibiscus croissant with its tangy and floral delight of hibiscus curd, raspberry cream and finishing dresses of white chocolate shards and raspberry leather.
For those seeking a softer treat, a trio of brioche donuts are also available to sink your teeth into. Each loaded with a peep of pastry cream to hint of the stuffing beneath, donut lovers can select between classic choices of Chocolate and Strawberries and Cream, or a Plum Yuzu Jam (from S$5.80) for an oozy, tangy surprise. Rounding off the bakes are a concise selection of comforting Sweet Buns (from S$4), frangipane-topped Almond Apricot Bostock (S$5.80), Cookies (S$4) and a duo of danishes – Cheesecake Creme Brulee Danish (S$7) sports a tempting drizzle of white chocolate caramel, while the Jalapeno Bacon Danish (S$7) sits on the savoury and spiced end.
PARKROYAL on Beach Road's destination bar, Club 5, duly named for the fun that starts after 5pm, has a new and luxurious afternoon tea.
Take respite from the heat and treat yourself to this mid-day delight that is perfect to share with family and friends or colleagues and associates. Available till 30 December 2021, the gorgeous afternoon tea set is the perfect experience to soak in Club 5's opulent splendour while enjoying a gourmet menu of sweet and savoury treats, coffee and TWG tea at S$58++ for two persons.
Look forward to dainty delights such as Charcoal Brioche Croissant with Salmon Gravlax and Caviar, Alaskan King Crab Au Gratin, Savoury Wild Mushroom Ragout Puff, Chicken Rendang Brioche, Mini Macarons, Red Cheese Tart, Coconut Exotic, Orange Jivara and Pandan Lamington.
To further enhance the afternoon tea experience and to kick-start happy hour, you can opt for the 'Social Hour Indulgence' for additional drinks from the bar – including Club 5's signature cocktails, mocktails, wines and beers at special prices.
Available from Tuesday to Saturday, the 'Luxurious Club 5 Afternoon Tea' will be served from 2pm to 4pm.
New Menus and Openings in June 2021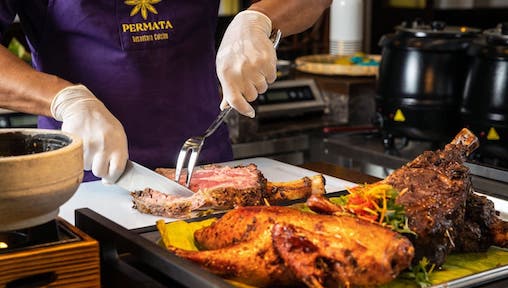 As dining-in resumes in Singapore, Permata Singapore has redesigned its Nusantara buffet menu to bring you a plethora of Malay and Indonesian dishes. Nusantara in old Javanese terms literally means "outer islands", the maritime name of Southeast Asia. In the Indonesian or Malay language, it is often translated as 'archipelago'.
Executive Chef Firdauz Nasir has put together an affordable Nusantara buffet menu for two. Start with a selection of appetisers to choose from which includes a Chilled Seafood Platter, Kerabu Salads, Roti Jala, Soup and Noodle of the Day, Chicken & Mutton Satay, Cemil-Cemilan Platter that goes well with Permata's hand-pounded sambals.
Mains feature Permata Singapore's signature Wagyu Beef Rendang, Ayam Binjai, Belimbing Lamb, Tempoyak Ikan Patin and Udang Lemak Nenas which is served with Blue Pea Rice or Hom Mali White Rice.
Grilled dishes include Danging Bakar (Marinated Roast Beef), Itik Bakar (Roasted Duck), Ayam Percik (Grilled Spring Chicken), Tiram Bakar (Grilled Oysters), Ikar Bakar (Grilled Sea Bass), Grilled Prawns, Pulut Panggang (Glutinous Rice Stuffed With Grated Coconut) and Vegetables. All grilled dishes are accompanied by Lemang and Nasi Impit.
Treat yourself to a selection of Kuehs, Fruits, Buah Keluak Brownies, Western Desserts and free-flow of Soft Drinks, Juices, Coffee and Tea.
Mon - Thu: Lunch at S$42++, and Dinner at S$52++ per person
Fri, Sat, and Sun: Lunch at S$48++, and Dinner at S$58++ per person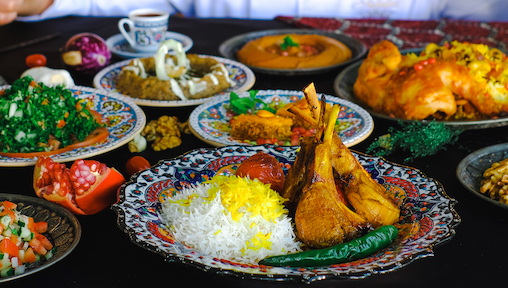 Located at Robertson Quay, Persian restaurant Shabestan Singapore has launched an all-new Middle-Eastern set lunch menu. This 3-course menu is priced at S$48++ which includes a mezze that is served with freshly made Persian bread, a choice of main course and dessert of the day.
Must-try mezze includes their signature Hummus, Shirazi Salad, Zeytoon Parvadeh, and Muhammara. Mains include their best-selling Mixed Kubideh Kebab, Shah Pasand Chicken, Ghormeh Sabzi, and Javaher Polo with Chicken.
If you're planning on a celebratory lunch, add on S$40++ for a 2-hour free-flow of Prosecco, Wines, Beers, and Spirits.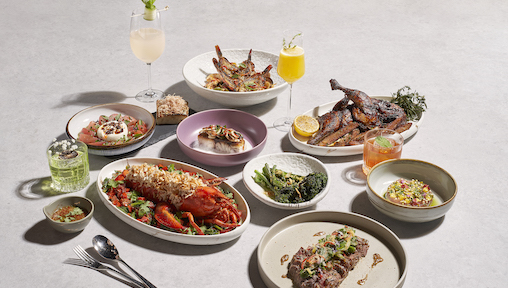 One of Singapore's favourite rooftop bars and restaurants, CÉ LA VI reopens with a menu featuring sharing-friendly dishes, all incorporating flavours and ingredients from across Asia.
A diverse array of small sharing plates is on offer with highlights including Marinated Big Eye Tuna accented with Sudachi ponzu, orange segments, pistachio and avocado; the fresh and creamy Momotaro Tomato & Burrata Salad drizzled with XO sauce and opal basil vinaigrette and served with furikake focaccia; and Grilled Freemantle Octopus with Taiwanese glaze and green chilli-coriander coulis.
The premium sharing plate most prominently features a 1kg Rice Flake Crusted Whole Lobster (S$228) accompanied by bell pepper and pineapple fricassee with Chinese Sausage and sour-spicy ginger reduction. Yum, yum, yum!
Features of the dessert menu include the beautifully assembled Hibiscus Opera layered with almond joconde, earl grey cremeux, hibiscus jelly and hibiscus cacao sorbet; Pandan Gāteau served with pandan frangipane, coconut rice pudding, pandan mousse and soursop sorbet; and the refreshing Key Lime Pearls served with vanilla almond cake, coconut crumble, key lime curd and Margarita gel and foam.
New Menus and Openings in April 2021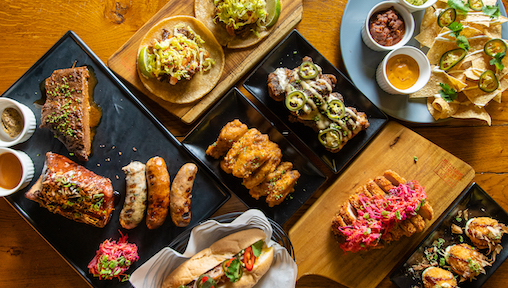 Award-winning craft beer brewery Heart of Darkness from Saigon, Vietnam, rolls out an expanded food menu with tasty new sharing plates, tapas, meat, tacos and a much more diverse drinks menu.
Known for their extensive beer offerings – ranging from core brews to seasonal and collaborative offerings with local, regional and global craft breweries – Heart of Darkness has recently introduced new food additions that blend regional Asian cuisine with American soul food.
For starters try the Fruits and Vegetables Platter - an innovative take on Vietnamese rice paper rolls, filled with a combination of fruits and Japanese rice or vegetables and noodles. The crispy Fresh Calamari is a must-try - a whole squid dusted with flour sitting on a bed of sriracha mayo.
For something heartier try the IPA Crispy Prok Belly that has been marinated for 3 days in beer, sous vide overnight and deep-fried till crispy, served with homemade chilli. Looking for a seafood option? The unassuming Pan Seared Barramundi with tomato confit puree is a burst of flavours.
With 20 taps filled with Heart of Darkness' own creative brews and up to 5 taps dedicated to local breweries and special collaborations, the venue continues to push the boundaries of craft beer in the region while nurturing the next generation of brewers in Singapore. Award-winning favourites such as Dream Alone Pale Ale, Futile Purpose Cucumber Pilsner and Director's Cacao Nib Porter are paired with an ever-changing limited release menu that is updated every couple of days.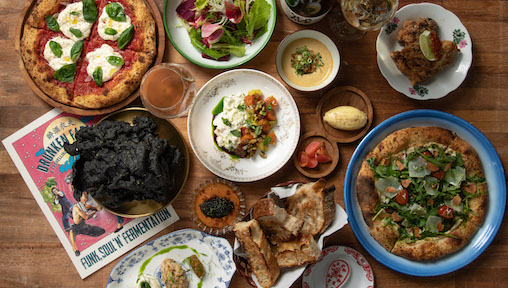 Common Man Stan by day, Drunken Farmer by night. The travelling natural wine bar, consultancy and merchant by Spa Esprit Group has finally traded in the nomadic life for a new brick-and-mortar home in Telok Ayer.
Every Tuesday to Saturday from 6pm to 10.30pm, the cafe transforms into a natural wine bar and bistro that celebrates the concept of terroir through age-old techniques that take guests back to the natural way of making food and wine – from the ground up. Chef de cuisine Paul Albert showcases a sourdough-focused menu with a minimal waste philosophy, with pairings of natural wines sourced all the way from Europe to South America, curated by wine expert, Eduardo Bayo.
Illuminated by vibrant neon signs, Japanese Noren curtains, printed roller blinds featuring visuals of kung-fu masters, and projections of vintage silent cinema splashed across the room, Drunken Farmer guarantees a good time. 
If you love your carbs (or even if you don't), the Sourdough "Couvert" loaves made using a 159-year-old starter, along with house churned butter, pickles fermented from scratch and smoked Maldon salt is so worth it! Locally sourced goat's milk fresh from the farm is turned into a creamy cheese daily and accompanies organic heirloom tomatoes in the Heirloom Tomatoes – all tied together with basil oil made using fresh basil plucked from Open Farm Community's garden.
Stealing the spotlight is the rotating selection of sourdough pizzas that each begins with a stiffer sourdough base and takes about 30 hours of fermentation to bring about a chewy, airy crust and an assertive tang reminiscent of the Neapolitan style that would work just as well with a classic Margherita as it would a combination as intriguing as Ricotta and Dried Tomatoes.
Complementing the food menu is an exciting arsenal of over 80 natural, organic, biodynamic and sustainably farmed labels sourced straight from winemakers from France, Italy, Chile and Spain, some of which exclusively imported by Drunken Farmer.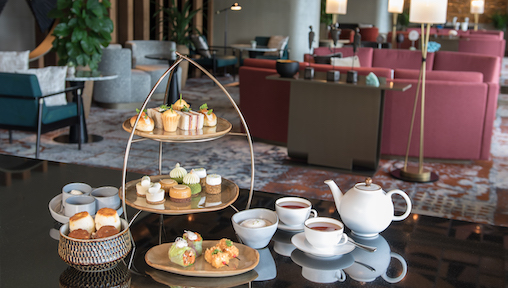 MO BAR at Mandarin Oriental, Singapore has relaunched its popular Afternoon Tea.
You can choose from 19 different types of rare teas sourced from Asia's famous tea-growing regions. Following the bar's recognition as one of Asia's 50 Best Bars last year, MO BAR's current cocktail menu offers a creative selection of regionally inspired drinks. Our personal favourites include Thunder, Panacea, Milkyway, and Instagram-worthy Sarimanok.
With the food selection on offer refreshed frequently, you can look forward to new flavours each time you visit. Till June, you can expect an afternoon tea set that includes a refreshing palate cleanser of Lemongrass Pineapple Granita with Coconut Kaffir Emulsion followed by savoury bites - Potato with Citrus Mayo and Chicken Floss, Black Truffle Egg Mimosa Kueh Pie Tee with Chives, Maine Lobster Brioche with Ikura, and more.
From the selection of sweet treats on offer, the highlight has got to be the Baked Soft Cheesecake with vanilla creme fraiche - ooh so good! What afternoon tea is complete without the quintessential scones? MO BAR offers scones in both vanilla and chocolate, complemented by jam, marmalade and cream. Finish off on a sweet note with milk and white chocolate pralines.
MO BAR's Afternoon Tea is available daily from 3pm to 5pm at S48++ per person and S$88++ for 2 persons. The indulgence set includes one of MO BAR's signature cocktails at S$65++ or a glass of "R" de Ruinart Champagne S$68++.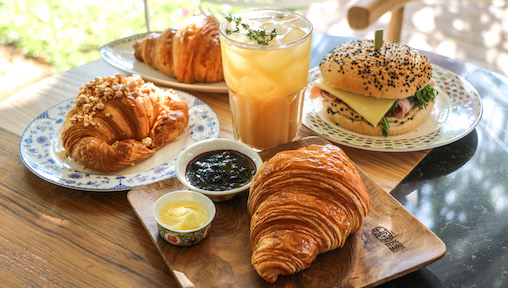 Beloved local French bakery, Tiong Bahru Bakery, known for its oven-fresh croissants and quality pastries baked with premium French ingredients and time-honoured techniques, has set foot at the historic Fort Canning Hill.
Staying true to their philosophy of respecting heritage by freshly baking everything by hand every 2 hours, guests can look forward to yet another spot to indulge in the crusty, buttery and sweet laminated rings of Kouign-Amann. An "open concept" kitchen at the back—a first for the French bakery—also allows you to admire the artisans hard at work.
An outdoor patio welcomes those who wish to enjoy al fresco dining or an outdoor picnic perfectly complemented by Tiong Bahru Bakery Foothills' Picnic Bundles comprising an assortment of bakes, salads and beverages to choose from, complete with a customised picnic bag and take-out TBB dining sets for convenience. The area is pet-friendly too!
Exclusive to this new outlet are the handcrafted Sourdough Croissant with a creamy and crunchy crémeux praline filling; Nutmeg Teh Halia - our local favourite ginger tea gently perfumed with the spice, a nod to Singapore's earlier plantations; and Sourdough Kvass - a sweet, sparkling and refreshing Eastern European beverage from as early as the Middle Ages that's brewed with sourdough yeast. Possibly the OG non-alcoholic beverage.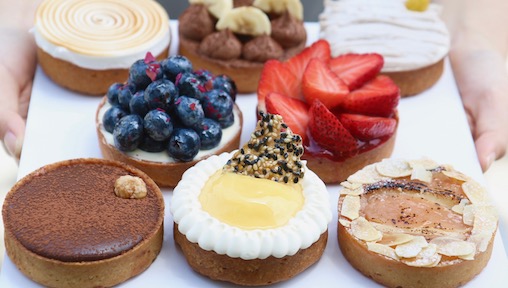 Pâtisserie CLÉ has launched its second outlet, tucked within the idyllic Lucky Heights neighbourhood in Bedok. It is a refreshed concept where fans can head to and indulge in tarts and entremets as well as a new selection of viennoiseries.
Founded by local pastry chefs Germaine Li and Joy Chiam to realise their approach to French desserts, you are promised sweet and savoury French classics such as croissants, pain au chocolat and apple mille-feuille.
Also on offer are unique creations - the Lucky Clover, a fortuitous twist on puff pastry swirls with generous sprinkles of fragrant spring onion, garlic and bacon; the Truffle Ziggy, a savoury bite filled with truffle cream, wild mushrooms, arugula, cherry tomatoes and feta cheese; and the highly-popular Orh Blanc Tart, a curious fusion of the French Mont Blanc dessert and orh nee.
The Gentleman, a seductive whiskey-soaked chocolate sponge cake with cashew nut brittle, chocolate mousse and a rich coat of dark chocolate and whiskey ganache, steals the spotlight for us.
New Menus and Openings in March 2021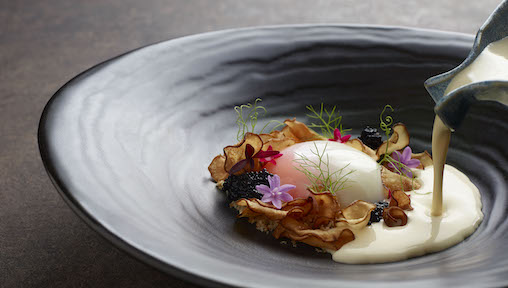 Dempsey Hill welcomes a new dining destination, MOONBOW, helmed by celebrated local chef Heman Tan. With over 38 years of culinary experience, chef Heman seamlessly merges his love for Asian ingredients and Western cooking techniques.
Savour an array of delicious starters such as the Garden of Escargot with fresh micro cress, truffle gelato, lychee pearl, mushroom soil, and mashed edamame. Try the delicate and refreshing Moonbow Oyster Bay featuring Fine de Claire oysters served with oyster leaves, yuzu gel, cucumber pearl, and yuzu granita.
Follow the starters with their heartwarming Jerusalem Artichoke soup, served with 64 Degrees Sous Vide Egg, Caviar, and Sunchoke Chips.
Another highlight is The Salmon Fish & Chips at MOONBOW which is served in an English Picnic Luggage. The Fish & Chips are served with Mashed Edamame, Potato "Rock", Honey Mustard Dips, and Tartar Dips.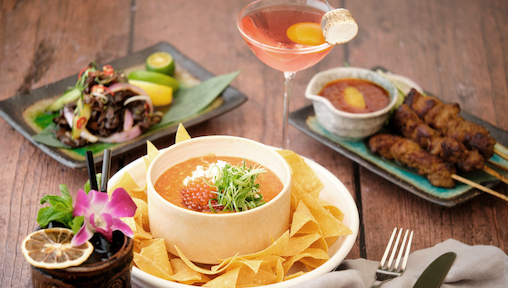 Jekyll & Hyde has launched a new menu featuring a selection of dishes that tap on the southeast Asian love for unpretentious food with sweet, sour, salty and spicy flavour combinations.
Try the Gula Melaka Top Shell whose heady tangy flavours pair naturally with alcohol. The conch brine is first reduced then flavoured with fresh citrus juices and gula Melaka. The syrup is then spiked with chilli padi and sliced raw shallots. Have as a snack or with a bowlful of hot rice for a heartier meal.
Familiar local favourites are made new at Jekyll & Hyde such as the Chilli Crab Nachos. The sweet and spicy dip – inspired by what is arguably the best part of Singapore's iconic chilli crab dish, the sauce – is luxed up with deep sea wild crabmeat and ikura.
Jekyll's Kurobuta Fried Carrot Cake hits the spot after a big night out. An elevated version of the classic hawker dish, it is the ultimate late-night supper food served almost like a pizza – to it is easily eaten and shared. Housemade sambal floss is served on the side.
Our favourite cocktail was PB & J - peanut butter washed Bulliet Bourbon, Rinomato, orange peel infused Cinzano bianco. The drinks menu also features classic cocktails, spirits, and punch bowls that are perfect for sharing with friends on a fun night out.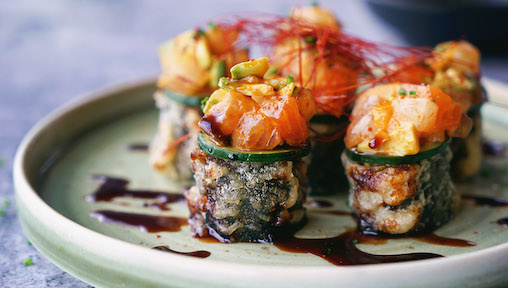 From one Japanese icon to another, the beloved sumo (previously the muse at Kinki) passes on his legacy to the Geisha who's set on blazing the trail at the newly revamped Kinki Restaurant + Bar.
Ascend to Level Three at this rooftop bar with spectacular views of Marina Bay. The 'Kinki Rockstar' cocktail line-up features new handcrafted classic cocktails with a twist, such as Geisha-Rita, Kinki's take on the margarita with Ocho Blanco tequila, Nigori umeshu, and freshly cracked pepper instead of salt making all the difference.
On Level Two, the doors open to a modern Japanese tea house. Kinki's food stays true to authentic Japanese cuisine but is presented in an Instagram-worthy creative new light. Always popular is the signature 'Rock and Roll' maki; with special mention for the AC/DC Dynamite, a tempura-fried mixed seafood roll capped by a slice of Japanese cucumber with fresh raw seafood and avocado. Add homemade Sriracha sweet soy and this dish is an explosion of flavours.
New bedfellows on the menu are the Corn Duo and Grilled Squid Chimichurri. Get your fix of this a-maizing appetiser where baby corn is mixed with corn puree and tossed with furikake bits, and on the side, there's a sriracha mayo sauce for a mild spicy kick. The charcoal-grilled squid is one to go with drinks. Smokey and tender, dip the squid into a perfectly balanced sweet and sour sauce of coriander, lime juice, green and red chilli – THE combination in our opinion.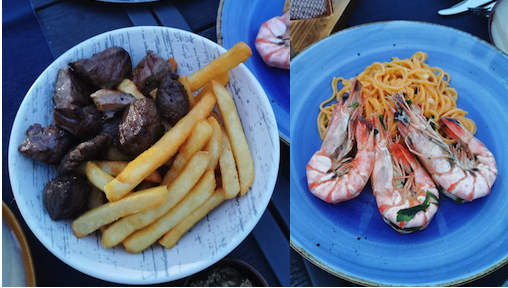 Monti Rooftop Bar has made free-flow into a daily affair. From Monday through Sunday, enjoy a 2-hour free flow of prosecco, wines, selected spirits & beers with the stunning view of Marina Bay Singapore. Priced at $58++ on Sundays to Thursdays and $68++ on Fridays and Saturdays, there are two time slots available to choose from: 5pm to 7pm or 7pm to 9pm.
Must-try bites when you're there by Chef Felix Chong are their Grilled Steak Bites (S$27++), Spaghetti Aglio Olio Prawns (S$20++),  Truffle Pizza (S$30++), and for vegetarians, you have the Margherita Pizza with Burratina (S$26++) and Fried Caprese (S$16++) that are both equally delicious.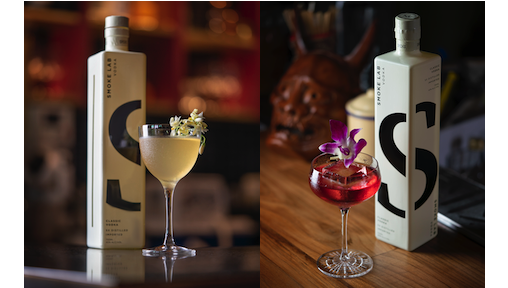 India's first homegrown premium craft vodka SMOKE LAB VODKA has made its official debut here in Singapore.
SMOKE LAB VODKA is made using pure Himalayan spring water and locally sourced superior-quality Basmati rice. The only vodka in India crafted with Basmati rice, this unique grain was chosen as the base for two reasons: Basmati is intrinsically linked to the brand's homeland of India, and lends a distinctive crisp, pure flavour and unique floral aromas to the spirit. The Basmati rice used in the production of SMOKE LAB VODKA is cultivated in close proximity to the distillery to ensure freshness and to support local farmers.
Once harvested, it undergoes a traditional five-step distillation process and is finished in an ultra-modern two-step Sparkle Filtration system, creating a soft, clean and smooth finish.
Comprising two variants – the ultra-pure SMOKE LAB VODKA Classic (40% ABV) and the aromatic SMOKE LAB VODKA Aniseed (37.5% ABV), the former boasts fresh nutty aromas and hints of citrus fruits, while the latter, which is a playful exploration of a much-loved Indian herb, offers a delicate mix of fennel and liquorice notes.
 The distilleries utilise renewable sources of energy that contribute back to the electric grid, while ensuring that water is always reused and never wasted as part of the brand's zero waste ethos.
Smoke Lab Vodka is available as cocktails and retailed at the following bars and restaurants island-wide in Singapore: The Old Man Singapore, Butcher Boy, Kafe Utu, Kizuna, Lime House,  Maduro, The Elephant Room, and The Nomads.
New Menus and Openings in February 2021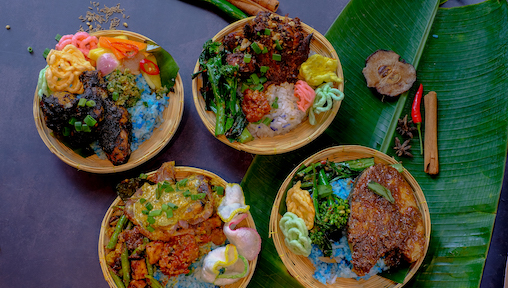 Located at Frasers Tower, Nusantara Singapore serves authentic Nusantara cuisine made healthier with no monosodium glutamate (msg), no preservatives, less oil and less sugar. 
Singaporean Muslim Chef Firdauz Nasir believes in using old school techniques with traditional Nusantara ingredients bought fresh from the local markets in Singapore so as to share this nostalgic cuisine with everyone.
Chef Firdauz is reviving recipes from his grandmother and mother through signature dishes such as Beef Rendang slow-cooked in spices; Ayam Masak Merah cooked with roasted candlenut; charcoal-grilled Belimbing Lamb shoulder with chilli and lime leaves; Ayam Kicap Buah Keluak and more.
Nusantara Singapore is also offering vegan and vegetarian dishes such as Nusa's Longtong as well as sweet treats including crispy banana fritters and gula melaka mousse. For anyone who loves Indonesian cuisine and spice, you'll be delighter to know they offer six different types of sambal!
New Menus and Openings in January 2021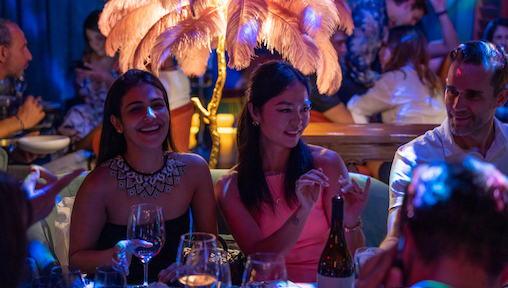 From the team behind Binomio Spanish Restaurante, Set of Six is a new cocktail and dining lounge. Set of Six sets the diner on a journey that provides six discoveries for diners to experience crafted by highly skilled mixologists and a fine dining executive chef.
It's a place to unwind and enjoy fine champagne, and six cocktails paired with six delectable dishes. Inspired by the novel "Set of Six" written by Joseph Conrad, the cocktail lounge brings to life Conrad's experiences when he went to the sea at 17, and later when he sailed to Singapore as part of the crew of Captain James Craig from which Craig Road name takes after.
The journey starts with The Brute - Oysters with Sherry Foam and Spicy Tomato paired with Sailor's Fate, a dark rum-based cocktail, and frankly what we think is the best pairing of the sets. Next comes the Gaspar Ruiz - Seabass ceviche with Sweet Potato and Popcorn in Tiger's Milk paired with Blessed Earth, a drink spiked with tequila and grapefruit. Another highlight of the food menu is the Lobster and Fennel Ravioli with Bottarga, Uni and Caviar. The rest of the cocktails are on the sweeter side for our taste.
Go for the Insta-worthy decor and great music, stay for the Tripple Cooked Chips with Branston Sauce and a brilliant Mushroom Ketchup!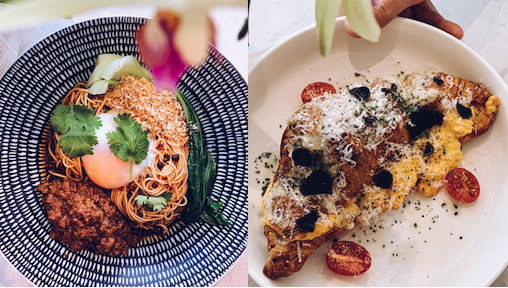 BOTANY's co-founder Cassandra Riene Tan has recently opened The RITUAL Cafe & Bar at Bukit Timah for those looking for a good brunch in Singapore and for those looking for a little self-love.
Stemmed from the belief in holistic wellness, the cafe invites spiritual seekers and like-minded individuals to learn from mental wellness advocates, coaches, industry experts and strong social advocates, also known as The RITUAL tribe leaders. They will be leading wellness programmes and experiences to better serve the community. Expect non-conformists and seemingly controversial topics such as mental wellness, sexuality, metaphysics and spirituality, alternative healing such as Ayurveda, herbal remedies, TCM and Reiki covered over knowledge-sharing and experiential sessions, workshops to casual mingling sessions.
The menu is designed to be simple, wholesome, and most importantly, inclusive with plant-based and gluten-free options. Noteworthy dishes include Madame's Truffled Egg Croissant, Truffle Kombu Fries, Tofu Tempeh Fries, and The Impossible Mala Somen - homemade Szechuan sauce, garlic crumb, bak choy, somen, Impossible mince, and sous vide egg. Another highlight is the Beetroot Gravlax bagel with pickled beetroot and cream cheese
Of course, you'll get coffee - Italian inspired house blends of high-quality coffee beans roasted locally that are bold and fruity in flavour sans the bitterness you get from an Italian roast due to the perfect mix of 85% arabica and 15% robusta roasted at just the right temperature.