What's cooking in Singapore's vibrant F&B scene? We've rounded up the exciting new openings as well as new menu launches at some of our favourite restaurants and bars in Singapore.
Bookmark this page and keep checking back as we update the list every month!
New Menus and Openings in December 2021
Reopening to the public on 8 December this year, Permata Singapore offers classic Nusantara dishes with a progressive, contemporary twist. Situated in the historic Gedung Kuning (meaning 'yellow mansion'), take in the grandeur of your surroundings while enjoying vibrant, ethnic flavours from dishes like Nasi Ulam Cakerawala, rice balls with spicy and fragrant sambal bajak, salted fish and rice crackers. You can also try Chef Mel Dean's modern rendition of Nasi Rawon, the Rawon Risotto, or the Percik Lamb Ribs, made with braised New Zealand lamb ribs to recreate the traditional Ayam Percik.
New Menus and Openings in November 2021
New Menus and Openings in October 2021
New Menus and Openings in September 2021
New Menus and Openings in August 2021
New Menus and Openings in July 2021
New Menus and Openings in June 2021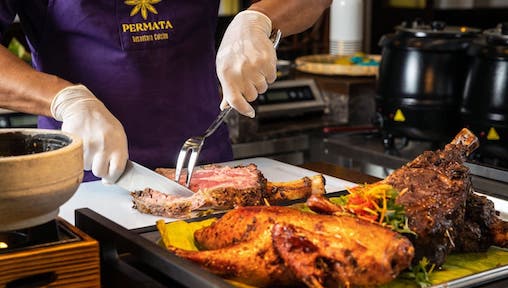 New Menus and Openings in March 2021
New Menus and Openings in February 2021
Located at Frasers Tower, Nusantara Singapore serves authentic Nusantara cuisine made healthier with no monosodium glutamate (msg), no preservatives, less oil and less sugar. 
Singaporean Muslim Chef Firdauz Nasir believes in using old school techniques with traditional Nusantara ingredients bought fresh from the local markets in Singapore so as to share this nostalgic cuisine with everyone.
Chef Firdauz is reviving recipes from his grandmother and mother through signature dishes such as Beef Rendang slow-cooked in spices; Ayam Masak Merah cooked with roasted candlenut; charcoal-grilled Belimbing Lamb shoulder with chilli and lime leaves; Ayam Kicap Buah Keluak and more.
Nusantara Singapore is also offering vegan and vegetarian dishes such as Nusa's Longtong as well as sweet treats including crispy banana fritters and gula melaka mousse. For anyone who loves Indonesian cuisine and spice, you'll be delighter to know they offer six different types of sambal!
New Menus and Openings in January 2021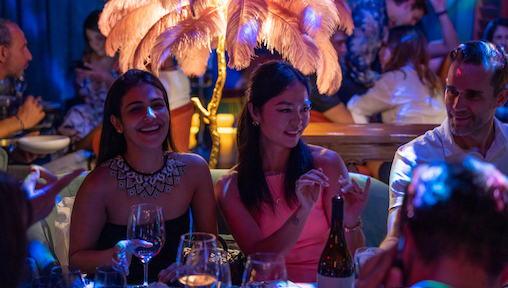 From the team behind Binomio Spanish Restaurante, Set of Six is a new cocktail and dining lounge. Set of Six sets the diner on a journey that provides six discoveries for diners to experience crafted by highly skilled mixologists and a fine dining executive chef.
It's a place to unwind and enjoy fine champagne, and six cocktails paired with six delectable dishes. Inspired by the novel "Set of Six" written by Joseph Conrad, the cocktail lounge brings to life Conrad's experiences when he went to the sea at 17, and later when he sailed to Singapore as part of the crew of Captain James Craig from which Craig Road name takes after.
The journey starts with The Brute - Oysters with Sherry Foam and Spicy Tomato paired with Sailor's Fate, a dark rum-based cocktail, and frankly what we think is the best pairing of the sets. Next comes the Gaspar Ruiz - Seabass ceviche with Sweet Potato and Popcorn in Tiger's Milk paired with Blessed Earth, a drink spiked with tequila and grapefruit. Another highlight of the food menu is the Lobster and Fennel Ravioli with Bottarga, Uni and Caviar. The rest of the cocktails are on the sweeter side for our taste.
Go for the Insta-worthy decor and great music, stay for the Tripple Cooked Chips with Branston Sauce and a brilliant Mushroom Ketchup!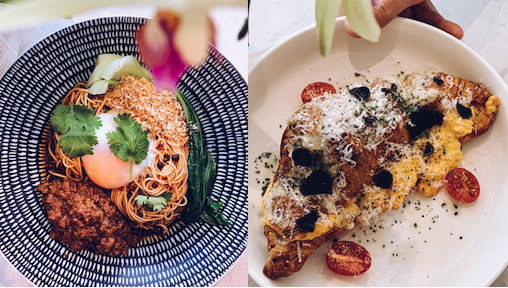 BOTANY's co-founder Cassandra Riene Tan has recently opened The RITUAL Cafe & Bar at Bukit Timah for those looking for a good brunch in Singapore and for those looking for a little self-love.
Stemmed from the belief in holistic wellness, the cafe invites spiritual seekers and like-minded individuals to learn from mental wellness advocates, coaches, industry experts and strong social advocates, also known as The RITUAL tribe leaders. They will be leading wellness programmes and experiences to better serve the community. Expect non-conformists and seemingly controversial topics such as mental wellness, sexuality, metaphysics and spirituality, alternative healing such as Ayurveda, herbal remedies, TCM and Reiki covered over knowledge-sharing and experiential sessions, workshops to casual mingling sessions.
The menu is designed to be simple, wholesome, and most importantly, inclusive with plant-based and gluten-free options. Noteworthy dishes include Madame's Truffled Egg Croissant, Truffle Kombu Fries, Tofu Tempeh Fries, and The Impossible Mala Somen - homemade Szechuan sauce, garlic crumb, bak choy, somen, Impossible mince, and sous vide egg. Another highlight is the Beetroot Gravlax bagel with pickled beetroot and cream cheese
Of course, you'll get coffee - Italian inspired house blends of high-quality coffee beans roasted locally that are bold and fruity in flavour sans the bitterness you get from an Italian roast due to the perfect mix of 85% arabica and 15% robusta roasted at just the right temperature.