What's cooking in Singapore's vibrant F&B scene? We've rounded up the exciting new openings as well as new menu launches at some of our favourite restaurants and bars in Singapore.
Bookmark this page and keep checking back as we update the list every month!
Restaurants and Bars in Singapore: New Menus and Openings in March 2021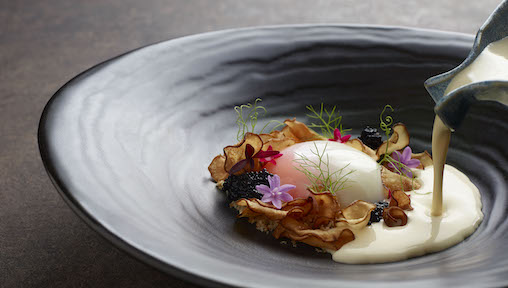 Dempsey Hill welcomes a new dining destination, MOONBOW, helmed by celebrated local chef Heman Tan. With over 38 years of culinary experience, chef Heman seamlessly merges his love for Asian ingredients and Western cooking techniques.
Savour an array of delicious starters such as the Garden of Escargot with fresh micro cress, truffle gelato, lychee pearl, mushroom soil, and mashed edamame. Try the delicate and refreshing Moonbow Oyster Bay featuring Fine de Claire oysters served with oyster leaves, yuzu gel, cucumber pearl, and yuzu granita.
Follow the starters with their heartwarming Jerusalem Artichoke soup, served with 64 Degrees Sous Vide Egg, Caviar, and Sunchoke Chips.
Another highlight is The Salmon Fish & Chips at MOONBOW which is served in an English Picnic Luggage. The Fish & Chips are served with Mashed Edamame, Potato "Rock", Honey Mustard Dips, and Tartar Dips.
Address: Block 10 Dempsey Road, #01-21, Singapore 247700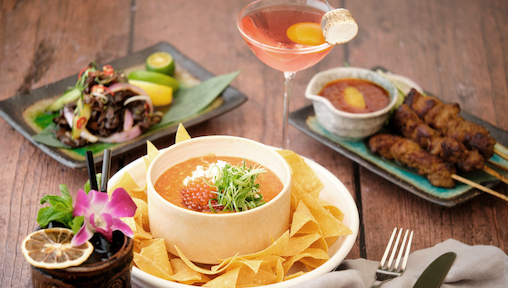 Jekyll & Hyde has launched a new menu featuring a selection of dishes that tap on the southeast Asian love for unpretentious food with sweet, sour, salty and spicy flavour combinations.
Try the Gula Melaka Top Shell whose heady tangy flavours pair naturally with alcohol. The conch brine is first reduced then flavoured with fresh citrus juices and gula Melaka. The syrup is then spiked with chilli padi and sliced raw shallots. Have as a snack or with a bowlful of hot rice for a heartier meal.
Familiar local favourites are made new at Jekyll & Hyde such as the Chilli Crab Nachos. The sweet and spicy dip – inspired by what is arguably the best part of Singapore's iconic chilli crab dish, the sauce – is luxed up with deep sea wild crabmeat and ikura.
Jekyll's Kurobuta Fried Carrot Cake hits the spot after a big night out. An elevated version of the classic hawker dish, it is the ultimate late-night supper food served almost like a pizza – to it is easily eaten and shared. Housemade sambal floss is served on the side.
Our favourite cocktail was PB & J - peanut butter washed Bulliet Bourbon, Rinomato, orange peel infused Cinzano bianco. The drinks menu also features classic cocktails, spirits, and punch bowls that are perfect for sharing with friends on a fun night out.
Address: 74 Neil Road, Singapore 088839, Singapore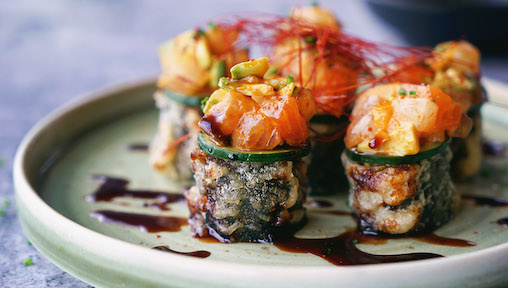 From one Japanese icon to another, the beloved sumo (previously the muse at Kinki) passes on his legacy to the Geisha who's set on blazing the trail at the newly revamped Kinki Restaurant + Bar.
Ascend to Level Three at this rooftop bar with spectacular views of Marina Bay. The 'Kinki Rockstar' cocktail line-up features new handcrafted classic cocktails with a twist, such as Geisha-Rita, Kinki's take on the margarita with Ocho Blanco tequila, Nigori umeshu, and freshly cracked pepper instead of salt making all the difference.
On Level Two, the doors open to a modern Japanese tea house. Kinki's food stays true to authentic Japanese cuisine but is presented in an Instagram-worthy creative new light. Always popular is the signature 'Rock and Roll' maki; with special mention for the AC/DC Dynamite, a tempura-fried mixed seafood roll capped by a slice of Japanese cucumber with fresh raw seafood and avocado. Add homemade Sriracha sweet soy and this dish is an explosion of flavours.
New bedfellows on the menu are the Corn Duo and Grilled Squid Chimichurri. Get your fix of this a-maizing appetiser where baby corn is mixed with corn puree and tossed with furikake bits, and on the side, there's a sriracha mayo sauce for a mild spicy kick. The charcoal-grilled squid is one to go with drinks. Smokey and tender, dip the squid into a perfectly balanced sweet and sour sauce of coriander, lime juice, green and red chilli – THE combination in our opinion.
Address: 70 Collyer Quay, #02-02 Customs House, Singapore 049323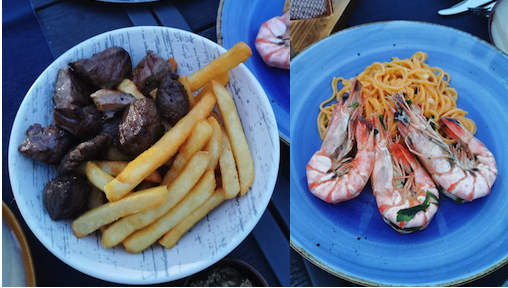 Monti Rooftop Bar has made free-flow into a daily affair. From Monday through Sunday, enjoy a 2-hour free flow of prosecco, wines, selected spirits & beers with the stunning view of Marina Bay Singapore. Priced at $58++ on Sundays to Thursdays and $68++ on Fridays and Saturdays, there are two time slots available to choose from: 5pm to 7pm or 7pm to 9pm.
Must-try bites when you're there by Chef Felix Chong are their Grilled Steak Bites (S$27++), Spaghetti Aglio Olio Prawns (S$20++),  Truffle Pizza (S$30++), and for vegetarians, you have the Margherita Pizza with Burratina (S$26++) and Fried Caprese (S$16++) that are both equally delicious.
Address: 82 Collyer Quay, Singapore 049327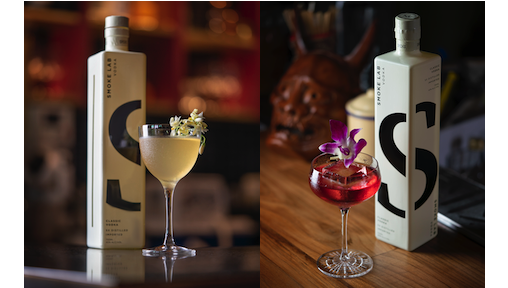 India's first homegrown premium craft vodka SMOKE LAB VODKA has made its official debut here in Singapore.
SMOKE LAB VODKA is made using pure Himalayan spring water and locally sourced superior-quality Basmati rice. The only vodka in India crafted with Basmati rice, this unique grain was chosen as the base for two reasons: Basmati is intrinsically linked to the brand's homeland of India, and lends a distinctive crisp, pure flavour and unique floral aromas to the spirit. The Basmati rice used in the production of SMOKE LAB VODKA is cultivated in close proximity to the distillery to ensure freshness and to support local farmers.
Once harvested, it undergoes a traditional five-step distillation process and is finished in an ultra-modern two-step Sparkle Filtration system, creating a soft, clean and smooth finish.
Comprising two variants – the ultra-pure SMOKE LAB VODKA Classic (40% ABV) and the aromatic SMOKE LAB VODKA Aniseed (37.5% ABV), the former boasts fresh nutty aromas and hints of citrus fruits, while the latter, which is a playful exploration of a much-loved Indian herb, offers a delicate mix of fennel and liquorice notes.
 The distilleries utilise renewable sources of energy that contribute back to the electric grid, while ensuring that water is always reused and never wasted as part of the brand's zero waste ethos.
Smoke Lab Vodka is available as cocktails and retailed at the following bars and restaurants island-wide in Singapore: The Old Man Singapore, Butcher Boy, Kafe Utu, Kizuna, Lime House,  Maduro, The Elephant Room, and The Nomads.
Restaurants and Bars in Singapore: New Menus and Openings in February 2021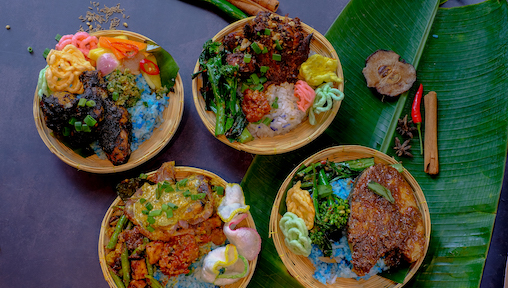 Located at Frasers Tower, Nusantara Singapore serves authentic Nusantara cuisine made healthier with no monosodium glutamate (msg), no preservatives, less oil and less sugar. 
Singaporean Muslim Chef Firdauz Nasir believes in using old school techniques with traditional Nusantara ingredients bought fresh from the local markets in Singapore so as to share this nostalgic cuisine with everyone.
Chef Firdauz is reviving recipes from his grandmother and mother through signature dishes such as Beef Rendang slow-cooked in spices; Ayam Masak Merah cooked with roasted candlenut; charcoal-grilled Belimbing Lamb shoulder with chilli and lime leaves; Ayam Kicap Buah Keluak and more.
Nusantara Singapore is also offering vegan and vegetarian dishes such as Nusa's Longtong as well as sweet treats including crispy banana fritters and gula melaka mousse. For anyone who loves Indonesian cuisine and spice, you'll be delighter to know they offer six different types of sambal!
Address: 182 Cecil Street #02-16/17, Frasers Tower, 069547
Restaurants and Bars in Singapore: New Menus and Openings in January 2021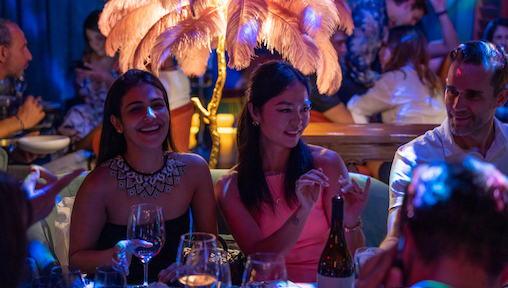 From the team behind Binomio Spanish Restaurante, Set of Six is a new cocktail and dining lounge. Set of Six sets the diner on a journey that provides six discoveries for diners to experience crafted by highly skilled mixologists and a fine dining executive chef.
It's a place to unwind and enjoy fine champagne, and six cocktails paired with six delectable dishes. Inspired by the novel "Set of Six" written by Joseph Conrad, the cocktail lounge brings to life Conrad's experiences when he went to the sea at 17, and later when he sailed to Singapore as part of the crew of Captain James Craig from which Craig Road name takes after.
The journey starts with The Brute - Oysters with Sherry Foam and Spicy Tomato paired with Sailor's Fate, a dark rum-based cocktail, and frankly what we think is the best pairing of the sets. Next comes the Gaspar Ruiz - Seabass ceviche with Sweet Potato and Popcorn in Tiger's Milk paired with Blessed Earth, a drink spiked with tequila and grapefruit. Another highlight of the food menu is the Lobster and Fennel Ravioli with Bottarga, Uni and Caviar. The rest of the cocktails are on the sweeter side for our taste.
Go for the Insta-worthy decor and great music, stay for the Tripple Cooked Chips with Branston Sauce and a brilliant Mushroom Ketchup!
Address: 20 Craig Road, #01-01, Singapore 089692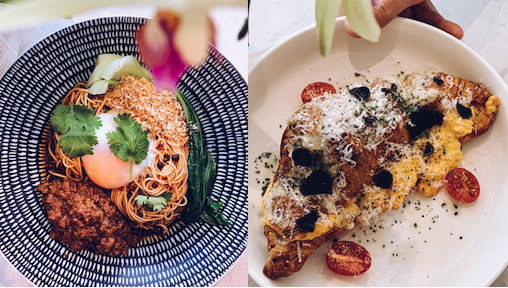 BOTANY's co-founder Cassandra Riene Tan has recently opened The RITUAL Cafe & Bar at Bukit Timah for those looking for a good brunch in Singapore and for those looking for a little self-love.
Stemmed from the belief in holistic wellness, the cafe invites spiritual seekers and like-minded individuals to learn from mental wellness advocates, coaches, industry experts and strong social advocates, also known as The RITUAL tribe leaders. They will be leading wellness programmes and experiences to better serve the community. Expect non-conformists and seemingly controversial topics such as mental wellness, sexuality, metaphysics and spirituality, alternative healing such as Ayurveda, herbal remedies, TCM and Reiki covered over knowledge-sharing and experiential sessions, workshops to casual mingling sessions.
The menu is designed to be simple, wholesome, and most importantly, inclusive with plant-based and gluten-free options. Noteworthy dishes include Madame's Truffled Egg Croissant, Truffle Kombu Fries, Tofu Tempeh Fries, and The Impossible Mala Somen - homemade Szechuan sauce, garlic crumb, bak choy, somen, Impossible mince, and sous vide egg. Another highlight is the Beetroot Gravlax bagel with pickled beetroot and cream cheese
Of course, you'll get coffee - Italian inspired house blends of high-quality coffee beans roasted locally that are bold and fruity in flavour sans the bitterness you get from an Italian roast due to the perfect mix of 85% arabica and 15% robusta roasted at just the right temperature.
Address: 383 Bukit Timah Road, Singapore 259727