Plant-based meats have taken Singapore by storm! From meatless burgers to vegan gyozas that taste like the real deal, we are seeing a constant trend of creative chef's introducing new possibilities for this faux meat.
Rang Mahal Restaurant and their Chef Milind Sovani have pushed the envelope further, by being the first Indian restaurant in Singapore to introduce an Impossible Foods dish. The Impossible Kheema Bao, a take on  Mumbai's signature minced masala lamb with buttered bread dish, is a whole new experience for meat and non-meat lovers alike. We spoke to Chef Milind Sovani at Rang Mahal to find out more!
Vanilla Luxury:  Why Impossible Foods?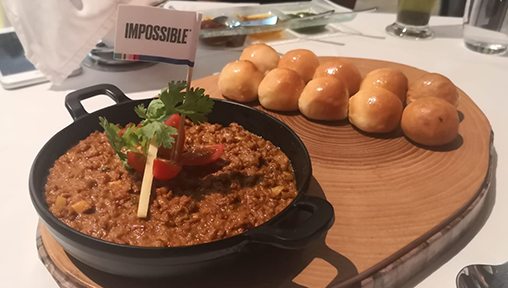 Chef Milind Sovani: With the rising popularity of plant-based meat, we looked at the key players in the market and evaluated their ingredients and taste. We decided on Impossible Foods, as they use ingredients that make the meat taste more distinct and real.
Vanilla Luxury:   How have you used Impossible beef mince to work as lamb? With Impossible foods and Beyond Meats becoming the newest vegan protein trend in town, how difficult was it to adapt to Indian cuisine?
Chef Milind Sovani: We experimented with a number of dishes using Impossible Food's mince. It is not common for an Indian restaurant to serve beef, thus, we thought about our other meat offerings in our menu and we decided on the Kheema Bao. While meat is the core ingredient of this dish, other factors play a part in making the dish unique and flavourful. As a chef for Indian cuisine, a lot of effort goes into selecting the right mix of spices to create a heterogeneous dish that makes a play on your taste buds to uncover the optimum combination of flavours. The other change we made to the original dish was to remove egg so that it would be 100% vegan.
Vanilla Luxury: How have meat eating or non-vegetarian diners reacted to this Impossible Foods dish?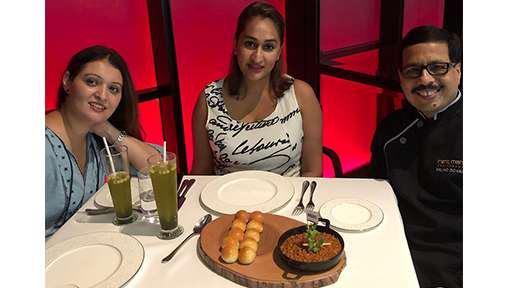 Team Vanilla Luxury with Chef Milind Sovani at Rang Mahal
Chef Milind Sovani:  The response from non-vegetarians have been amazing. The texture and taste of the mince from Impossible Foods is exactly like meat and that it tastes like the original dish that we created. Our vegetarian diners are also excited to try this dish and this opens the opportunity for us to be sustainable to the environment and cater to both our vegetarian and non-vegetarian diners as well.
Vanilla Luxury:  What else is new at Rang Mahal?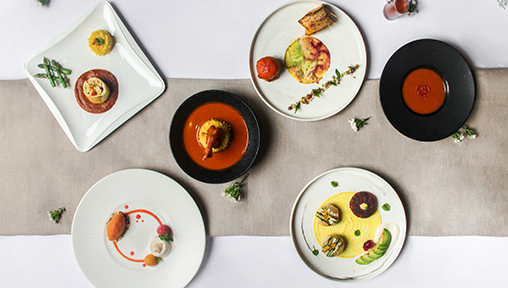 Chef Milind Sovani:  At Rang Mahal, we want to consistently provide our diners with new experiences when they dine with us. We recently revised our daily lunch buffet in December to be available only on Sundays. In place, Rang Mahal offers two specially curated set lunch menu options for our diners to select. This has been well received and allows our diners to enjoy a plated 4-course set menu that delivers the true fine dining experience that Rang Mahal is known for. We plan to refresh this menu quarterly and we're pleased to announce that we have just launched new set lunch offerings for our diners to enjoy.
For more information and to try the new Impossible Kheema Pao, contact Rang Mahal.
Rang Mahal, Level 3, Pan Pacific Singapore, 7 Raffles Boulevard, Singapore 039595. Phone: +65 6333 1788.