We love staycations at Vanilla Luxury. Spontaneous weekends that don't require flights, visas and packing for days at end; sometimes a staycation is all you need to recharge and rejuvenate. Add to the mix, some quality family time with best in class facilities - and you've got yourselves a winner! We recently checked-in to the Shangri-La Hotel, Singapore, to see why it stands out as a top family staycation option. Needless to say, we will be going back!
The Shang
The very first Shangri-La Hotel in the world, this is where the legendary hospitality of the iconic chain begun. 15 acres of lush greenery, smack in the middle of Orchard Road makes the Shang (as it is often called) an oasis of calm and luxury.
Whether its swimming, indulging in one of their 11 restaurants and bars or enjoying the spa, adults will never run out of things to do here - and we always knew that.
What we weren't aware of, was how child friendly this hotel truly is!
Nervous about long check-in queues with family in tow? Checking into a hotel with small kids is always stressful, and the Shangri-La gets that. Dedicated family areas make filling out details comfortable, while the kids are busy enjoying their own little corner. Toys, books, healthy snacks and welcoming staff that hand out goodies - the staycation of their dreams, is just getting started!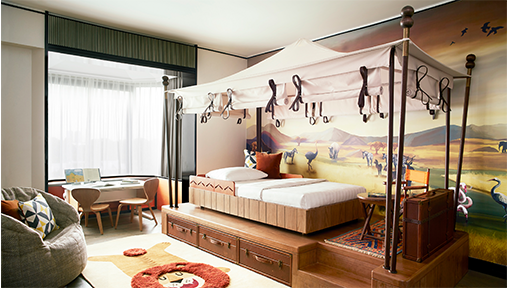 The Family Suites
A dedicated area in the newly refreshed Tower Wing, The Family Floor houses family-friendly facilities, including 5 Themed Family Suites and Deluxe Family Rooms on an entire floor. Animal sculptures, healthy snacks and room doors decked out with themed letter boxes; this is an entirely different world within the Shangri-La, Singapore.
Enter the themed Family Suites and you'll find yourselves in a plush, completely decked-out parents room with amenities of a hot burner, kitchen sink, refrigerator along with luxe 5- star usuals (ah that bed!). Spoiler alert though - the fun has just begun.
Kids are led through a tiny door (don't worry, there's a larger sliding one for grown ups) that opens to the themed children's section. From minimalistic, iconic Shangri-la decor in the adults room to a Safari themed kids area, the difference is stark, surprising and one that will have everyone squealing with joy! 
Walls and decals that shout animal fun along with a safari tent that comes with its own little lantern - just in case you want to turn off the lights and go urban camping instead! Should the kids need more, there's ample room to read and draw along with a TV that can play their favourite shows.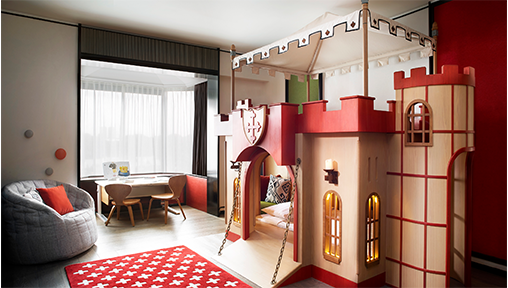 A separate bathroom with key bath amenities (step-stools, diapers, toothbrushes, toiletries et al) give the family extra space to really spread out. Bath robes for young ones and slippers add to the experience of luxury and make for plenty of adorable photos too.
And if that's not enough, the turn down service includes riddles with puzzles that are left in the themed letter box outside your door. Crack the codes and open a chest of treasures; we told you the fun never stops!
These family suites come in five different themes - Safari, Treetop, Castle, Underwater or Space. Custom-designed, each suite is immersive in the experience be it an African mural, a towering castle or submarine bunk beds.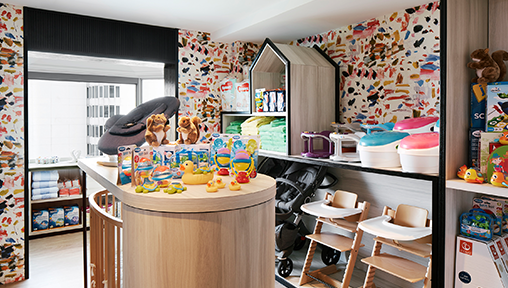 The Family Pantry
The real convenience highlight of the family floor has to be the Family Pantry.
Staycation or going overseas, the amount of packing involved when you have kids is still pretty substantial. The family pantry is what takes this hassle away - and we mean entirely!
Diapers, swim pants, toys, books, bath amenities, ironing facilities, washers and dryers, bibs, thermometers, potties, nappy bins, sterilizers - you literally have EVERYTHING you need here, 24X7.
Forgot a toothbrush? Don't worry they have them in different colours along with organic toothpaste too. Car seats, strollers and high chairs (Stokke no less), cots, board games, snacks, yoghurt, drinks….that pantry is indeed endless!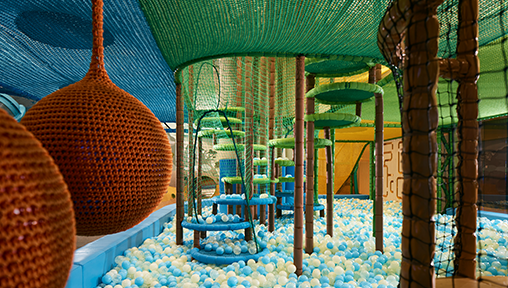 buds by Shangri-La
Just when you think you wouldn't want to leave your room, there's buds by Shangri-La beckoning the kids with their deep blue pall pits and multi-level play zones. The first of its kind at a luxury hotel, buds by Shangri-La is an interactive, multi sensory play space for children and one that isn't limited to only hotel guests. Curated indoor and outdoor experiences help kids discover new zones, make friends and become artists in their own safe and comfortable space.
The Explorer Zone in the simplest of words is - massive! And by that we mean multiple stories of fun with makeshift terrains, space-themed areas, a giant trampoline and a waterfall themed pit filled with cassia seeds to dig, rake and have beachy fun! If you've got younger kids, there's even a Toddler Zone that takes care of tots below 4, with plenty of well padded play areas, bouncing suspension swings and vintage car rides!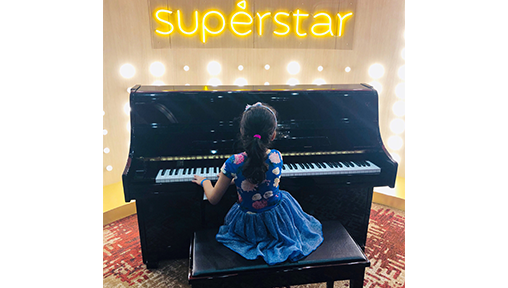 Wait there's more! Group activities are held in 3 other rooms called Muddy, Stage and Bake where budding artists can doodle and paint, performers can take on the stage and little chefs can whip up the coolest recipes in town! Should you want to host a birthday celebration here, buds by Shangri-La has a dedicated Party Room and a variety of packages that will please both parents and the kids, of course. The Recharge Cafe (never has a name been this apt!) located within buds is perfect for parents looking for a cuppa while the kids are running amok.
*buds Outdoor Playground will be closed between 2 September and January 2020 to undergo an exciting upgrade, which includes expanding the wading pool, building additional shade structures and incorporating a new swimming pool with water sprays. Stay tuned for a splashing good time when buds Outdoor Playground re-open in January 2020!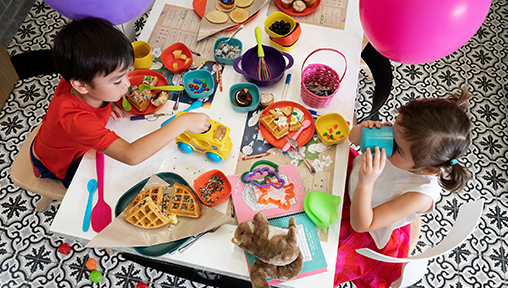 Dining and more
Featuring 11 restaurants and bars, the Shangri-La Hotel, Singapore offers a vast selection of dining options under one roof. Their speciality breakfast buffet spans across the entire length of The Line, a restaurant known for its International spreads and live kitchens (16 of them!). The Line also serves up lunch and dinner and is a fabulous option if you are dining with the kids as it houses a family friendly section, complete with coloring kits and mats to keep the little ones busy.
Should you want to order-in (no one would blame you for not wanting to leave the Family Suite!), the Shangri-La have a curated children's menu available across all its restaurants including in room dining. A range of tasty and wholesome, balanced meals designed along with nutritionists, the kids menu is geared to please growing children and their parents.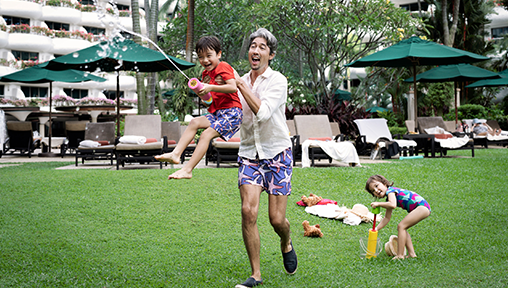 Final Word
There's no denying that the Shangri-La Hotel, Singapore is a luxurious staycation your family will rave about - for sometime to come. The Family Suites along with the pantry, dining options and play space takes the bar on kid-friendly holidays to a whole new level.
Saying that, should you want to enjoy the facilities at the hotel without staying over, buds by Shangri-La is open to non-guests too. The kids will love its immersive, multi sensory play areas, while you as parents can scoot off to the spa or a sumptuous meal instead. Staycation or not - this one's a keeper!
Shangri-La Hotel, Singapore, 22 Orange Grove Rd, Singapore 258350. Phone +65 737 3644