Family
Organic Makeup Class for Kids by Makeup Artist in Singapore Shradha ProStylist
Published Date
: 28 Dec 2020 11:00

Looking for kids birthday party ideas or mother-daughter bonding time? Check out this fun kids makeup class by Shradha ProStylist, a renowned makeup a
Calling all mothers in Singapore! Looking for a fun activity to entertain your kids or have special mother-daughter bonding time?
Shradha Agarwal, better known as Shradha ProStylist, is a renowned makeup artist in Singapore who is now conducting super fun DIY classes for organic makeup for kids!
Is your little girl already playing with pretend makeup? This kids makeup class can be a great way to introduce your daughter to quality organic makeup for kids - non-toxic makeup, no nasties, and made with natural ingredients only.
Shradha Prostylist will be covering the importance of basic skincare routines and hygiene - what are the Do's and Don'ts? The kids also get to participate in a little debate to curb their curiosity about makeup at this young age.
Shradha Prostylist has already received rave reviews for the workshops she has conducted at Cuba Libre Frasers Tower recently. Not only is the class a great way to educate little girls about organic skincare and safe makeup for kids, but it also has a fun DIY element.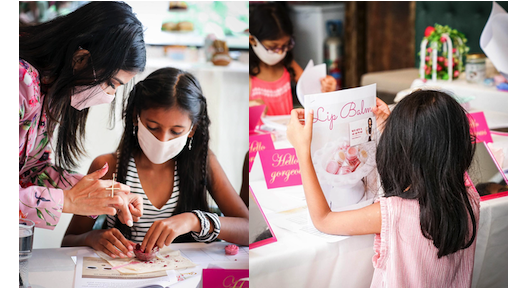 Organic Skincare and Makeup Class for Kids
The makeup class starts with a welcome drink from Cuba Libre Frasers Tower. Shradha Prostylist puts the kids at ease and ready to start their DIY project.
After sharing information on the use of organic skincare and makeup that is safe for kids, the girls get to create their own makeup! Using only natural ingredients, they will mix, blend and melt the makeup components in an induction cooker. They get to choose their own colours and bring the makeup home at the end of the session.
What will the kids be making? A lip balm, deodorant, cream eyeshadow with a choice to add glitter, and a face powder.
To celebrate their accomplishments, the kids also get a certificate of participation on completion of their course. Voila! You have your very own mini makeup artist in Singapore.
The session includes a lovely high tea at the end. Kids will also receive a $50 voucher from J's Salon to use for their very first visit.
Next session: 9 Jan 2021
Venue: Cuba Libre Frasers Tower
Fees: S$120 per child (6-13 years old) and S$200 per adult
Follow Shradha on Instagram @shradhaprostylist and Facebook to find out when the next session is.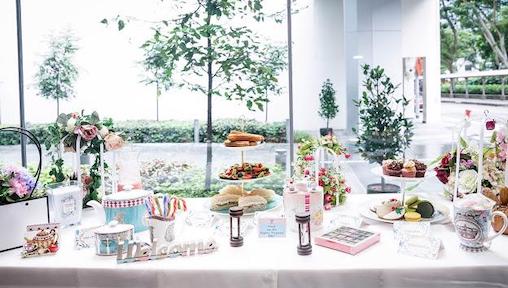 High Tea Themed Kids Birthday Party
Here's a fun idea for your next kids birthday party! Who can say no to an interactive activity that engages the kids and lets them have a good time?
Have a princess-themed party and give your kid the royal treatment with a lovely high tea and makeup class. After creating their own organic makeup, your kid can reward herself with churros, waffles, pancakes, strawberry lemon tea and various other sweet treats served by Cuba Libre Frasers Tower.
If your kid has any dietary restrictions such as dairy intolerance, gluten intolerance, or prefers a vegan meal, these can be taken care of upon request too.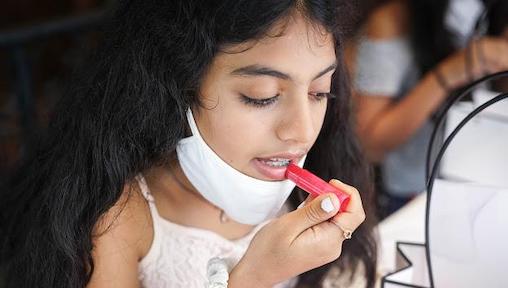 Mother and Daughter Makeup Class
Mommy, looking to join in the makeup class with your kids? Shradha Prostylist is also conducting mommy and me makeup classes upon request so you can have an afternoon of mother-daughter bonding time.
Create a few makeup products together and enjoy a lovely high tea after the makeup class.
For group bookings and further details email, contact Shradha ProStylist on WhatsApp at (+65) 8322 2641 or via email at [email protected].
Follow Shradha on Instagram @shradhaprostylist and Facebook for more updates.
Photo credits: Couture Lense by Gargi