Coffee machine stalwarts, Nespresso have recently launched their newest Vertuo System, that uses innovative CentrifusionTM extraction Technology, to give you the creamiest perfect cup at home. The expertly crafted Vertuo system, offers high-quality coffee for large cups, with 27 unique blends for coffee lovers to enjoy matching their coffee taste at any time of the day.
We recently reviewed this revolutionary home coffee experience and here are all the reasons why you should be bringing this coffee machine home!
Multiple cup sizes
For those who long for more than an espresso or have varying coffee preferences within the family, this new power horse allows for different coffee styles and sizes right from the tiny espresso, to double espresso, Gran Lungo, Mug and a whopping 414ml sized Alto!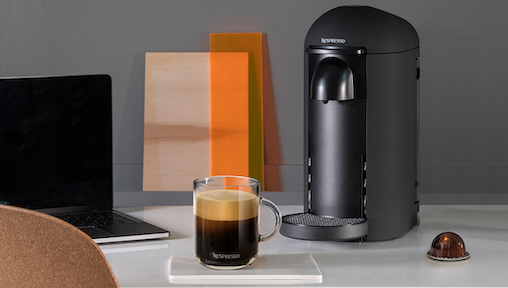 Easy peasy
Love a one-button setup? The Nespresso Vertuo system comes with the ultimate convenience of a one-touch button, and an intelligent one at that. The innovative system is the first of its kind to automatically recognise the coffee variety being brewed and adjusts the extraction parameters to create the perfect dark full-bodied coffee.
It even knows how to read barcodes! Each coffee pod comes with a specific barcode that the Vertuo system uses to identify the type of coffee being prepared. Just press the button and your machine reads the code to recognise the capsule and automatically adjust brewing parameters such as length of infusion, the temperature and amount of water, the speed of the rotation and the flow rate.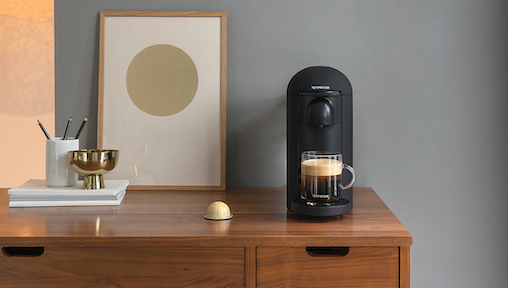 Crema
If you visit cafes to enjoy that tall mug of coffee with the right amount of froth on it, this is an important feature of the Vertuo to make note of. Centrifusion™ technology rotates the coffee grounds and water at high speed, offering a naturally formed generous and silky crema.
Prefer milk with your coffee? You can even add milk to your cup before the coffee begins to fill it, allowing the milk to enhance this generous natural crema that is unique to Vertuo. The results is an exceptionally creamy texture to your coffee - literally the perfect cup, as you like it!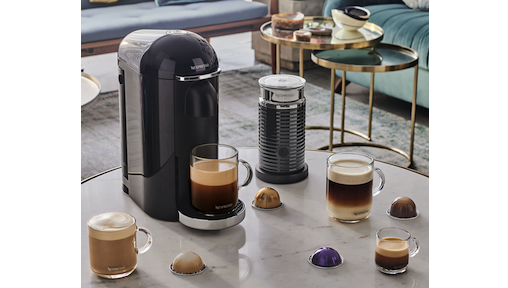 27 Coffee Blends across 5 cup sizes and a stunning design
Of all the reasons to buy the Nespresso Vertuo system, its versatility as a home coffee machine is what wins hand-down. Vertuo coffees come in five cup sizes, in three different sized capsules, offering a wide range of blends, each with its own intensity and aroma. 
Did we say how gorgeous it is to look at too? The Vertuo Plus machines available in Singapore come in 4 different models: Vertuo Plus White, Vertuo Plus Cherry Red, Vertuo Plus Piano Black and Vertuo Plus Titan.
As we begin to spend more and more time at home, an investment in the Nespresso Vertuo for all of its convenience and top-notch coffee is an easy pick. If you enjoy your coffee blends and look forward to that perfect cuppa every morning - the Nespresso Vertuo is a gadget for your kitchen that should make it home.
The Nespresso Vertuo system is priced at SGD368 and SGD438 for a Machine Bundle (inclusive of Aeroccino3 Milk Frother). All of their coffee ranges, capsules and accessories are available for purchase at Nespresso boutiques, on their website or via the Nespresso app.