Amritsar is a food lover's paradise. Courtesy of the abundant cream and butter of Punjab, in Amritsar you can get the best food at a modest price and a free conversation from the locals about the city's heritage and food value. It is one city which convinces even the non-vegetarians to ditch the meat and try the vegetarian street food.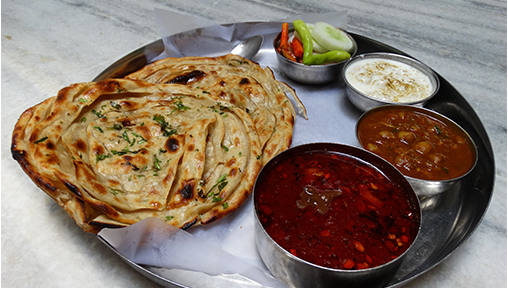 Image Source: Kesar Da Dhaba Facebook Page
Originally opened in Lahore in 1916 by Lala Kesar and his wife Parvati with just a humble menu of dal and roti, Kesar Da Dhaba now invites hundreds of thousands of tourists to Amritsar every year for their rich and creamy food. As humble as its surroundings are, Kesar Da Dhaba has a cult following of influential people such as Former Prime Minister Jawaharlal Nehru, Indira Gandhi and many Bollywood celebrities.
The open kitchen at Kesar Da Dhaba till date functions in its first pre-independence form with gigantic pans and old earthen stoves. It might come as a shock but Kesar Da Dhaba bags more clientele than any non-vegetarian or continental restaurant in Amritsar. Aloo gobhi, palak paneer and chole are the most loved dishes and Dal Makhni is the star of the menu. Till date, they follow their age-old recipe of soaking the lentils in water for more than twelve hours for a richer and creamier delight and the ghee is omnipotent in everything cooked at Kesar Da Dhaba. There is a popular saying that suggests that one's trip to Amritsar is incomplete without a visit to Kesar Da Dhaba.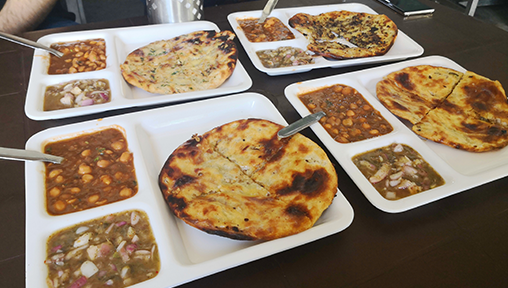 Kulcha Land began in Lahore with a traditional Punjabi dish - Kulcha Chole. 75 years later, the taste of Punjab remains intact in the hot crispy kulchas of the Kulcha Land. As humble as its venue is, the fans of Kulcha Land's kulchas do not mind waiting for their order in the line even on the hottest days of Punjab.
Blended with the banter of spices and stuffing of either potato or paneer, Kulcha Land serves the full combination of crispy Punjabi flavours with complimentary pickles and the traditional curry made of chickpeas. Kulcha Land offers its cream enriched lassi to complete the complete Punjabi dining experience.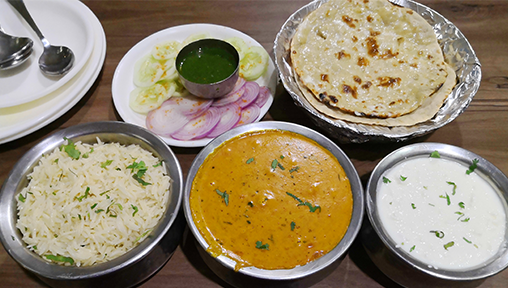 Since 1964, Baba Chicken is the first name that comes out of the mouths of the locals for the best butter chicken in Amritsar. The well-cooked tender chicken served with butter enriched gravy of tomatoes and cashews which is flavourful yet not spicy goes perfect with their straight out of the tandoor butter naan.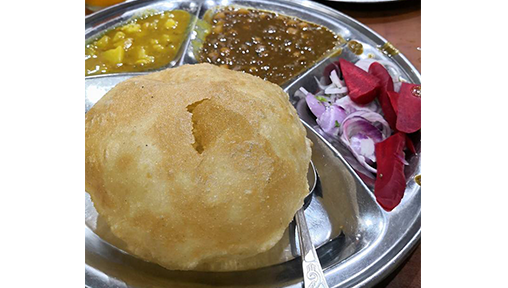 Situated in the heart of the hustle and bustle of Amritsar at Lawrence Road, this 90-year-old establishment is famous by the name of Kanha Sweets and addressed by the fans of their poori as Kanha Poori Wala. This small but very famous food joint and confectionery are known for their chilli infused Pithi poori and sweet and spicy flavourful curry.
The balloon-like puffed pooris with their phenomenal sharpness in the pickles are served from 8 am to 2 pm only and one can expect a massive crowd of tourists as well as locals. The locals have reported that Kanha Poori Wala, despite its humble menu and cutting flavours, sells better than convenient establishments in Amritsar. The pooris at Kanha Poori Wala pair best with the lassi, rich and creamy to the extent that the lassi would rather be eaten with a spoon than drinking it. Another not to be missed dish on the menu is their jaggery-flavoured halwa.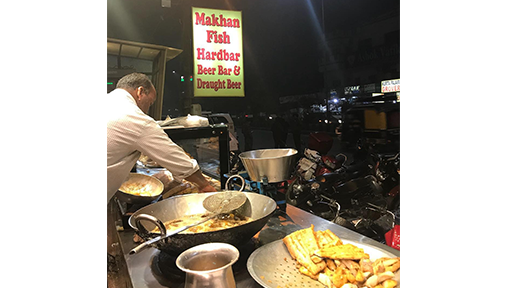 Photo Credit: @shilparao
Started by Mohinder Singh Makhan in the year 1991 with a small stall, Makhan Fish and Chicken Corner gained its fame in 1993 when it was featured in the Lonely Planet Traveler's Book. No sooner did the venture move from a stall to an establishment, BBC and DD1 followed to acknowledge the lip-smacking taste of their Amritsari fish.
Continuing the legacy, Makhan Fish and Chicken Corner holds a very loyal fan base, so much so that they declare the fish at Makhan's to be the best in the world. The fish at Makhan Fish and Chicken Corner owes its remarkable taste to spices such as Kasuri methi and garam masala coating the fish along with Amritsari masala powder with a charred texture on the outside and flaky soft inside prepared after marinating for a few hours and touched with besan before frying.
Other loved items on the menu at Makhan Fish and Chicken Corner are Chicken Rara, Malai Chicken, Dal Makhani and Chicken Malai Tikka. Along with the mouth-watering food, Makhan Fish and Chicken Corner also serves alcohol to provide a wholesome experience of Punjab.