Deepavali or Diwali, the festival of lights, is a time for sweet beginnings. Also known as the Hindu New Year, the festival is considered to be an extremely auspicious time. This joyous occasion involves multi-hued traditional clothes, brightly lit homes, dressed-up streets and temples, and yummy traditional sweets.
These traditional sweets, known as Mithais, are often gifted to family, friends and business partners as a symbol of good luck and well wishes for a sweet, prosperous year ahead.
Here are some of the best offerings we have rounded up in Singapore: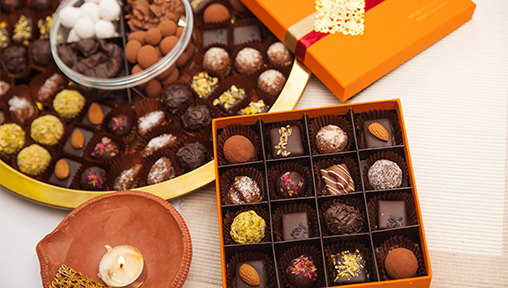 Instead of the traditional Indian sweets, delight with something different this season - chocolates! A box full of fine premium chocolates inspired by festival-favourite flavours is sure to put a smile on anyone's face. Artisan Chocolatier Anjali Gupta is offering a Deepavali Collection made with fine ingredients including pistachios, almonds, cashew nuts, walnuts, sesame and figs. To indulge your palate even more, she has added some distinct flavour pairings; rose, mango with pistachio, strawberry with fennel, and chai spice truffle.
The chocolates come in boxes of 9 (S$35.00 per box) or 16 (S$60.00 per box) bonbons as well as in a premium chocolate platter. These limited edition Deepavali gifts can be purchased at their newly opened retail outlet at Tanglin Mall, Unit 02-K4. They can also be ordered online, on Redmart or on Honestbee. Stocks are limited, so order early to avoid disappointment.
In keeping with tradition, Shahi Maharani at Fairmont Singapore invites you to celebrate with your loved ones by exchanging sugar and spice and everything nice! The sweet boxes will carry mouthwatering classics from their halwai (Indian sweets chef) – Mango Surprise, Stuffed Kaju Roll (cashew roll stuffed with pistachios), Milk Cake, Pista Badam Paan Roll, Walnut Ladoos & Hazelnut and Dark Chocolate Ladoo. A tantalizing new addition this year is an Almond Blueberry Roll.
A "Royal Savoury Treats Box" (S$48) is also available which includes Roasted Pistachios, Spiced Cashews, Namak Pare, and a special savoury snack mixture – Shahi Namkeen Mix. You can also order Jalebis, Gulab Jamuns and Mathris separately in jars. To order, call (+65) 6235 8840 or drop them an email.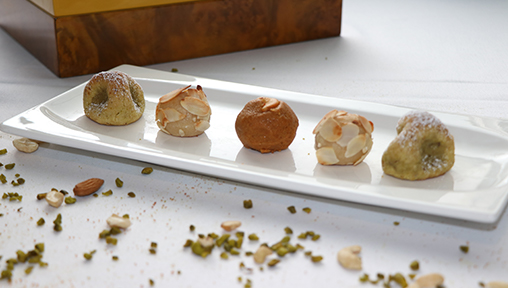 Yantra by Hemant Oberoi is a North Indian restaurant in Tanglin Mall. The restaurant is a sanctuary of calm, cloaked in warm earthy tones that are reminiscent of ancient India. This year, Yantra is offering Diwali Temptations and Treats consisting of freshly made Pistachio Ladoo, Organic Besan (gram flour) Ladoo, Almond Ladoo, Dates and Nuts Barfi, Anjeer (dates) Barfi, and Kaju Katli.
The Organic Besan Ladoos are made from organic sugar and besan, while the Dates and Nuts Barfi is sugar-free. The savoury selection of peanuts, almonds, pistachios and cashews have all been masala-fied with yummy Indian spices. For orders and enquiries, call Shivani at 9854 9624 / 6836 3088 or drop them an email.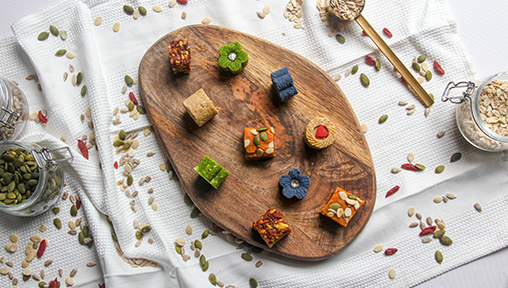 Rang Mahal is lessening the guilt of eating Indian sweets by offering a healthier selection of Mithais inspired by Ayurveda. Award-winning Chef Milind Sovani has created a superfood-themed Mithai collection featuring ingredients like oats, goji berry, sunflower seeds, blueberries, pistachios and more. The Oats and White Chocolate Barfi is sure to quell that sweet craving. A limited edition Pumpkin and Lentil flavour will be available in the Royal Box (S$128) together with a collection of savouries.
The Mithai boxes come in five beautiful pastel shades of purple, pink, yellow, mint green and blue, complete with Rang Mahal's signature lotus floral motifs hot-stamped with gold foil. Order online or walk into their restaurant at Pan Pacific Singapore.