12 years ago, former Army Officers Ricky Sapuran Singh and Puran Kaur Puri decided to pursue their entrepreneur dreams by merging their love for Bollywood and their goal of wanting to start their own business.
Vanilla Luxury: What made you decide to launch a fusion Bollywood club 12 years ago?
Ricky Sapuran Singh: Puri and I used to enjoy the vibrancy of the nightlife in Singapore which is truly a melting pot of cultures. We saw a vacuum in the ever so popular Bollywood movies, especially the songs and dances which were taking the world by storm. There were as many non-Indians enjoying the Bollywood song-and-dance routines and colourful costumes. Puri and I decided to satisfy this niche market that appeals to all races but with a Bollywood twist. We have professional dancers from all over the world that have joined us in bringing a new entertainment style in Singapore.
Vanilla Luxury: What made you decide to call it Moshi Moshi Bollywood?
Puran Kaur Puri: We knew we wanted a niche place along Orchard Road, and we decided to visit Cuppage Plaza while looking for options. Cuppage Plaza has many Japanese restaurants and bars and when we saw the venue, we knew this was what we wanted as the bar set-up was unique. Since Cuppage Plaza has mostly Japanese restaurants and clubs, we decided to name our club Moshi Moshi Bollywood. 'Moshi Moshi' means 'Hello' in Japanese and true to our vision, we are attracting a lot of Japanese besides the many other expats from varied races and nationalities.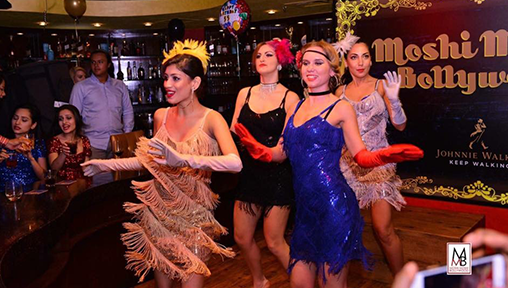 Vanilla Luxury: What makes Moshi Moshi Bollywood special?
Ricky Sapuran Singh: We are your one-stop entertainment place whether you are young or old, male or female, Indian or not. Moshi Moshi Bollywood has taken on all genres of music and dances. We have had many events from birthdays, bachelorette parties, weddings, book launches, networking events, charity events and also a Board of Directors' Meeting for an MNC. We help to choreograph and plan your events and parties as well.
We hire professional dancers from all over the world and train them in Bollywood dancing when they do not have any Bollywood background. Over the last 12 years, we have hired 124 dancers from USA, Germany, England, Australia, Mexico, Scotland, Italy, Ukraine, Kazakhstan, India, Argentina, Canada and even Switzerland.
There was a mother who was a dancer at Moshi Moshi Bollywood 10 years ago and last year, her 19-year-old daughter came over to dance which proves that we have done something right. We've even had twins and sisters. Our dancers are certainly our family.
Vanilla Luxury: Do you have any interesting stories to share?
Puran Kaur Puri: We've had the occasional stories of clients lugging in their suitcases to have one more party in Moshi before they take off for good back home or the odd top-notch executive who left his laptop and presentation files in Moshi and lo and behold, we've had to deliver that to his office at 9am sharp the next morning. Many wedding proposals have been done in Moshi but the one that takes our breath away is where this Chinese guy was going to propose to his Indian girlfriend and approached us to choreograph his entire proposal with a full-on flash mob. Obviously, the girl cried her eyeballs out and said "YES"!
Behind the scenes meeting:

Vanilla Luxury: What is your secret to success?
Puran Kaur Puri: We do what we enjoy most and we always put ourselves in the shoes of our staff who are like family to us. Anyone who steps into Moshi is like the guest we receive at home. So, our focus is on ensuring that whether you are staff, a supplier, partner or customer, you will have a great time when you are here. On a personal level, getting out of our comfort zone and being adaptive with a vision and focus is important.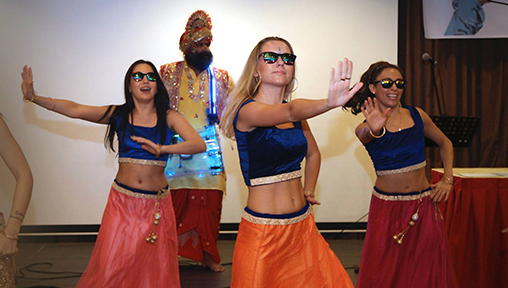 Vanilla Luxury: What is next for Moshi Moshi Bollywood?
Ricky Sapuran Singh: We are celebrating our 12th anniversary in Singapore with a Golf Game for its VIP Clients, Patrons and Partners followed by a sumptuous dinner and open bar with top-notch entertainment on 14th November 2018 at the Sembawang Country Club.
Soon we will be looking at expanding overseas but it's all about finding the right partners that can collaborate and execute what we have successfully done in Singapore while maintaining our core brand values.
Located at B1, Cuppage Plaza, Moshi Moshi Bollywood comes to life every Monday to Thursday from 8pm till 4am, and till 5.30am on Fridays and Saturdays with nightly Bollywood dance performances by international dancers. They are your ideal venue for all kinds of events and celebrations including corporate functions, birthdays, anniversaries, bachelor or bachelorette parties, comedy nights, and band performances.