Seeking Italian fashion sense in the heart of the red dot? Martina Calabresi, also known as the Founder of AL.MA.LU, a brand that spells fashion with safety, has been making several meaningful strides in the fashion scene in Singapore. From helping to design apparel and accessories with an Italian design mindset, and using local artisans, the Designer is also gaining popularity as Singapore's personal stylist. So, whether it's getting the right clothes for your special wardrobe, or re-producing that favourite dress in several other colours, Martina is the one you should turn to.
We spoke to the Italian Designer to find out more: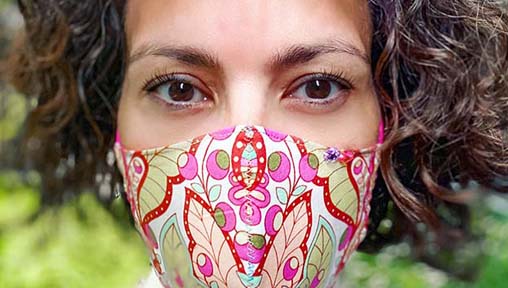 Vanilla Luxury: Tell us about yourself.
Martina Calabresi: I'm Martina, the founder of AL.MA.LU, the brand best known for bringing fashionable face masks for men, women, kids and brides to Singapore. I was born in Genoa, Italy and grew up watching my grandma sewing for the family clothing business. Amidst those textiles and colourful cashmere yarns, sparked a desire for fashion design, education in fashion in Milan and Barcelona and over 15 years of experience in the fashion industry. Having worked with the world's top designer brands and personally taking care of several celebrities, I completely understand the nuances of outfits, fashion and design needed for TV shows, red carpet events, concerts, editorial photo-shoots etc. 
To see more of Martina's fashion works click here.
Vanilla Luxury: What allowed you to launch a completely brand-new online brand during a pandemic?
Martina Calabresi: In 2015 I opened an Instagram blog "Mybabyalma '' which now reaches 50k followers. Consequently the opening of the blog, I decided to study and I obtained a master degree in digital marketing at Panbianco Academy. Many famous fashion brands (ex. Maxmara, Dolce&Gabbana, Gucci, Manish Arora) have been keen to associate their name to Mybabyalma fashion stories.
Vanilla Luxury: How did you start AL.MA.LU?
Martina Calabresi: In 2018 I moved to Singapore, a country that not only became my home but also gave me inspiration for a new artistic expression. With the help of my husband Luca, in early 2020, I decided to actively support the fight against this new virus, making my know-how available to produce masks that could safely protect the community - and fashionable today. This is when I launched my own fashion brand: AL.MA.LU.
Here in Singapore, I've found all I was trying to bring together: a vibrant nature with a highly international lifestyle. Therefore, my choice of using Batik Tulis reflects the willingness of creating Italian design with the extremely beautiful fabrics made in Asia.
I exclusively choose local and top-quality organic cotton or upcycled denim, completely avoiding plastic in the production process so that everything is 100% sustainable!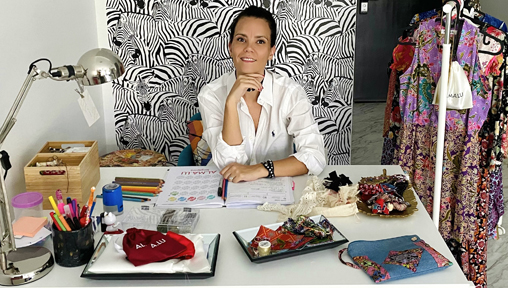 Vanilla Luxury: Tell us about the new collection, LEO.
Martina Calabresi: Today, AL.MA.LU is renovating its image with the addition of a new 'friend': LEO. In 1299, a Malay prince disembarked on the island of Temasek and met a lion. He gave to this land the name of Singapura that means 'Lion City'. 
One evening, during the Circuit breaker, I was doodling and I found myself drawing a Ying and Yang. While I was drawing that symbol surrounded by little stars, my daughter accidentally spilt some water on it. 
The melting that derived from that spilling made me thinking of lion's hair and then is when I drew the two little merlions. This image, together with the stars I already drew, made me immediately think about Singapore. 
The new Leo collection wants to pay tribute to Singapore with a succession of iconic limited edition products to remind us that even during a pandemic, life in Singapore is more than enjoyable! 
The newly launched Leo Collection obviously reflects AL.MA.LU sustainable philosophy: an eco-friendly microfiber towel made with recycled plastic bottles, an organic canvas tote bag and two alcohol-free scented waters (woman and man).
To complete this first series of limited edition products, an antibacterial face mask made with recycled microfiber.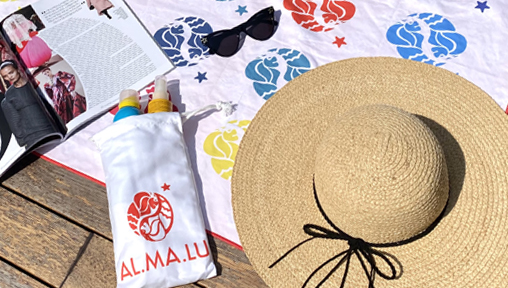 Vanilla Luxury: We love the new scents, what do they stand for?
Martina Calabresi: I launched the scents as an extension of my experience in Singapore. Natural, soft floral elements that give you a feeling of being on the red dot – and feeling refreshed all along. Perfect as souvenirs for friends who are leaving Singapore for good or as a refreshing mist for your mask, these scents make natural accompaniments for our humid weather.
Our first scented water, Chijmes is a memory of one of the first locations people visit in Singapore. The scent takes inspiration from the convent "mood", its pure white walls enveloped in a religious silence that embodies a safe, familiar and caring environment. The fragrance is hence light flowers - fresh and clean!
The second scented water, Chinese Garden, celebrates another icon of Singapore: the Chinese Gardens with its red pagodas breaking the Singaporean sky! This fresh fragrance is inspired by the whisper of nature that you feel walking through the bridge that interconnects the Chinese and Japanese gardens. Citrus scented water with a touch of lime and Chinese mandarin – open and welcoming!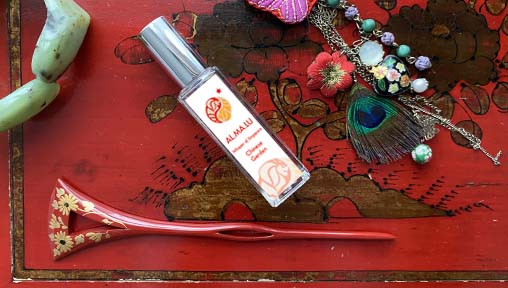 Vanilla Luxury: What about being a fashion stylist – how can we reach out to you?
Martina Calabresi: Having worked with several well-known celebrities and brands such as Missoni, Stella Mc Cartney, Valentino, Elie Saab amongst others, I understand what it takes to make that fashionable first impression. So, whether you are revamping your style or wardrobe to change your look or are simply seeking some help with your fashion statement, you can reach out to me and I'll hold your hand through the process. I can also customise each product in my line to give you tailor-made apparels, accessories and home decor, backed with research and the right material for your needs.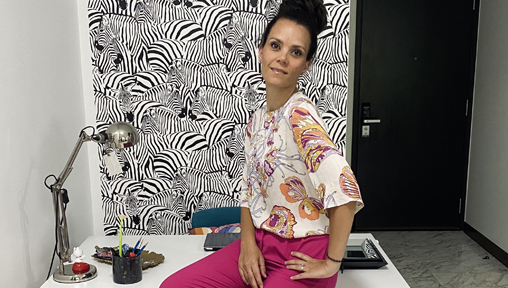 Want to upcycle that old favourite dress of yours? Many of my clients also come back with designer brands and products that they'd love to upcycle. Tell me about your personal needs, and I'll guide you to the wardrobe you'll love!
AL.MA.LU Boutique, Shop online www.almaluboutique.com or visit Martina at the AL.MA.LU ATELIER
To book your slot, call or Whatsapp on (+65) 85918547 or email [email protected].