Picture blue skies, serene beaches and vibrant bougainvillaea covered colonial buildings and Pondicherry may just come to mind. A former French colony, Pondicherry is a Union Territory in South India and is a celebration of a harmonious amalgamation between Tamil and French architecture and cuisine.
LA VILLA located in the heart of the French quarters in Pondicherry is a luxury boutique hotel and an elegant embodiment of the old-world charm of French architecture with modern interiors and luxurious amenities.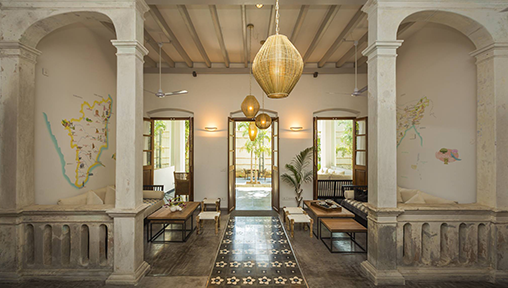 The Inspiration of French Architecture at LA VILLA Pondicherry
The 19th-century style manor has been renovated to its latest form by French architects, Tina Trigala and Yves Lesprit, who have extended the previous building into a spacious luxury boutique hotel. Open French-styled arches and stark white walls also add to the old-world charm of LA VILLA Pondicherry.
The luxury boutique hotel features spacious suites, a sparkling rooftop swimming pool and a restaurant. The suites are decorated with luxurious and delicate fabrics and contemporary designs created by local artisans with traditional materials.
Accommodation at LA VILLA Pondicherry
LA VILLA Pondicherry is an award-winning hotel for its uniqueness in its design style. Housing six luxurious and intimate suites individually styled and designed with a theme and style to enhance simple luxury. 
All the suites feature either a balcony or a terrace overlooking the lush garden. Both types of suites are also well-equipped with modern amenities such as air-conditioning and Television.
The suites come with contemporary designed bathrooms, attached showers and complimentary luxurious Kama amenities. Truly, LA VILLA Pondicherry is a paradise for couples and honeymooners who are looking for a romantic retreat away from the hustle of city life.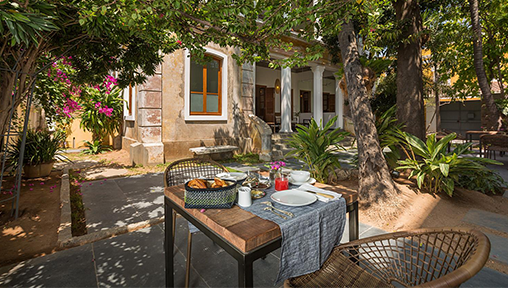 Dining at LA VILLA Pondicherry
Breakfast and meals at LA VILLA Pondicherry are served comfortably as guests may choose to take their meals in their suites, at the swimming pool or enjoy them in the hotel's restaurant overlooking the scenic garden.
LA VILLA Pondicherry seasonal French-inspired cuisine by Chef Michel Christmannon. Enjoy mouth-watering dishes such as Beef Loin smoked with herbs and carpaccio of smoked fish. The dishes are prepared with locally grown ingredients and guarantee the highest quality of freshness and flavour. The dishes are served in delicate porcelain to enhance your meal experience and to enhance the nostalgic feel of eating in the era the manor was built in.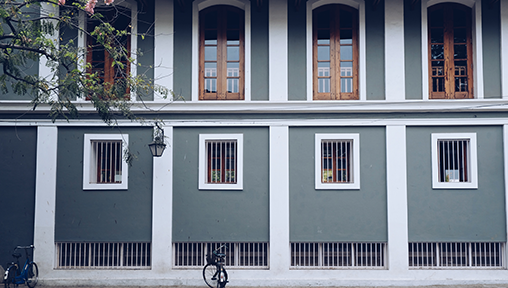 Recreational Activities Near LA VILLA Pondicherry
The streets of White Town around LA VILLA Pondicherry are filled with beautifully preserved colonial French-style buildings. Vibrant and rich with heritage and diversity, these streets should not be missed and the most convenient way to visit them are on two wheels!
Ride a bicycle through the colourful and rich lanes of the Green Quarters, also known as the Muslim Quarter, Tamil Quarter and the French Colony. Better yet, stop at the delightfully chic and cosy cafes, high-end boutiques and a bustling markets littered along the streets to have breakfast. Savour authentic French cuisine inclusive of baguettes and jam, all with the promise of a scenic view. 
Naturally a spiritual place, Pondicherry is also known as the home of the world-famous Sri Aurobindo Ashram which is just 500 metres away from LA VILLA Pondicherry. It was founded in 1926 by Sri Aurobindo and a French woman named 'the Mother'.
The Aurobindo Ashram is perfect for those seeking a spiritual retreat where you can participate in the various meditation workshops and yoga sessions conducted here. You may even achieve a state of inner peace and leave this wonderful place in bliss.
LA VILLA Pondicherry is located 140km from Chennai International Airport and 1.5 km from Pondicherry Railway Station. 11 La Villa Rue Surcouf Street, Pondicherry 605001, India.
Their sister property Villa Shanti is located at 14 Suffren Street, Pondicherry 605001, India.