lifestyle
International Women's Day Spotlight on Women-Led Businesses We Love
Published Date
: 08 Mar 2022 10:00

Female entrepreneurs in Singapore share their advice for women looking to start their own business
This International Women's Day, we shed the spotlight on businesses in Singapore run by women from all walks of life.
We have heard multiple stories of female entrepreneurs who are at disadvantage because of preconceived biases and don't get the same kind of financial support from venture capitalists or don't raise enough funds for their businesses as their male counterparts because they weren't taken seriously. This year, we celebrate the women who have come on top and embarked on a journey that is still considered a man's world - the world of business.
In line with this year's theme of #breakthebias and in a bid to forge a gender-equal world, we also want to normalise that there are numerous successful businesses run by women. If we don't use the terms "men-led businesses" or "male entrepreneurs" then why do we specify women who do the same? So, without further ado, here are the…
Women-Led Businesses in Singapore We Love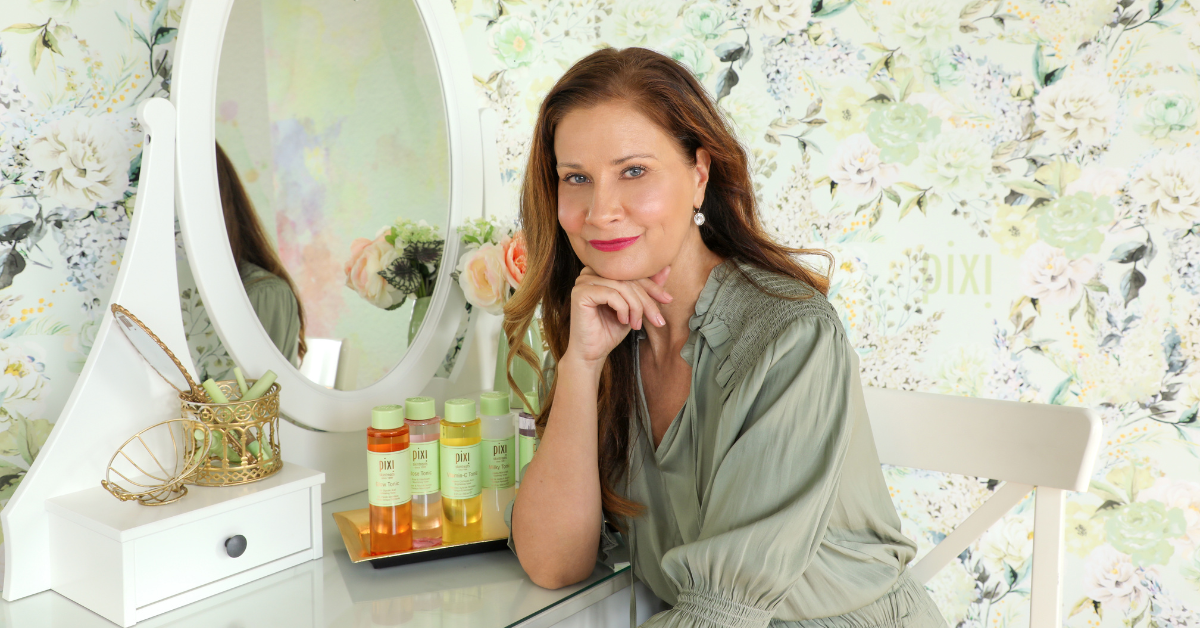 Petra Strand, Founder of Makeup and Skincare Brand - Pixi Beauty
Makeup artist and beauty industry veteran Petra Strand is the founder of Pixi Beauty, the international beauty brand renowned for its youth-enhancing, skin-loving, multi-tasking colour and skincare products, including the iconic Glow Tonic.
When launching her brand over 22 years ago, Petra sought to create easy-to-use products with beneficial botanicals, beautiful textures and flawless finishes. She wanted everyone to experience luxurious products at an accessible price point. Her mission today remains the same: simply to bring out the natural beauty in everyone — to make people look like themselves, only better.
Today, as a mother of four, Petra continues to be the creative force behind the cruelty-free brand, leading product research, development and innovation within Pixi's categories including: Skintreats, a collection of nourishing skincare for a healthy glow; multi-purpose Pixi by Petra, colour cosmetics infused with skin-loving ingredients; Bodytreats, a range of body products with the same benefits found in Skintreats; and Colourtreats, the newest family of complexion-enhancing tinted hybrids that merge colour and treatment into one.
Vanilla Luxury: This International Women's Day, what message would you like to give to women who are thinking about starting their own business?
Petra Strand: Always trust your gut instinct. Make sure you surround yourself with positive people. Get extremely good at what you want to do – you have to be the expert. Have a unique idea and follow your passion.
It's true what they say: if you love what you do, you will never work a day in your life!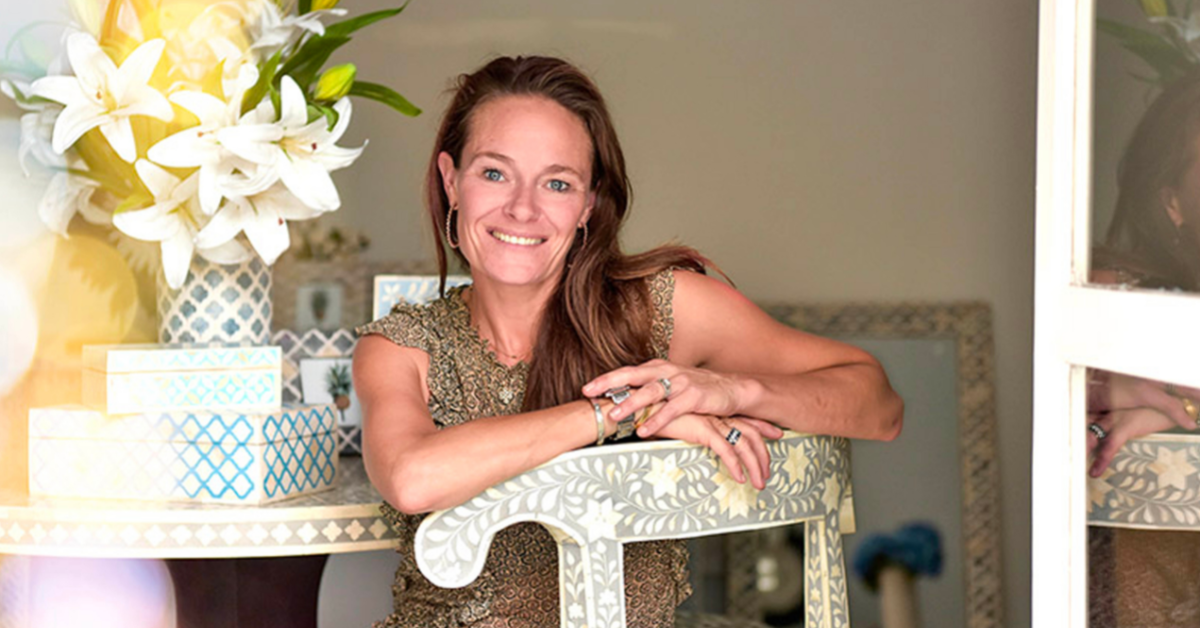 Josephine Blunck, Founder of Furniture and Homewares Brand - Hacienda Blue
Fourteen years ago, arriving as a new expat, Josephine found there was a gap in the market for a colourful, eclectic range of furniture and homewares. She had fallen in love with mosaic designs and inlay furniture was the perfect way to use them.
Hacienda Blue were the first to bring the beautiful inlay furniture to Singapore and have continued to lead in design and quality of these beautiful home pieces. Their range has extended over the years to include soft furnishings, lighting, and tableware.
Vanilla Luxury: This International Women's Day, what message would you like to give to women who are thinking about starting their own business?
Josephine Blunck: Start something you love doing and create a strong brand aesthetic… then stick to it!
Do as much as you can yourself when starting the business. Avoid outsourcing as the more you can learn about your business and your customers, in the beginning, the more it will help you and give you a better chance of success.
When you fall down, get up every single time!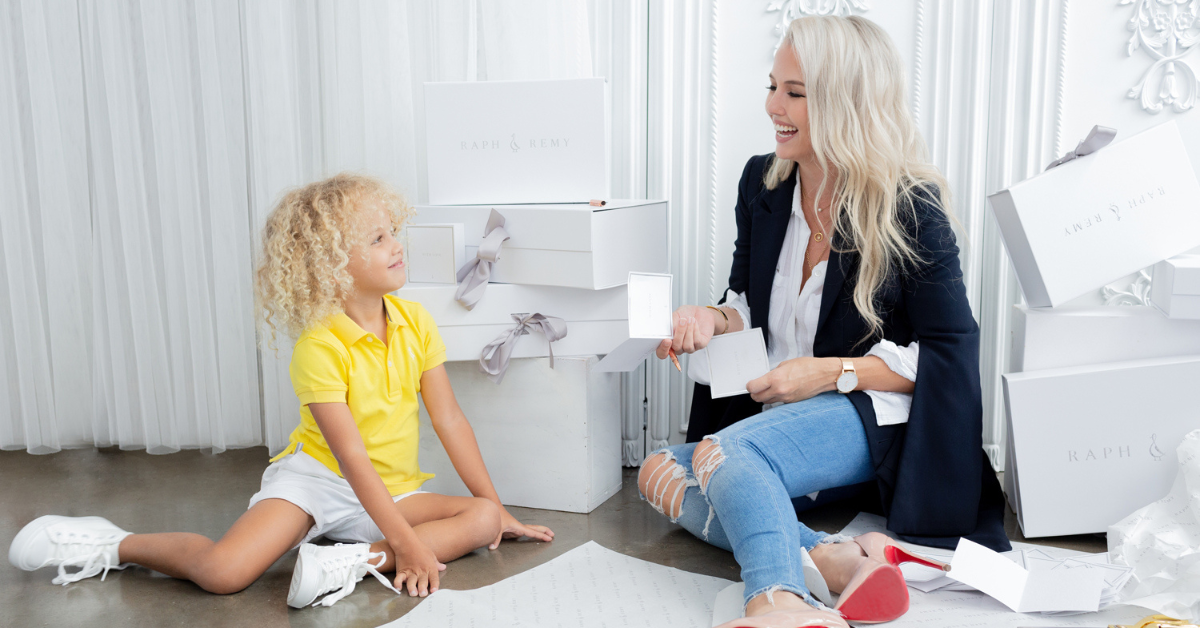 Tiffany Okumu, Founder of Baby Gifting Brand - RAPH&REMY
Tiffany Okumu is the founder of RAPH&REMY which designs premium essentials and gifts for babies and kids. Their stylish, sustainable and personalised essentials are beautifully packaged and delivered with love and care worldwide.
After enjoying a career in design that took Tiffany around the world, she settled down on the little red dot and has resided in Singapore for the past 10 years. She started the brand in 2019 and named it after her two sons.
Overcoming fertility obstacles to conceive both her boys, it was following a miscarriage that the second baby Remy came along. During this emotional journey, she focused her time and attention on designing a product range that she couldn't find with her firstborn, Raphael. 
RAPH&REMY is all about useful, chic and stylish products that are sustainably sourced and prioritise comfort. This highly luxurious range is gentle on the skin and importantly, also helps to protect the environment.
What started as a hobby with 7 essential products, has now grown to include more than 50 items. With an engaged online following, it has also made a name for itself by providing a safe space for new parents to come together and connect with one another throughout the journey of raising a child. 
Vanilla Luxury: This International Women's Day, what message would you like to give to women who are thinking about starting their own business?
Tiffany Okumu: Collectively, we can help to create a world where "woman" doesn't need to come before the word entrepreneur.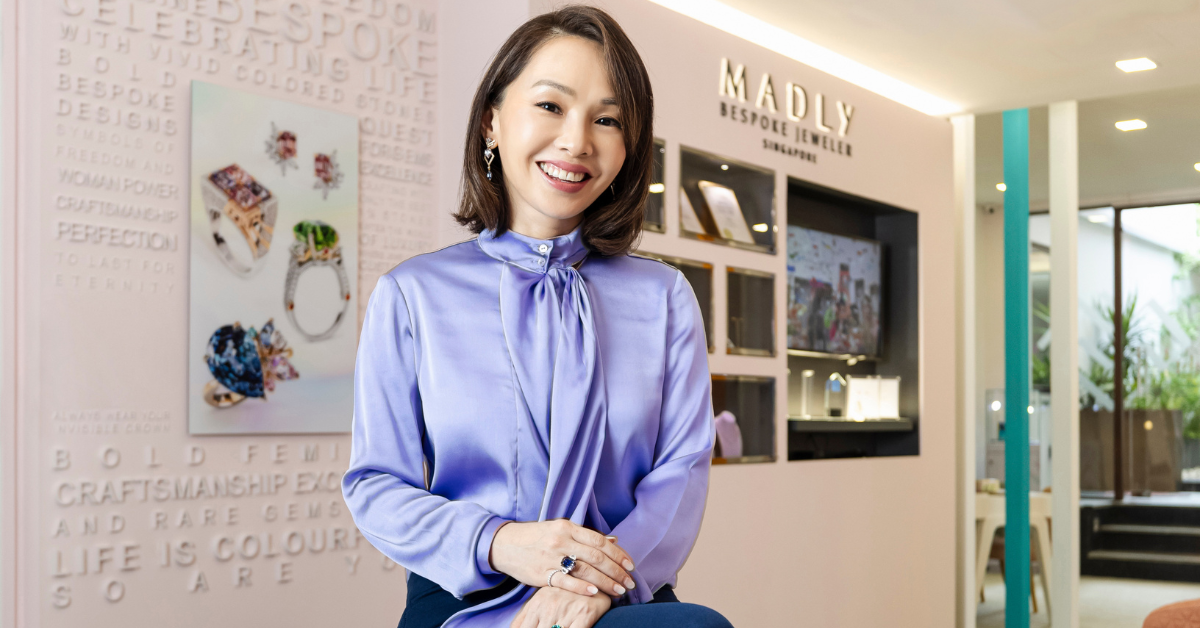 Maddy Barber, Founder of Jewellery Brand - Madly Gems
Maddy Barber is the founder of MADLY – Singapore's leading bespoke jeweller. Besides bringing joy, colour and sparkle to their client's happiest occasions and biggest milestones, MADLY also prides themselves with being a design house that promotes the arts, nurtures budding talents, and inspires stellar designers.
MADLY specialises in coloured gemstones and one-of-a-kind fine jewellery that speaks of the wearer's personality, style and dreams. Just like us, no two coloured gemstones are alike. A MADLY gem is one worth collecting now and for future generations because when it comes to their gemstones, only the world's finest, top 0.1% will do.
Vanilla Luxury: This International Women's Day, what message would you like to give to women who are thinking about starting their own business?
Maddy Barber: Aim for excellence but let's not be too hard on ourselves when things aren't perfect. Nothing is! We just have to make the best of what we've got and have fun while we're at it.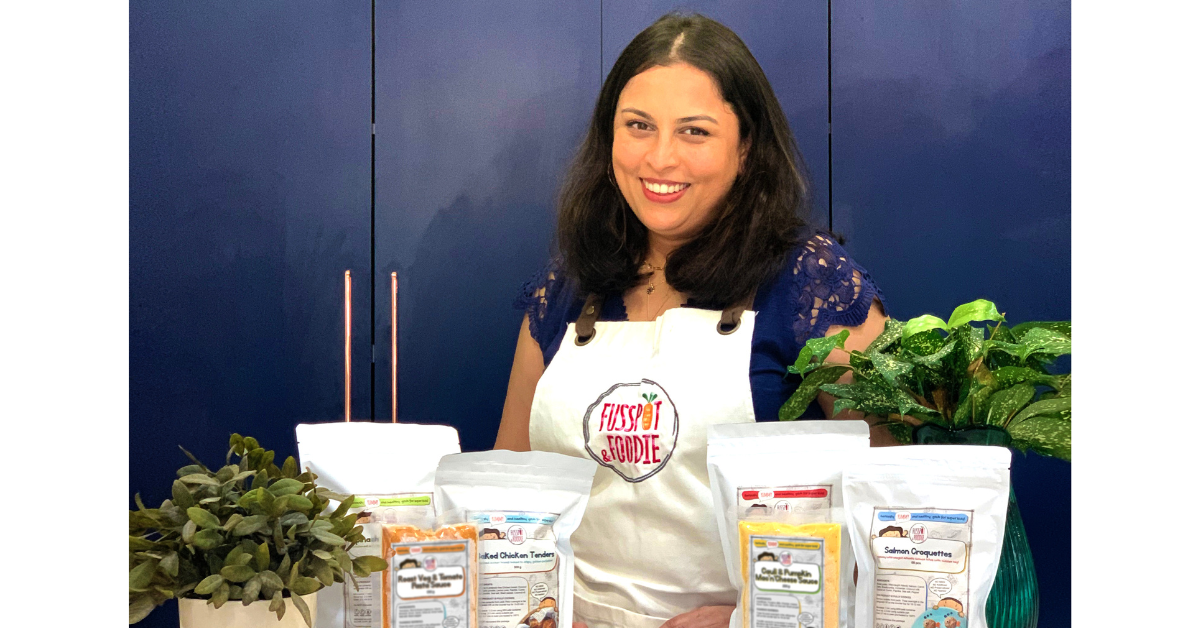 Tanya Soman, Founder of Kids' Food Brand - Fusspot and Foodie
Tanya Soman is the founder and CEO of Fusspot and Foodie, Singapore's first kids' food brand that offers a comprehensive range of nutritionist-approved flavour-forward grub for children aged 2 to 12 years old. 
The concept for F&F was inspired from Tanya's own experience as a working mum. Juggling the demands of a stressful job and childcare was hard work. She saw other mums go through the same, and all of them had one common struggle; fussy eaters!
Dealing with a fussy eater is hard enough, but it's especially challenging when you want to nurture healthy eating habits. Through F&F, Tanya's goal is to be the helping hand busy parents need to help their kids eat healthy without the drama.
They not only work hard to source top quality ingredients, but also pay close attention to taste, texture, and portion sizes. Their goal is to make products that a toddler can self-feed as finger food, but also ones that an older child can enjoy in their lunch box.
Vanilla Luxury: This International Women's Day, what message would you like to give to women who are thinking about starting their own business?
Tanya Soman: Hustle hard, but also hustle smart and never lose sight of your core purpose.
As women, we are natural multi-taskers. While this is an important skill to have while running a business (especially if you're a bootstrapped startup), it sometimes makes us forget to ask for help and risk burnout.
Build your tribe of positive, nourishing uplifting people; ones that believe in you and encourage you. They will be your biggest cheerleaders.
And finally, try to set goals that scare you a little... if it doesn't make you lose a bit of sleep, it's not big enough (for you). I know this is easier said than done, but we don't progress when we try to stay too safe.
Anjali Gupta, Founder of Artisanal Chocolates Brand - ANJALICHOCOLAT
Anjali Gupta was a banker, whose career was displaced because of her husband's job, which moved them around the world. In August 2014, she decided to follow her passion for all things sweet, and founded ANJALICHOCOLAT with a stall at Pasar Bella. The response was overwhelming, and Anjali loved the great relationships she formed with regular customers who came by each week for a chat and to pick up some of their favourite chocolates.
It was these relationships and discovering that there were many people also very interested in the world of chocolate that spurred Anjali to take the ANJALICHOCOLAT experience to new heights. She chose a beautiful location at Loewen by Dempsey Hill in March 2015, creating a fully immersive chocolate heaven, with a store and chocolate school. Inspired by one of the first techniques one learns when working with chocolate, she named her school Temper by ANJALICHOCOLAT.
From the fine ingredients she painstakingly sources for her unique creations, to personally hosting each of the classes and chocolate themed events, her passion for chocolate has manifested into the ultimate chocaholic's destination. 
Vanilla Luxury: This International Women's Day, what message would you like to give to women who are thinking about starting their own business?
Anjali Gupta: Research, research, research: Know your product or service. If you are knowledgeable about your product, you will be able to make sound business decisions, and justify them every time you are questioned about them.
Don't take one step forward and two steps back; trust your judgement and forge ahead. Once you make a decision, don't be afraid to put it into action. 
You are in it for the long haul. Give your business at least 5 years to break even. Businesses and brands are built over 10, 20, or even 100 years!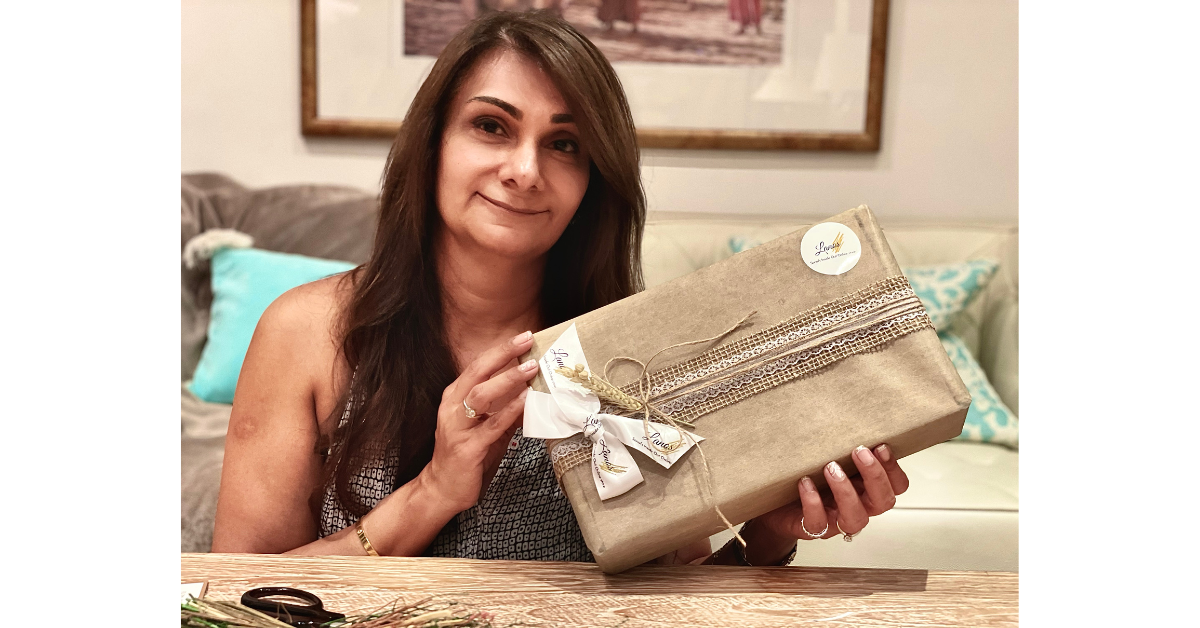 Sonal Khimji, Founder of Gifting Brand - Lanos
Lanos is Sonal's online gift shop in Singapore that offers unique gifts lovingly hand-wrapped and delivered islandwide. You'll find a wide range of gift ideas from artisanal home decor items to fashionable women's clothes, jewellery and accessories. 
Each gift comes with the backstory of its maker, sourced by Sonal from all over the world. The creators include small and medium-sized manufacturers, women entrepreneurs and low-income workers who are skilled at creating beautiful giftable items.
Vanilla Luxury: This International Women's Day, what message would you like to give to women who are thinking about starting their own business?
Sonal Khimji: Real entrepreneurs don't wait for chances, they create their own. To be an entrepreneur, you must have confidence and the willingness to learn. Be willing to sacrifice a lot of time and your ego to keep your business going. Despite the difficulties and challenges you will face at each step, you will be amazed at what you can achieve, and your small wins will also be so rewarding and satisfying.
My advice is: Become an expert at something that you are good at. Get recognised for your expert skill. In my case, this is sourcing unique gifts and always creatively wrapping them. Focus on things you like and become the best.
Don't try to do everything! Focus on your priorities and plan ahead.
Take a bold chance. There were several other gifting platforms in the market when I started, but I created the best one in town!
Don't dream about your success, work on it!
Born and raised in Singapore, this foodie spends her weekends exploring new cafes, restaurants and bars. If she's not at the gym busting out a yoga pose, she probably has her nose in a book or is binge-watching a brilliant whodunnit.