Anyone who has been in the Food and Beverage Industry will tell you it's a hard business to sustain. Restaurants and eateries open and shut down all the time, and reaching the break-even point can take years in this business. Yet, here are 3 successful women who have made their mark and how.
Vanilly Luxury has a chat with these amazing ladies about their inspirations and challenges.
1. Elika Mathers, Founder of Food Rebel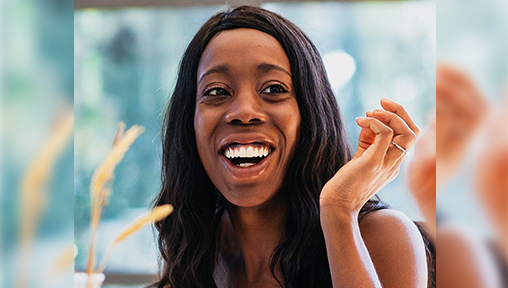 Vanilla Luxury: What made you start Food Rebel?
Elika Mathers: I became a Health Coach following frustration of years of yo-yo dieting and lack of nutritional support available from personal trainers I had used. My own health had deteriorated as a result of working long hours and the lack of healthy food options in the Raffles Place area. When my clients started to voice similar concerns from my recommendations of what types of foods to eat, I saw a need for a CBD cafe that provided 'real food' that wasn't highly processed.
Vanilla Luxury: What is the mission of Food Rebel?
Elika Mathers: As the owner of Kitchen by Food Rebel and a certified Raw Food Chef, the cafe's mission is to improve our customers' health through a recipe of awareness, education and great food. I conduct educational workshops and cooking classes onsite, as well as work with a number of local start-ups and suppliers to source quality fresh ingredients.
Vanilla Luxury: What can customers find at Food Rebel?
Elika Mathers: The menu even consists of a range of desserts that are gluten- and dairy-free. The cafe is inclusive so we welcome vegans, vegetarians, athletes, clean meat lovers and those with food intolerances. In the cafe, you will find a strict ban on refined sugar, preservatives and chemicals.
2. Lyn Siew, Owner of RUYI & LYN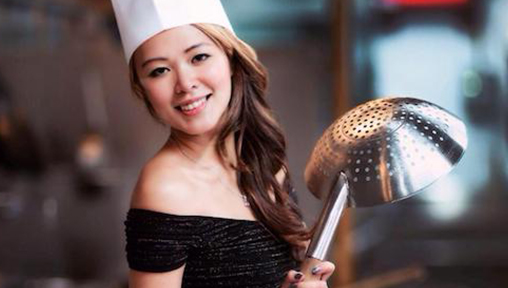 Vanilla Luxury: What made you start RUYI & LYN?
Lyn Siew: I had a grand vision of uniting people through good food, regardless of race, religion, backgrounds, nationalities or gender orientation. RUYI stands for a desire for a good life in Chinese and LYN is an acronym for Link Your Network. In the bigger scheme of things, the culinary direction for RUYI & LYN is Innovative Modern Chinese Cuisine designed for the next generation of diners and to be a training institution for those who are passionate about the Chinese food industry.
Vanilla Luxury: What are some of the challenges you have had to face?
Lyn Siew: Being a single female in the male-dominated food industry is both physically and mentally tough as there is a need to pacify suppliers, chefs, colleagues, partners, investors, and the press which influences the customers. As an entry level restaurateur operating 22,000 square feet of space and having to fulfil global expansion plans, there are lots of expectations and I cannot fail.
Vanilla Luxury: What motivates you to keep going?
Lyn Siew: My motivation stems from the desire to be in a position powerful enough to be able to make a difference to lives and careers by providing opportunities. The business is not a job, but rather a lifestyle which I can never take a break from, so I have to love what I do.
3. Janice Wong, Dessert Chef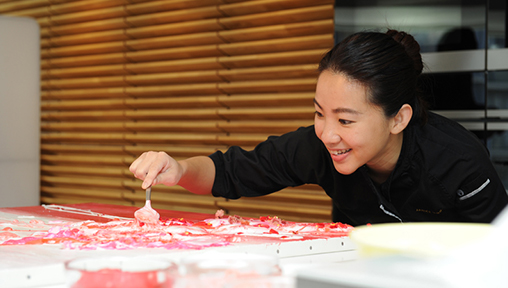 A chef or an artist? Native Singaporean, Janice Wong's never-ending passion for culinary art has propelled her forward to test the limits of dessert making. Known for her amazing edible art creations, this chef is no stranger to the sweet-toothed Singaporeans who revere her dessert restaurant, 2am:dessertbar.
Named Asia's Best Pastry Chef, Janice has received worldwide recognition for her cutting-edge creations and is a regular on the global pop-up circuit. She is also regularly seen as a guest judge on Masterchef Australia where she challenges the contestants with her creative and progressive dishes. Think chocolate paints in the spectrum of a painter's palette and hand-painted bonbons resembling faceted jewels.
Vanilla Luxury: You're an acclaimed dessert chef that is known for your amazing edible art creations. Where do you get your creative inspirations from?
Chef Janice Wong: I have learned from some of the world's best chefs, including US luminaries Thomas Keller and Grant Achatz, virtuoso Spanish chocolatier Oriol Balaguer, and prodigious French pastry chef Pierre Hermé.
I get most of my inspirations from nature and having been exposed to many different cultures, I take inspiration from their various colours, flavours, shapes and forms.
Vanilla Luxury: What are some of the challenges you have had to face?
Chef Janice Wong: 2am:dessertbar is a unique concept focused on desserts and wines, cocktails. Back in 2007, Singapore didn't have many of these and we didn't have much to reference from. So, the first challenge was to gain the confidence of the team to start something so new.
The second challenge was educating the guests which became our establishment's philosophy. We continuously challenge ourselves to work on new creations for every season in tropical Singapore.