VIOS by Blu Kouzina, founded by Gigi Tsakiris, offers handcrafted nutritious bowls using ingredients largely from the Mediterranean cuisine. What's so great about their food? Read about Gigi Tsakiris' journey towards a healthy lifestyle and why she started VIOS by Blu Kouzina to find out more.
Vanilla Luxury: Tell us about yourself and how you got into healthy eating.
Gigi Tsakiris: I'm not a doctor or a nutritionist. Till about 2 years ago, I had health issues regarding cholesterol, hormones, Polycystic ovarian syndrome, acne, weight gain, asthma, fatigue and hair loss. Countless visits to doctors proved fruitless. I just kept getting prescribed more medication.
After conducting some research, I concluded that it really all boils down to lifestyle choices. Yes, there are some diseases that are purely genetic, but they become worse with an unhealthy lifestyle. So, I started prioritising my body and my health. With that, I noticed how my energy levels would change and how I would have a lot more control over my emotions and moods.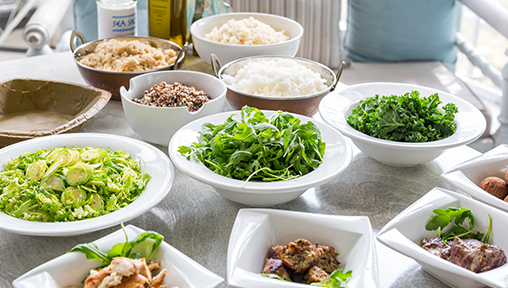 Vanilla Luxury: What is the concept of VIOS by Blu Kouzina?
Gigi Tsakiris: VIOS by Blu Kouzina is a food service operating out of ghost kitchens - the first of its kind in Singapore. We, therefore, have no frontage, allowing us to invest more money on quality ingredients. VIOS translates to the following: quality of life, lifespan, longevity, and biology. We hope to positively influence our customers to create a personalised sustainable diet that will only enable them to feel their best, do their best, and embrace the best.
Vanilla Luxury: Why is nutrition so important?
Gigi Tsakiris: Nutrition is what gives us life, essentially. Nutrients are found in their natural state in whole foods that are unprocessed and unrefined. Without proper nourishment, our health would severely start to deteriorate. Health is the main critical factor that enables us, humans, to do what we do, and to live as we please.
Food has the power to influence our thoughts, emotions, habits and even our overall lifestyle. Hence, we should pay attention to the food that we ingest and ensure that it is made from good quality ingredients that are sourced from suppliers who practice sustainability.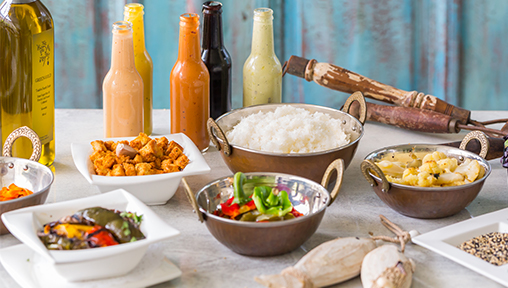 Vanilla Luxury: What are some of the health benefits of a Mediterranean diet?
Gigi Tsakiris: For centuries, Mediterranean cuisine has been regarded as one of the strongest, healthiest, and most beneficial diets known to mankind. This is due to its emphasis on always including highly nutritious food items such as vegetables, fruits, olive oil, legumes, nuts and constricted amounts of animal protein.
At VIOS by Blu Kouzina, we have chosen to follow the guidelines set forth by the Mediterranean cuisine in order to reap in the immense benefits that result from following such a diet - increased longevity, reduced risk of cancer, reduced risk of Alzheimer's, slowing down of ageing, keeping our brain sharp, keeping our skin looking fresh and young, sustaining heart health, reducing inflammation, and many more!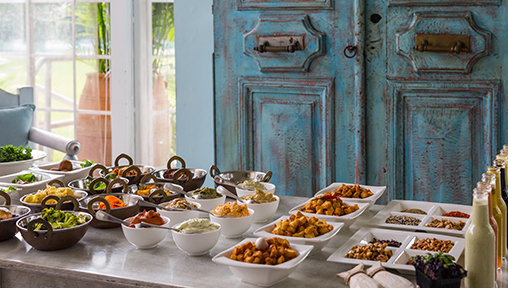 Vanilla Luxury: How does changing our eating habits affect the environment?
Gigi Tsakiris: Firstly, an increase in meat and dairy production has caused numerous implications on natural environments from deforestation, increase in greenhouse gas emissions, biodiversity loss, agricultural runoff pollution, dead zones in coastal waters, soil degradation, fertilizer pollutants killing millions of insect species, waste, and to summarize it all - climate change. 
Secondly, we need to steer away from food that comes from industrial slaughter farmhouses as well as savoury and sweet processed foods. We need to start buying from local farmers to help local communities and support sustainable farming practices and mechanisms. It's important to note that all animals, whether livestock or wildlife, play a vital role in the balance and replenishment of natural ecosystems.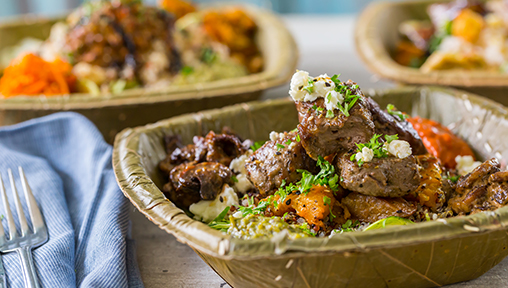 Vanilla Luxury: Can you share with us some of the sustainable sources used by VIOS by Blu Kouzina?
Gigi Tsakiris: Our packaging comes from eco u. It is made with zero traces of plastic and is both biodegradable and compostable. Our cutlery is made out of cornstarch. Our meats are pasture-raised and grass-fed, and our chickens are GMO-free with no antibiotics. Our veggies are delivered to us daily from farms. Our extra virgin olive oil comes from my family's olive oil estate everything is done in-house.
Vanilla Luxury: What are the different types of VIOS by Blu Kouzina bowls?
Gigi Tsakiris: So far we have preassembled bowls which have been analysed by nutritionists and an option to build your own bowl where every food item you can select has also been analysed by nutritionists with the recommended portioning. The four bowls that we have now are Anti-inflammation supplying a variety of vitamins; Amino Acids to assist in muscle building and recovery; Antioxidant served with generous amounts of dietary fibre and good bacteria, helping to boost your gut health; and Immunity made from 100% plant-based proteins providing an abundance of dietary fibre and vitamin C.
Order from VIOS by Blu Kouzina via Deliveroo.