Grazing platters, cheese platters and charcuterie boards in Singapore. Want an Insta-worthy grazing table that will be the talking point of your party? Or are you looking to host a virtual meeting and send out grazing boxes to all participants?
Look no further! These brands make the most delicious AND Instagrammable grazing platters and grazing boxes in Singapore. What's more, they even cater to a range of dietary needs including vegan, Halal and vegetarian.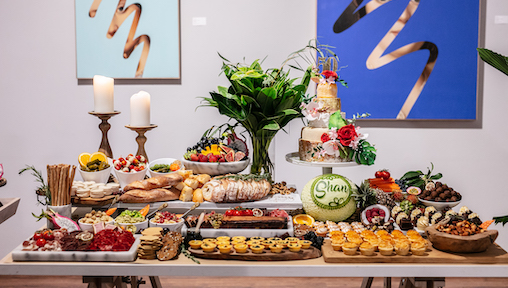 As the pioneers of the Grazing Platters and Grazing Tables trend in Singapore, Lush Platters are all about creating show-stopping, edible art for your home or events! Think cheese platters, styled boxes, lavish grazing tables filled with the most delicious and fresh produce, brimming with premium products. 
Lush Platters started off as a small business of two and has now expanded to a team of 13 catering to corporates, homes and virtual events, delivering small platters and gifts to multiple addresses. 
What makes them stand out is that many of their products are freshly made, in-house. Your guests will get to savour the wonderful flavours of speciality and artisanal cheeses, charcuterie, wholesome dips, fresh and dried fruit, desserts and accompaniments. The lavish menu features a range of house-made items such as crackers and dips, roasted nuts, salads and light bites. They've got plenty of meat-free versions too, so don't be afraid to ask!
These are no normal platters, mind you! The grazing platters and boxes come decorated with homegrown organic verdant herbs and vibrant flowers - perfect on their own or as a talking point on your dinner table. 
Whether it's to elevate a simple dinner with friends or celebrate birthdays, weddings, corporate functions and virtual meetings, you know it will turn into a gastronomical experience like none other. 
And don't forget that camera – this is seriously as Instagram-worthy as food can get!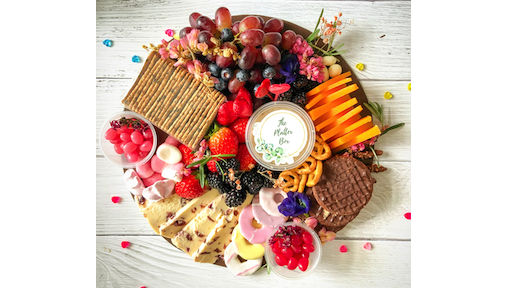 From indulging in cheese boards on trips to Europe to setting up Cheese Platters for house parties, The Platter Box was born from the mere idea of finger food that's pretty and yummy!
The Platter Box curates artisanal cheese boxes, platters and boards with the freshest fruits, impeccable variety of cheese, in-house dip selection, delicious antipasto and much more.
The grazing boxes can be customised as per one's taste, dietary requirement and are perfect for every mood such as a party, self-indulgence or even a gift for a loved one!
Want something different? The Platter Box also offers a selection of pancake boxes and fusion Indian boxes of Chaat and Cheese - yum! Look out for their festive grazing boxes every now and then, that are curated just for upcoming calendar events! 
So, the next time you want to be a hostess with the most-est, just head over to their Instagram page and place your order via DM! You can also Whatsapp them directly at (+65) 8869 0654.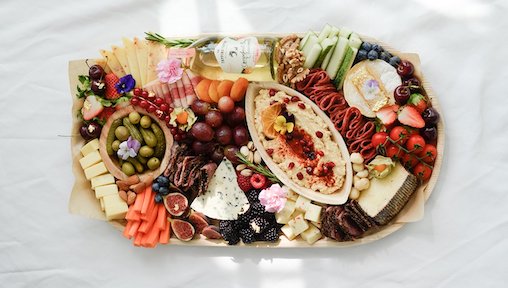 As a brand that is dedicated to making delicious Halal Cheese Boards, Grazing Platters, Antipastos and Mezes, you are assured of mouth-watering ingredients that complement different flavours and aromas! 
More than just a medley of delicious food, Nomad's Soirée takes great pride in how each ingredient is hand-picked to ensure an overall ensemble that is as much a feast to the eyes as it is a feast in itself. You and your guests will naturally gravitate towards that well-decorated table with Nomad's Soiree grazing platters as its centrepiece!
Nomad's Soiree grazing boards are meant for you and your loved ones to share happy memories with. Luxuriously unique flavours in abundance are a staple on their grazing tables. From decadent artisan cheese to premium fresh produce to one of a kind accompaniments, every single item is elegantly placed. ​
Looking for the perfect Raya meal to share? Nomad's Soirée are a 100% halal, Muslim-owned business and cater to no meat and vegetarian options too!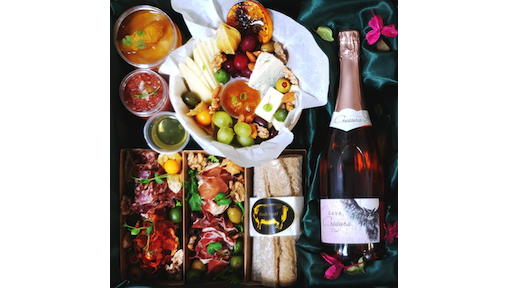 Spanish Grazing Platters and Grazing Boxes by BlackHoof
If you love your Tapas, the bespoke collection of Spanish ham grazing platters and boxes will wow your senses! Curate a gastronomic Spanish dining experience at your home with a premium selection of Jamón  Ibérico, Salchichón, Chorizo and Cava by BlackHoof.
Their wide selection of Spanish treats is suitable for Netflix dinners, romantic nights and family events. From tapas to executive boxes to grazing platters, you can always find a moment for Jamón  Ibérico, right here in Singapore. 
BlackHoof's condiments are specially prepared by an experienced chef who is well-versed with Spanish cuisine. These delicious condiments are best paired with the selection of Spanish meats and are packed in customized grazing boxes to ensure freshness and quality.
And nothing can be more inviting to your guests than a beautiful, rustic platter of the finest Spanish hams paired with specialty cheeses, wholesome dips, fresh grapes and the best cava! BlackHoof's specially curated platters can elevate any occasion and event with an authentic and uniquely Spanish experience. Hey, they even sell Cava!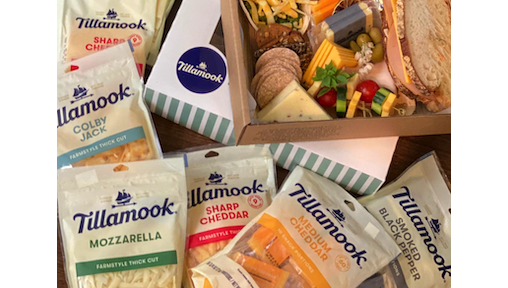 When you want to explore your creative side and DIY a cheese platter or grazing hamper instead of ordering one, Tillamook's newly launched seven perfectly crafted cheese options will do the job - and nicely so! The brand has perfected its cheese recipes using traditional methods, without shortcuts, offering extraordinary quality in every bite. This is demonstrated with over 750 awards won over the last century.
The Tillamook® cheese offerings in Singapore include shredded, sliced and snack cheeses in a variety of delectable flavours. A perfect addition to any charcuterie board!
You can expect the highest quality cheese made with rBST (Recombinant bovine somatotropin)-free milk and the cheddars that have been heat-shocked (instead of pasteurized) and feature proprietary cultures that deliver Tillamook® cheese's inimitable texture and flavour.
Simply spread across a wooden or marble platter, accompanied by cold cuts, fresh produce or even your favourite sourdough bread, and enjoy your fruits of labour with the delicious range of cheese.
Better still, Tillamook® cheese is conveniently stocked at selected Cold Storage, Fairprice Finest and Hyper, Meidiya and Isetan Orchard supermarkets and online via Redmart.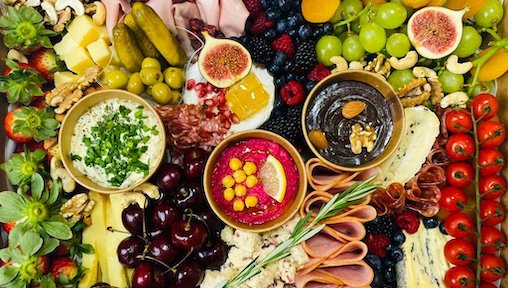 Driven by their passion for good food, every grazing platter is skillfully handcrafted with love using the finest ingredients at Platter With Love. But that's not all! For every grazing platter purchased, Platter With Love pledges a meal to the needy in Singapore. 
More than the ordinary cheese board, their grazing platters and grazing tables are a true cornucopia of pleasure for customers. The captivating platter is a gastronomical adventure that is set to spark conversations among family, friends, colleagues and loved ones!
Want a grazing platter for just you and beau? You can try their Deluxe Platter Box (Small) that comes with a variety of artisanal cheese, charcuterie, fresh fruits and speciality dips. Designed for casual weekends or chill-out sessions with friends and families, the deluxe box makes for the best companion on any occasion. And if you need a vegetarian grazing platter, we'd recommend getting the Cheese & Vegetarian Platter that is thoughtfully designed for clients with special dietary requirements. Lovingly crafted with a choice of fruits, artisanal cheese with assorted vegetable sticks and fresh seasonal fruits, assorted nuts and speciality dips, this platter is the centrepiece to order if you want to wow your guests!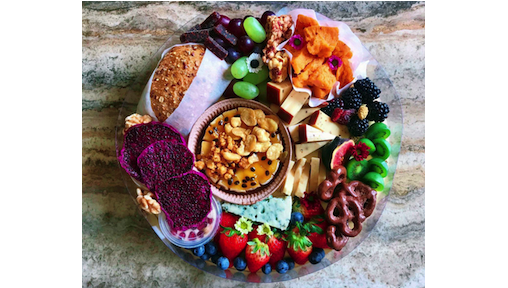 Looking for a Halal grazing platter in Singapore? Muslim owned, and halal-certified, The Chatter Platter offer a range of grazing boxes and platters with a local kick. The Chatter Platter elevates your grazing table experience with the addition of homemade dips such as Salted Caramel Kaya or Chili Pomegranate Yoghurt, adding that fun and local twist to every box. Chatter Platter also includes locally-flavoured cheese in Chilli Padi and Tempoyak flavours that you won't find elsewhere!
The grazing boxes come in different sizes, so be rest assured that you can find one for smaller groups (or even 1) and go as big to feed a large group or family too. Want some help with your order? Definitely choose the Signature Brie Brulee that comes topped with Passionfruit seeds with a sweet and tangy after taste. We also vote for the Chilli Padi Cheese, accompanied with fruits, crackers, and a choice of your favourite homemade dip. Like some meat? You can always request halal meat options to be added to your grazing platter!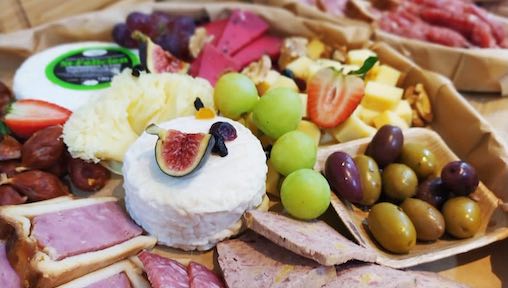 La Petite Boutique for Cheese Grazing Platters and Plenty More!
La Petite Boutique is a fine food store, where you can fix your needs for the best Cheese, Wine, Bread, Meat, organic vegetables and gourmet groceries. Feel the extra love for cheese? You have to order the Surprise Me! - Cheese Selection, which is designed for 4-5 people and comes with 6 types of cheeses, nuts, fresh and dried fruits and premium crackers. 
Meat eaters can also choose their Cheese and Charcuterie platter, a perfect selection of artisan cheeses and charcuterie curated by the La Petite Boutique team. You will savour the best cheeses at their prime ripeness and be able to share an enjoyable moment with your family and friends.
And then there's the Meat Lovers Platter, a selection of charcuterie conveniently plated on a handy and ready-to-serve tray. French, Italian and Spanish charcuterie, Kalamata olives, hummus, black tapenade, pickles, name tags and premium crackers. Ooh, yum!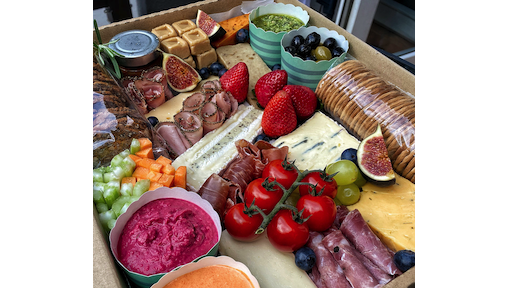 One Fifty Peel's Grazing Boxes are perfect for gatherings, or simply an indulgent night in. These delectable boxes come in 3 different sizes to suit your party size. Be floored by the variety of cheeses, the flavour of their homemade dips, the addictive salted caramel fudge and many other bits and pieces. 
The box proves to have something for everyone and is an instant crowd-pleaser. Rest assured, you'll be talking about it for months to come!