beauty
Get the Trendiest Hair Colour at These Hair Salons in Singapore
Published Date
: 04 Oct 2023 10:00

On-trend highlights, to gush-worthy balayage & grey concealing techniques, these are the salons to head to for your next hair colour appointment
Are you seeking hair colour inspiration for a feel-good makeover? This is the page to pin! 
Your hair plays a huge part in transforming your appearance and a hair colour refresh is a great way to enhance your look. Now, with the wide range of options available for hair colour, getting that gorgeous transformation is no longer a pipe dream. You can choose from sophisticated low-maintenance colours like honey and brunettes with a candlelit effect, or a striking red, copper or even cobalt. Don't want the excess load of chemicals? Just stick to simple, classic hair colour techniques for grey concealing – the options are truly endless. 
To help you incorporate trendy hair colours, statement highlights or even that subtle balayage into your daily life, here is a comprehensive list of the best hair salons in Singapore to turn to. Read on and make that appointment right away!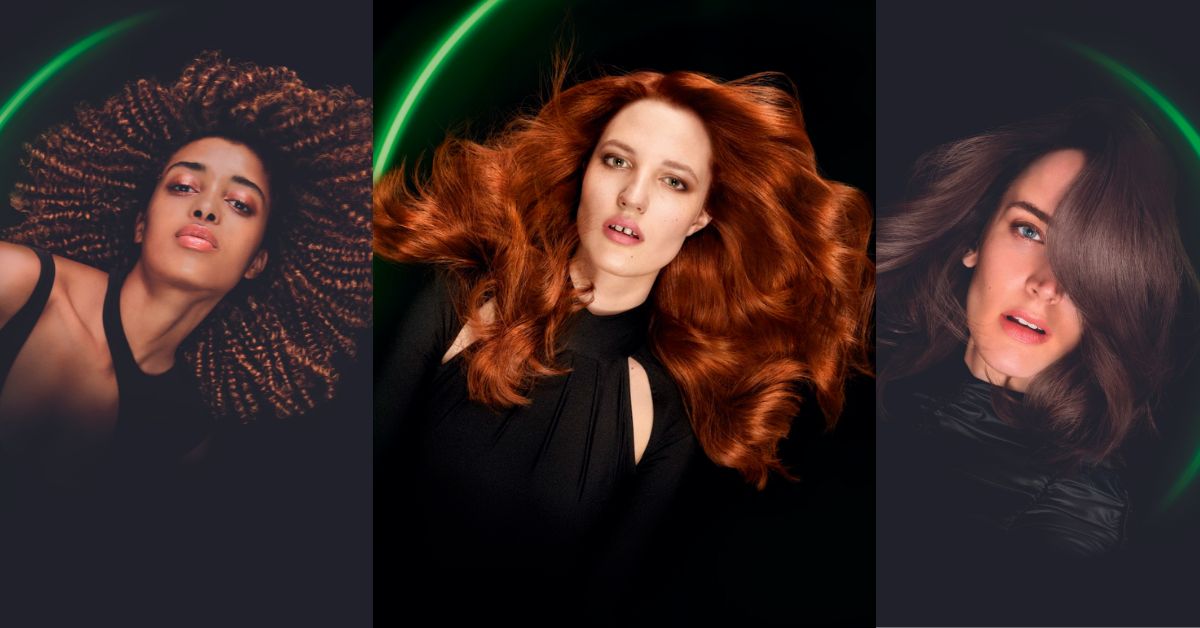 Struggling to keep up with your greys? You're not alone but thankfully L'Oréal Professionnel Paris has a brand new version of iNOA, that uses an exclusive patented Oil Delivery System technology, to ensure true-to-tone colour performance with optimal scalp comfort. This ammonia-free, 60% oil-based vegan hair colour harnesses the unique power of oil to deliver high-impact colour while leaving hair healthy and shiny with ultimate scalp comfort.
iNOA delivers up to 100% grey coverage and visibly improved hair quality where hair is 48% shinier thanks to 6 weeks of intense hydration while depositing beautiful colour. Whether you are looking for a full-colour change or just highlights, there are 116 different shades to choose from. What is also really interesting is that they have an app that allows you to find the perfect iNOA shade combination with advanced virtual try-ons, previewing hair colour results before the actual colouring process for a highly predictable result. 
iNOA has been tested and reviewed by Asian consumers, confirming its suitability for Asian hair types. iNOA is also tested water permeable or wudhu-friendly, making it suitable for Muslim customers. 
Do not forget to maintain your new colour by using L'Oréal Professionnel Metal DX Shampoo and Hair Mask at home. After several washes, our hair most certainly feels softer, and smoother and looks a lot more shinier! 
L'Oréal Professionnel Paris iNOA hair colouring services are available at Shunji Matsuo. 
Blow+Bar is turning hair care in Singapore into a fun and relaxed experience. As Singapore's pioneer salon that combines hairstyling with a relaxed drink(we love!), they are all about giving you the best of both worlds. With a focus on personalised makeovers to reflect you, skilled stylists take the time to understand your hair's unique needs and your vision for the perfect look. Regardless of your hair type or texture, whether it's curly, fine, coarse, or unruly, you can rest assured that the experienced team can handle it all.
But that's not it; Blow+Bar are also known for their award-winning Sunkissed Colours. The Sunkissed Colour Collection (from S$230)  – showcases their exceptional freehand painting techniques. This approach creates soft, natural hair colours without the stark, uniform highlights. It's like contouring for your hair, giving you a multi-highlight effect that looks effortlessly sun-kissed and is regrowth-friendly. Alternatively, get the Sunkissed Colour – Babylights where fine weaves of intricate highlights and lowlights are done by stylists to achieve stunning, subtle highlights in various shades to match your skin tone. The best part? They can do all of this without bleaching, leaving you with a natural highlights effect. And to top it all off, enjoy a complimentary drink on the house with any of their hair services. Cheers to that fantastic hair experience at Blow+Bar!
Blow + Bar. Multiple Locations – Roberston Quay, Phone: (+65) 6238 7338, Whatsapp: (+65) 8288 6795, East Coast, Phone: (+65) 6440 0316, Whatsapp: (+65) 8288 6795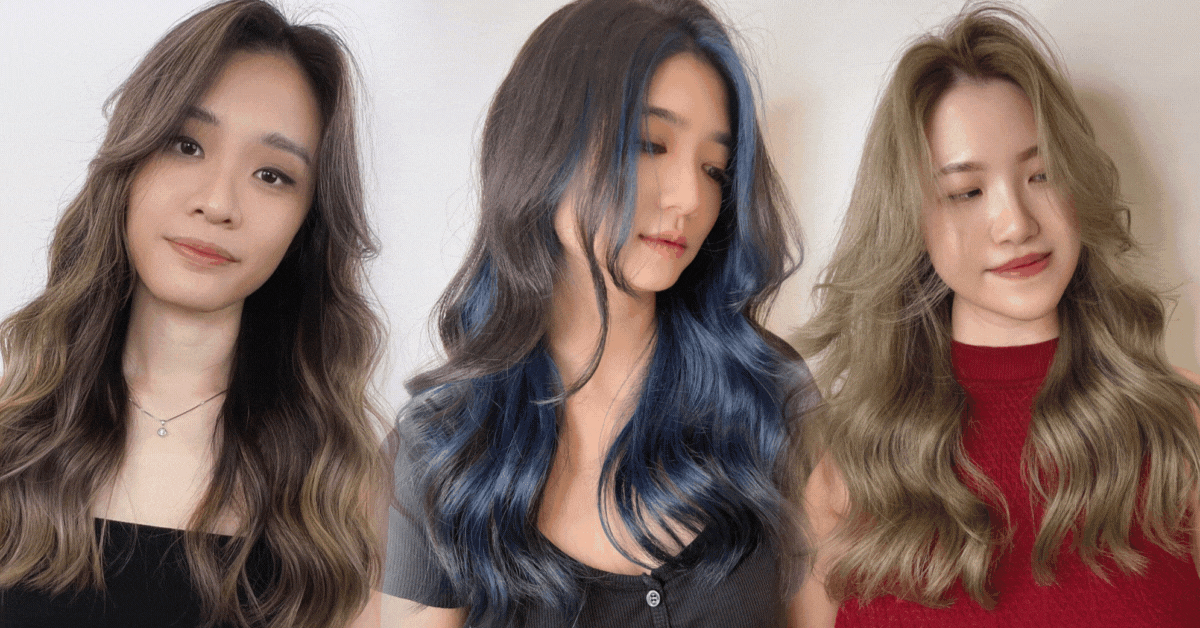 Hair trends can come and go but if these don't clash with your skin tone, they don't hold much meaning. Here's where Singapore's leading hair salon, Be U Hair Design comes into play. This one-of-a-kind hair salon offers a completely customised hair colouring service to each of its clients. 
Every appointment is treated like a canvas - where the hair artist evaluates your hair condition, expectations and then skin tone. Knowing if your skin colour is cool or warm, can help to choose your next hair colour.
Don't confuse the colour of your skin with the tone. A mix of several factors such as the colour of your veins in natural sunlight, the jewellery that suits you(gold or silver), and colours and makeup that suits you can help to determine your skin tone. Need a faster way? Ask Be U Hair Design for the colour assessment app by Loreal, which can quickly determine your tone and help to choose the best hair colours for your next style! 
We love that the team at Be U Hair Design keep up with the latest catwalk trends! Whether it's the trending reds and auburn shades for the season, or you are after honey-hued highlights to get ready for the festivities, the talented artists here will be able to design these for you. Just take a look at their Instagram page, where you will find the hottest hair colour trends gracing Singapore and also be able to pick one that suits your style.
It's time to put your best hair forward - book your appointment at Be U Hair Design!
Be U Hair Design. The Centrepoint, 176 Orchard Road, #01-33J. Phone: (+65) 6909 3250. Whatsapp: (+65) 88535736.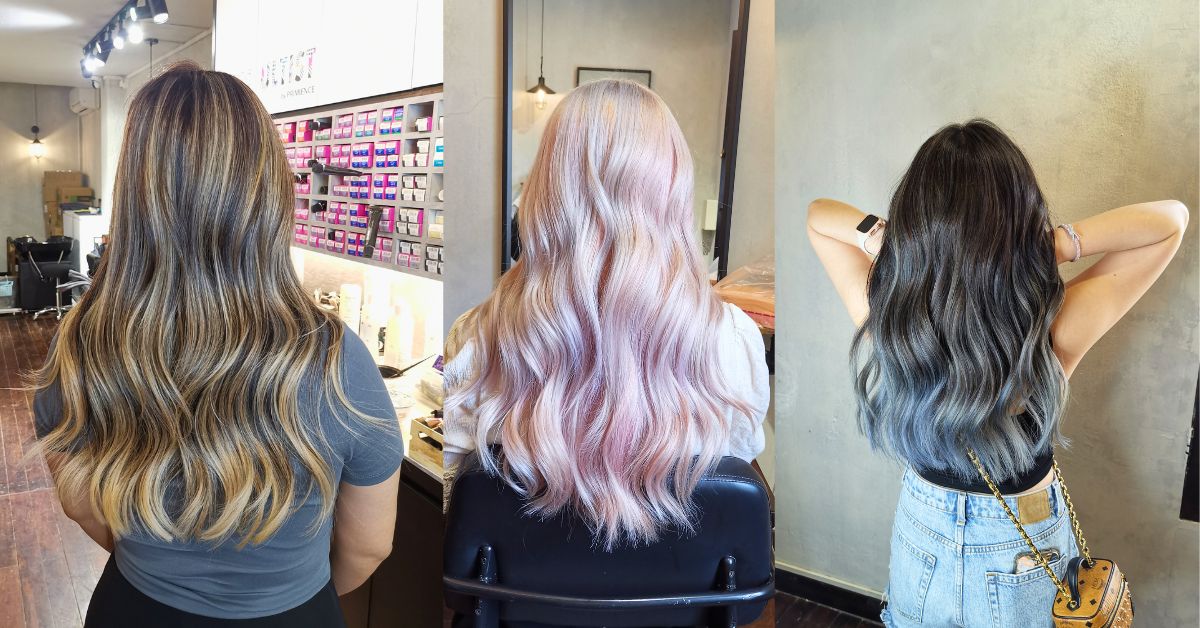 If you've been keeping track of trending hair colours, you know that #Barbiecore is not going anywhere soon! Bright, creamy blondes are here to rule and where else to get them than Singapore's leading hair salon for trending hair shades - The Blonde and Pastel Hair Salon.
Located near Arab Street, this popular salon is known for its latest trends and hair colour options. Led by a young team that specialises in the latest cuts, colours and perms, you are more than guaranteed to step out with a hairstyle that will get second looks! 
More of a pastel girl? Pastel hair colour has taken over the world with a frenzy. Everyone from your favourite influencers to celebrities and athletes is sporting non-traditional fashion colours. At The Blonde and Pastel Hair Salon, you can try their best-selling Ginger, Milk Tea, Ash Blonde and Pastel Pink shades. Created using Shiseido Professional hair colours, these cater to Asian hair and skin tones and will reflect your personality in an entirely different way. 
Have something else on your mind? Just speak to the friendly staff at The Blonde and Pastel Hair Salon - you name it and they will create it! 
Blonde and Pastel Hair Salon. 770A North Bridge Road Singapore 198738. Phone (+65) 69705718.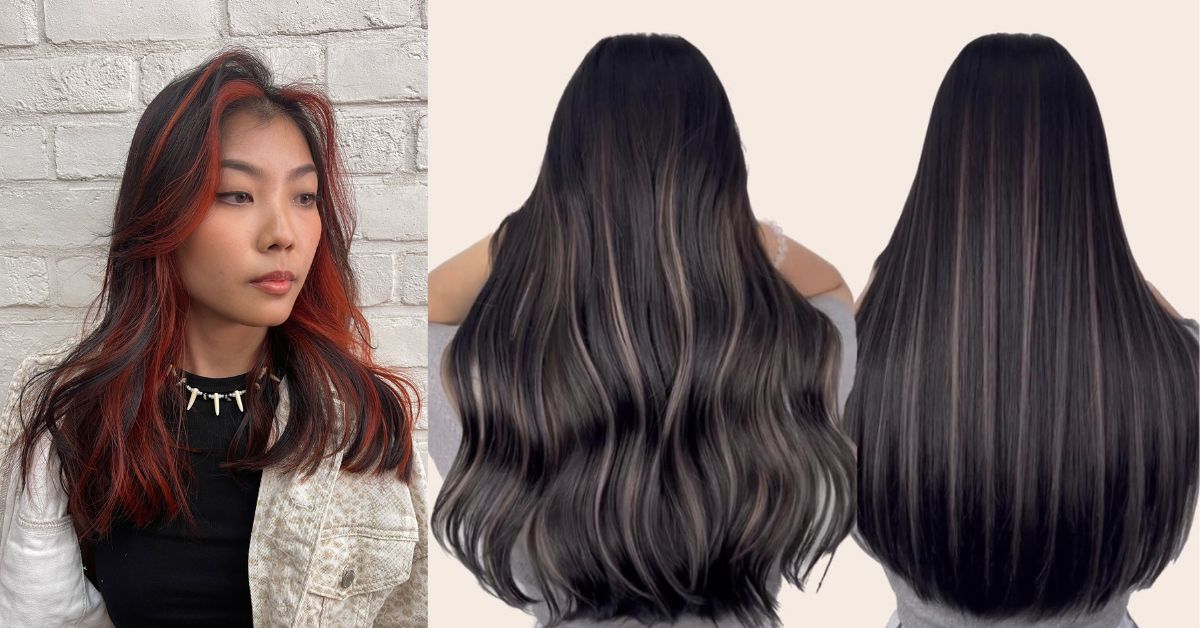 Highlights are back in trend this season say hair maestros Picasso Hair Studio! They also believe that highlights are the best way for a hair makeover transformation. Highlights not only can be used to frame the face and create dimension in the hair. These can also help to brighten up the skin tone and give you an immediate refreshed look!
Choosing the right hair colour for your highlight is equally as important. In general warm hair colours suit warm skintones while cool skintones look better in cool hair colours. If you are unsure which skin tone you belong to, just speak to our of the hair artists at Picasso Hair Studio and they will run a complimentary consultation for you!
So what's trending at Picasso? Besides the all-time favourite Balayage highlights, they see two other hair colour trends in 2023, namely Framing Highlights and Money Piece Highlights.
Framing Highlights is one of Picasso Hair Studio's signature highlights. Suitable for those who don't want to damage their hair too much with bleach, and also don't have the whole day to spend in the salon for a highlight service. And yet, these give visible results and highlights that frame the face. This highlighting technique also caters to ladies who do not want to see "a patch of black" in the inner layer of their hair – especially when they tie it up in ponytail. 
Money Piece Highlights on the other hand involve highlighting the face framing pieces or front sections of your hair and is the best way to accentuate your face and brighten up your skin tone. This highlighting technique gets its name as it is a time-saving and cost-effective service that brings about maximum visible results. It is also another great way to experiment with bleaching your hair without committing to a whole head of lighter hair colour. Perfect to try those shades of red, pink or even blue! 
Picasso Hair Studio, Multiple locations - Bugis, Phone (+65) 62910691. Novena, Phone (+65) 6224 0221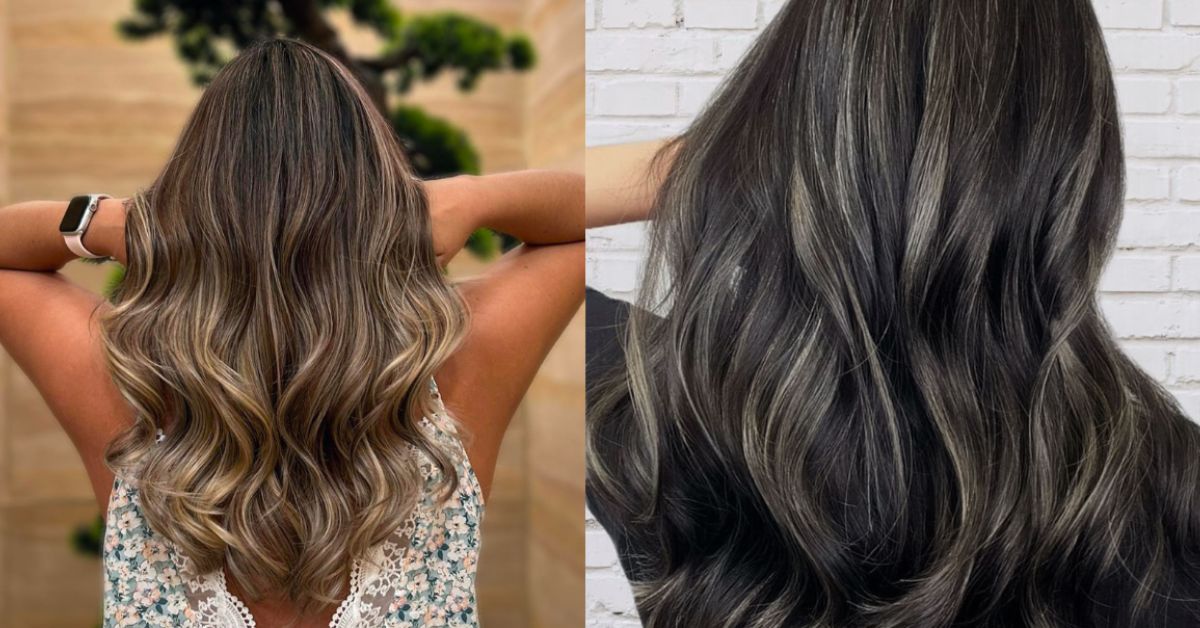 Looking to be the 'it' girl(or guy) of the season with some of the trendiest hair colours, highlights or balayage? Chez Vous' very own predictions of the most popular hair colours show Milk Tea Hair as the front runner. 
Another much-loved trend is the Airtouch Bayalage – a low-maintenance colouring approach, that fuses effortless colour transitions and seamless depth to your locks. 
Tired of things going wrong? At Chez Vous, all hair stylists have a minimum of 10 years of experience or are exceptionally skilled in their area of expertise. This means no matter your hair or colour tone, there's an expertly crafted style with your name on it - and more importantly, one that you will love! 
For any of you with naturally light hair, you will be glad to know that Chez Vous' entire portfolio of salons, including the Chez Vous: HideAway & Chez Vous: Private Space, are proud to have a team of specialised Caucasian Hair Specialists who excel in the care, colouring, and cutting of Caucasian and/or Blonde hair – a distinction that sets them apart from many Asian salons. 
Over the past seven years, Chez Vous has consistently earned recognition as one of the preferred hair salons for expatriates and has earned their favour with expatriates, for their expertise in highlights and exceptional service.
Chez Vous. Chez Vous: Main Outlet, Phone: (+65) 6732 9388, Chez Vous: Hideaway, Phone: (+65) 6219 3558, Chez Vous: Private Space, Phone: (+65) 6235 0345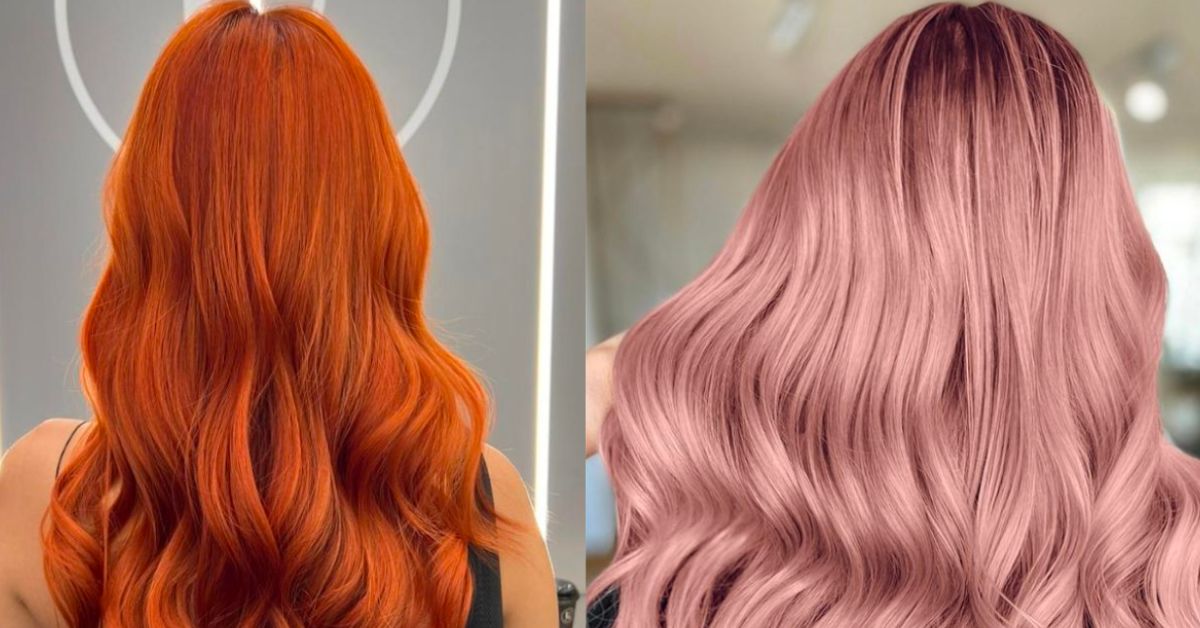 U-Hair is your go-to destination for exceptional hair services in Singapore. Their commitment to innovation and tailoring hairstyles that complement your unique facial features, is one of the reasons to book your next appointment here. What's even cooler is the use of AI technology to discover the hairstyle and colour that best suits you! At U-Hair, they bring you a highly personalised in-salon experience that seamlessly integrates cutting-edge technology with the art of beauty. 
The pioneering AI mirror, JìNG, stands as Singapore's first of its kind, designed to consider your facial features, skin tone, face shape, and personal style when crafting the perfect haircut and hair colour for you.
Whether is it to conceal your budding grey hair or to spice up your look, this extraordinary AI mirror allows you to have a peek at your choice of colour via a virtual try-on! Most importantly, U-Hair has an excellent team of creative stylists and technical experts, including Joe Lai, their U-MASTER with 17 years of professional experience. Joe's passion for hairstyling fuels his dedication to crafting haircuts that seamlessly align with your preferences. His wealth of experience and interest in experimenting with colours ensure that every look created at U-Hair is both timeless and uniquely suited to you.
U-Hair Salon. 1 Jurong West Central 2, #02-20F, Jurong Point Shopping Centre, Singapore 648886.
Phone: (+65) 6795 2088. Whatsapp: (+65) 9088 5305. Email: [email protected].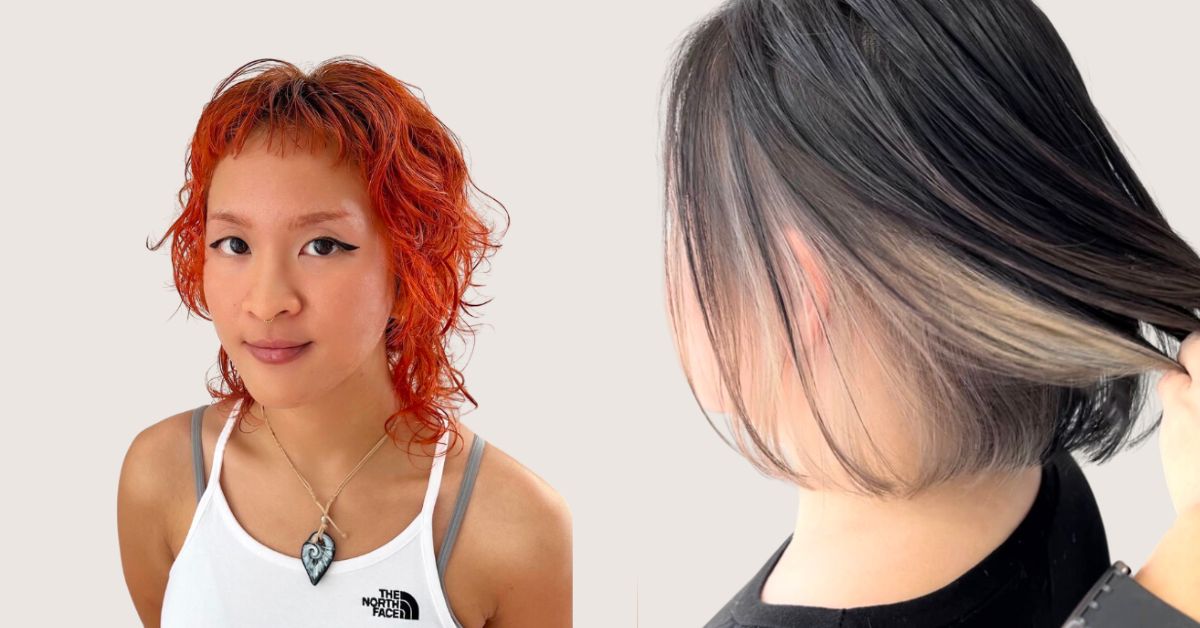 For a stylish Japanese hairstyle and an impressive high-end hair salon experience, you have got to try Kizuki + Lim. Their team of skilled, friendly and professional Japanese hairstylists have a knack for recreating a wide range of popular Japanese hairstyles and will help give you the hair colour and style of the season, just how you like it. In addition to replicating trendy Japanese hairdos, they also specialise in sought-after techniques like balayage, highlights, and expert grey concealing, making it suitable for practically everyone. If you are unsure about the style you want, the professionals here excel at suggesting hairstyles and shades that harmonise best with your facial features and skin tone. 
Located near an architecturally aesthetic location – Raffles Hotel, the salon reflects its surroundings. With picture chic, minimalist interiors and premium salon services, the inviting ambience will ensure you will be back for more!
Strapped for time? Kizuki+Lim offers extended hours, staying open until 10 p.m. to accommodate your schedule! 
KIZUKI +LIM. 31 Seah Street Singapore 188387.
Phone: (+65) 6221 6320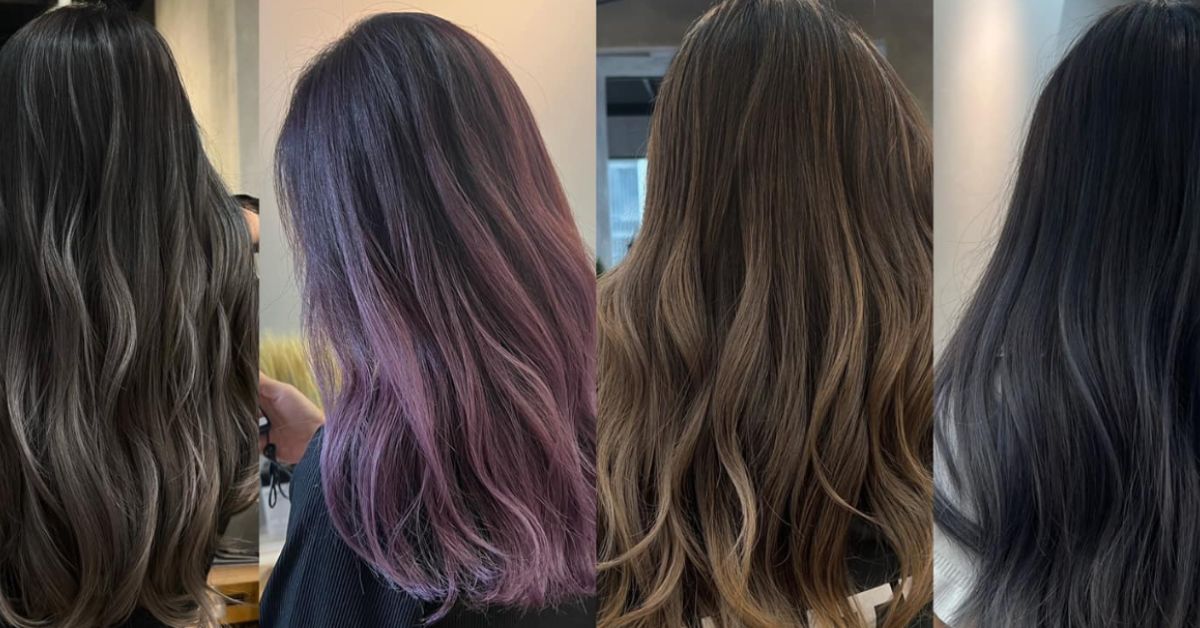 Embrace both versatility and trends with Label 39 as they go all out to make your hair dreams come true! If you are in search of a trendy hairstyle, popular hair colour treatments, precision colour correction, or even specialised hair and scalp care, the salon is excited to embark on this journey with you. 
Ready for the TikTok-worthy Balayage? Watch the team perform their artistry into a fashionable yet subtle look that you desire. At Label39, they place great emphasis on personalised consultations for your balayage experience. 
With each consultation, they promise a balayage that is perfectly catered to you – leaving you with effortlessly stunning hair that exceeds expectations. Unlike conventional highlighting techniques, balayage offers a more individualised and adaptable method, allowing their skilled stylists to customise colour placement to enhance your features and reveal the natural beauty of your hair.
On the other hand, for those of you who prefer a natural look, opt for their 1 Tone Colour service instead! 
First-timers will have nothing to worry about. With the team's patient guidance and professional advice on the ideal shade and application technique, you will be sure to have a stress-free hair colour session and walk out with happy hair!
Label 39. 17 Carpenter Street, #05-01, Singapore 059906.
Phone: (+65) 85521817. Whatsapp: (+65) 8552 1817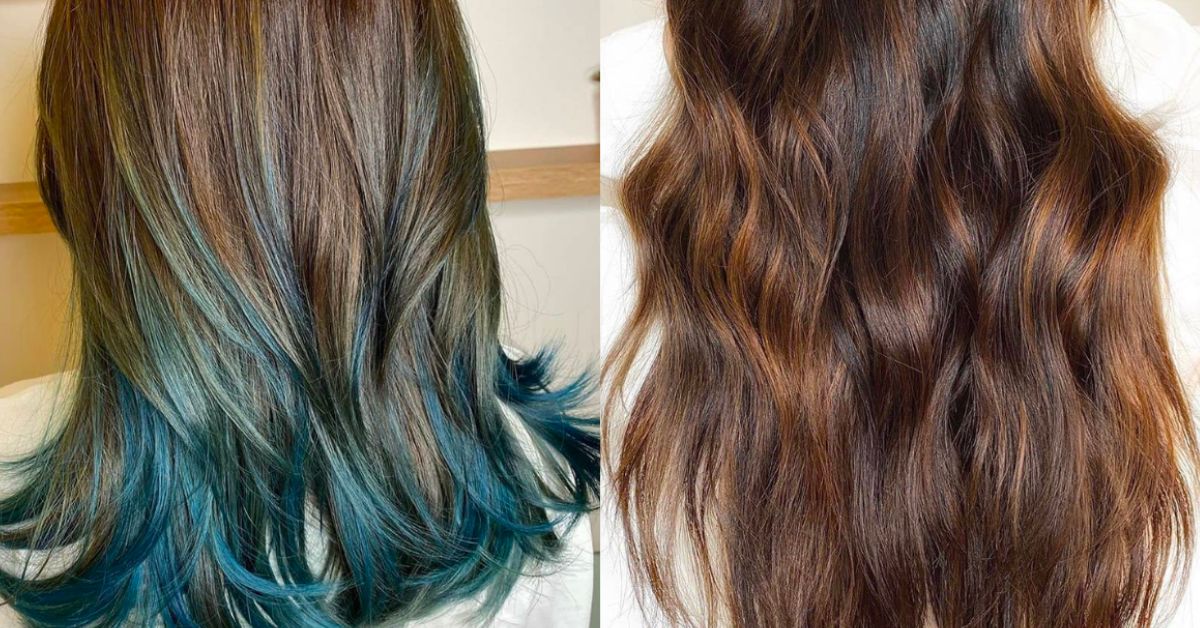 With over two decades of experience, La Source Spa & Salon's Korean Creative Director, Nik Kim, is a seasoned expert in the field of hairstyling and colouring. Located in the bustling Orchard Road district, La Source Spa & Salon is not just a salon, but also an upscale urban sanctuary that offers respite from the daily grind. Their diverse range of treatments and services are meticulously designed for maximum effectiveness and comfort, ensuring the process leaves feeling rejuvenated. 
But what truly distinguishes La Source Spa & Salon is their unwavering commitment to utilising only the finest products on your hair. Exclusively employing L'Oréal's professional salon range, they guarantee that your hair colour will remain vibrant and enduring for months without fading. Furthermore, they prioritise the well-being of your scalp, providing a specialised treatment before any colouring procedure. This not only leaves your hair looking fabulous but also ensures its health and vitality. 
La Source Spa & Salon. Voco Orchard Singapore (formerly Hilton Singapore), #02-17/18 Singapore 238883
Phone: (+65) 6732 1318. WhatsApp: (+65) 9711 8707. Email: [email protected]
At Apgujeong Hair Studio, your dream hairstyle or colour becomes a reality. If you aspire to look just like the lead character from your beloved Korean drama, this is the right address to book! Through their partnership with premium haircare brands, MUCOTA & Kérastase, Apgujeong excels in crafting and maintaining exquisite Korean hairstyles tailored just for you. 
Your go-to destination to discover the latest trends in Korean hairstyles, Apgujeong Hair Studio offer comprehensive Korean hair and even makeup services. Their pioneering and award-winning styling team consistently pushes the boundaries and establishes new trends in the field of hairdressing – leaving you with some of the best Korean-inspired hairstyles you can imagine.
Expect stylists who are a vibrant, dynamic bunch who undergo regular training sessions in Korea to stay at the forefront of the latest trends and techniques. If you have ever yearned for the look sported by any of your favourite Korean celebrities, meet Gio, their Assistant Director Stylist, who has worked his magic on the hair of some of Korea's most iconic K-pop stars. Schedule an appointment and let Gio transform your hair into a trendy masterpiece that perfectly complements your style!
Apgujeong Hair Studio. Multiple Locations – find out more here.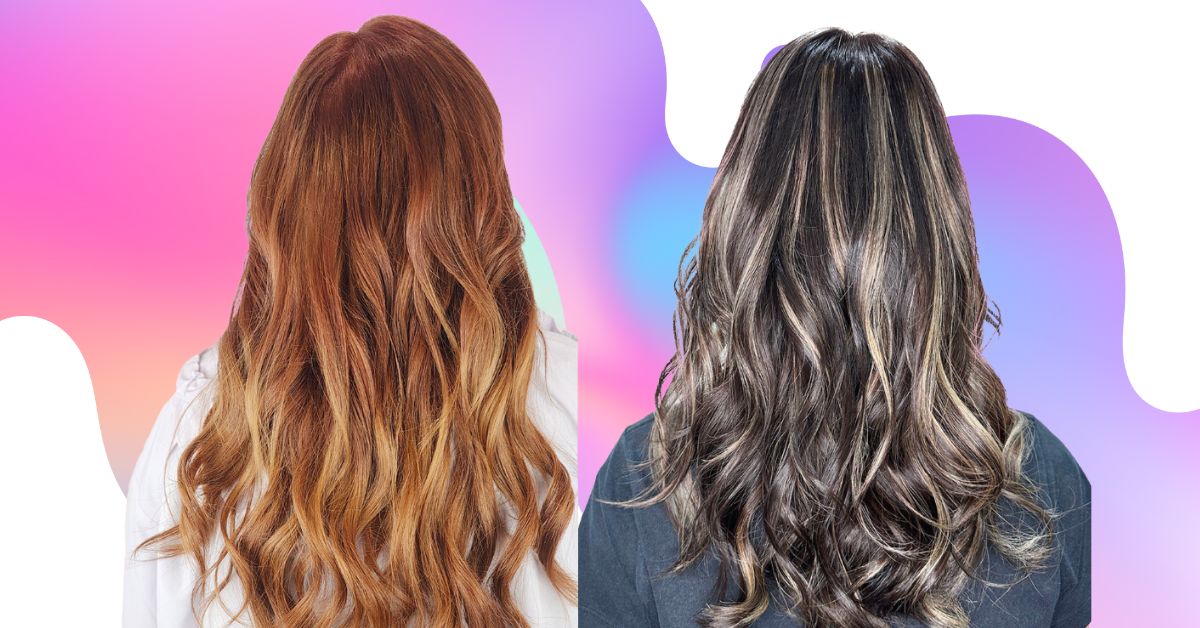 At 99 Percent Hair Studio, you will find spacious, welcoming, and cosy environments that make customers feel right at home. The studio prides itself on being one of the leading hair colouring salons in Singapore, and it truly lives up to its reputation. When you browse through its social media pages, you will discover an impressive collection of images showcasing remarkable hair colouring transformations. Whether it's ombre, balayage, or subtle highlights, 99 Percent Hair Studio consistently delivers stunning results.
If you're not yet prepared for a full head of colour transformation, consider their express colour service (S$59 to S$149), which can be completed in just 30 minutes to an hour and includes a wash and basic styling. This service boasts a zero-damage formula that both nourishes and safeguards your hair. Not only will your hair feel exceptionally luscious, smooth and hydrated, but the colour results also maintain their brilliance over time – fading gradually to a softer tone. Plus, the colour can last for up to 7 washes! With a warm and friendly team of hair stylists, feel free to add in your opinions, thoughts and questions along the way to enhance your hair colouring experience.
99 Percent Hair Studio. Multiple Locations – Orchard Central, Phone: (+65) 6238 3667, Haji Lane, Phone: (+65) 6396 3667, KINEX, Phone: (+65) +65 6702 7062
PREP Luxe salon is meant for contemporary and discerning clients seeking a comprehensive range of grooming services, including hair and makeup. Anchored by their award-winning blowouts and treatments, the salon is known for delivering cuts that are effortlessly manageable, long-lasting hair colours employing the signature lived-in colour technique and natural-looking perms. With a specialisation in cuts, colour, and perms, the salon takes a customisable approach with each client. Their focus is on achieving the ideal outcome, considering factors such as face shape, hair texture, lifestyle, and individual personality. 
Den Ng, the salon's Director, holds the distinction of being the sole Singaporean ever to win an international accolade at the prestigious L'Oréal Global Hair Awards. His exceptional talent has led him to work with international celebrities and contribute his hairstyling expertise to the red-carpet premieres of blockbuster films. With Den's impressive track record, he's the perfect choice to turn to for achieving the trendiest hair colours or turn to the rest of the team for a flawless grey coverage hair dye session. Consisting of both experienced and featured hairstylists along with young and up-and-coming hairstylists, take your pick and you will not be disappointed either way.
PREP Luxe. 15 Stamford Road, #01-62 Capitol Piazza, Singapore 178906. Contact them here.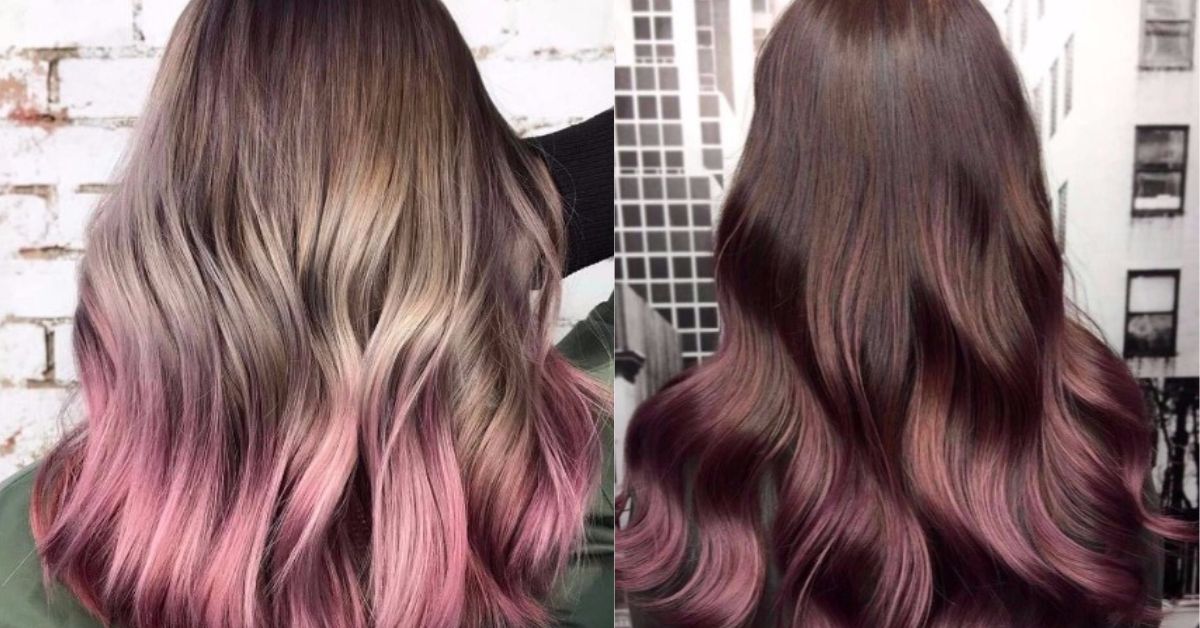 You know you can count on the salon's hair colouring services when they come up with a YouTube video to reveal their take on 2023's top hair colour collection! In this video, creative director @johnthamyh spills the beans on the three hair colour trends set to rock the scene in 2023. 
One standout trend is the Pearl Brown surface balayage, a perfect match for soft, feminine waves. It's an excellent choice if you're aiming for a light and luxurious hair colour that gives off an overall radiant glow. 
Looking to channel those fresh summer vibes? Salon Vim recommends the Sandy Beige Balayage paired with beachy waves, perfect for getting that vacation-ready look. These sun-kissed highlights will give you a youthful and naturally radiant appearance. So, why wait? 
With Salon Vim, you have the freedom to book an appointment with one of their numerous professional hairstylists, ensuring you're all set for that major hair transformation you've been dreaming of! 
Salon Vim. 435 Orchard Rd, #02-01B, Singapore 238877. Phone: (+65) 6734 6404. Whatsapp: (+65) 8868 4982