FestivalForGood 2018 is back and there's so much to do for families with small kids and elderly! This year at Marina One from 20-21 October, head down for two days of shopping and activities at the Pop Up Market, Experience Capsules and workshops.
Engage with social enterprises that have lots to offer from fashion and lifestyle to food and fitness. Most importantly, learn how you can be #partofthegood while indulging in a spot of retail therapy for you, your children or your parents.
Looking for that perfect gift for a newborn baby or a new mother? E&S Blessing is a curated subscription gift box service for mummies and babies. The boxes feature local and global brands such as Quirki Babies, Mighty Tots, Softsie and many more. Blessing Boxes for babies come with onesies, mini lunchboxes, stuffed toys and more; boxes for toddlers with organic dresses and jumpsuits; and boxes for mummies with trendy nail art, drool pads and nursing ponchos.
E&S commits a fixed sum donation of their proceeds and operational support to journeying with single mothers in HCSA Dayspring's SPIN programme. They also provide skills-based training and employment for disadvantaged women working with social service organisations.
2. Kids' Wellness - Glyph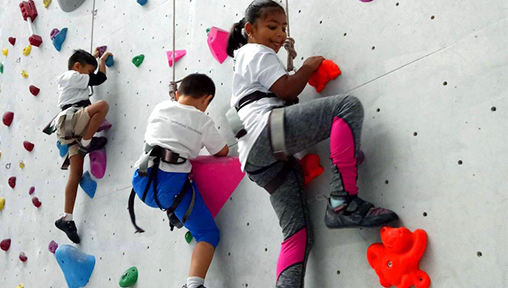 Glyph believes that premier holistic education doesn't have to be expensive and exclusive. They have come up with a membership programme that makes premier holistic education accessible and affordable to kids and youths from challenging communities. Through non-academic weekly activities, workshops and programmes, Glyph equips the community, especially kids and youths from disadvantaged backgrounds, with critical thinking capabilities, increased creative capacities and future-ready skill sets.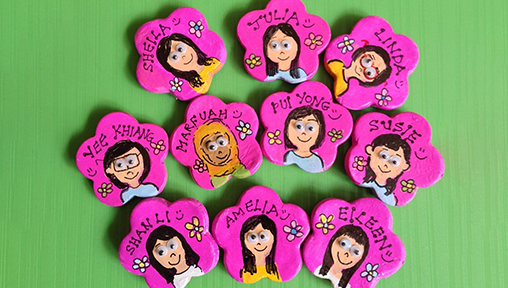 Whether it's carefully sculpted clay magnets or a personalised cross-stitched bookmark, or postcards featuring intricate paintings by their very own artists, beautiful pieces of customisable art is Deaf ArtsCraftsy's speciality!
The social enterprise is run by Mimi Ng, a deaf social entrepreneur, who is passionate about art and crafts. She is an advocate for deaf artists, empowering the hard of hearing with craft skills so that they can sustain themselves and gain financial independence as well as the confidence to cope with life's challenges. Besides conducting craft workshops and promoting the talents of her craftsmen through bazaars,  Mimi also helps to raise awareness of the deaf community by integrating the Singapore Sign Language with crafts.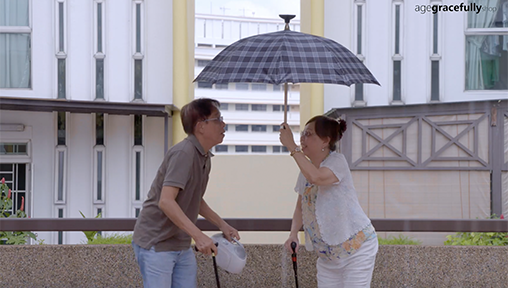 There's no denying that we are an ageing population and health care is a huge concern. In his pursuit of a purpose driven life, Tuan set up Bekind Solutions to bring affordable elderly care products to the pioneer generations. Using his Design, Engineering and Marketing know-how, he aims to develop innovative and functional eldercare products to improve the quality of life for the elderly and empower them to age gracefully with dignity.
Their Smart Umbrella Walking Stick disguises itself as an umbrella to tackle the stigmatisation of the elderly using walking sticks. The sticks also have an MP3 player-radio built in to help reduce the rate of dementia deterioration in the elderly, and an intelligent auto-fall alarm alerts bystanders, thus bringing a peace of mind to their loved ones. Seniors are now sure to get around with style and practicality!
5. Experience Capsule - Adventure Land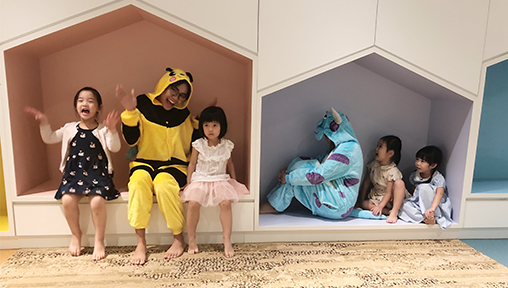 Calling all parents with young kids! Bring your kids on an adventure as they unleash their creativity, meet friendly mascots and push the boundaries of how they learn and make sense of the world through play.
Join School of Concepts for an immersive storytelling experience as they make characters come to life with their friendly mascot and lively narration. The session will focus on imparting important values of working with friends who are differently abled to your kids and encourage them to take part in making the community better for all.
6. Experience Capsule - Caring Village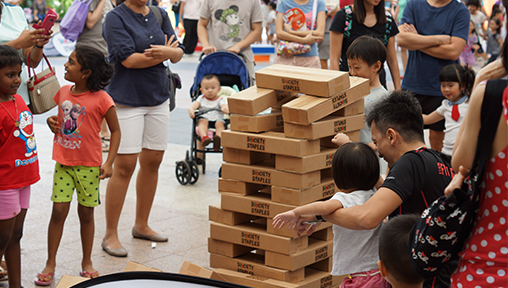 What does an inclusive future entail? Step into the Caring Village to understand more about the needs of various groups of beneficiaries. Be inspired by how the participating social enterprises are supporting these groups of beneficiaries through their products, services and campaigns.
Enjoy the best of both worlds - doing good and having fun! Immerse yourself in the world of disability through disability simulation activities conducted by Society Staples, which will plot out common challenges and difficulties faced by the persons with disabilities, and learn how you can better support them. Get hands-on and help build a Giant Jenga tower by fixing just one Giant Jenga block, and watch as the entire Jenga tower gets stacked up.
7. Workshop for Kids - 3-2-1 Launch! By Playeum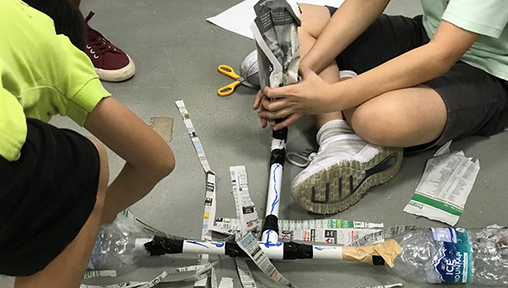 In this energy-filled workshop, children will explore objects that fly! Discovering concepts around force, speed and design, they will create a flying object out of newspaper and place it on a handmade rocket launcher for lift-off.
Sign up for this workshop here.
8. Workshop for Families - Tinker, Code and Bond For Families by Preschool Market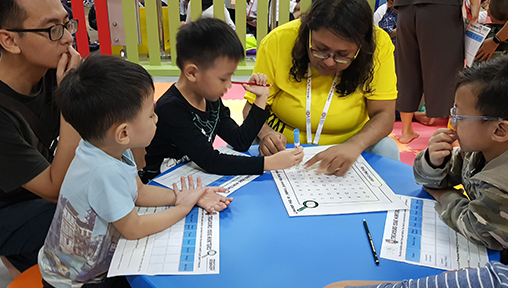 In this workshop, Preschool Market will work with parents and design playful learning experiences using their CreArTech kit to ensure young children have positive, lifelong relationships with learning. Learn the importance of play and maintaining critical lifelong learning habits and attitudes.
Sign up for this workshop here.
FestivalForGood - Asia's largest celebration of Social Enterprises
Dates: 20 & 21 October 2018
Time: 11am-7pm
Location: Marina One, The Heart
Free admission