Buying art for your home or office space can seem overwhelming. With so many upcoming artists, local talent and medley of colours, it's easy to lose sight of what will really stand out in your space.
Gallery 1819, Singapore's own fine art gallery features Southeast Asian artworks from artists across the international region.
Ranging from Chinese Ink to Gouache paintings, Gallery 1819 Singapore offers a versatile acquisition of collectables that work within your reach. Its current portfolio houses some of the most esteemed artists in Singapore's art scene such as Thomas Yeo, a prominent Singapore second-generation artist, and Aaron Gan, an established local artist.
Today, Gallery Director at Gallery 1819, Zak Lo, gives us advice on how to find the right art and decorate your home appropriately – and affordably at that!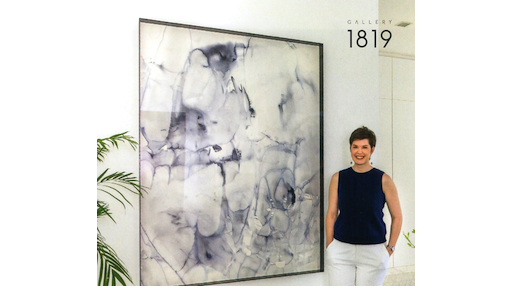 Gallery1819's customer with one of her four Aaron Gan's artworks
Tip 1: You DON'T have to break the bank to buy quality art
Don't want to spend too much on an art piece? Zak says you can use quality art prints if you are undecided on your investment. Affordable and light, art prints are a great way to change the look of your home or office space frequently. Got a picky landlord? Art prints are light in weight and don't require a nail to be drilled into your walls. Simply use 3M hooks and you've got a beautiful space created, and for less!
Tip 2: Planning goes a long way
We are all in a rush these days, but Zak Lo Gallery Director at Gallery 1819 has spent years choosing the right art pieces and believes that you need to carefully consider what you want to achieve. Think about the colours, themes and textures that truly appeal to you. The more you look around, chances are you'll begin to understand the type of art that you are drawn to. You should also think about complementary colours to your existing interior elements and furnishings.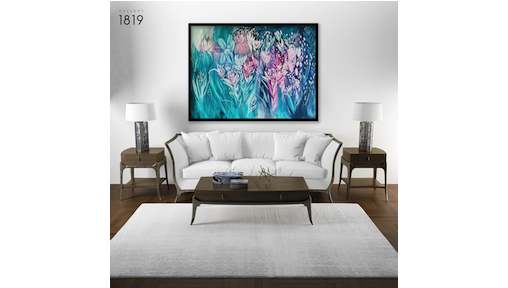 Featured Artwork: Lumina by Samantha Redfern
Tip 3: Visualise your layout
If you are looking to create a gallery wall, Zak highly recommends visualising how it will all look together. You can choose to place your frames on the floor to work out a composition or use masking tape and a tape measure to mark out the sizes on the wall. 
Have someone hold the artwork in place so you can step back and get some perspective!
Tip 4: Get the right measurements
 Looking to ace that seamless art installation? Proper prep work is key! Measure, and plan accordingly to fit into walls and interior spaces. The scale and proportion of your painting are important so don't end up with something that can't fit through your front door, elevator or staircase! Tip 4: Get the Right Measurements • Proper prep work is the key to a seamless install.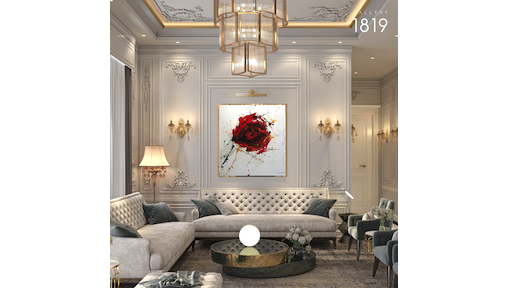 Featured pieces: Life Has Many Turns, Desire by Ellie Lasthiotaki
Tip 5: Plan your lighting layout
The right lighting effects will bring out both the art and the mood you like to live with. Make it a point to speak to your interior specialists and achieve that perfect setting for your masterpiece!
Tip 6: Go for auspicious Fengshui elements
When choosing art why not go for something that will bring luck to your home or workspace? Mountains are vital for good Feng Shui in the environment and signify the source of heaven luck. They also provide stunning support and backing, anchoring you firmly and preventing you from being swept away by misfortune, bad luck or betrayal.
Or choose a solid mountain behind you gives you support and protection and helps to get your work and efforts recognized. Many of the Feng Shui masters are fond of recommending mountain landscape as part of their practice. Mountains are not only powerful symbols of support but they also signified the essence of the celestial dragon.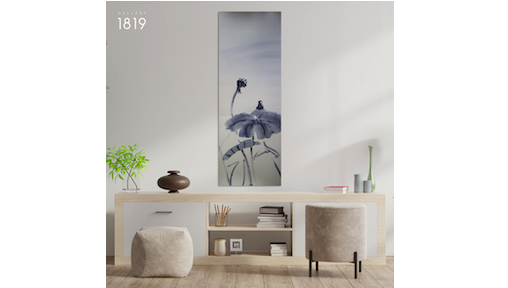 Featured artwork: Frog Observe by Aaron Gan
Tip 7: Hang low and don't limit to walls
Hanging artwork at the right height is key to anchoring a space. The general rule of thumb is to hang your artwork at eye level – a standard practice in most galleries and museums.
If there is an obstacle in the way, like a bed, ensure the bottom edge of the frame is about a forearm's distance or less from the top edge of the piece of furniture.
You don't have to hang every piece of art you own! Artwork that is resting on a side table or bedside leaning against the wall looks as inviting and refreshingly novel.
Tip 8: Selecting the Right Frame
A frame can make or break the overall look, so it's important you select something that complements the artwork inside. Choose a dominant colour in the artwork to use as a guide to match your frame.
Black and white photos are generally accompanied by black or white frames. Pastels and watercolours pair well with natural wooden frames. When in doubt, a neutral wooden frame rarely fails!
Tip 9: Appreciate and collect art by emerging or established artists
Affordable art is on the rise and there are plenty of ways to dress up your walls without breaking the bank. Look at emerging artists to avoid the hefty price tags attached to established artists. 
Or choose to buy an established artist who really moves you! For instance, Aaron Gan, is the 2015 UOB Painting of the Year, Gold Award, Established Artist Category, Singapore winner. Born in Singapore in 1979, Gan gave up his corporate career to fulfil his childhood promise to become a professional artist.
 Following his numerous sell-out shows, Gan's artworks have been collected and commissioned widely both in Singapore and internationally. These include The Prime Minister's Office, The Ministry of Foreign Affairs, National Library Board, GIC, Wheelock Properties, Julius Baer, The Association of Banks in Singapore and others.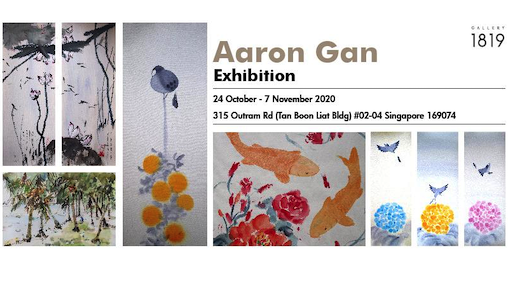 Contemporary Watercolour Art Exhibition by Aaron Gan
You can experience Aaron Gan's art at the Contemporary Watercolour Art Exhibition by Aaron Gan at GALLERY1819 from 25th Oct to 7th Nov 2020.
Venue: GALLERY1819 
Address: 315 Outram Road #02-04 S169074
Opening Hours: Daily 11 am to 7 pm
Still unsure of which art suits your interiors? Why not head down to Gallery1819 and let the experts guide you on selecting the best artwork for your space? They provide a full service from advisory, customisation of artworks and frames, to delivery and installation.