A shirt does make the man, especially a well cut one. Firm believer in the power of a well fitted shirt, CYC is Singapore's oldest and most established custom shirt maker. Meticulous attention to details, the fineness of its stitching to the perfectly engineered cut and fit of the shirt, has won it legions of satisfied customers in the little red dot and beyond.
Authentically Singaporean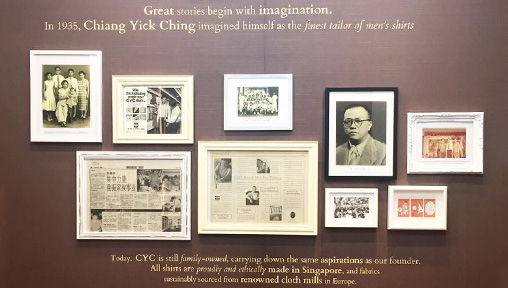 The story of CYC began more than 80 years ago, when 23-year-old Chiang Yick Ching married 16-year-old Foo Ah Neok and set off from Shanghai towards Singapore. In 1935, they opened the inaugural CYC store, making them the first in the city to offer custom-made shirts. Over time CYC expanded within the city as well as to other locations such as Indonesia and Malaysia. The brand's reigns were then passed onto the sons, Sing Choo and Ping Choo. After the death of Ping Choo, the family decided to hand over the business to Mrs Fong Loo Fern, the eldest daughter of Sing Choo, who had been helping out at the stores since she was 12 years old!
Embracing the new
Like her grandparents who founded the CYC company, Loo Fern believes strongly that a good shirt is one which is not only comfortable to wear but also one that fits the body perfectly. "CYC continues to focus its efforts at enhancing its image as Singapore's finest custom-made shirt and suit maker to the discerning by ensuring that its products and services continue to meet the same exacting standards that our founders had set some 80 years ago." says Mrs Fong Loo Fern as she carries forward this baton of excellence in craftsmanship.
Eight decades since its inception, CYC is now bringing forward a new vision and a fresh identity. CYC The Custom Shop is now called CYC Made to Measure, a name that shares the fundamental brand values while striving to enhance their image in an authentic and inspiring way. Still on this journey of distinction in dressing customers for style and success, the brand is looking forward to its growing international and online presence.
New Store launch at Capitol Piazza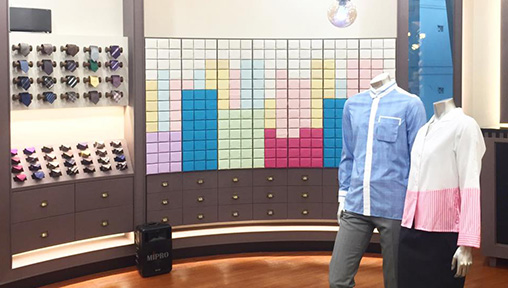 Get a first hand experience of how this much loved, home grown brand has changed over the years at their sparkling new store at Capitol Piazza. There's also a new ladies' made to order collection at the store. The collection was developed in collaboration with veteran fashion designer Peter Kor, and offers 7 ladies' shirt designs, each in 3 sizes. Customers can opt to buy these off the rack or choose a different fabric to make into one of these styles and sizes.
Another newly launched feature by the brand, the Personal Tailor service allows one to select fabrics, decide on shirt styles and get measured from the comfort of his home or office. All you need to do is to call Louis at 88135646 for an appointment!
Grade-A European fabrics, solid craftsmanship and meticulously measured cuts serve as the hallmarks of the new collection at CYC Made to Measure. For more information visit https://www.facebook.com/CYCmadetomeasure