Dyson has revealed a new baby in its highly prolific, cordless vacuum cleaner category! The Dyson Omni-Glide is designed for small city apartments that require cleaning up after the family or just on a more regular basis. We recently tried this ultra-light handheld vacuum to see if it held up against our daily bustle - dirt, cereal and art glitter included! Read on to find if it made the cut.
Dyson Omni-Glide, Lightweight and Easy to Maneuver Even For Kids
When you open the Dyson Omni-Glide, you'd be forgiven for thinking it's a toy! Lightweight at just 1.9kg, the Dyson Omni-Glide is compact and convenient to set up. Given its weight and size, this easy-to-hold vacuum is something everyone in the family will be yearning to use - every single day, and multiple times at that!
The real benefit of this particular Dyson vacuum cleaner though lies in its omni-directional 'Fluffy' cleaner head that glides in literally all and any direction - forward, backward and even sideways! As the first omnidirectional Fluffy™ cleaner head, it floats on four 360° stabilising casters that allow it to move effortlessly in all directions and into tight spaces.
It is Dyson's most manoeuvrable vacuum, with two core technologies: the omnidirectional Fluffy™ cleaner head and the in-line format. The result? The Dyson Omni-glide literally slides over hard floors, picking up every bit of debris and fine dust.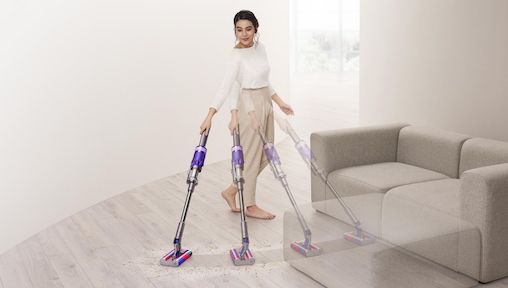 Catch Every Crumb in Hard-to-get To Corners With The Latest Dyson Vacuum
Chasing the last crumbs under the dining table? The Dyson Omni-Glide allows you to access hard-to-reach spaces so every last bit of dust and food can be scooped up. Traditional vacuums are usually inflexible and harder to operate in tight spaces, which is why this obstacle-friendly new vacuum by Dyson is perfect for small city apartments, and their tiny nooks and crannies.
If you're cleaning low set tables and beds, the Omni-Glide's new in-line format means it can even lie flat when cleaning tight spaces such as under a sofa or between furniture. The Dyson Omni-Glide has been engineered with the separation system, the motor, filter and handles all aligned, to enable the machine to lie flat to the floor and clean in small spaces.
Psst….this new format is the result of extensive research, including 470 hours of trials with 277 users in their homes across six countries.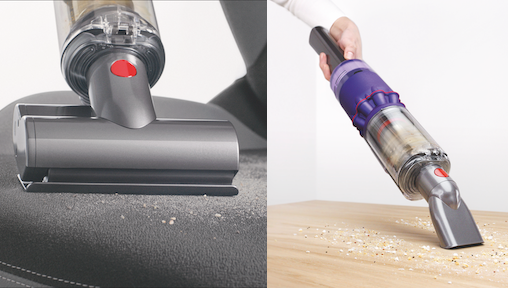 The Omni-Glide = More Than Just Hard Floors
While the Dyson Omni-Glide is designed as a new and convenient way to clean hard floors, you can do far more with it than that! The Dyson Omni-Glide comes with three tools – for cleaning up high, down low and anywhere in between. These tools include a mini motorised tool to tackle hair and ground-in dirt from mattresses and upholstery, a worktop tool and a combination tool. 
Hard to reach cabinets, air conditioning vents and sofa corners, all can be covered and effectively with these add-on tools. What's more, the Dyson Omni-Glide easily doubles up as a vacuum cleaner for the car too!
With this new format, Dyson has been able to achieve no loss of suction and spins at up to 105,000rpm. It also includes the Dyson five-stage filtration proprietary technology, which ensures the machine can efficiently suck up fine dust, capturing 99.99% of particles as small as 0.3 microns and expelling cleaner air. That's grab-and-go vacuuming at its best!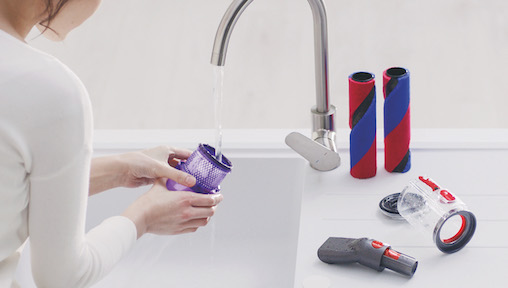 Battery, Bin and Maintenance
If Dyson could make things any easier, the Omni-Glide comes apart effortlessly to allow cleaning all of its parts. The bin is a smooth click away from emptying and relies on an ejection mechanism that drives out dust, without getting your hands dirty! Maintenance is simple too - you can wash the bin, filter, brush bar, and any non-electronic components.
The power button (usually a pain point with vacuum cleaners) is easy to handle and can be swapped while cleaning, making your vacuum cleaner all the more efficient.
And finally, the removable, fade-free, energy-dense battery allows for up to 20 minutes run time. You can buy additional batteries on top and swap these easily with the click-in structure. There's even a wall dock that allows you to lean the machine into the charging dock so it's ready for the next family spill!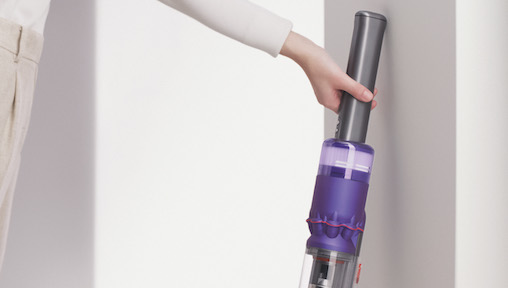 Takeaway?
If you live with small kids(or big ones!), chances are you'll love the grab-and-go ability the Dyson Omni-Glide offers. Children too can help with home chores as this cordless vacuum cleaner is easy, super lightweight and easy to manoeuvre. Having said that, we'd love a larger bin so we don't have to empty it out that often. The 20-minute battery isn't too practical on its own, but switch to an additional set of batteries(not included), and you get plenty of perfect cord-free vacuum time. Bonus points for a low hum, and not waking a napping toddler - yes, we tested! 
The Dyson Omni-glide™ cord-free vacuum cleaner is available from 10 June 2021, at www.dyson.com.sg and Dyson Demo stores at Dyson Service Centre and Demo Store – Capitol Singapore, Dyson Demo Zone – Westgate.
*Based on ASTM F1977-04 test standard. Tests performed by third-party independent laboratories under the required test conditions. A standard test method for determining the initial filtration efficiency of a vacuum cleaner system. The filtration efficiency of six particulates of non-continuous diameter is measured by the entire vacuum cleaner system (0.3 micron, 0.5 micron, 0.7 micron, 1.0 micron, 2.0 micron, and 3.0 micron or more), the vacuum cleaner system is placed in a fixed state throughout the test process, by counting the number of upstream particles and downstream particles for analysis and obtaining results. Test environment: air temperature (21.1 ° C ± 2.8 ° C) and humidity range 35% – 55%.