Moving to clean and natural hair products? We've got you covered! While plenty of us have heard of clean skincare and makeup brands that are sold in Singapore, it's tougher to find hair care that is consciously so. We scoured the island to get you the best of both local and international brands that take natural and toxin free hair care seriously. These brands offer some of the best clean, organic or even vegan hair care products that'll take your hair to next level gorgeousness - minus parabens, sulphates and other toxic ingredients!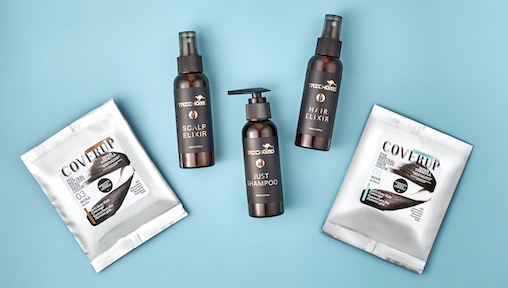 Hair Growth Expert TrichoMD Hair Restoration & Aesthetics is dedicated to the highest quality of (SMP) Scalp Micropigmentation and Hair Loss Treatments in Singapore, Australia and the world over. 
They produce quality natural hair products that are formulated by Founder Jenny Wong, a member of the International Board of Medicine & Surgery USA. Made with USDA certified organic and 100% natural ingredients, the products by TrichoMD Hair Restoration & Aesthetics contain none of the 15 harmful ingredients like parabens, sulfates, silicones, fragrances, etc. This clean hair care line includes a shampoo, hair elixir, scalp elixir and hair colours designed specifically to tackle hair and scalp-related issues. 
Just Shampoo by TrichoMD is brewed in Singapore using herbs and essential oils. Not only does it treat signs of hair loss and protect your hair, the shampoo is also formulated to thoroughly cleanse your scalp to unclog blocked hair follicles suffocated by use of commercial shampoos over the years. Gentle and soothing, the 100% natural and clean shampoo restores damaged hair and promotes healthy tresses without the need of conditioners thereafter. 
The Scalp Elixir by TrichoMD is a quality hair growth spray that works gently to give you fuller hair while keeping the scalp feeling fresh and clean. This scalp elixir promotes blood circulation and diminishes the appearance of thinning hair and greasy look. It helps to control excess sebum production of the scalp throughout the whole day!
Need something for your hair instead? TrichoMD's 100% Natural infused Hair Elixir with Peppermint and other enriching ingredients like coconut butter is a great option for making your hair feel less frizzy and more manageable. With one spray, the deep moisturizing properties help to repair chemically damaged hair, restore split ends and detangle those nasty knots.
Looking for a chemical-free clean hair colour brand which is not henna or ammonia-based? The vegan TrichoMD Cover-Up hair colour range is a unique blend that will leave your hair and scalp feeling extremely clean and fresh-smelling without the lingering smell of traditional herbs. Freshly ground in Singapore, with no sting; the hair colour has almost the same natural pH as our scalp and hair (pH 4-5), and hence does not irritate or damage it. 100% grey hair coverage with no henna, Ammonia, Hydrogen Peroxide, Resorcinol, Preservatives, PPD, Solvent, Silicon, SLS or SLES - this is indeed all about clean and natural hair care!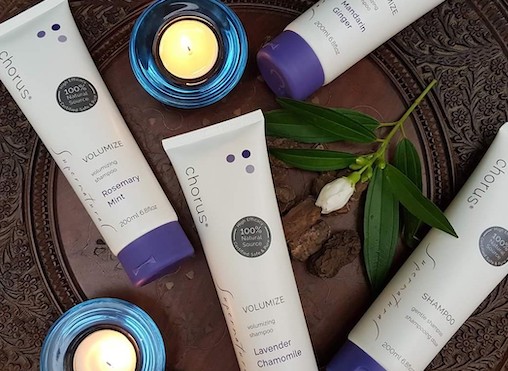 Why would you want an all-natural hair care range? Aside from avoiding the nasties by choice, you also want to avoid shampoo residue build up that comes with harsh chemicals and synthetics. As an award-winning 100% natural hair care range, the products by Chorus Supernatural are completely free of potentially harmful ingredients. 
The products contain potent, active natural ingredients, with 0% nasties, that remove the nasty residual build-up, effectively cleansing and nourishing both the scalp and hair. The result - your hair will be visibly more healthy, shiny and voluminous in just 3-5 washes!
Need a bit of volume? Chorus Volumizing Shampoos are perfect for flat or fine hair types that need volumizing effects and thickening with a healthier shine. Combining natural ingredients like Hops extract which is beneficial for restoring balance to hair; Nettle extract which has anti-inflammatory properties and known to be an excellent hair revitaliser; and Meadowfoam Seed Oil which increases hair volume, healthy shine and strength of hair. Should you prefer a daily use, gentle Shampoo instead, try the Chorus Gentle Silky Smooth Shampoo that is deeply nourishing for your hair and combines highly effective natural extracts of hops, rosemary, nettle and gotu kola. It is also completely free of chemicals that can cause hair loss issues. We love conditioners at Vanilla Luxury, and the Chorus Gentle Conditioner contains hair-enriching extracts of hops and nettle with gentle conditioning agents and keratin that help to create a silky, radiant finish for our hair. If you need more inspiration, take a look at the rave reviews on their hair care products. Great for the hair, leaving it equally good-looking and loved by customers - now that's a clean hair care win!
Get $12 off purchases $59 and above on Chorus Supernatural's e-store. Simply enter JUSTFORVL12 on checkout and avail this special discount! Valid till 31 Aug 2020.
*Top safety ratings by EWG Skin Deep, and certified with CertClean's Safety Designation which verifies that each product is free from potentially harmful chemicals. 100% free of any harsh chemicals or synthetics.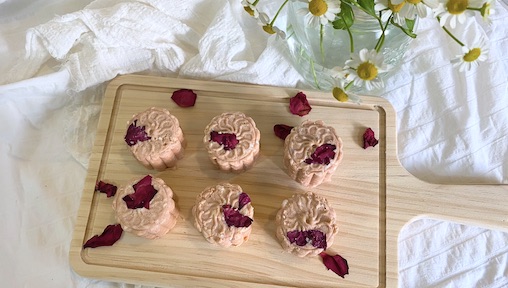 After a Singaporean beauty brand that makes natural hair care? Homegrown minimal waste and travel essentials brand RdytoGlow believes in helping you make small swaps to live a more eco-friendly lifestyle. All it takes is one simple switch to a more eco-friendly option - one conscious effort that has a lower impact on our environment. RdytoGlow handcraft vegan shampoos and soaps and other beauty products in small batches using natural ingredients. 
Plastic-free and eco friendly, they've recently added to their popular line of products with their newly launched vegan solid shampoos that are made from natural or natural derived ingredients and are vegan-friendly. Free from SLSs, parabens, artificial colourings and fragrances, this natural hair care range is shaped to look like delicious mooncakes! 
Sold in three scents- My Little Posy (for dry hair), Clari-tea (dandruff and oily scalp control) and Tea-riffic (for hair growth & shine), these shampoo bars make for handy shower partners. We especially like the My Little Posy Vegan Solid Shampoo that boosts your hair's moisture with its hydrating and balancing blend of geranium rose essential oil, mango butter, organic jojoba oil and grapefruit essential oil. Did we say it smells divine too? 
Made from natural or naturally derived ingredients, the pH-balanced solid shampoos are vegan-friendly, silicone, paraben and SLS free.
Can't decide which shampoo to pick? Try all of them out with their Shampoo Trio set.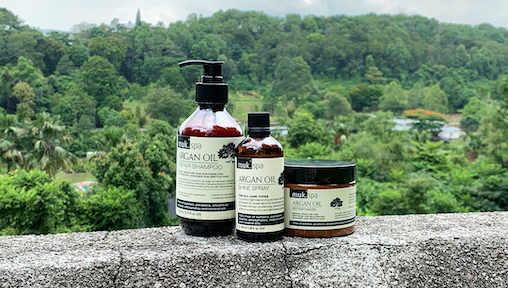 Argan oil fans can rejoice! The muk Spa Argan Oil Repair range is 100% free of sulfates, parabens, phosphates, sodium chloride and mineral oil. This clean hair product brand is also cruelty-free and believes in leaving out the nasties and only keeping what's necessary. 
Argan Oil, commonly phrased as 'liquid gold', is pressed from the roasted nut of the tree. It remains one of the rarest oils in the world, due to the small and specific growing areas where the trees lie!
The 100% pure Argan Oil used in the muk Spa Argan Oil range is sourced directly from Morocco and blended with nourishing ingredients such as sweet almond oil, linseed oil, aloe vera extract and hydrolyzed keratin protein. These important ingredients aid in eliminating frizz, add shine and lustre and assist in the smoothing of the hair without weighing it down.
If you want something handbag friendly, take a look at The muk Spa Argan Oil Shine Spray is a travel-friendly, 100ml spray bottle enabling on the go usage when hydration, frizz-control or shine is needed - perfect for Singapore weather! ​Rich in essential fatty acids including Omega 9 and Omega 6 and exceptionally high in Vitamin E, this luxurious formulation maintains strength, elasticity and hydration levels of the hair.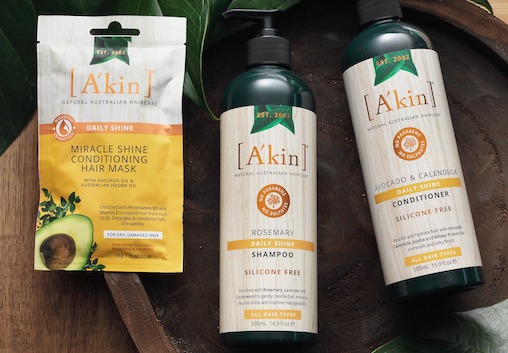 Want to buy fuss-free and nurturing clean hair products? With a global lockdown, the need for DIY masking has never been this obvious! But if you are after nourishing your hair minus the hassle and mess of prepping a hair mask - you have to(have to!) try the natural and plant-based hair masks by A'kin. 
The ability to inject some serious nourishment into the hair in a mere 15-20 minutes, the clean, natural and vegan Miracle Shine Conditioning Hair Mask helps to lock in moisture and restore softness and shine with essential vitamins and natural essential oils. Nothing says good hair day like frizz-free strands that are soft and shiny from root to tip and that's thanks to added Vitamin E and ProVitamin B5.
If gluten-free hair care has you intrigued, you may not be alone. With an increasing demand for hair care formulas that are sans gluten A'kin, have formulated products that lack the protein - the A'kin Daily Shine Rosemary Shampoo, A'kin Colour
Protection Ylang Ylang & Quinoa Shampoo, A'kin Purifying Lemongrass & Juniper Shampoo and Bamboo Dry Shampoo. Cruelty-free, and 100% vegan, this beauty brand is one to score. Available across Singapore at selected Guardian stores, Metro, OG, Watsons online store, Lazada, Redmart and Shopee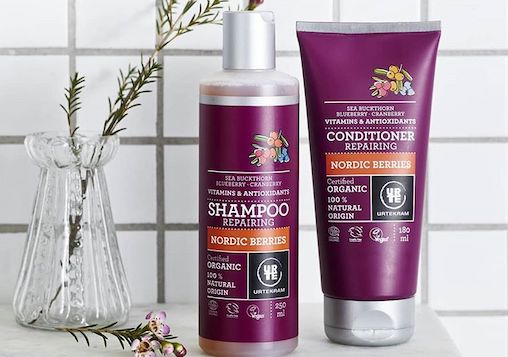 Need a one-stop-shop for all your organic skin and hair care needs? Singapore-owned, Charis Naturals partner with established brands the world over to bring the best of organic beauty to our sunny shores. For those looking to enhance their tresses with cleaner, natural hair products should try the Urtekram range of shampoos and conditioners. Washing your hair without leaving a film, the products have good viscosity and come in a range of options divided by hair and ingredient type.
Combining rhassoul with aloe vera, glycerine and plenty of mints, the Organic Rasul Shampoo is meant for greasy hair. Leaving your hair sparkling, clean and with a scent that will have you floating on a wave of freshness, this minty rinse is perfect to get rid of scalp dirt too.
If you prefer something that is more protective in nature, try the Urtekram Organic Berries Shampoo instead. Using antioxidant-rich Nordic Berries like Sea Buckthorn, Blueberry, Cranberry and Rosehip combined with hyaluronic acid gives your hair all the nourishment and moisture it needs. Willow bark extract supports the balance of the scalp and enhances the effect of the other plant ingredients. In the market for a conditioner? You can't go wrong with the Urtekram Organic Coconut Conditioner, an amazingly coconut-scented treatment that gives silky hair! Made with organic virgin coconut oil and coconut nectar that naturally helps to nourish and moisturize normal hair, this conditioner can also be used as a deep hydration hair mask. Simply apply on damp hair and wrap a towel around it!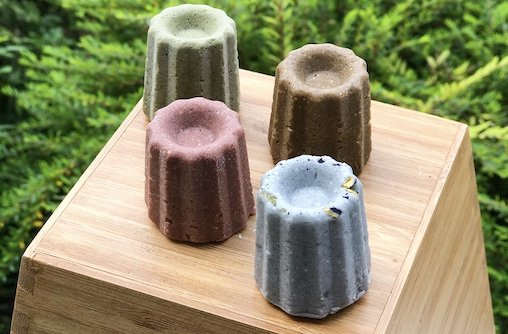 So you know we are big fans of Oasis Skin at Vanilla Luxury and their clean hair care range is definitely one to try! A Singaporean beauty brand that creates vegan products right out of the 'Beauty Kitchen' in their store, all of their beautifully scented products are made with carefully sourced, plant-based ingredients. From cold-pressed plant oils and butters, premium clay, organic and wild-harvested essential oils and herbs - there's sure to be a fragrance or ingredient type that your skin and hair will love.
The clean hair products at Oasis Skin are a loved by many in Singapore. If you'd like to try some out, we would recommend the Shampoo Miniature Confections Set that features their best selling vegan solid shampoos which come in compact sizes and work as the perfect sampler for trying out their entire range of shampoos before committing to full size! Each shampoo canele lasts between 10-20 washes! 
Specially handcrafted to suit the specific needs of different hair types and concerns, Oasis Skin carefully selects plant-based active ingredients in each formulation to gently rinse off impurities and product build-up without disrupting the scalp's natural balance.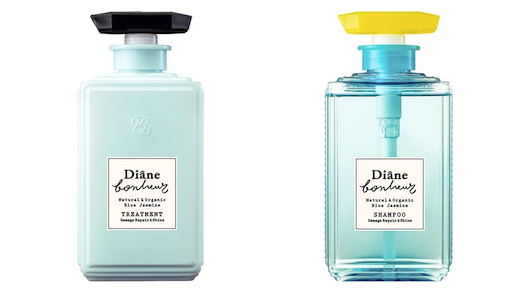 Known for their 'Farm to Hair' philosophy, Diane Bonheur's products are meticulously crafted using ingredients from regions around the world. Diane Bonheur is able to control what goes into their products and exactly where these ingredients are harvested from.
Working hand-in-hand with trusted farmers worldwide, they carefully handpick the raw ingredients — from the soil and seeds to their sources of origin.
Formulated with over 98% natural ingredients, each bottle of Diane Bonheur is lovingly crafted with single-origin cold-pressed oils and exquisite fragrances harvested from Grasse, France.
Their new series, Blue Jasmine is formulated with cold-pressed single-origin organic craft oils, blended with 100% plant-derived cleansers from Japan and infused with sweet, profound floral notes of Jasmine flowers from Grasse, France. Specially selected Marula and Prickle Pear Oil infuse hair with nutrients and antioxidants for luminosity.
The range includes a shampoo and treatment as well as a trial kit to get those luscious locks in order. Did we say it smells divine too?