Christmas gift shopping stressing you out? If you are under pressure to get thoughtful gifts for the women in your life, you've come to the right page! Get a head start on your Christmas gift shopping with our amazing gift guide for her. 
From luxurious scarves, silk bedding and towels, to pampering beauty, DIY hampers, art, tech and even gifts for office celebrations, these Xmas gift ideas will have anyone beaming with joy!
These are no ordinary gifts. These gifts can change the world! This Christmas choose to support a social enterprise in Cambodia that's empowering women to work from home and become financially independent.
Acala Stem has a range of high-quality Christmas gifts made from ultra-soft 50/50 lotus and organic cotton fabric, manually woven on a traditional wooden loom, which requires no water, gas, electricity or oil to operate with no chemical dyes. Just a highly skilled and highly valued artisan who's weaving knowledge has been passed down for generations across Asia.
Green luxury newcomer Acala Stem has been making waves this year, with their strong ethical values, including Community, Kindness, Natural Beauty, Sustainability and Transparency. And with affordable organic lotus/cotton blends, there are prices to suit all budgets.
Their Lotus All Season Body Wrap is a unique scarf for all seasons, ultra-lightweight and cooling, with super absorbency for a humid climate like ours. The perfect companion as a savasana wrap and wonderful for all meditation practices and post-yoga body wrap! The Lotus Eye Pillow makes for a thoughtful gift and comes with a flaxseed filling that lightly massages the delicate facial muscles and calms the facial nerves. The internal casing is refillable for the longevity of the product and can also be topped up with aromatherapy scents - a gift they'll keep for years to come. But, that's not all, you can also choose lotus and organic cotton scrunchies, all-purpose bags as well as beautiful glass and bamboo bottles!
For those who love their beauty sleep, there's the Pure Lotus Beauty Sleep Mask, lined with the incredible 100% lotus fabric – an organic, natural botanical, which is amazing for the skin. Acala Stem's lotus microfibre has been clinically tested with antibacterial activity (antibiosis) of greater than 99%*. This is big news for keeping the skin clear and preventing any further promotion of acne from contact.
You have the assurance that every purchase of these products supports and empowers women in Cambodia to become financially independent, with a fair wage and flexible working conditions. The same you'd expect for your own loved ones because Acala Stem thinks every person on earth deserves this. 
Acala Stem's gifts prove we can change the world, one path-breaking purchase at a time.
*Testing was performed to the Korean Standard KS K 0693:2016.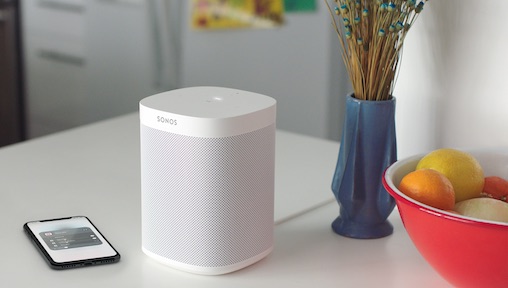 The holidays may look a little different this year, but with the right sound, a favourite movie, or soundtrack and you can make things a whole lot better and brighter! A great gift for the multi-tasking mum, the Sonos One can assist hands-free via its Amazon Alexa or Google Assistant capabilities. Play a lullaby, set feeding alarms, answer questions or just enjoy some good music on the patio!
The Sonos One is also a worthy companion for streaming white noise so your baby or toddler can drift off to sleep, effortlessly. Its compact design is perfect for small spaces and can even fit on a changing table.
And if mum is also working from home, the Sonos One is fabulously productive! She can schedule meetings with voice assistance or find that moment of peace by syncing her One with a meditation app. There's even the ability to add the Calm app to her Sonos and schedule some much-needed unwinding after a long day.
Don't be fooled by its small size - it is loud enough to fill a small to medium-sized room! The compact design fits just about anywhere. It is humidity resistant so you can even put it in the bathroom!
Want an option without a microphone? Consider the Sonos One SL, which features the same great sound without the microphone (though you can always turn it off on Sonos One). 
Don't miss the Sonos Christmas promotion! From 4 to 27 December 2020, save $40 ($289, RRP: $329) on the Sonos One and $30 on the One SL ($269, RRP: $299) only on tcacoustic.asia, Lazada, Shopee and Harvey Norman.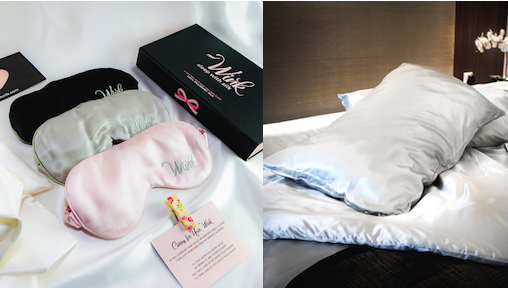 From ancient Chinese dynasties till today, silk continues to hold its reputation for being the finest natural fabric in the world. It is also often recommended by Dermatologists as an excellent warrior against sleep-creases, that eventually become wrinkles!
Give the gift of good sleep, skin and hair to your loved ones this Christmas with Wink Silk's wide range of pure silk products.
Wink Silk was an idea conceived to get us 'Back to the Bedroom', ditching social invites and going off-grid for occasional date nights with yourself.
Having searched far and wide to source and partner with the world's most acclaimed silk suppliers, Wink Silk products use 22mm 100% pure Mulberry silk - the Queen of all silks!
Choose from a range of Wink silk bed sheets that come in four different hues - Ivory, Rose Petal, Silver Metal and Champagne. They come in a set with 2 pillowcases, 1 fitted sheet and 1 duvet cover.
You can also choose to invest in Silk Pillowcases that come with signature Wink embroidery, beautifully wrapped in a gift box. Available in a wide range of stunning colours including gender-neutral ones, they make the perfect gift for anyone needing some downtime (who doesn't!). Want matching pillowcases for your toddler? Wink Silk also sells pillowcases in Toddler sizes complete with Aqua Wink embroidery and presented in their children's gift box.
Wait there's more. You can also get Silk Eye Masks and hair ties at Wink Silk. Wink eye masks are made of the best Mulberry silk with just the right amount of shine, thickness and softness to ensure a night of totally uninterrupted beauty sleep.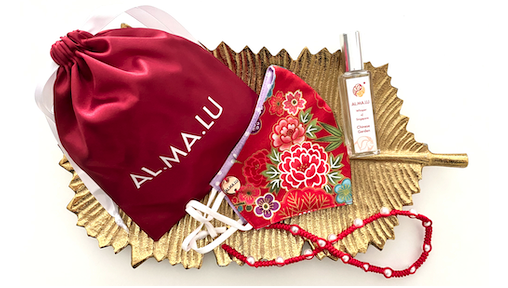 This year no one can travel and most of us will be unable to join our loved ones. Why not gift your families, friends or even your employees a made-in-Singapore gift for Christmas? Actively supporting the fight for Covid-19, AL.MA.LU produces masks that can be used in all sort of events and at the same time safely protects the community. AL.MA.LU, in line with well-known and beloved Italian artisan traditions, believes in the attention to detail, to the point that all face masks are handcrafted in Singapore and all fabrics are personally chosen here. AL.MA.LU are also attentive to the planet using only top quality organic cotton. Plastic is completely avoided in the production and delivery process.
For this upcoming Christmas, AL.MA.LU has created a range of special edition products! Two alcohol-free scented waters that, sprayed into your mask, can give you an immediate feeling of freshness and at the same time go along with you to the most enchanting corners of Singapore. Your Christmas masks can also be personalised with embroidered initials, or the Company logo, to make your present even more personal and special. AL.MA.LU is so much more than only face masks: it's sustainability, it's tailor-made, it's a touch of Singapore for your loved ones that are so far from us in this period!
How does it work? Simply book your slot at AL.MA.LU ATELIER to get the opportunity to meet and talk with Martina, the Creative Designer and Founder on +65 85918547. Come choose your gifts and they'll pack and arrange shipments for you. Alternatively, shop online at www. almaluboutique.com and contact them to arrange gift wrapping!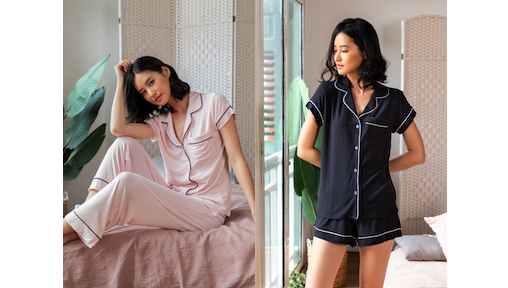 New Sleepwear label, Rawbought, founded by three sisters is offering comfortable and stylish pyjama sets giving your girl the chance to fully embrace the work from couch life to their self-care rituals before their bedtime. If she is still working from home, there is nothing better than slipping into comfortable yet luxurious feel loungewear.
Made from the super soft fabric Modal from beech tree pulp, the breathable pieces from the Je Dors signature set are a comfort staple. Whether you're looking for shorts, long pants or sleep shirts, they are all available in an assortment of pretty colours including Black, Lilac, Light Pink, Bossy Pink and Chalky Blue.
Founders - Boutania, Soukaina and Amira Faruq - grew up in the textile industry with a shared affinity for fashion. True to today's global yet socially conscious economy, the collection is ethically sourced and manufactured at the founders own facilities. They are involved at every step of the production cycle to ensure the clothes are made in a way that's kinder to the people and the planet.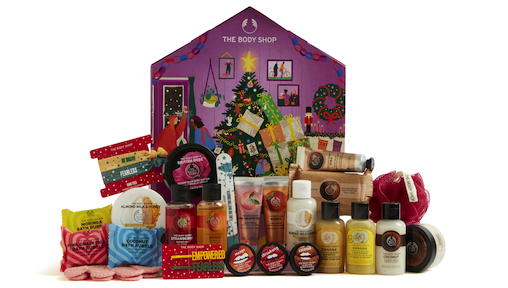 The Body Shop is the ultimate gifting destination for us, year on year, with something for everyone! This year too, they're giving us all the Xmas feels with new, with new, unexpected gifts for everyone on the list. Discover sustainable, eco-friendly yet beautiful packaging solutions that can be reused and upcycled for gifts that last beyond Christmas.
This year's line-up of special edition festive fragrances include Festive Berry, Warm Vanilla and Winter Jasmine. All vegan and seriously Christmassy!
From bestselling beauty advent calendars and premium indulgent gift sets to crowd-pleasing skincare, body care and fragrance gifts, you can look forward to treating someone to a head-to-toe irresistible pampering session. Perfect for some Christmas cheer!
Adorable stocking filler alert! For last minute Christmas shopping or if you want to pick out something small yet meaningful for everyone, get your hands on The Body Shop's stocking fillers and cute-as-a-button treats.
What's more, this year, they are also running a donation initiative! The Body Shop will donate S$0.10 from every transaction made in stores and online from 1 November to 31 December, to support Daughters Of Tomorrow in helping underprivileged women on their back-to-work journeys to build financially independent and resilient families.
 Check out the whole Christmas catalogue here! The full Christmas collection and Advent Calendars are now available in The Body Shop stores islandwide, and online on Shopee, Lazada, GrabMart and foodpanda shops.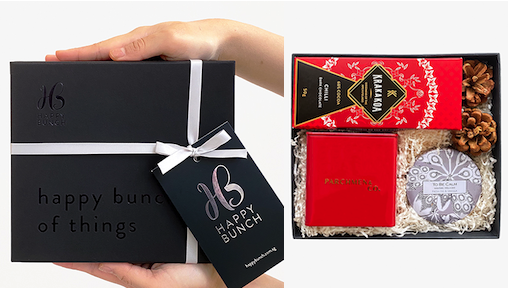 If you prefer a more personalized gift, take a look at Singapore's first customisable gift box product by Happy Bunch – Build a Box. You get the freedom to pick a gift box design, and personally curate the items in the gift box, choosing from a range of over 100 products from renowned international and local brands.
The gift selection available for Build A Box is handpicked to offer tasteful and high-quality items by renowned international and local brands like Corkcicle, Mossery, SoL Cups, Handmade Heroes, Krakakoa, Peco Bag, Fossa Chocolate, To Be Calm, and more. 
For gifters who prefer to skip the curation process, Happy Bunch offers Ready-To-Order Gift Boxes with items that suit a particular theme or celebration, such as a Pamper Her Box, a Chocolate Treat Box, and an upcoming Movie Night Box.
You can also choose to add a handwritten note during the curation process, after which it is tied with a ribbon and delivered straight to the recipient's door, leaving out unsightly shipping labels and keeping the experience as personal as possible!
 
Need gifts for your office team? Happy Bunch's Build A Box has also found itself a growing list of corporate clients and has been sending personalised care packages to show appreciation of team or business partners. Expect corporate gifts that are modern, thoughtful and personal at scale.
Build A Box is available (online) from a base price of $15+, and Ready-To-Order Gift Boxes start at $54, with free same-day delivery storewide.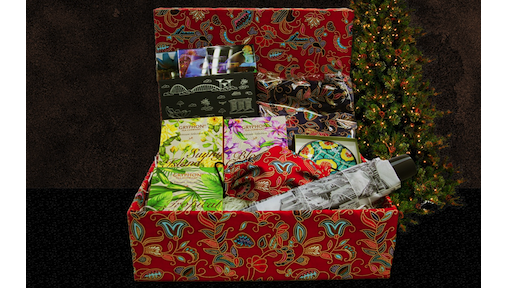 Timeless Gifts present the finest premium Singapore art and gift ideas for Christmas, special occasions or otherwise. Each piece is handpicked to celebrate Singapore's story, culture and memories. This Christmas, Timeless Gifts have launched gift hampers that consist of items from local Singapore brands that we all love. This newly launched gift hamper collection makes perfect gifts for individuals looking for Christmas gifts with a local twist. 
3 different hampers - A Dazzling Night, Winter Miracle and Lavish Christmas, include a curated selection of Batik aprons and masks, Singapore-inspired plates, Timeless Fragrance, Singapura Spice, Gryphon tea, umbrellas, wine and more. Each hamper comes beautifully wrapped in a limited-edition Batik gift box.
But that's not all! Timeless Gifts also sell a range of art, accessories, sculptures and other gifts. Got friends leaving Singapore? The Memorabilia collection by Timeless Gifts includes chopsticks, coasters and puzzles and Singapore-inspired fragrances that will ensure they take a part of the red dot with them, wherever they are!
Or gift them vibrant art prints that depict our tropical scenery, so the incredible experiences they've had on the island last as wonderful memories forever.
Want 10% off? Simply pre-order your hampers from now till 30 Nov and quote VANILLALUX to get your special discount.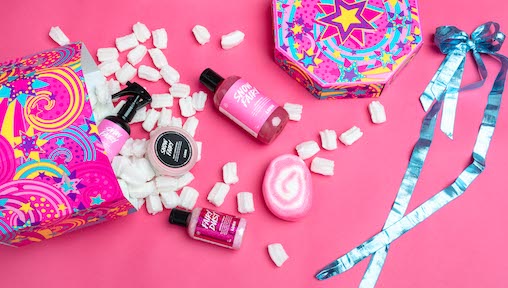 Bright, beautifully packaged gifts are half the battle won! And if you add limited-edition, vegan beauty treats to the mix, except joy like no other! For this year's Christmas collection, our favourite vegan beauty brand Lush has brought back some favourites from previous Christmas collections as well as new concepts that make choosing a Christmas gift as much fun as gifting it!  From bubble bars to wonder balls, haircare treats to hippos, Lush 2020 Christmas collection offers bold colours, amazingly enticing scents and price points to please all pockets!
Snow Fairy fans will adore the gift set that comes with four products for bath and shower, all with the candyfloss Snow Fairy scent.
Prefer a more indulgent present? Get the Enchanted Gift Set that carries six skincare products plus a muslin cloth and makes for the perfect Christmas skin treat! With a cleanser, scrub, moisturiser, facial oil, steamer tab, lip scrub and a muslin wrap, it will help anyone present their best festive face forward!
And if you need stocking fillers, load up on bath bombs (I want a Hippopotamus for Christmas) and adorable bubble, soap and shampoo bars that will have everyone squealing with delight!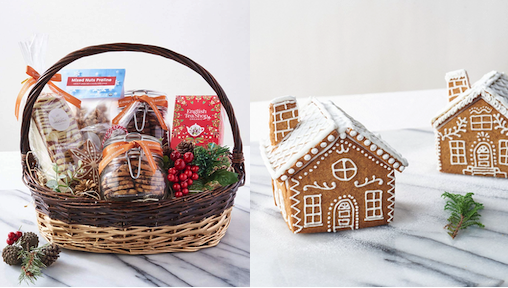 Ring in the festivities this year-end with a delicious line-up of goodies and gift hampers by All Things Delicious! From sweet and savoury treats to classic roasted specialities, there's a range of culinary delights that will make beautiful Christmas gifts for all. 
The stunning hamper baskets are made of natural wicker and packed with everything divine! With two sizes to choose from, petite and large, as well as the option to customise all flavours to your liking, these Christmas hampers are great for colleagues, relatives or even to bring home for the family. They come with little cakes(in 4 choices), Organic and Fairtrade Tea(6 choices), a regular and large jar of cookies in 8 different options, a Gingerbread Man or Snowflake and a Christmas Snack Pack, all packed up in a lovely wicker basket.
Want an activity-based gift for your office Zoom celebrations? Take a look at the adorable Gingerbread House Kits by All things Delicious! A fun way to bond over a memorable experience, these kits are equipped with everything you need to create that uniquely festive Gingerbread House. Each box comes with complete instructions together with the handmade cookies for two houses, royal icing, icing sugar and a piping bag. School holidays? Mum will thank you for this hands-on activity to keep the kids busy during the Christmas break!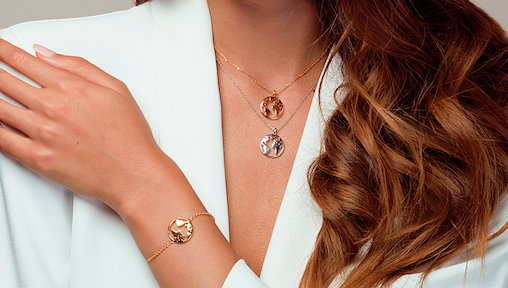 Jewellery is sure to please the toughest of customers, and we highly recommend looking at the wide range of petite, stylishly crafted silver jewellery by Aymée. If your loved ones really missed travelling this year, take a look at the Sterling Silver Globetrotter Necklace Covered with 18-karat Yellow Gold. An intricately designed map of the world that she'll love to wear as a reminder of all the times of travel and holidays and looking forward to it when things get better again! 
For delicate earrings, consider buying the Sterling Silver Earrings with London Blue Topaz. Long earrings that dangle with glistening Topaz gems, and make for perfect little festive gifts. There's plenty more - you can choose from a wide range of earrings in gemstones and otherwise, necklaces, bracelets and rings in yellow, rose gold and silver finishes.