F&B
Christmas Food and Drinks Guide: Xmas Feasts, Desserts and Drinks To Enjoy The Festivities
Published Date
: 06 Dec 2021 14:00

Christmas feasts, roast turkey, log cakes, gingerbread houses, chocolates and more to celebrate the festive season
Have you been naughty or nice? With the trying last 2 years we've had, it doesn't matter – everyone deserves a little treat! 
Looking for a festive feast for the family and friends? Let us help you spread some festive cheer with some of the best festive feasts in Singapore this Christmas. It's the season to feast and be jolly so let's not forget desserts and drinks!
FESTIVE FEASTS FOR DINE-IN, TAKEAWAY AND DELIVERY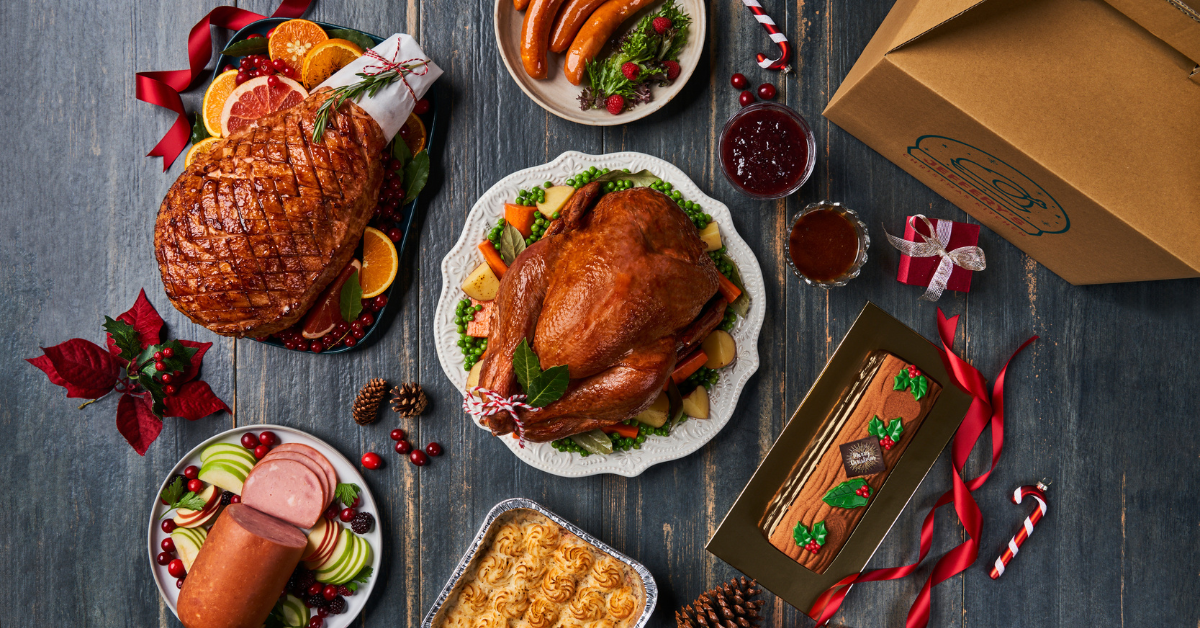 Say goodbye to hours of preparation and planning for a Christmas feast because Jeffrey's Christmas Kitchen has got you covered! The food speciality store offers all types of roasts under one roof, from Turkey and Pork to Chicken and Lamb. The meats are air-flown to Singapore daily, then cooked and roasted to perfection with their Award-Winning Recipes just before delivery. So, you've got the freshest feast in town.
Must-haves for every gathering? Premium Roast Turkey is delivered piping hot (or chilled depending on your preference) to your doorstep so you don't have to worry about not having a big enough oven. All turkeys come with a complimentary set of cranberry gravy. The seasoning and special blend of spices are hand-rubbed into the meat and then goes through a 12-hour roasting process to achieve perfection.
Calling over family and friends for a Christmas party? Check out the Christmas Roast Meat Bundle that comes with a turkey, Premium Iberico Ham, and Roasted Pork Knuckle which is the perfect crispy treat. Perfect for a group of 8 to 12 to feast on!
You don't have to spend a bomb to have your tummy full to your heart's content. Simply get the affordably priced Yuletide Greetings Value Bundle consisting of a turkey, Ribeye Roast Beef, Remonda Moscato Sparkling White Wine, and 1 kg of Classic Panettone - a traditional Italian Christmas cake that's a cross between a cake and a bread. There's serving advice with every product so don't worry about wrong portioning.
Save up to 60% with the Early Bird Discount only till 5 Dec 2021! No coupon codes are needed, simply check out. 
Free delivery for orders above S$100. What's more? Same day delivery in 1 hour! (Refund for late deliveries)
Self-collection from 1pm to 8.30pm daily from 140 Paya Lebar Rd, #03-12, AZ Building Singapore 409015. WhatsApp (+65) 8183 0915 for more information.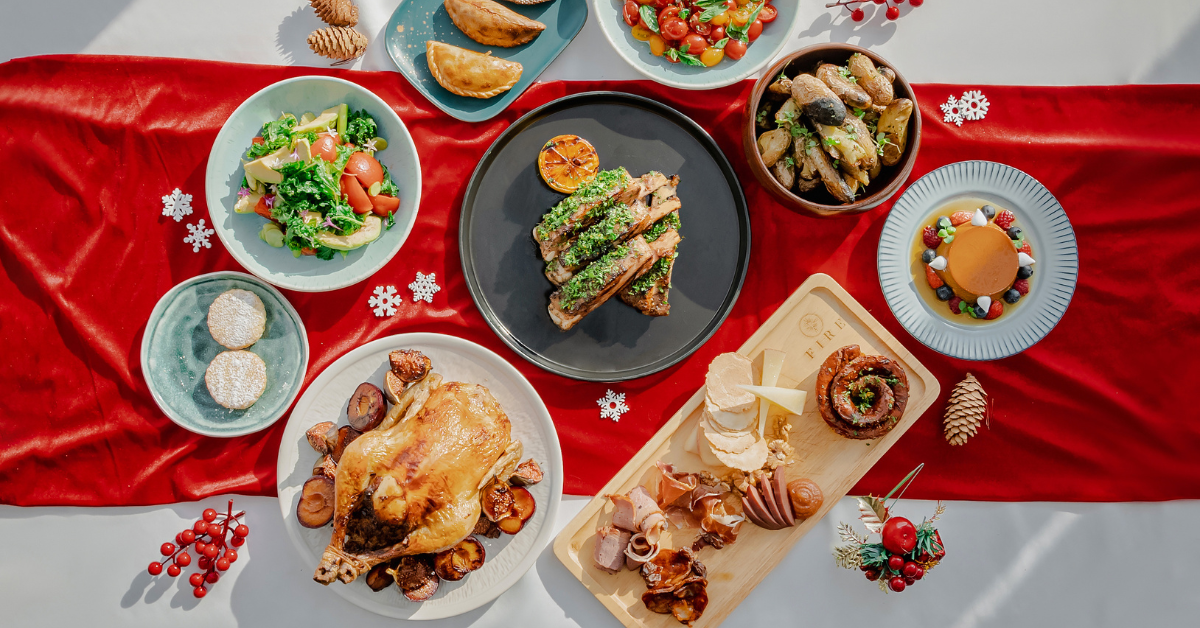 Celebrate Christmas in the safety and comfort of your home with 1-Group's specially curated festive feasts! Aimed at a party of 2 to 4 people, gather your family and friends and pick from one of the following packages:
Stellar at 1-Altitude has a selection of Christmas classics delivered fuss-free straight to your doorstep. It includes options like a roasted turkey with pistachios, truffle stuffing and more, or Honey and Mustard Glazed Bone-In Ham, or a Rosemary Marinated Leg of Lamb. Complete your order with a side of aromatic roasted vegetables.
You can also get premium options from the likes of Monti, inspired by Italian heritage and gastronomy with oven-roasted pork and more, and The Summerhouse's Parisienne 4-course feast. Treat yourself or surprise a loved one with the Secret Santa Box consisting of 6 pastries, a chocolate tart, a brownie, apricot danish amongst others, or with a more traditional option like the Buche Mont Blanc Yule Log Cake.
More options from 1-group's other establishments are available online. Note that most of 1-Group's packages (from S$120) require you to pre-order 3 days in advance here.
If you'd rather dine in, all the F&B establishments under the 1-Group are offering festive menus from brunches to high tea. At UNA, enjoy a 5-course Wine Pairing Menu for the whole of December. FIRE and FLNT are both offering Christmas dinners on the eve and actual day. For a Chinoiserie Christmas, head down to Mimi for a 6-course menu from 11 to 25 Dec 2021.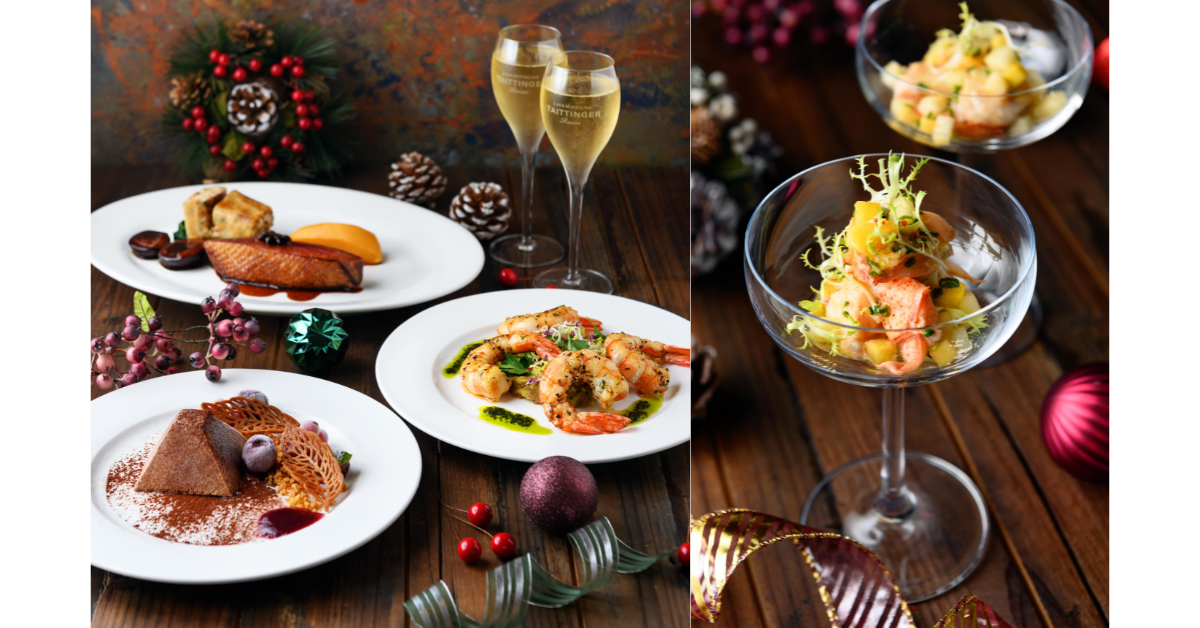 Celebrations – no matter how big or small - are always worth delighting in. Embrace the holiday spirit over four courses of festive favourites for a feast to remember, prepared by Executive Chef Timothy de Souza at Culina Bistro.
The menu (S$128 per person) with a glass of Taittinger Brut Réserve (min. 2 persons) is availble on Christmas Eve, 24 Dec for dinner, and on Christmas Day, 25 Dec for lunch and dinner. View the full menu here
Keep up that fuzzy festive spirit with their specials like  Oyster KilPatrick, Salmon Coulibiac, and organic Frenz egg with creamed spinach and leeks.
Available at Culina Bistro from 22 Dec 2021 till 4 Jan 2022. View the full menu of specials here.
Experience festive fine dining at home with Fat Belly Social's Christmas Menu! Get your money's worth with large cuts of meat, a sharing platter and premium ingredients like foie gras and truffles.
The menu begins with an appetising artisanal lemon and rosemary sourdough, before the hearty snacks, platter and sides featuring the classic turkey or other roasts, Truffle Mac & Cheese, a great selection of charcuterie meats and cheeses amongst others. Lastly, round up the meal with their fragrant Carrot, Ginger and Walnut Loaf with Brandy Butter!
With your food being prepared in-house on the same day it's delivered to you, freshness is ensured.
Place your order here by 10 Dec 2021 and enjoy an Early Bird bird of 10%. Available for delivery from 21-25 Dec 2021 only, for S$208.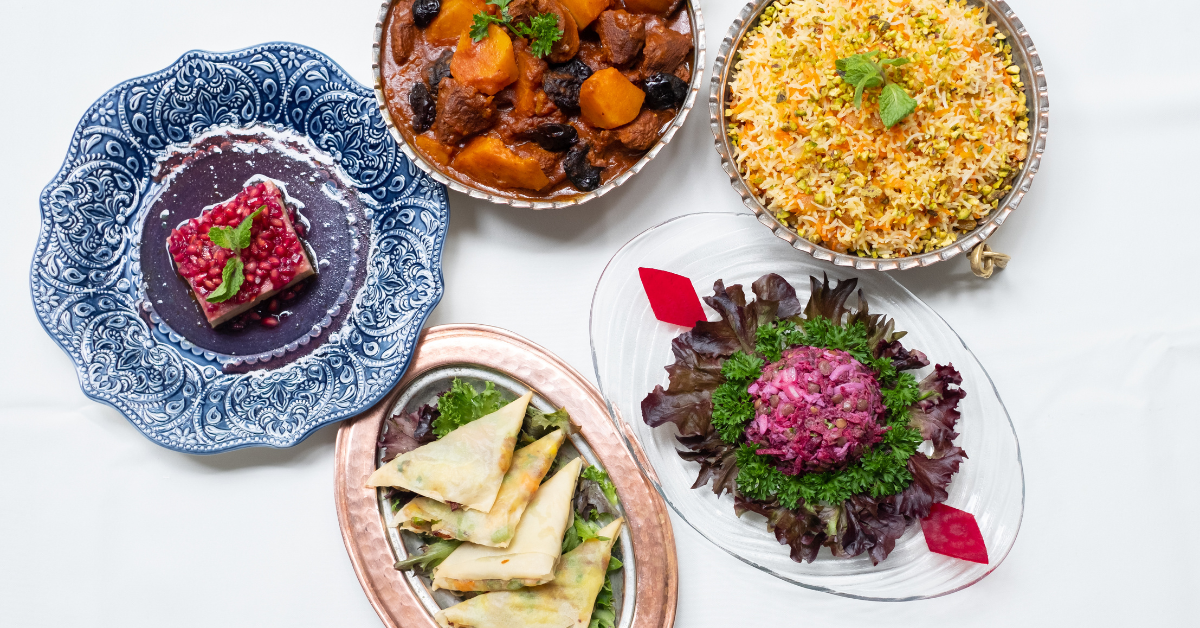 Looking for an alternative festive dining experience in Singapore? The culinary team at Shabestan Singapore has created a limited-time only menu focused on Persian classic dishes that deliver festive flavours.
From 25 to 31 December 2021, Executive Chef Hany Moustafa has prepared a sumptuous Persian Festive Menu at Shabestan Singapore. Priced at S$88++, this 5-course dinner features Persian festive recipes that hit the right notes this holiday season. 
Start off with SALAD-EH ADAS - a hearty beetroot salad with lentils - and Persian samosa paired with garlic yoghurt. Follow this with mains - traditional Shirin Polo rice and a pumpkin and lamb stew dish known as KHORESHT-E KADOO TANBAL. End off with a delicious festive Pomegranate Cheesecake!
Make your reservations online.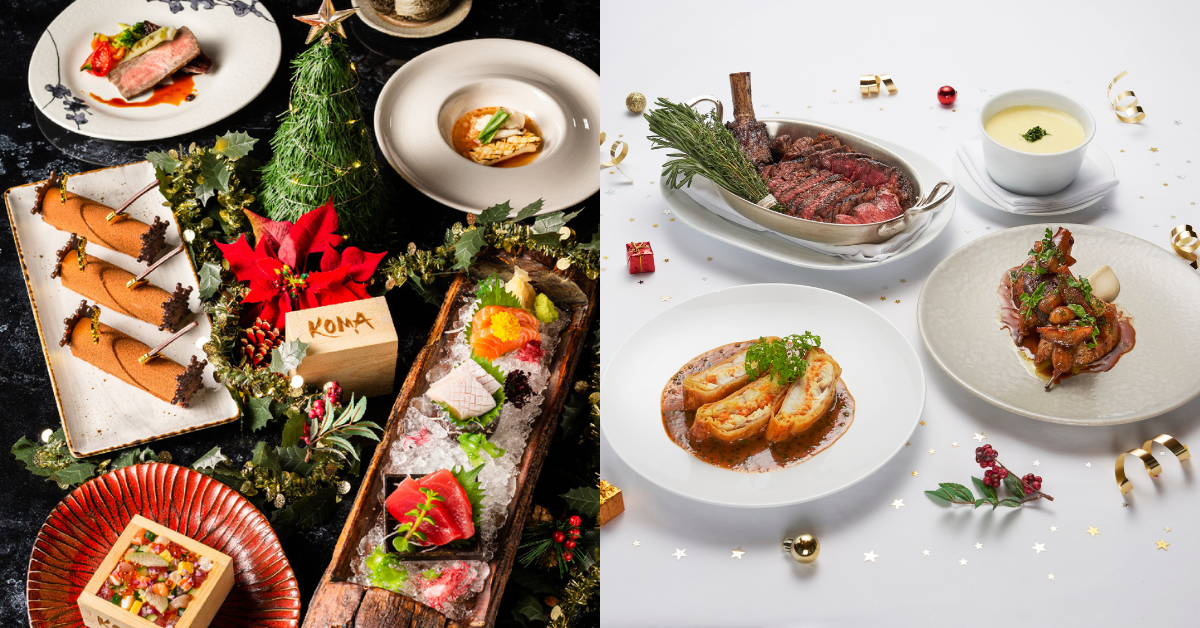 A dazzling holiday season awaits at Marina Bay Sands, as the resort's stellar restaurants unveil a repertoire of luxurious Christmas specials.
KOMA Japanese Restaurant & Sushi Bar will present a tantalising four-course Christmas lunch and dinner menu (S$388 for 2) from 24 to 26 Dec 2021. Featuring a wintry assortment of seafood appetisers including a fragrant flower crab soup, followed by a selection of mains ranging from beef sirloin with sansho sauce to pan-fried soy-braised duck with beet sauce and abalone with mixed mushrooms, a delicious and earthy dish with maitake and eryngii mushrooms. Guests can also indulge in KOMA's sushi jewel box, a decadent chirashi don with five types of fish. To end the meal on a festive note, KOMA will be serving up the Christmas log cake.
LAVO Italian Restaurant & Rooftop Bar will ring in the festive season with a hearty Italian American Christmas dinner menu on 24 and 25 Dec 2021 For S$328 (good for 3 to 5 people), guests can take their pick from three mains featuring favourite holiday classics. These include the whole roasted salmon, a whole roasted turkey served with Italian sausage stuffing, and honey glazed ham. To complete the meal, LAVO will also be offering a choice between two family desserts at an additional S$88 - black forest log cake or nonna's tiramisu.
Mark your calendar for a stellar Christmas eve celebration at Spago by Wolfgang Puck on 24 Dec 2021. The restaurant will be presenting a lavish four-course dinner menu (S$235 per person), available in two seatings at 6pm and 8.30pm. Gourmands can indulge in menu highlights such as the hearty chestnut soup, roasted quail with farro risotto and black truffles, as well as homemade agnolotti with celery root and black truffles.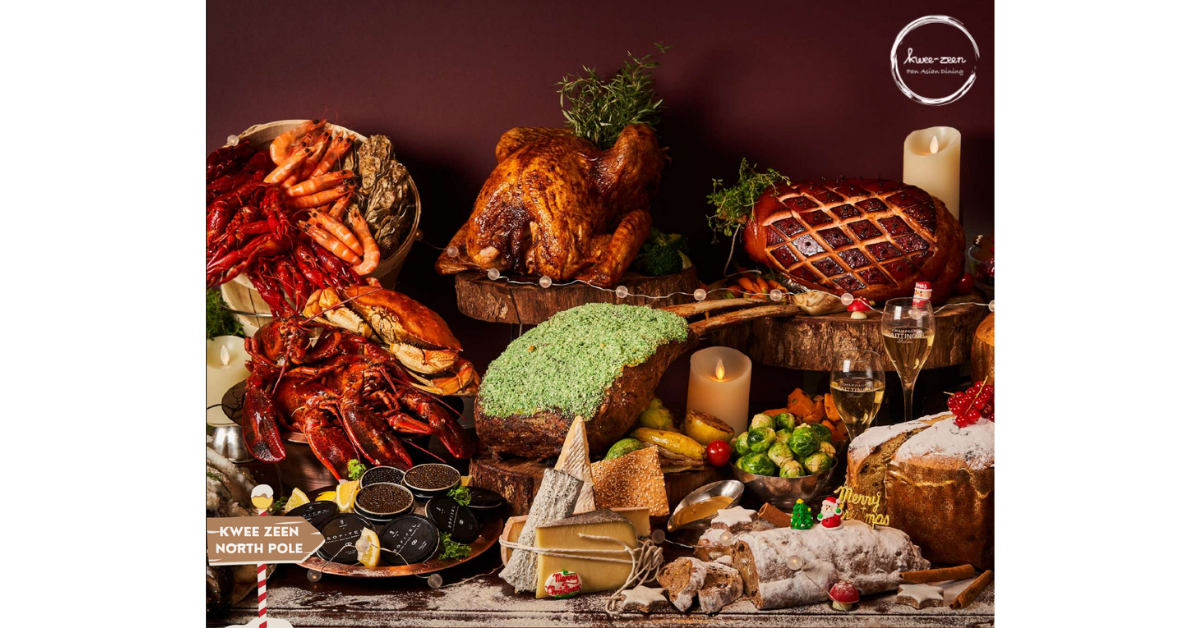 If 'more is more' is your personal motto when it comes to food, you'll love Sofitel's Mega Safe Brunch bash just in time for Christmas! Other than the classic Christmas dishes of turkey, honey glazed ham and angus beef, our favourites from the brunch are the fresh seafood, lush foie gras and laksa. While you're at it, delight in the Sofitel's generous chocolate bar, fondue station, handmade candy floss, slices of decadent mont blanc yule log cake and more that will have you feeling like a kid in a candy shop!
As an ultimate year-end bonus, choose from three-hour free-flow beer, wine, champagne and rosé options, priced from S$50++ onwards.
The Mega Safe Brunch is S$228++ per adult and S$88++ for children, though there's a 20% off Early Bird Special till 1 December 2021.
View the full menu and book a slot for 25 Dec 2021 here.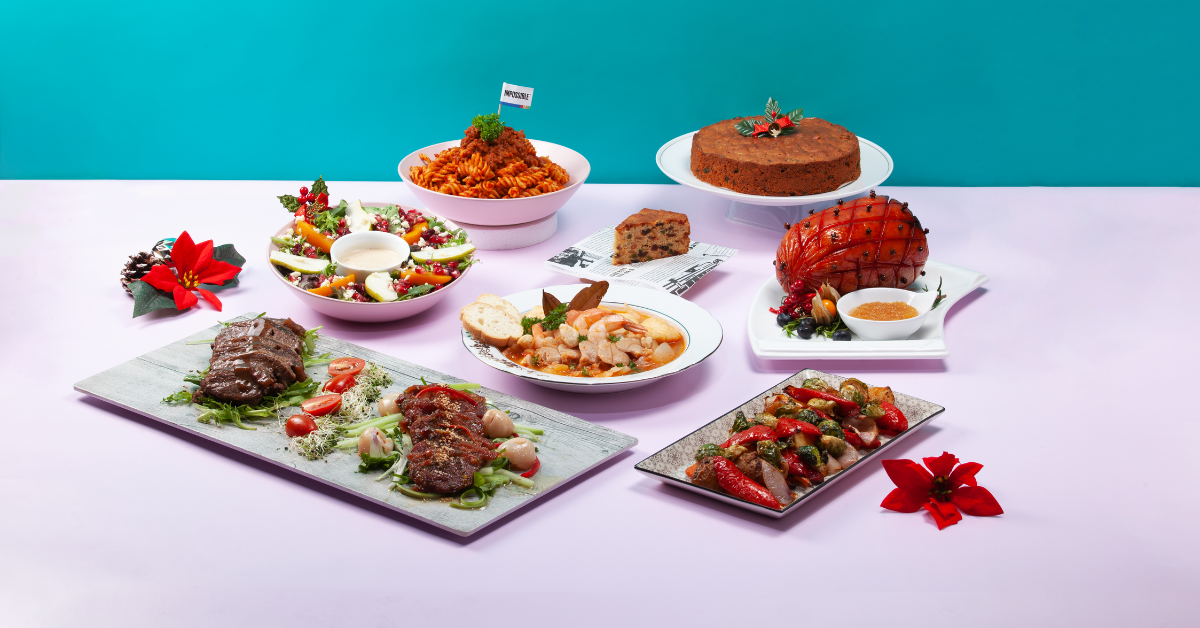 Chilli Api places a Peranakan spin on the Western holiday feast, so you get the best of both worlds. Our favourites from their festive line-up? The IMPOSSIBLE Shepherd's Pie, featuring plant-based beef mince and a generous helping of mashed potatoes encased in an oven-baked three-cheese crust, as well as the Tree-rific Kueh Salat Ice Cream Log Cake, made of fragrant Kueh Salat ice cream with blue pea flower marbling.
Hosting a celebration? Make party planning easy with Chilli Api's 6-course or 8-course Party Sets (from S$168 to S$388). For a classic meal with the staples, the brand recommends Modern Peranakan Delights (S$188) for a group of 5 to 7, or the Holly Jolly Christmas Feast (S$388) for a bigger crowd of 10-12. In the Christmas spirit of giving, Chilli Api is giving away a complimentary ice cream log cake with every Party Set order, while stocks last.
Place your order at least 2 days in advance here, email them at [email protected], or call their catering hotline +65 6247 9531. This offer is available till 2 Jan 2022.
FESTIVE SWEETS AND DESSERTS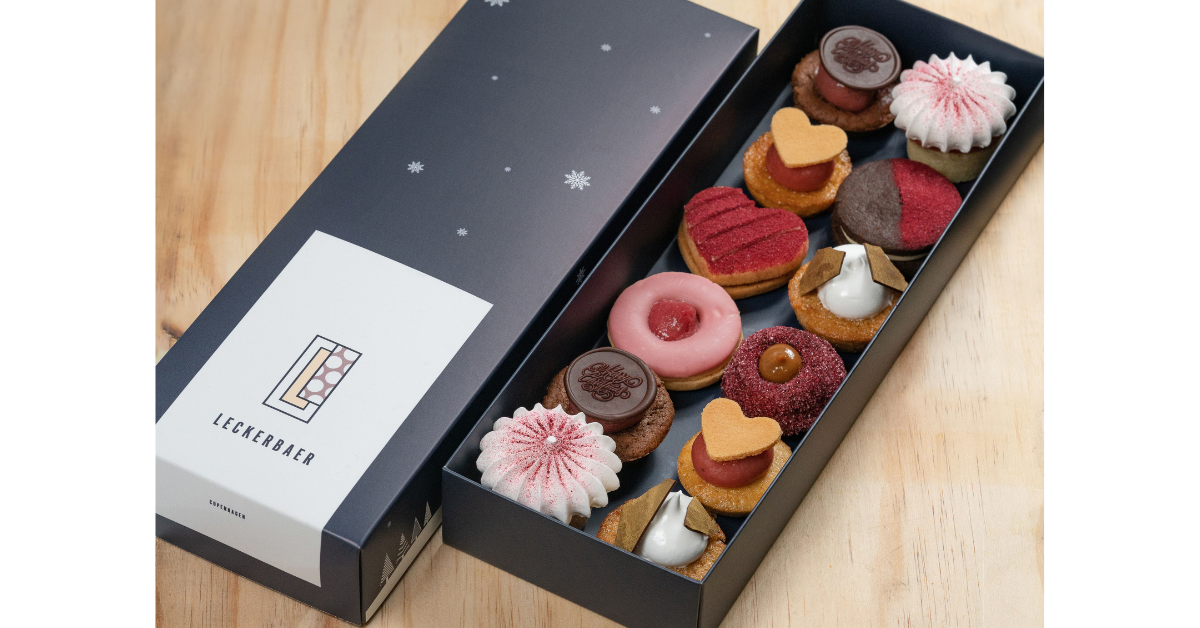 If you love café-hopping and trying the newest pastry in town, Leckerbaer deserves your next visit. A Copenhagen-based pastry shop known for their modern updates on traditional Danish pastries, spend a sunny weekend afternoon lounging in the cosy Scandinavian-inspired flagship store, with their selection of must-haves to keep you company. 
Just in time for the holidays, Leckerbaer gives a Christmas-y spin on the humble småkager, the traditional Danish butter cookie that we know and love. Chocolate is inspired by the festive spice cake and its tangy citrus and blackcurrant flavours, Milk references Oreos by sandwiching a refreshing mint buttercream between two chocolate cookies and finished with a dusting of berry powder, and Vanilla is a layered combination of vanilla cake, lemon and blackberry curd among others.
Perfect as a gift or a sweet treat for your loved ones, each one goes for S$2.80, though you can get them in a set of 8 (S$22),12 (S$32), and 16 (S$40). Or, go the extra mile while you're there by indulging in one of two of their Christmas Tea Sets (S$34 each), which features fresh bakes, their iconic småkager and beverages.
Not forgetting those who love savoury bites, Leckerbaer also offers sourdough sandwiches exclusive to the Keong Saik outlet, like the Smoked Salmon and Onsen Egg (S$21), or the indulgent Parma & Truffle (S$21).
Available for dine-in and delivery.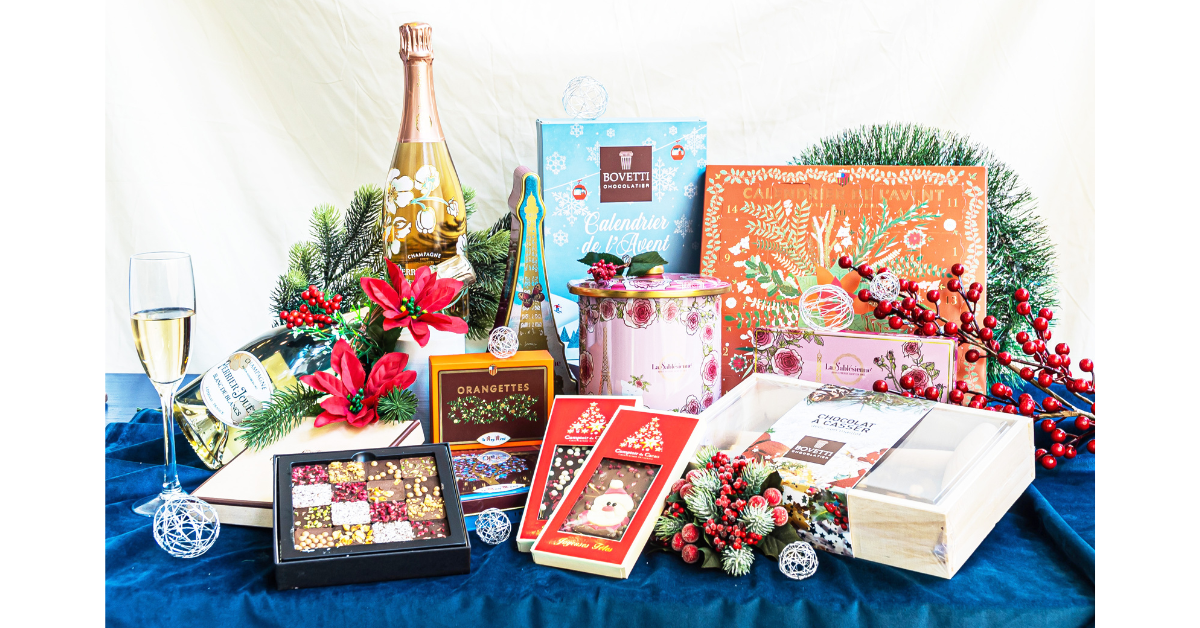 This gourmet store — with an E-Shop option — offers over 1,000 gourmet products including cheeses, wines, spirits, charcuterie, and pantry staples such as butters (including Singapore's widest selection of Bordier), tins of vintage sardines, pastas, oils, vinegars and small-batch condiments. Also on-site is a boulangerie offering croissants, quiches and other freshly-baked goods to go.
For Christmas 2021, So France's gourmet store at both outlets are transformed into a treasure trove of unique seasonal items specially flown in for the Yuletide season. Chocoholics will love the Comptoir de Cacao Christmas Gourmet Bars (S$10.50) in your choice of 39% Milk Chocolate or 72% Dark Chocolate. Offering a fun touch is the Bovetti Dark Chocolate with Dry Fruits (S$38) in a rustic wooden gift box — complete with a wooden mallet you may use to smash the 73% dark chocolate within. Additionally, Roy René offers Orangettes (S$28) featuring candied orange peel strips coated with dark chocolate, Chocolate Calisson (S$38) in a choice of milk and dark chocolate, and plain Calisson (S$9.95) that features the traditional French candy of ground almonds and candied fruit topped with royal icing.
As in previous years, So France also offers pre-packed hampers (S$180 - S$400) featuring a selection of the best that the season has to offer. For those who prefer a more thoughtful approach, you can request for customised hampers (from S$120) that offer personalised flexibility, and gift cards redeemable at So France's gourmet store and bistro.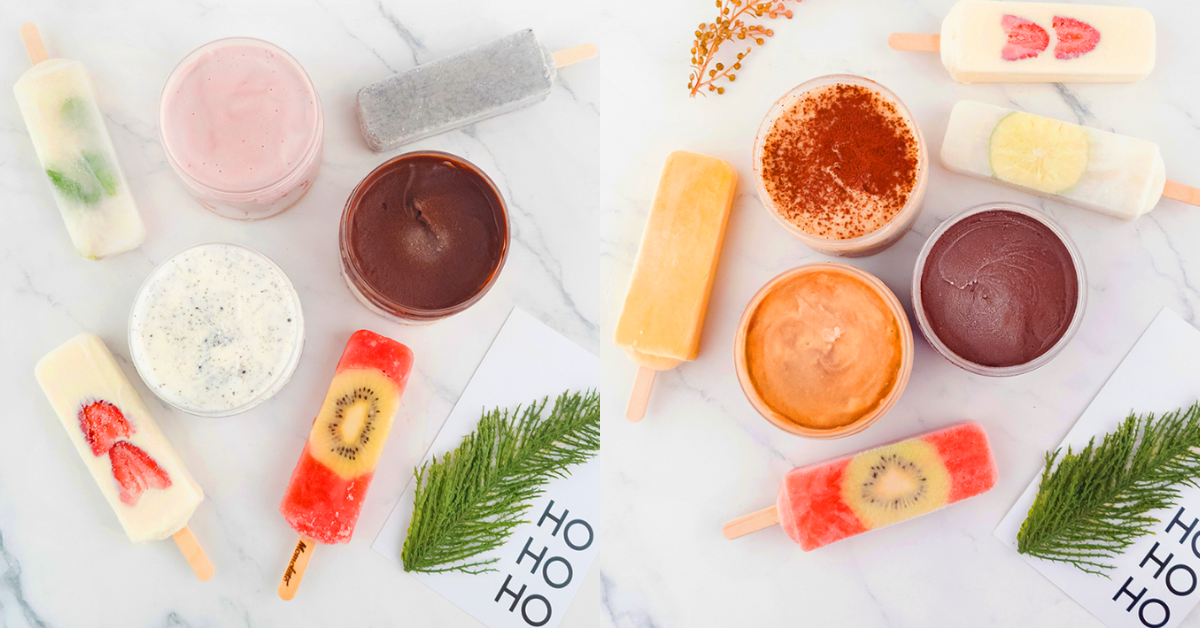 Beat the Singapore heat with Momolato's smooth gelatos, only crafted from the best ingredients sourced from regions like New Zealand. 
Feeling especially festive and the year draws to a close? Share their Christmas Collection (S$35.90), a trio of their signatures: Korean Strawberry Cheesecake, Triple Couverture Chocolate and Cookies & Cream, with friends and family.
Momolato also provides keto-friendly options, like the Keto Nama Chocolate and Keto Sea Salt Caramel in their Keto Christmas Bundle (S$39.90), and Christmas Keto Gelato Cakes (S$82) in two flavours, chocolate and sea salt caramel, which are diabetic-friendly and sugar-free so everyone gets to enjoy them!
Explore the rest of their extensive list of flavours, including a Sea Salt Sicilian Pistachio, Watermelon Soursop and Green Mint Chocolate Chip along with popsicles, keto frozen yoghurt, and vegan options here.
Visit Momolato at 34 Haji Lane, or order online.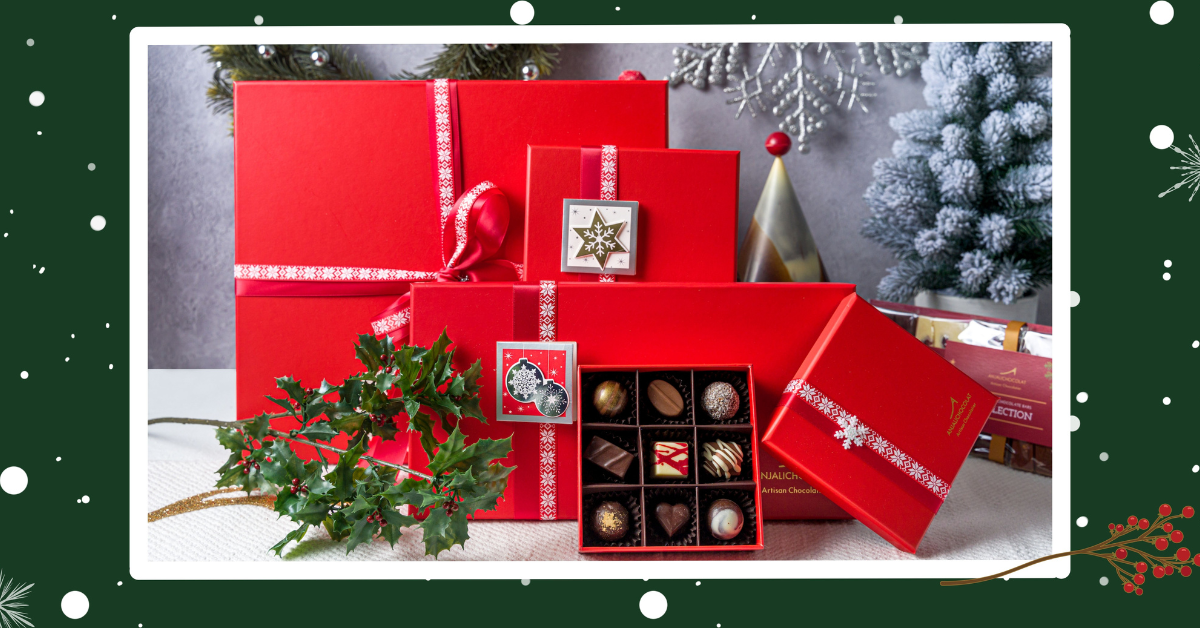 Artisanal chocolatier Anjali Gupta draws inspiration from each seasonal occasion to ofer fine chocolates with unique flavour pairings. Candy canes, gingerbread, caramel, coconut, rum, and Baileys all make appearances to add a sprinkle of the Yuletide spirit into this year's collection. Encased within beautiful, hand-embellished Christmas-themed boxes, ANJALICHOCOLAT transcends the convenient gift of a box of chocolates into a warm heartfelt gesture.
Aside from chocolate boxes, other Christmas offerings include Chocolate Lollipops, Christmas Chocolate Houses, Chocolate Christmas Trees and Santas. Select from 5 box sizes - ranging from 2 pieces, to 50 pieces.
These limited edition offerings can be purchased online and in-store at 163 Tanglin Road, #02-K4 Tanglin Mall. Large or corporate orders can be placed by contacting Anjali at [email protected]. They provide delivery of gifts islandwide.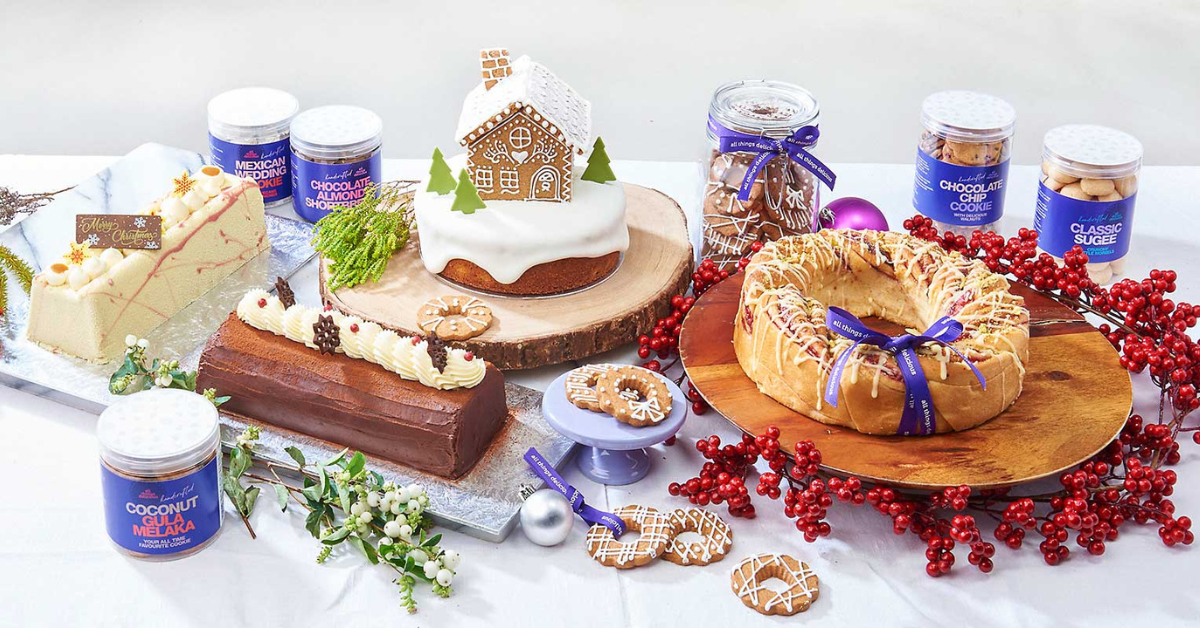 Back by popular demand, All Things Delicious' renowned Christmas Cookies will thrill both young and old. Handmade with love cookies include the classic Gingerbread Wreaths as well as Gingerbread Man and Snowflake Cookies. You also can't miss their classics such as Coconut Gula Melaka Cookies, Chocolate Almond Shortbread and Classic Sugee - made with semolina and pure clarified butter, suitable for Vegetarians. The popular Matcha Butter Cookies also making a comeback to this warm and cosy Christmas. Other cookies include the addictive savoury Cheddar Caraway Cigars, Pecan Demerera, Mexican Wedding Cookies and Chocolate Chip Cookies.
True to the festive spirit of giving, All Things Delicious is offering plenty of Christmas Gift Ideas that suit a variety of budgets including a wonderful mix of All Things Delicious' best-selling items such as the lovely looking Little Cakes, Christmas Cookies and more.
Customers looking for the ultimate gift can consider All Things Delicious' premium gift hamper baskets. This is the perfect option as nothing says "I Appreciate You" or "Thank You" like these beautiful decorated hamper baskets.
This Christmas, All Things Delicious has decided to do a Christmas community engagement activation whereby for every tag to #ATDGingerbreadVillage on the social media grid posts, All Things Delicious will be putting some proceeds from the sale of the Gingerbread House Kits toward a Fund. At the end of the year, they will use the fund and purchase essential items to distribute to a Children's Home. Join All Things Delicious and spread the word!
Finally, All Things Delicious is also offering a savoury collection presenting the succulent Turkey Roulade, Roast Beef and gratifying festive treats such as Mezze Platter, colourful Christmas Confetti Salad as well as Chicken Liver Pate and Curried Lamb and Potato Pies which will satisfy everyone.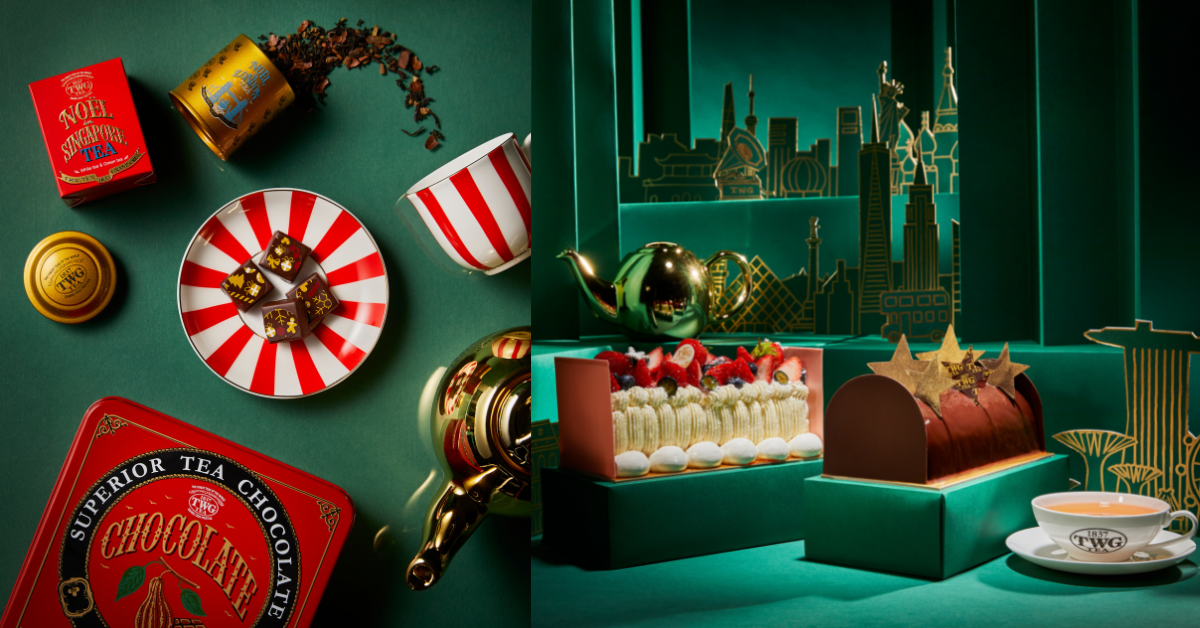 Just as Father Christmas makes his voyage around the world, TWG Tea follows on his route by bringing joyous spirit to everyone this festive season 2021 Holiday Collection.
Awaken to chilly winter mornings with the coveted Festive Music Box Tea Gift sets set to a melodious tune of the stars, Christmas Wish and Christmas Tour. Each tea set reveals an enchanting collection of four lavish ornament-sized mini tea tins filled with our favourite fine harvest teas and most beloved blends inspired by Christmas celebrations around the globe. Encased in artfully designed music box jewellery boxes decked in gold and festive hues, these whimsical tea sets are a delightful invitation to a world of enchantments.
Tea-infused Chocolate Bonbons - With the sound of merriment echoing around the fireplace, embellish the dessert table with an assortment of 32 tea-infused chocolate bonbons that will add sparkle to any Christmas party. Encased in a beautiful Heritage Chocolate Gift Set, this luxurious gift includes the festive-edition Noel!
​​Round off the festivities with TWG Tea's handcrafted Strawberry Pavlova Log Cake layered with mascarpone Chantilly cream, Jade Temple Tea infused vanilla mousse, joconde sponge, strawberry confit, meringue and topped with fresh berries; or Chocolate Pear Log Cake layered with a rich Red Christmas Tea infused chocolate mousse, fresh pear confit, fluffy chocolate sponge and garnished with gold chocolate stars.
TWG Tea Log Cakes, S$10 (small, serves 1) and S$76 (large, serves 8). Available till 25 Dec 2021 at all TWG Tea Salons & Boutiques in Singapore.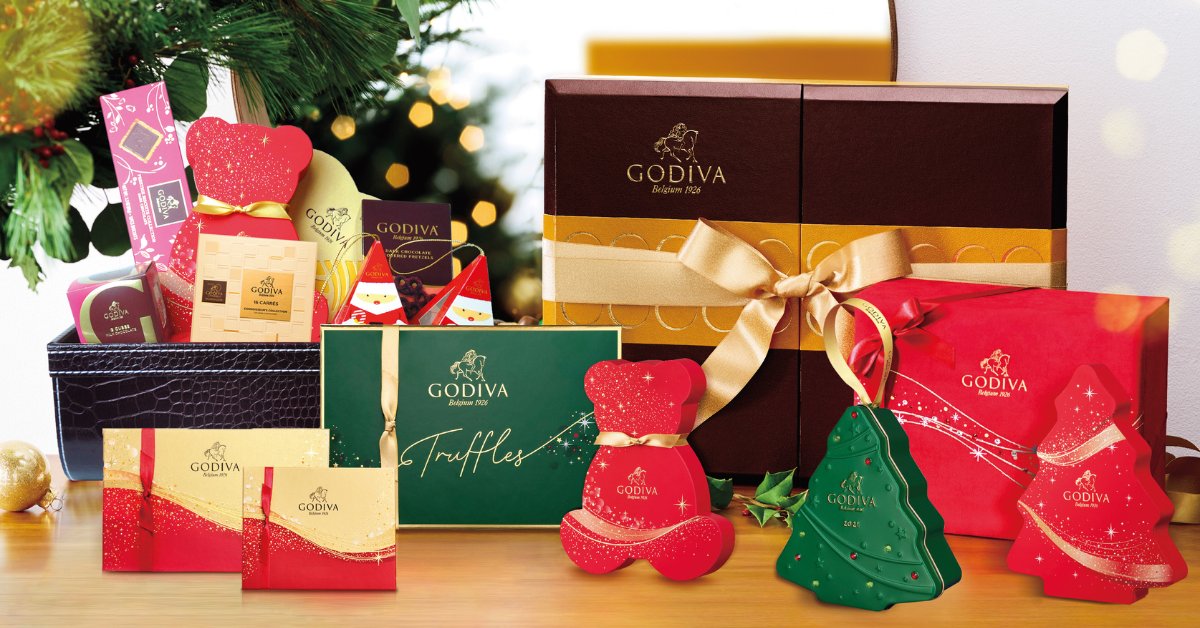 This Christmas, GODIVA is delighted to present its beautiful Holiday Collection, featuring a wide and ever-popular range of gift boxes, holiday tins and hampers that will fit a range of budget requirements.
GODIVA's festive range of sure-to-please offerings include the limited-edition Holiday Chocolate Gift Box, the exquisite Holiday Chocolate Luxury Box, and for the young-at-heart, the adorable Holiday Chocolate Bear Gift Box, Holiday Tree Gift Box with Chocolate, Holiday G Cube Chocolate Truffle Tin, Christmas Novelty with G Cube Chocolate Truffle, and a NEW addition – the Holiday Tree Tin Keepsake Carré that also doubles as an pretty Christmas tree ornament!
Designed and handcrafted by GODIVA's Chef Chocolatier Jean Apostolou, the seasonal treats are available individually as little bites of chocolaty heaven or as part of the Holiday Collection that is inspired by the glorious yuletide colours, ornaments and traditional Christmas motifs – perfect for bringing much needed yuletide joy to friends and loved ones.
For the ultimate indulgence, choose from GODIVA's four luxury hampers that will undoubtedly leave its recipients in awe. Thoughtfully available at different price points to suit all budgets – The Delight Chocolate Hat box (S$175), Allure Chocolate Hamper (S$349), Deluxe Chocolate Hamper (S$239), Blissful Chocolate Hamper (S$529) and Glamour Chocolate Hamper (S$989) are filled with a selection of items comprising delectable chocolate gifts including festive chocolates and the legendary classic Belgian chocolates.
The GODIVA 2021 Holiday Collection is now available at all five boutiques – Bugis Junction, ION Orchard, Raffles City, Suntec City and Takashimaya S.C – as well as online. Enjoy 10% off from 6 to 24 Dec 2021 with the purchase of any Holiday products.