Looking for unique snacks this Chinese New Year? These Lunar New Year treats are great for offering family members during house visits or for gifting friends and corporate associates. This year, the variety of goodies is vast from healthy snacks suitable for vegetarians and vegans to indulgent chocolates and durians. So, celebrate the year of the ox with these yummy Chinese New Year snacks and goodies in Singapore!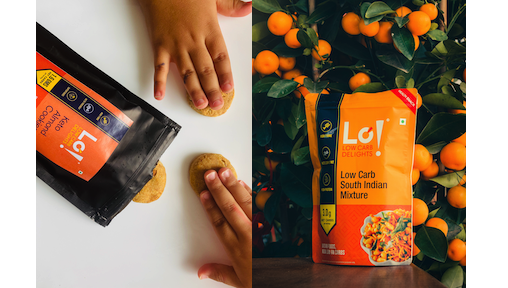 Keto Cartel offers an amazing range of low carb keto diet snacks and foods, plus a large variety of gluten-free, diabetic, and vegan items.
Making it easy to follow a healthy keto diet without extensive planning, Keto Cartel carries the highest quality keto products that are ultra-low in carbohydrates and glycemic index. Their snacks are perfect for health conditions such as weight issues, obesity, sugar regulation, pre-diabetes and diabetes, and insulin resistance.
With just 2.9 grams of net carbs per serving, the Lo! Food Murukku is 76 % lower in net carbs than the regular Murukku in the market. Made with superfood seeds, this is a great low carb keto snack that is high in fibre and protein to satisfy your hunger cravings.
Coconut with a hint of sweetness makes the Lo! Food Coconut Cookie a perfect tea-time low carb keto cookie with your cuppa or a dessert snack to take care of the sweet cravings.
The keto Lo! South Indian Mixture is a healthy and low carb savoury snack known for its crunch.
Now you can satisfy your snack cravings while still staying true to your diet plan!
Use the code 'VANILLA15' for a 15% discount off your first order. Free Singapore delivery for orders over S$50.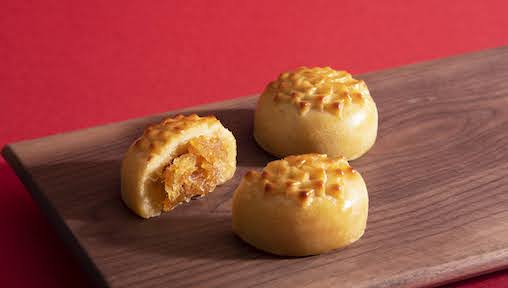 Usher in the Chinese New Year with the SunnyHills limited-edition Fortune Cakes, made with SunnyHills hallmark organic non-GM pineapples, encased in a soft pastry that melts-in-your mouth. The pineapple inspired motif on the pastry hides the 'secret recipe' - salted-egg made into a custard - giving a new twist to everyone's favourite pineapple tarts.
Wait there's more, SunnyHills Classic Pineapple Cake Tart is being paired with Kougyoko Apple Cake Tart. They come nicely packaged in a limited-edition gift box, it's own customized linen tote bag all designed with a prosperous paper-cutting inspired Bull motif. A tradition of paper-cutting which can be hung on doors and tables, symbolizing the welcoming of new wealth and prosperity for all recipients.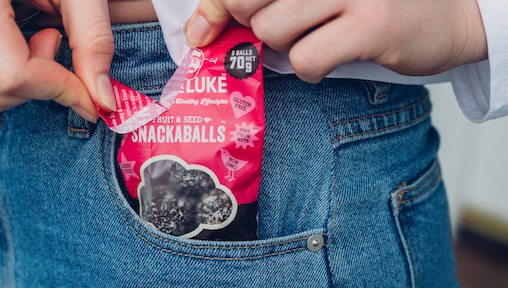 Want to snack on something healthier this Chinese New Year? The brainchild of Personal Trainer and Chef Duo Tom and Luke, the T&L Snackaballs aim to provide healthier snacks that are as natural and simple as possible. Using whole foods and nutrient-rich ingredients, these Snackaballs provide better sustenance to people who have a habit of snacking between meals and for those constantly on the run. 
Realising that no amount of exercise was going to outweigh a bad diet, Personal Trainer Tom created this gluten-free and refined sugar-free snack that also helps with portion control. Only high-quality, non-GMO, whole-food ingredients are used and they aspire to source organic wherever possible.
Their Snackaballs have become a fan favourite. Made with the best wholefoods - dates because of their natural sweetness and dense fibre; nuts and seeds for protein and healthy fats; cacao for antioxidants and a chocolaty note; and a smidge of natural flavours or extracts to maintain a consistent flavour profile.
Exclusive 20% off for Vanilla Luxury's readers (with a minimum spend of S$20, ending 20 Feb 2021) with the code 'VANLUX20'.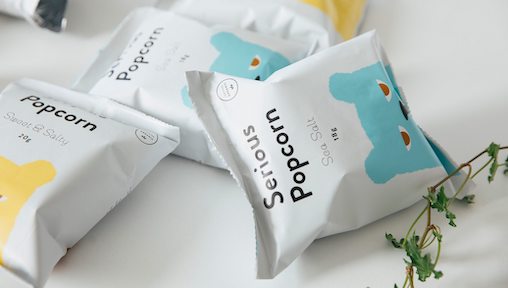 Snacking has a bad rap and Serious Food is here to change that! From farm to bag, Serious Products are 100% traceable, free-from chemical nasties and certified-organic so that you can snack this Chinese New Year in a way that's sustainable for your body and the world.
Serious Food Co. products are sourced from a grower in New Zealand that has been certified organic since late last century so you can sleep easy knowing he's got this. Good soil. Healthy crops. No artificial fertilisers. No pesticides. 100% traceable.
Their popcorn kernels are popped with organic coconut oil from the Philippines. This rock star oil is full of lauric acid & healthy fats that are good for your heart and leave you full of energy. And the cartons used for packaging are recyclable.
Serious Puffs with flavours such as barbecue, real cheese and seal salt; Serious Popcorn in vibrant flavours including coconut and vanilla, peanut butter and almond, and dark chocolate drizzles; Serious Chocolate Chip Cookies; as well as Serious Seeds in savoury flavours such as smoked paprika and sweet flavours such as crunchy honey.
Let's not forget that the snacks are all gluten-free!
Exclusive 20% off for Vanilla Luxury's readers (with a minimum spend of S$20, ending 20 Feb 2021) with the code 'VANLUX20'.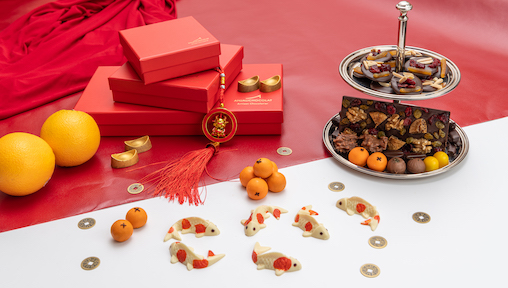 Ring on the good fortune this Chinese New Year with ANJALICHOCOLAT'S elegant gift boxes and artisanal chocolate gift hampers. 
Especially for Chinese New Year, ANJALICHOCOLAT is offering the following flavours: Chinese 5-Spice Truffles, Jasmine Tea Truffles, Pineapple Bonbons, Lemongrass Coconut Truffles, Walnut Bonbons, Sesame Bonbons, and Mango Pudding Bonbons.
Looking for something for your corporate clients? The Chinese New Year Abundance Hamper includes a variety of handmade bonbons and truffles, assorted Belgian chocolate squares, chocolate bars, chocolate lollipops, and even 2 chocolate koi fish! These cute koi fish are made with creamy Belgian white chocolate couverture. Going visiting to meet family and neighbours? Get the Chinese New Year Prosperity Gift Box containing 16 handmade bonbons and truffles, 2 koi fish, orange peel dipped in chocolate, chocolate mendiants, and chocolate almond dragees.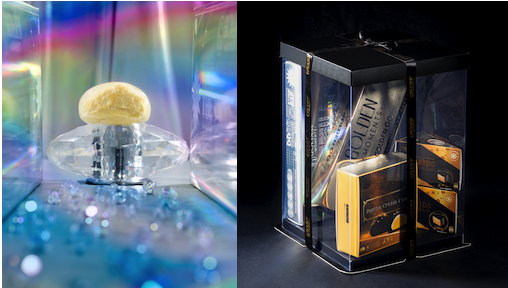 A spin-off of the best-selling Golden QQ from 2019, the Crystal QQ is a luxurious Chinese New Year treat filled with an abundance of 100% pure Mao Shan Wang durian. Using only top-grade durians which are harvested and pureed into a creamy consistency, this rich pulp forms the delectable core of the Crystal QQ, enveloped in a crystal-clear skin with a delightfully chewy texture. Every bite releases a burst of velvety durian, paired perfectly with a toothsome outer layer for unrivalled gastronomic satisfaction.
Not only does the Crystal QQ taste great, but it also looks great and makes for a perfect Chinese New Year gift. Each box consists of six Crystal QQs, nestled in a mesmerizing holographic box guaranteed to dazzle and delight. The best part? The Crystal QQ is vegan-friendly! Furthermore, with Golden Moments doorstep delivery service, Chinese New Year gifting has never been easier with just the click of a button.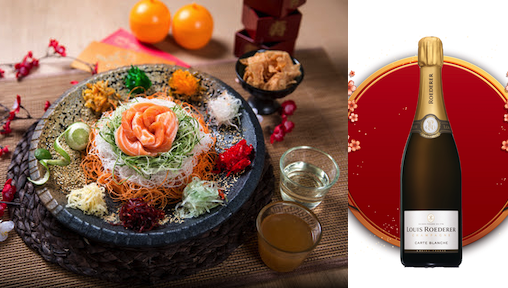 What is the perfect wine pairing to hold itself against the sweet honey and sour plum sauce found in all traditional Lunar New Year lou hei or yusheng? The Louis Roederer Carte Blanche Demi Sec NV with the aromas of baked apples, toasted almonds and floral notes like frangipani is a perfect complement! A 38 g/l dosage gives it a rich, creamy and full-bodied texture which is set off by the wine's freshness.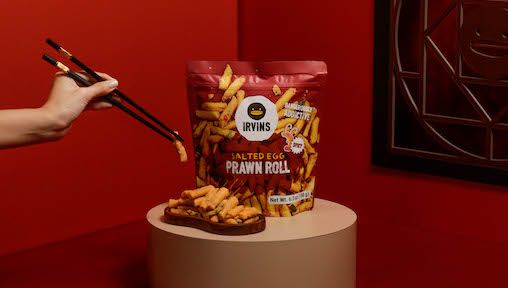 It's always the season for munching, especially with local snack specialist IRVINS. The all-NEW Salted Egg Prawn Roll is a #DangerouslyAddictive treat that will set tastebuds a-flutter this Chinese New Year! This beautiful golden snack is filled with irresistible hae bee hiam (spicy dried shrimp) and coated with salted egg yolk – a unique combination of savoury, spice and rich
salted egg goodness in every bite.
To 'huat' up the season and bring much-needed joy this year, the IRVINS Premium Gift Box is indeed perfect for house visits, corporate gifting, or simply as a treat to oneself. You have the option to customise your own box with a mix and match of five or six IRVINS bestsellers. This includes the choice of the Chicken Curry Potato Chips and Fish Head Curry Fish Skin from the Origins line; as well as Signature flavours of Salted Egg Potato Chips, Salted Egg Fish Skin, Salted Egg Cassava Chips and Salted Egg Gyoza Skin.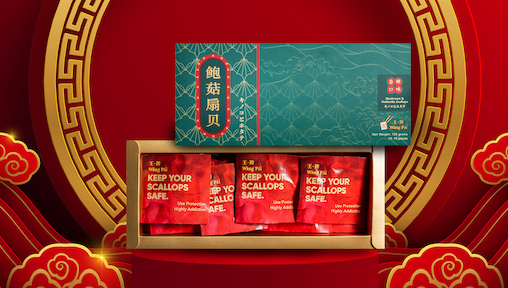 Tailored to the spiciness level locally, Wang Pai has created a Chinese New Year special snack that is the fusion of Restaurant Grade Hokkaido Scallops paired with King Oyster mushrooms.
Together with their concoction of sweet spicy sauce, the snack is dangerously addictive. Simply open the seal and snack straight from the snack pack at your own convenience.
Besides the Hokkaido Spicy Mushroom Scallops, Wang Pai is also offering Caramelised Pork Shuddling, much like traditional Roasted Charred Pork but still different; and Crunchy Pork Cracker complete with the experience of a pork crackling crunch.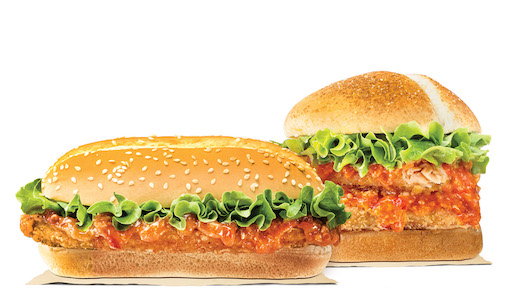 If you are a chilli crab fan, then you might want to have a go at BURGER KING'S Ultimate Chilli Crab Double Salmon Burger or Chilli Crab Long Chicken Burger this Chinese New Year.
Yes, that's right - this time, the delicately balanced pink salmon patties of the Ultimate Double Salmon Burger will be doused in divinely sweet yet savoury, spicy chilli crab sauce with abundant swirls of egg and fresh-cut chillis. Of course, we all know that the sauce is the best part of any chilli crab dish. That's why the King is also serving Chilli Crab Fries as a side.For something sweet, the King is offering the Golden Pie filled with smooth mung bean paste and generous bites of fresh coconut - a true union of the beloved Ang Ku Kueh and Kueh Bangkit, all wrapped up in a crispy pie crust. There's also the Huat Huat Orange Strawberry Float.