beauty
Body Care Products: Body Scrub, Bar Soap, Body Butter, Booty Care and More!
Published Date
: 12 Nov 2021 21:32

Pamper your skin with body care products in Singapore from gentle body scrubs to firming booty drops for that much needed self-love.
We put so much emphasis on skincare for our face, but have we been neglecting the skin on our bodies? With Singapore's hot weather, it's easy to get dry skin and other skin conditions related to the humidity and sweat that builds up.
This is why ensuring you use the right body care products is one step closer to better skin and lesser skin troubles! Shower with luxurious bath gels and oils, add moisturiser after(yes, even if the weather is sweltering!) and don't forget to exfoliate on a regular basis.
Look no further! From gentle body scrubs and bath oils to firming booty drops and moisturisers, you can now pamper your body with these body care products in Singapore.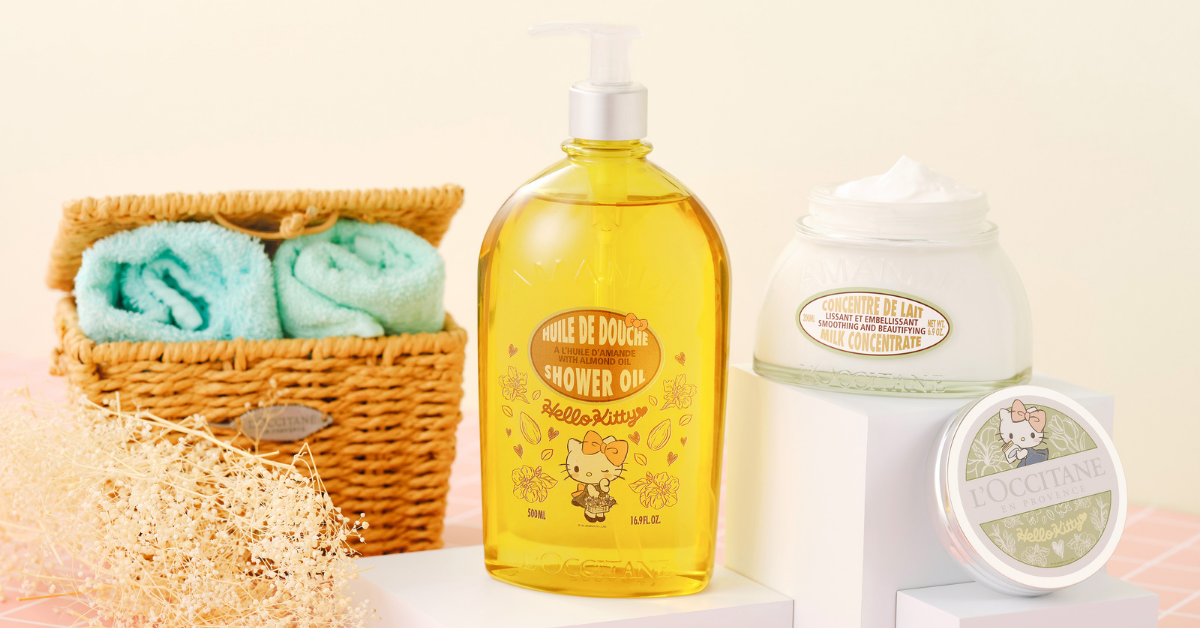 Naturally rich in omega-3 and -6, Almond is perhaps the best ingredient you can use to pamper your skin. L'occitane's best-selling Almond Collection comes with body and hand products perfect for any weather - tropical or not! 
With a bottle sold every 15 seconds around the world, L'occitane's  Almond Shower Oil deserves all of its accolades. This shower oil magically transforms into milk upon contact with water, gently cleansing and hydrating your skin. A luxe sweet fragrance will elevate your daily shower to a spa-like experience. Rich in fatty acids and omegas 9, the shower oil nourishes, softens and protects the skin from dryness.
For after, try the Almond Milk Concentrate, a smooth-as-silk formula enriched with powerful almond extracts. Your skin will feel nourished and comfortable thanks to the almond milk and oil, that moisturises and softens the skin with every application.
We also love that these two products also come in an eco refill pack - so you can add reuse your current bottles and jars again, and again! 
Hello Kitty fans? Then you must get your hands on the first ever first-ever L'OCCITANE Hello Kitty collaboration. Sold in Hello Kitty limited-edition packaging the collection, these jars of luxe pampering, are every fans dream come true. Hurry before they all sell out!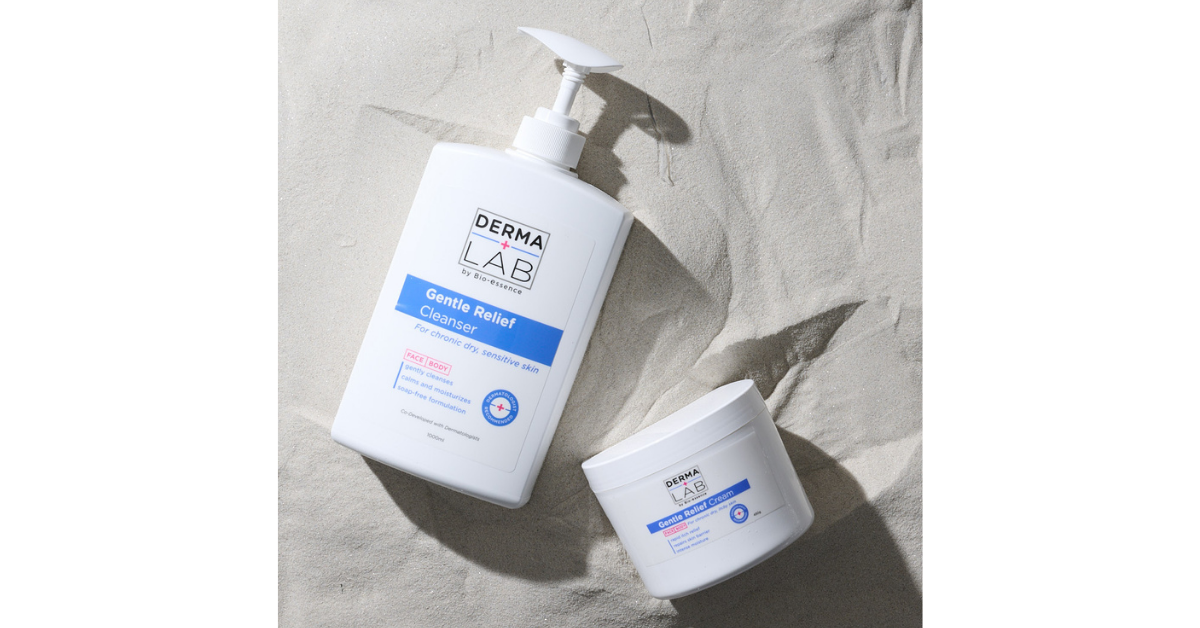 Tired of searching for products meant for eczema and not just eczema-prone skin? The Derma Lab Gentle Relief System is your skin's saviour for reactive skin. Unlike its peer in the market, this line has passed through a clinical eczema test and is certified for those suffering from eczema, AND eczema-prone skin!  The Derma Lab Gentle Relief Cleanser, comes enriched with the Derma Mimic Complex, Ceramides, and Glycerin, and is free of alcohols, fragrances, soap, and colourants.
It is is designed and formulated to gently cleanse, moisturise and restore the skin's delicate protective barrier and is also ophthalmologist- tested and will not sting your eyes.
Use with the best-selling Derma Lab Gentle Relief Cream, which provides up to 2.7 times* faster itch relief on dry skin. It is hypoallergenic and free from alcohol, colourants, fragrances and more, making it suitable for sensitive and eczema skin. When in need, you can also apply a liberal amount and feel the itch disappear!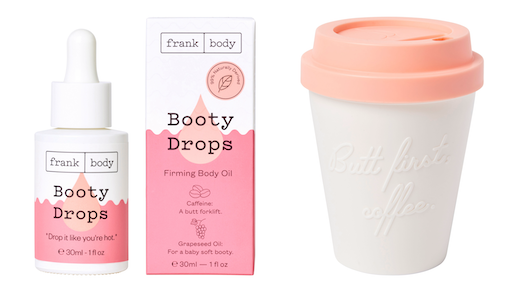 Cruelty-free and vegan skincare brand from Australia, frank body is all about coffee-based goodness. Basically, caffeine helps to promote healthy, clear skin, whilst maintaining its PH balance. Check out this highly caffeinated duo to soften and firm your bum. 
Drop it like you're hot! The Booty Drops Firming Body Oil is a moisturising body oil for firmer-looking skin and a softer feeling booty. Daily use of booty drops helps reduce the appearance of marks and bumps while giving you an excuse to touch your booty. What's in it? Caffeine as a butt forklift making it feel more toned, Grapeseed oil for baby soft booty, and Guarana an antioxidant powerhouse.
Perky skin? Butt, of course! The Perky Sculpting Body Hydrator is on booty duty but you can use it everywhere for smooth and supple-looking skin. Here's an extra perk; once you've finished the product, rinse and upcycle the food-grade cup for your coffee fix. The hydrating lotion consists of Nephelium longana seed extract which is high in antioxidants to fight free radicals and improve skin elasticity; Shea butter which is super hydrating, known for nourishing skin; and Acai loaded with antioxidants to help revive dull skin. No residue or stickiness felt after!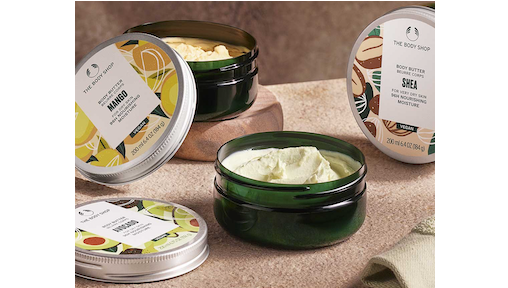 Who doesn't love skincare that's good for us and is kind to our planet? The Body Shop's new Body Butters are now registered by The Vegan Society (a gold standard for vegan certification). Arriving in the most sustainable form of the packaging yet, the Body Butters are made with at least 95% ingredients of natural origin including handcrafted Community Fair Trade shea butter from Ghana.
Delivering 96 hours of intense moisture, our Body Butters leave your skin feeling soft and smooth without feeling sticky. Just grab the best Body Butter for your skin type (there's a tub for every beautifully unique body). Dive into Strawberry, British Rose, Pink Grapefruit, Satsuma, Almond Milk, Mango, Moringa, Avocado, Shea, Coconut, Argan and Olive.
Scoop, spread and slather it on. Don't be shy. Give dryness-prone nooks and crannies like your feet, elbows and knees some extra TLC.
Till 11 Oct 2021, The Body Shop will donate S$1 for every new Body Butter purchased in stores in support of Daughters Of Tomorrow to shape minds, body positivity and confidence for their community. Empowering women through economic means to build a better tomorrow for families.
As The Body Shop's new recyclable Body Butter tubs are made with 100% recycled plastic, it helps reduce the use of virgin plastic in their tubs by 241 tonnes per year. So, be sure to recycle the lid and tub by dropping them off at any of the stores to show your planet some love.
The Body Shop Body Butters are retailing at S$31 each and are available in all stores and online on Lazada, Shopee, GrabMart, and foodpanda.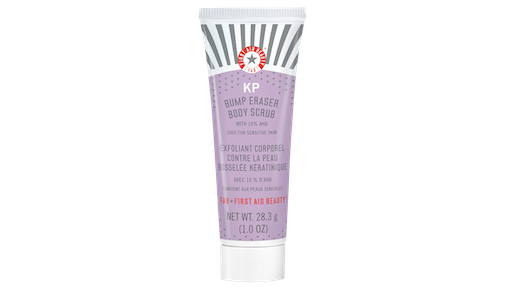 Keratosis pilaris, sometimes called "chicken skin," is a common skin condition that causes patches of rough-feeling bumps to appear on the skin. For those of us with dry skin, this could be a common occurrence.
Buff away such bumps with First Aid Beauty's new KP Bump Eraser Body Scrub with 10% AHA, a body scrub featuring both chemical and physical exfoliators for serious skin‐polishing power. Glycolic and Lactic Acids at a combined level of 10% help loosen skin's top layer and decongest pores, while Pumice Buffing Beads whisk dead skin away. The fast‐acting scrub acts as a chemical peel and microdermabrasion treatment in one, exfoliating those pesky, rough keratosis pilaris (KP) patches to reveal radiant skin that feels exceptionally smooth.
Results? 95% reported it got rid of their dry, flaky skin. 92% felt skin was exceptionally smooth and touchable.
The ingredients of this body scrub include Pumice Buffing Beads that mechanically remove dead cells on skin's surface to reveal brighter-looking skin; Glycolic and Lactic Acids that exfoliate the skin to improve texture; Bisabolol helps soothe and calm skin; and Vitamin E which is rich in antioxidants, and helps stave off environmental aggressors.
For fabulous results, apply onto wet skin and gently massage with fingertips onto problem areas. Rinse and pat dry, then follow with a moisturiser. Use 1-2 times per week.
The classic bar soap has been around for centuries, however, it usually takes form in a simple cream or lacklustre brown. gentle mood challenges people to rethink the traditional bar soap with a series of soaps that are a treat for the eyes, nose and skin!
Not only do these colourful bar soaps make aesthetic bathroom accessories, they also smell divine with their natural fragrances from essential oils to uplift and invigorate; tapping into the power of aromatherapy. The formulations include natural and nourishing ingredients such as Shea Butter and Cocoa Butter to protect the skin and clays to draw out impurities — a contrasting difference in ingredients used in mass-produced soaps, often laced with Sodium Lauryl Sulfate and Parabens.
The typical shower routine transforms into a sensory experience as water transforms the solid block of soap into a soft, creamy lather. The bar soap acts as a vehicle to a therapeutic routine; an act of self-care that soothes the senses, especially in turbulent times like these.
It's no surprise that bar soap wins its liquid competitor in terms of sustainability; it requires no preservatives and less energy to produce. The carbon footprint is lower as it's lighter and more efficient to transport. It also lasts longer than liquid soap, meaning it needs to be replaced less frequently, thus less product is required to be made. It needs little packaging, just a humble box to store it. With each bar soap used, it's one less plastic bottle that ends up in the landfill.
Introducing this series of bar soaps that are gentle on the skin and great for your mood. Available in four scents: Fresh, Energise, Calm and Cosy – a different scent and design to match whatever mood you're in!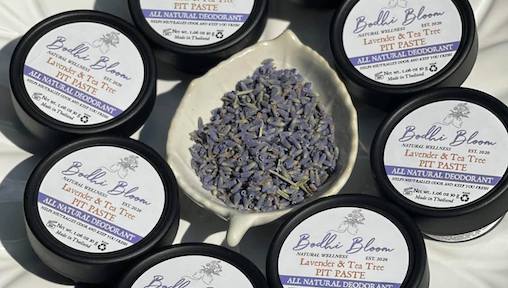 This natural deodorant is a multi-tasking skincare product that exfoliates and moisturises. The natural pit paste combines locally sourced natural ingredients with Vitamin E and baking soda as an excellent alternative to the conventional deodorants. The pit paste consists of Organic and Unrefined Shea Butter, Virgin Coconut Oil, Beeswax, Baking Soda, Vitamin E, and Essential Oils.
It is ideal for everyday use and leaves you odourless for up to 12 hours. Simply massage a fingertip amount under armpits daily. It also exfoliates and reduces the underarm darkness.
You'll get to choose from three variants depending on the scent you prefer - Lavender and Tea Tree, Vanilla and Lemon, or Sandalwood and Bergamot.
Available from Powella at S$12 each.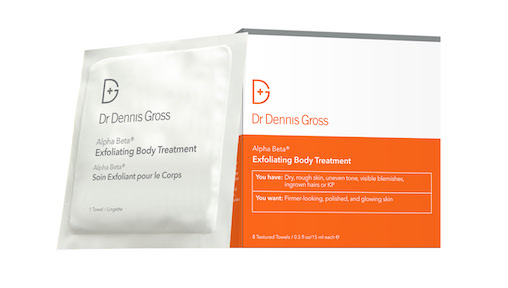 An all-over body towel packed with Alpha Beta® acids, enzymes, and bakuchiol to instantly polish and visibly firm skin. This perfectly dosed treatment lifts away the outer layer of dead skin, delivers long-lasting hydration and helps improve the appearance of ingrown hairs.
Begin application with a folded towel on clean, dry skin. Gently massage into the skin. As the towel begins to dry, unfold and move to other body zones. Continue until the towel is completely dry.
It's like a facial for your full body! If you have dull, dry skin, this product is especially useful for exfoliating rough and dry patches on your skin such as on knees and elbows. Antioxidant-rich squalane and aloe help soothe and strengthen skin's moisture barrier.
Dr Dennis Gross is available for S$90 for 8 treatment towels on Sephora.sg.