Looking for the best shampoo in Malaysia to tame your unruly hair? Or are you in the market for the top hair products that can keep your hair looking healthy, all year round? 
With endless options for shampoos in Malaysia, picking the right one can be a daunting task. But, as they say, good hair does indeed start in the shower, and buying what your hair truly deserves is that first step! 
To begin with, try and figure out what hair type you are. For those with dry hair, seek moisturising, nourishing or softening shampoo formulas that can help your hair become softer. If you need products for damaged hair, go the extra length and buy a strengthening, damage repair or fortifying shampoo. For those suffering from frizzy hair in the tropics(aren't we all?), frizz control, frizz protection and smoothing formulas are a good bet. What about hair loss and hair thinning issues? A problem that affects almost everyone at one stage or the other, hair loss troubles are best taken care of with professional shampoos that are formulated with the right hair-growth encouraging ingredients. 
Read on for our list of the best shampoos in Malaysia, so you too can buy the right one for your hair type!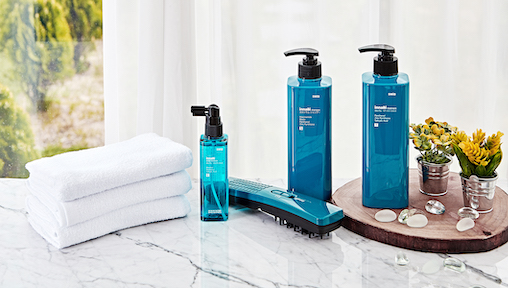 Did you know that an oily scalp can cause hair loss, dandruff and a whole lot of other hair troubles? Excess amounts of oil or sebum can attract dirt and result in product build-up, which thereby clogs pores, leading to hair loss. This is why keeping your scalp clean and free of excess oil is critical towards managing other related symptoms such as dandruff and hair fall. 
SMIB's Coral Calcium Shampoo uses high-grade Coral Calcium that effectively removes excess oil on the scalp and prevents hair loss. Pioneering the use of Coral Calcium in hair technology, SMIB is the number 1 anti-hair loss brand from Korea that has sold over 1 million of its award-winning treatment sets.  
Their popular shampoo gives your scalp a healthy environment as it relieves itching due to inflammation. In fact, SMIB's Coral Calcium Shampoo is amongst the best shampoo in Malaysia for all hair types but especially so for oily, irritated and thinning scalps! The shampoo forms a skin barrier to protect your scalp, keeping it healthy, and thereby preventing hair loss effectively. Free from 23 harmful ingredients, including silicones, the shampoo contains six proteins, and 'good for hair' ingredients like copper peptide, niacinamide, Biotin, Zinc Pyrithione and Dexpanthenol.  
This backed-by-research shampoo contains marine extracts that come with many benefits. Seaweed is packed with an unusually high concentration of vitamins, minerals, amino acids and antioxidants that work wonders for everything from skin and hair to full-body health when consumed. When used in hair care, seaweed intensely repairs by coating strands with fatty acids and nutrients, helping it rebuild itself and grow stronger. On top of that, it also improves texture and shine!
If you need better results, we highly recommend using the entire SMIB hair regrowth treatment set. This best-selling set comes with SMIB's shampoo, Calcium Treatment, a groundbreaking Plasma Scalp Massager and a Coral Calcium Hair Essence. A clinical test report showed that when used together as a complete set, SMIB's hair loss shampoo and products helped to soothe the scalp, reduce the number of missing hair, improve scalp elasticity and increase tensile strength. 
SMIB's best selling Complete Set includes a Plasma Scalp Massager, Coral Calcium Treatment, Coral Calcium Hair Essence and of course one of the best shampoos in Malaysia, the Coral Calcium Shampoo.
If you are seeking an organic shampoo in Malaysia, the answer lies with A'kin. Their products contain active botanical ingredients that provide the best results in healthy-looking skin and hair. The Daily Shine Rosemary Shampoo is perfect as a daily use product that enhances natural softness and shine. 
Enriched with Rosemary, Lavender and Cedarwood it gently cleanses hair, enhances natural shine and improves manageability.
Just massage into wet hair, adding more water to build a natural lather. Rinse & reapply if necessary. Do remember that, if you are using a natural shampoo for the first time your hair will most likely need to go through an adjustment period. 
This could take up to a month for the build-up of 'nasties' to be removed and for your hair to start seeing the benefits. Make note that natural shampoos tend not to lather so much as conventional products due to the natural cleansers that are used vs. sulfates which created the foaming effect.
For best results, follow with A'kin Daily Shine Avocado & Calendula Conditioner.
Fans of cult brand Innisfree should get their hands on the Silicone oil-free Green Tea Fresh shampoo! Formulated with Jeju green tea it offers a soothing feel, and its rich bubbles help to cleanse the scalp efficiently. 
As one of the best shampoos in Malaysia, the Innisfree Green Tea Fresh Shampoo, comes with a mint formulation that helps to control excess sebum. This mint oil and mint extract combination forms a rich lather that can thoroughly remove residue from both the hair and the scalp. 
The green tea and silicone-free components add moisture to your hair and refresh your scalp without leaving any residue. Did we say it smells amazing too? With a fresh and natural fragrance that will uplift your mood, all day long. The secret to this shampoo lies in its 'Beauty Green Tea", the ingredient born for the skin from Jeju. Innisfree's No. 1, "Beauty Green Tea", is a specialized moisturizing ingredient developed after the study of 2,401 Korean green tea varieties. Beauty Green Tea contains high amino acids excellent for hydration and moisture for both the skin and your scalp!
Made in New Zealand, Holistic Hair is a premium haircare range founded by a Trichologist and Hair Stylist. Their Sensitive Shampoo contains Lavender and Apple cider Vinegar to purify the follicle and restore the scalp's natural pH balance.  
It also contains Neroli and Chamomile to provide vitality and shine for healthy beautiful hair. The best part? This sensitive shampoo is gentle and free of irritating synthetic chemicals! Suitable not only for sensitive scalps, you'll find this natural shampoo also works for itching, flaking and irritated scalps.
Remember to shake the bottle well and apply Sensitive Shampoo to thoroughly wet hair. Lather up while massaging for a couple of minutes and then work your way down the hair. Finish with a Sensitive Conditioner or any of your favourite hair conditioner brands.
Got limp, thin hair? Then you'll need a volumising shampoo that can clean effectively without dragging your hair down. Briogeo's Blossom & Bloom sulfate-free shampoo gently cleanses hair and enhances the appearance of volume and fullness.
This multi-benefit volumizing shampoo enhances volume and fullness without dulling or creating sticky or stiff after-effects. Maltodextrin, a natural sugar starch, helps to thicken and separate strands for fuller-looking hair and good old ginger stimulates long-term hair health. Clean and naturally derived, this shampoo is formulated 6-free™, and made with the proprietary NOVA Complex® that boosts the look of fuller and thicker hair.

Does your hair need a bit of love and care? Heat styling, colouring and other chemical treatments can take a toll on your hair, resulting in a lot of damage and frizz. Give it a healthy boost with Nature Republic's Argan Essential Deep Care range! The Shampoo cleans any dirt, oil and other impurities without drying out the hair and scalp. Known to nourish and strengthen the hair, its key ingredient argan oil will keep your mane tangle-free and deeply moisturized all day long. There's even Rosehip oil and primrose oil to give that glossy, tangle free movement!
Want a super horse in one? The Olaplex No. 4 Bond Maintenance Shampoo is known to cleanse, repair, protect and strengthen your hair - from within. This shampoo repairs and protects hair from everyday stresses including damaged hair, and split ends by re-linking broken bonds. No.4 is colour-safe and proven to reduce breakage and strengthen all types of hair!
A highly moisturizing, reparative shampoo will leave hair easy to manage, shiny, and healthier with each use. And if you hate flyaways, know that this shampoo also eliminates frizz and flyaway hair along with reducing overall hair breakage.
KUNDAL aims to deliver luxurious, powerful and green personal care products that everyone loves. From nourishing shampoos to the best of hair treatments they create and lead the world where natural beauty is welcomed and respected. They genuinely want to leave a lasting impact beyond a bottle that captures the essence of nature. This is why one of their most popular shampoos in Malaysia, the Honey & Macadamia Nature Shampoo is one to score. Containing 32 different natural extracts with all ingredients EWG Green Grade (except perfume), these come sans harmful chemicals or silicone. Safe to use every day, the shampoo helps maintain pH balance (pH 5.6, similar to skin & hair) and also contains nourishing protein for damaged hair. What's not to love!
Another top shampoo in Malaysia, the Percy and Reed Turn Up The Volume Volumizing Shampoo is a unique, lightweight shampoo that adds ample bounce to your hair. Including avocado oil, green tea extract and lemon balm, its lightweight formula helps to build the body and create the perfect amount of volume. 
It also contains Pro-Vitamin B5 which thickens each strand from within. The shampoo nourishes and conditions hair leaving no build-up or residue and promises to give that extra bit of shine.  What's more, this best-selling shampoo is made in the UK and is silicone, sulfate-free, gluten-free, and dermatologically tested for sensitive skin. 
Ryo is a premium hair care brand that takes care of the scalp for beautiful hair that is healthy, full of shine & vitality. As one of the best shampoo in Malaysia, this 4th generation Jayangyunmo product comes with advanced GinsenEXTM, hair loss treatment technology that is derived from the powers of Ginseng.
Ryo believes that every hair problem, whether it's hair loss, thinning hair, oil or weak strands and even dandruff stem from the scalp. Backed by 40 years of extensive research on scalp & hair loss, Ryo uses advanced hair loss science technology developed by Ryo Scalp Bio Lab along with high potency of whole Ginseng to bring the scalp back to its best possible health.
This hair loss shampoo works by reducing excess sebum production with its pine needles and mint extract. It also helps to reduce itchiness and protects hair from heated styling. You'll also be happy to note that the Scalp Care Shampoo has a 7-free formula (Animal-derived ingredients, Mineral Oil, Polyacrylamide, Synthetic Colors, Imidazolidinyl Urea, Triethanolamine & Silicone Oil).
Need a shampoo in Malaysia for blonde hair? The Kristin Ess The One Purple Shampoo is a deep purple shampoo specifically created for colour-treated and natural blonde hair that instantly neutralises brassy tones. Containing the Kristin Ess Signature scent, this shampoo instantly illuminates dull hair and reduces any of that unwanted brassiness. 
You'll find that the shampoo gently cleanses, removing impurities without stripping the hair of its natural oils, restoring shine and softening strands. You don't even need a lot! Based on your hair's thickness, apply a coin-sized amount of shampoo into your hand, work up a lather and massage into the scalp. 
With purple shampoo, you should remember to apply more products where you see more brass on your hair. Also, allow it to sit longer at the top where your hair is less porous. 
Rinse well and follow with conditioner!
One of the more popular shampoos in Malaysia, the Balancing Shampoo by The Olive Tree brand is known to gently cleanse the scalp, removing excess oil without drying the hair. It is specially formulated with premium botanical ingredients such as geranium essential oil, petitgrain essential and broccoli seed oil to cater to oily scalps and dry, frizzy hair.
It even contains broccoli! The broccoli seed oil in this shampoo comes with hair nourishing vitamins like vitamin C and B6, high antioxidants and fatty acids which leave your hair light, fluffy, silky smooth and moisturised.
This shampoo contains Australian natural herbal blends and it does not contain Palm Oil, Parabens, Sodium Lauryl Sulphate (SLS), Sodium Laureth Sulphate (SLES), Silicone, Harsh Petrochemical, Synthetic Fragrances or Artificial Colours!
Customers love it for its fragrance that helps to relax and feel refreshed all day long. Double points for safe ingredients!

Are you seeking a good smoothing shampoo in Malaysia? Klorane Oil-Control Shampoo With Nettle is a sebum-regulating and purifying smoothing shampoo for oily hair. 
Rich in natural actives, it intensely purifies to give loose, supple and lightweight hair. This oil control shampoo helps to wash and eliminate excess oiliness from the hair, giving it a clean look.
The formula comes with a soft cleansing base, with nettle extract for purifying, sebum-regulating, volumising and smoothing cleansing action. It also progressively starts to regulate sebaceous extract, allowing you to extend the time between your hair washes. As one of the best shampoos in Malaysia for oily hair, it boasts 85% of natural actives leaving you with hair that's silky smooth! 
Did you know that cult beauty brand Drunk Elephant also makes shampoo and hair care? The Cocomino Glossing Shampoo is a sulfate-free, colour-safe blend of coconut-based shampoo formulation, made just for scalp/ 
Featuring a creamy foam that gently lifts dirt and other styling products and substances without harming hair shaft and colour, its soothing and strengthening extracts encourage water retention and add smoothness. Shine and protection from heat is just the cherry on top!  
Antioxidant and fatty acid-rich oils such as sacha inchi seed, marula and argan, and a blend of multi-amino acid contribute moisture to hair without weighing it down. Expect better manageability, with visible shape and bounce.
Phytoapaisant Soothing Treatment Shampoo is a soothing daily use shampoo in Malaysia that is specially formulated for the needs of sensitive and irritated scalps. Infused with a soothing blend of botanical ingredients, it contains Purslane Extract, an anti-irritant agent that soothes itchiness and discomfort, and Chicory Root Extract, a gentle cleanser that won't trigger the scalp's protective barrier. 
The scalp is soothed, moisturized, and restored to optimal levels of comfort, while feelings of itchiness and irritation are instantly relieved. How does Purslane Extract help? This ingredient has anti-irritant and anti-inflammatory properties which provide a soothing effect and helps stop itchiness. On the other hand, Linden Blossom and Passion Flower Extract act as a moisturiser and protector. They soothe and moisturise the hair and scalp while restoring the scalp's barrier.
After super-soft, silky hair? Then you'll love this popular shampoo in Malaysia - Ma Cherie Air Feel. A sweet-smelling hair care product formulated with Honey Gelee it allows your fingers to glide through smooth silky hair. It also repairs damaged hair from within and transforms damaged hair to become silky and smooth. Customers keep coming back for its lasting sweet and fresh floral, fruity fragrance.
Perfect for those with fine and easily tangled hair, the shampoo helps to achieve volumized hair with a light feel to it. It also has a reparative formula that gently penetrates the hair giving it that light-lifted, air feel.  It also contains a smokey-cut fragrance which gives it that famous long-lasting, romantic scent.

If you are after the perfect shampoo in Malaysia for coloured hair, take a look at Love Beauty and Planet's Blooming Color Murumuru Butter & Rose Shampoo.
The Blooming Color Shampoo is designed to deliver a healthy shine while protecting coloured hair. The formula is infused with organic murumuru butter that is sourced from a certified sustainable source in Brazil.
Murumuru is like coconut oil and Murumuru butter comes from the white fat found in the nuts of the Amazonian murumuru palm tree. This fat is known to be deeply moisturising. 
The Blooming Color Shampoo also comes infused with ethically sourced rose absolute from Bulgaria. Exuding a rich, warm floral rose experience you'll find the product has a juicy freshness that gives an intensely feminine and refreshing experience in the shower.