Whether it's the traditional curries or the international flavours brought back home by world trotted culinary chefs, Delhi harbours something for everybody. Full of flavours and wholesomeness, the Indian food palette is as colourful as the country itself.
The raging popularity of Indian cuisine amongst travellers does not come as much of a surprise. For an ultimate fine dining experience in Delhi, we recommend these top five restaurants.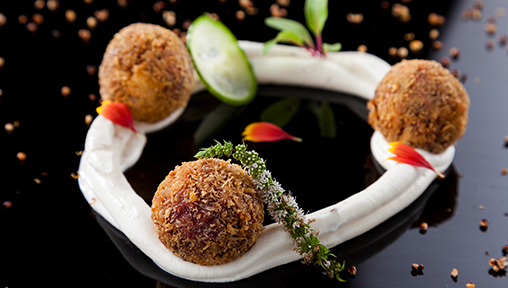 Loved by food critics as well as diners from around the globe, New Delhi-based The Lodhi's Indian Accent has made it to the list of World's 50 Best Restaurants. What makes Indian Accent stand out amongst its competitors is the amalgamation of global ingredients conceptualised with the flavours and traditions of India under the leadership of Chef Manish Mehrotra.
Whilst the Blue Cheese Naan, Duck Shami Kebab, Dal Makhni, Pork Spare Ribs, and the classic Butter chicken are quite the rage amongst the clientele, Chef Manish Mehrotra champions a vegetarian dish as his favourite - Soy Keema. Curated perfectly for International guests' taste buds and Indian hearts, the food at Indian Accent is both comforting and crafted visually with great culinary aesthetics before being presented.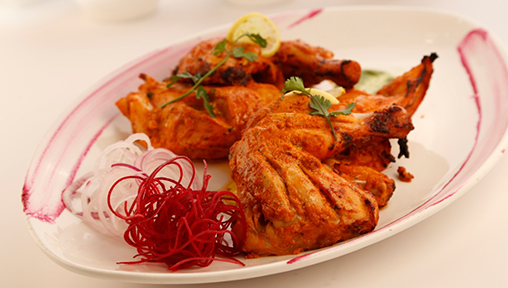 Nestled in the heart of Delhi, Connaught Place is this culinary landmark, The Embassy Restaurant. A favourite amongst celebrities and politicians alike, The Embassy Restaurant draws its audience for the remembrance of the newly decolonised India. Started in 1948 by two friends from Karachi, The Embassy Restaurant has kept its recipes intact even several decades later.
Far from being modern, the recipes at The Embassy Restaurant are from a pre-partition era and boast of age-old dishes. One of the most beloved dishes here is Murgh Masalam - chicken breast cooked in a creamy almond sauce dripping in multiple flavours but not spicy as the recipes curated back then catered to the elite European class present in India. Samosas at The Embassy Restaurant are one complete meal in itself and the Bhatooras of the Chana Bhatoora are known for their gigantic size.
Image Source: Ziu Facebook Page
Thai food might have a complex nature when it comes to flavour but under the leadership of globe-trotting Chef and Owner Gurmehar Sethi, Ziu serves not only the best Thai food in town but a sensory experience like no other.
The green and blues alongside light structures and lavish glasswork in Ziu's interior decor captivates one with a zen-like feeling so that their gastronomical experience is not a meal but like meditation.  Whilst Ziu's innovative Thai culinary attractions such as Coconut Ice Cream, Burnt Garlic Rice, and Sushi refine the appetite of their guests, their bite-sized Kanom Krok is the star of their menu. The familiarity with the original traditional recipes of Thai food blend with ease with the modern notes of Ziu.
One of I.T.C's best known and Delhi's most expensive restaurants, Bukhara has withstood all the trends in the culinary industry and turned guests into loyal fans of its North West Frontier cuisine. Bukhara, with its rugged interiors, low seating and eccentric paving walls, encourages guests to ditch the cutlery and devour their food with hands to enjoy their flavourful food to its utmost.
As famous as Delhi is for Tandoori food, Bukhara has not yet met its competitor - the Indian traditional ovens of clay used for making kebabs and bread. The chefs at Bukhara follow a simple policy with their forty-year-old menu to involve various senses - touch, taste, smell and sight. The spices known for the vigorous flavour are personally handpicked by the chefs and in the end, it boils down to the art of slow cooking over twenty hours for the rich and creamy consistency of the food. It comes as no shock that the most popular dish is Dal Bukhara paired with Sikandari Raan. The Bukhara special Murgh Malai Kabab has its own fair share fans all over the globe.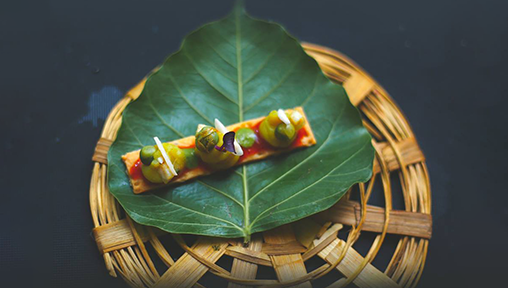 Image Source: Masala Library Facebook Page
As the chef cum owner himself stated, "We serve memories, not food", Masala Library by Jiggs Kalra brings a unique culinary experience of Indian spices and herbs with molecular gastronomy under one roof. Masala Library brings forth flavours from North to South of India with an Avante Garde presentation to serve their guests not just food but an experience that is not available anywhere else.
Their menu dates back four decades and their team of chefs is as diverse as India itself; every state that Masala Library hosts are represented by a native chef and the recipes are traditional to their roots, enabling the guests to experience true flavours of each dish ordered. Known best for their vegetarian menu and Indian curries, the guests love the deconstructed Samosas, Galouti Kebab, Mushroom Soup, Rabri and the cocktails and mocktails at Masala Library.