lifestyle
Best Gift Hamper Delivery in Singapore for All Occasions
Published Date
: 30 Aug 2023 14:23

From gourmet food hampers, to baby gift delivery, this list has the best gift hamper delivery in Singapore, suitable for all occasions
Looking for the best gift hamper delivery in Singapore? Whether it is for celebrating a special moment, birthday gift delivery or simply sending warm wishes to your loved ones, gift hampers are a convenient and thoughtful way to convey that message. 
Gone are the days of boring gift hampers! Today, Singapore boasts some of the best gift hamper delivery services in the world - with the finest curated options that come delightfully packaged.  
Read on as we list our favourite gift basket delivery services in Singapore, ranging from baby gift hampers to corporate gifts, and discover how these thoughtfully designed packages can make lasting impressions on those you hold dear.
Best Gift Hamper Delivery in Singapore for All Occasions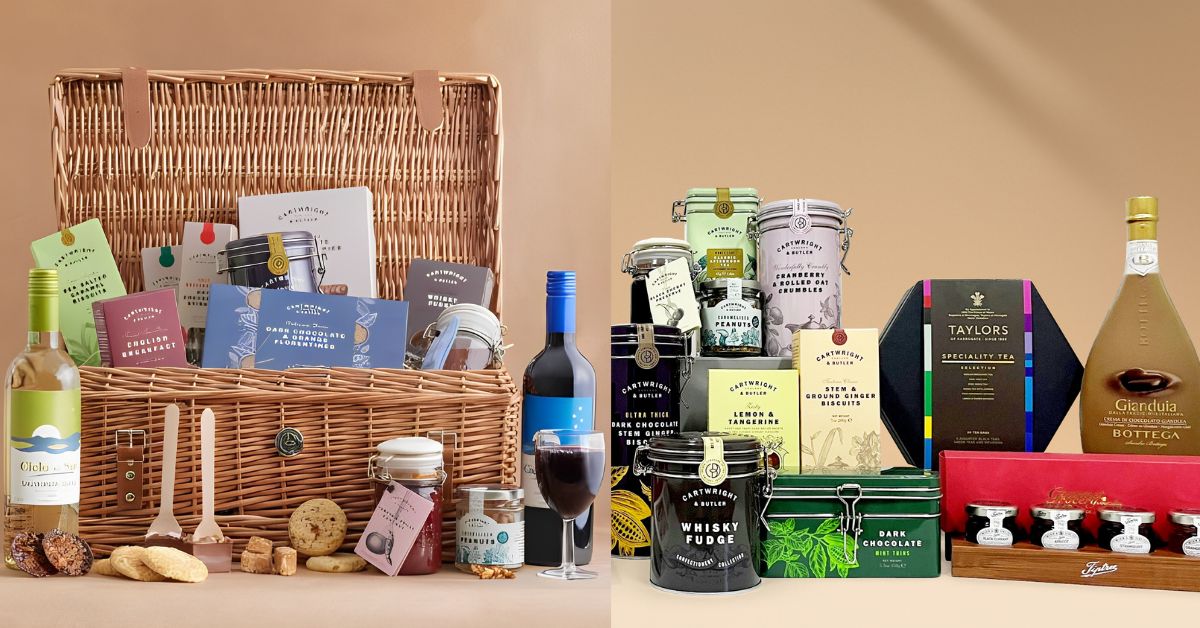 Looking for that perfect gourmet food hamper? Gourmet Grocery by OurChoice, is a premier grocery in Singapore committed to delighting with the finest epicurean foods from Europe.
As the exclusive distributors of all your favourite international brands such as Taylors of Harrogate, Tiptree Wilkin & Sons, Cartwright & Butler, and many more, they are the perfect gift destination for both professional chefs and home gourmands alike. 
Gourmet Grocery by OurChoice house a wide range of gift hampers suitable for birthdays, housewarmings, festive occasions such as Christmas, CNY and Diwali, and corporate gifting. 
We love how you get a combination of items in these bespoke hampers. From chocolate, biscuits, candy. savoury snacks, olive oils and balsamic vinegar to wine, cheese platters, tea and jams, you will find something to suit everybody's palette. 
You even have the flexibility to select the price range for corporate gifts, allowing them to tailor these gifts to your specifications including customised greetings. Whether you prefer pocket-friendly options or luxury gourmet hampers, they offer a variety of packaging choices, including carrier bags, gift boxes, and gift chests. 
Best of all, you will find their pricing competitive and with the next-day delivery option, you can even allow for last-minute gifting. 
Prefer to gift single items rather than gift hampers? Take a look at the range of artisanal chocolates packed in gift-ready boxes. You can also enjoy other speciality grocery items like Tiptree Jam bottle sets that make beautiful wedding gifts. 
No matter the occasion or your gifting needs, you will find the best gift hampers with delivery in Singapore at Gourmet Grocery by OurChoice.
Next-day delivery is offered every day except Sundays and Public Holidays for all orders confirmed before 11:59 PM. 
OurChoice. Phone: (+65) 6686 4438. Whatsapp: (+65) 9058 9256
A traditional classic that has been loved for years, Eu Yan Sang is the place to go for nutritious and healthy hamper delivery in Singapore. Thoughtfully and meticulously curated to nurture the body and mind, the brand prides itself on its legacy rooted in Chinese medicine. Over the years, Eu Yan Sang has successfully blended centuries-old wisdom with modern wellness concepts, resulting in a collection of hampers that embody vitality and balance. Tailored to address various and specific aspects of well-being, from boosting immunity and promoting relaxation to enhancing vitality and overall health, these hampers make the perfect gift for people of all ages.
Select the best health hampers for aiding someone's journey towards revitalised well-being by opting for the Get Well Soon Hamper (S$168)! This hamper features 3 bottles of Traditional Essence of Chicken, 3 bottles of Traditional Essence of Fish, 4 bottles of Bird's Nest with Rock Sugar (Reduced Sugar), 4 bottles of Superior Bird's Nest with Wild American Ginseng, and 6 bottles of Essence of Chicken with Wolfberries and Red Dates. This comprehensive assortment is poised to facilitate a swift recovery. Accompanied by a personalised complimentary gift card, rest assured that timely delivery within Singapore is possible if you finalise your order before 3 p.m.!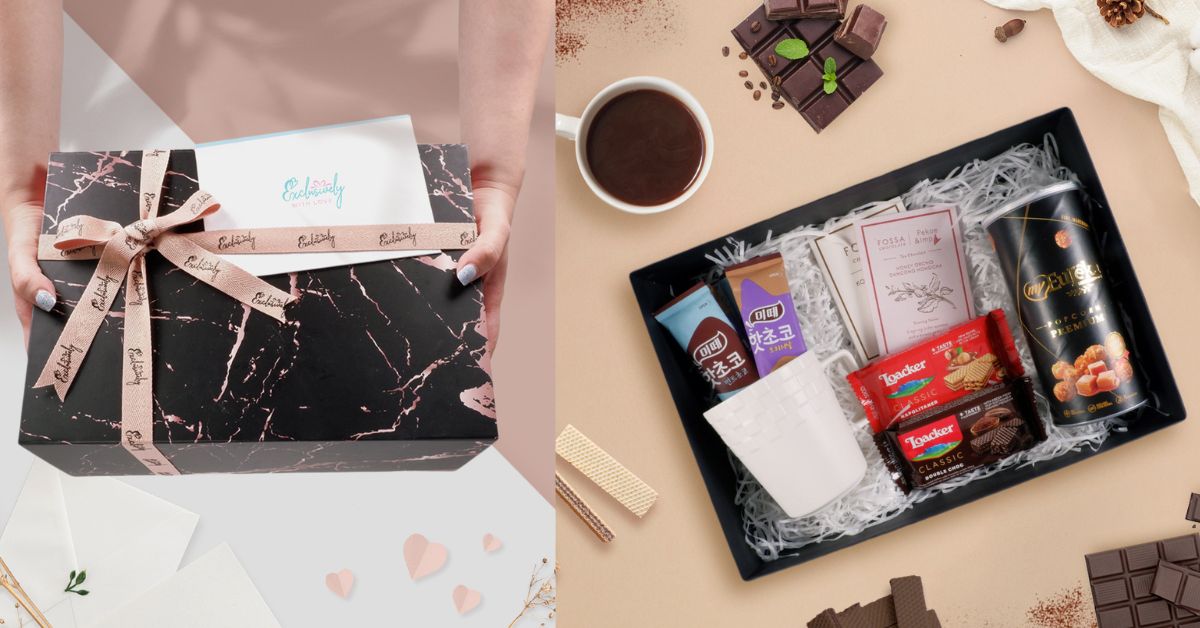 Need a gift but can't find the time to shop for it? Or perhaps you have someone in mind that you'd like to thank? Why not surprise them with a gift box from Exclusively With Love!
At Exclusively With Love, hassle-free gifting is just a button click away. Simply pick from a wide selection of thematic Ready-To-Gift boxes that come curated with high-quality products and are thoughtfully packaged to suit every occasion. 
For a more personalised touch, you can choose what goes into your gift box using their Build-A-Gift feature. This allows you to choose from a wide range of pampering products such as preserved flower bouquets, confectioneries, beverages, drinkware, candles and personal care items that have been carefully selected and tested by the team. 
As Exclusively With Love only source from leading local and regional brands that are artisanal and socially responsible, you can be rest assured that the quality of your gift box is never compromised. 
Need something specific for your gift hampers in Singapore? Then try the Concierge Gift Service, a customised gifting service for those who have a theme in mind, but don't have the time to curate and deliver it themselves. Exclusively With Love can help with the purchase, wrapping(including customised designs) and delivery of this bespoke gift. 
They also offer same-day* as well as scheduled delivery within Singapore. In fact, Exclusively With Love takes great care in their delivery process to ensure that your gift always arrives promptly and in perfect condition. 
Exclusively With Love removes the complication of gifting so that you can sit back and relax knowing that everything is well taken care of. Reach out to their friendly team at [email protected]. 
*Terms & conditions apply
Our favourite baby gifting brand in Singapore, RAPH&REMY is the go-to destination for hamper delivery for all baby-related occasions. Thoughtfully curated, each baby gift hamper is a lovingly crafted ensemble that embodies both practicality and heartfelt care. Among their stellar offerings, is the best-selling Newborn Essentials Collection Gift Set that gives parents a mix of both comfort and style for their little one. Priced at S$234.00 (U.P. S$259.20), this gift set is a boon for new parents, presenting a seamless starter kit and eliminating the guesswork of those initial months.
As always, personalisation takes centre stage at RAPHANDREMY. With the option to select colours and personalise with a special name, every bundle becomes a unique expression of love and thoughtfulness. Beyond aesthetics, the collection is carefully designed to cater to Singapore's climate, offering super soft and lightweight fabrics that cocoon newborns in utmost comfort. The fabrics are OEKO-TEX®100 certified, and tested and certified to be free from more than 100 substances harmful to human health. 
RAPH&REMY are known for their handwritten gift cards and the accompanying unboxing experience. A delight to both gift and receive, these gift hampers come lovingly wrapped in a luxurious gift box, complete with a message on a gift card. 
And while they are one of the best hamper delivery services in Singapore, RAPH&REMY also ship worldwide! So, you are in need of baby gifts for new parents living outside of Singapore, they'll send your gift, packaged just as beautifully. 
RAPH&REMY Flagship Store: 33 Neil Road 088820 (corner of Duxton Rd)
Opening hours: 10 am-7 pm Monday to Friday and 11 am-6 pm Saturday.
Looking for artisanal chocolate hamper delivery in Singapore? Gift your fellow chocolate lovers an indulgent gift hamper by Anjalic Chocolat. With every piece carefully crafted, it is a testament to Anjalic Chocolat's commitment to creating moments of pure delight, encapsulated in the symphony of flavours and textures that define their chocolates. Each piece is also proof of their dedication to freshness and quality. Crafted anew each day, they use only the finest ingredients – Belgian couverture, velvety fresh cream, butter, vibrant fruit purees, aromatic whole spices, robust coffee, fragrant teas, crunchy nuts, and succulent dried fruits. 
Elevated to an art form, chocolate by Anjalic Chocolat is the best gift you could ever give to a chocolate connoisseur. A curated ensemble that embodies their dedication to artisanal craftsmanship, the Chocolate Hamper (S$125) encompasses an exquisite assortment of 7 artisanal chocolate delights. Recipients can revel in a gift box of 9 assorted handmade bonbons and truffles, Belgian Chocolate Squares, two luxurious Chocolate Bars (100g each), a pack of indulgent Toasted Almond Rochers in Milk Chocolate (200g), and a pack of luscious Orangettes or Apricots (150g). What's not to love? 
Need a housewarming gift? Pamper your loved ones with a lavish gift set from our favourite luxury home brand, TEMPLE Candles. Created by award-winning entrepreneur Kendall Hamill, TEMPLE Candles is Singapore's only luxury home fragrance company whose eco-luxe products are inspired by, and made in Singapore.
While the aesthetics of the products and gift sets are beyond luxurious, the contents are equally lush – making them the best self-care gift hampers possible. As the name suggests, spoil your recipient rotten with the 'Totally Spoilt' Gift Set (S$295). Presented in an ebony gift box embellished with a silver foil monogrammed ribbon and exquisite tissue wrap, this gift set exudes an air of opulence from the moment it is received. 
In the set, lies a faceted-glass candle, and a matching diffuser, all dressed up to infuse your rooms with a subtle, lingering fragrance. The set also comes with a matching Room & Body Mist (35ml), Hand & Body Wash and Hand Therapy Créme (300ml). 
TEMPLE's custom-made faceted glass candle and diffuser vessels effortlessly fill a room with a gorgeous scent, and are also elegant statement pieces of home décor; adding a touch of glamour, while blending seamlessly with any interior style.  
Complimentary hamper delivery in Singapore for orders worth $100 and more.
Committed to delivering not only hampers but also emotions, The Hamper Story embodies express delivery, islandwide free delivery, and the enchantment of customisation. Get to experience the magic of seamless gifting as The Hamper Story ensures swift express delivery to convey your sentiments without delay. Islandwide free delivery further adds a touch of convenience, allowing you to extend your warm wishes with ease.
For those seeking to make a statement of appreciation or affection, The Hamper Story presents the Token of Love Hamper (S$218). This halal-approved ensemble encompasses a Multipurpose Gift Basket brimming with delectable goodies. Dive into the nutty goodness of Premium Hamper Story Special Walnut, Cashew, Pistachio, and Almonds (200g each). "Bacha Coffee," a selection of fine-flavoured coffee in 12 indulgent bags, adds a touch of warmth to the hamper. Awfully Chocolate Baked Almond Streusel (100g) and Twinings Flavored Green Tea (25 bags) infuse moments with gourmet pleasures. The Token of Love Hamper also boasts Marks & Spencer Date, Plum & Hazelnut Biscuits (130g), Eureka Popcorn (70g), and M&S Cheese Twists (125g), offering an array of flavours to savour. Fresh Fruit, including Grapes, Raspberries, and Blueberries, adds a wholesome touch. Enhanced by fairy lights and decorative elements, this hamper becomes a visual and sensory delight.
The Hamper Story doesn't limit itself to personal gestures; corporate hampers are also a speciality. The Hamper Story's corporate offerings are definitively some of the best and most ideal choices for businesses seeking to express gratitude to their associates. Just give their friendly team a call and find out more!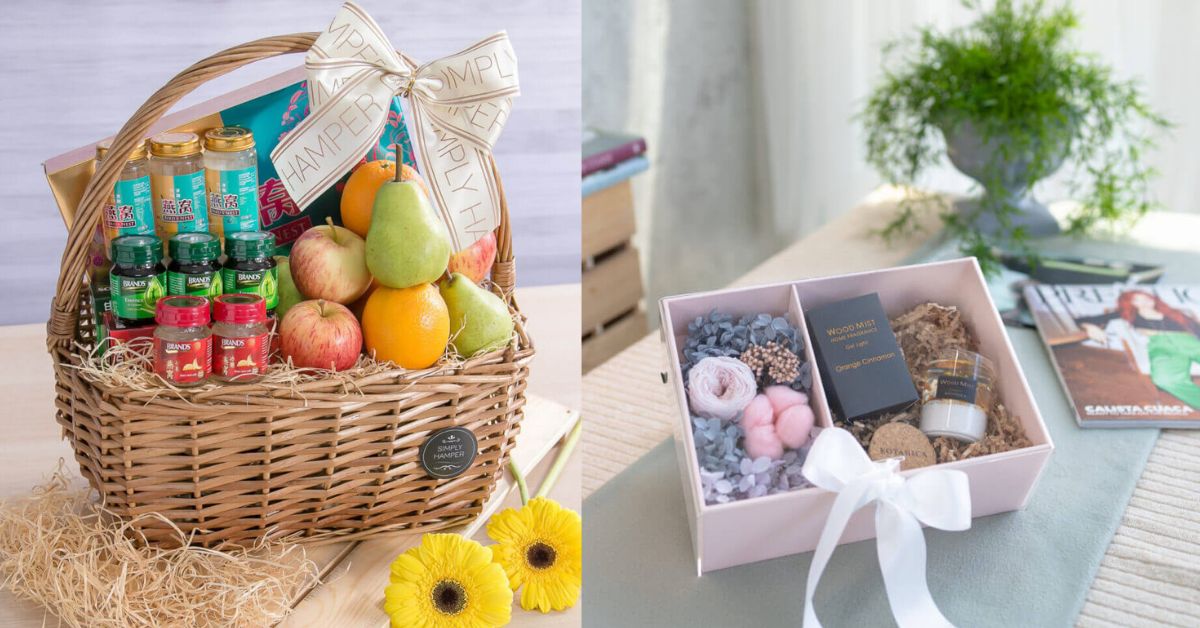 Show your sincerity and gift from your heart with a beautiful hamper from Simply Hamper. Tailor-made for your recipient and the gifting occasion, Simply Hamper has some of the best and most aesthetically pleasing hampers in Singapore. 
Take for instance, the popular Tonic & Fruity Vitality Pack. Priced at an affordable $107, this delightful hamper is a vitamin-filled basket perfect to wish someone a speedy recovery. The well-preserved assorted fruits in the hamper will appeal to all taste buds while the healthy drink accompaniments come with tremendous nutritional benefits.
There's also an exquisite gift basket to wrap it all together! 
With free delivery in Singapore and options for paid urgent delivery, this is one of the most convenient gift hamper delivery services you can opt for. Take a look at their website for more details.
Who says you can't show your love with cheese? The Cheese Shop allows you to easily create a Custom Gift Basket (S$21) – with an exquisite selection of cheeses, wines, and more, to curate a truly special offering. Your carefully chosen items, whether cheeses, wines, or other delightful treats, will be tenderly nestled within the basket of your choice, creating a visual masterpiece that mirrors the care you have put into crafting your gift. What's more, a personal touch awaits – a handwritten message of your choosing will be elegantly presented within the basket. Do take note though, that to ensure your gift is a visual delight, it is recommended to have a minimum order of S$150 for the basket option. For more compact orders, you can opt for the equally charming Gift Box as an alternative
If you are overwhelmed by the array of cheese selections, you can also try for their pre-packed gift sets. The Celebration Selection Pack (S$108) is a curated ensemble of cheeses – from the light, creamy notes of Jersey Gouda and Brillat Savarin With Truffles to the rich depths of Gorgonzola Dolce and the fruity allure of Wensleydale With Cranberries. These cheeses find their perfect companion in the fresh, vibrant bubbles of Prosecco, resulting in a harmonious celebration of taste. You can then top this medley atop with The Fine Cheese Co. Rosemary and Extra Virgin Olive Oil Crackers and The Fine Cheese Co. Fig & Honey Crackers. One will also delight in the contrast of sweet and salty with Castellino Sicilian Sweet Olives and Cottage Delight Original Strawberry Whole Fruit Jam. Then, conclude the culinary journey with the indulgent allure of Green & Blacks Organic Dark Chocolate 70%.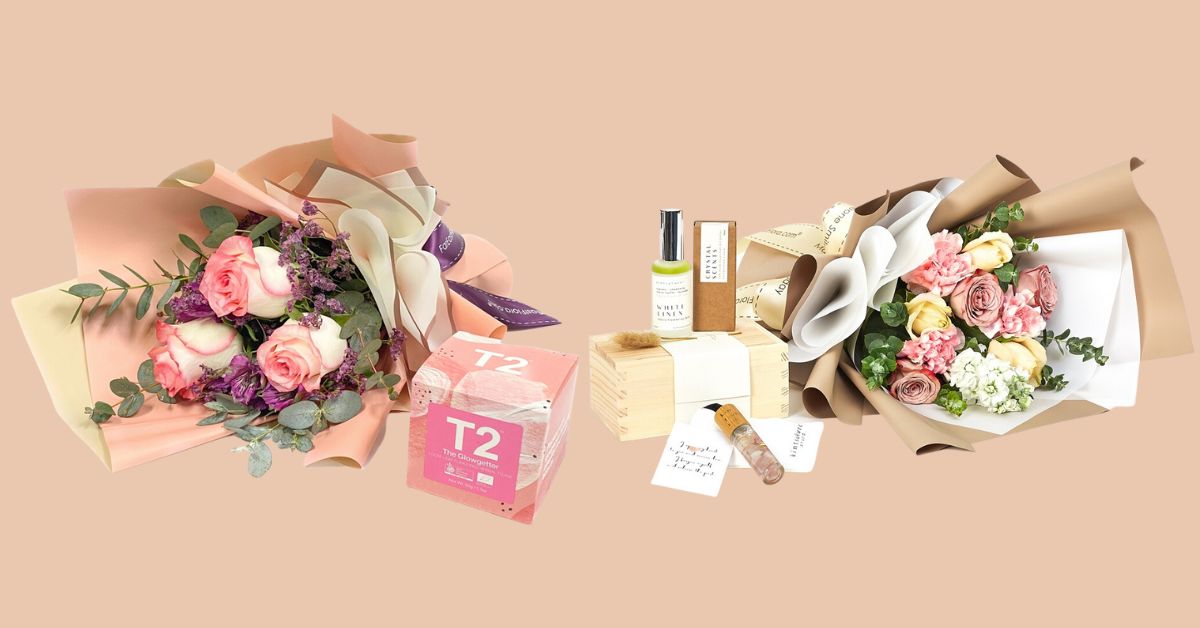 Dive into a world of boundless gifting possibilities at Far East Flora, where a captivating assortment of distinctive gift hampers awaits. Overflowing with delectable delights, exquisite wines, and practical treasures, Far East Flora's range caters to every occasion. Whether commemorating an anniversary, celebrating a birthday, welcoming a newborn, or extending gratitude to a business associate, rest assured that your gifting needs find their perfect match here.
With an illustrious legacy spanning over 50 years, Far East Flora is synonymous with expert gifting craftsmanship. Your gift hampers come meticulously curated, much like the Stress, Busted! Hamper (S$53.89 including tax). Banish mental strain and embrace tranquillity with this rejuvenating basket of TLC, Tender Loving Care. A symphony of nature's bounty awaits, including an Avocado, a trio of Bananas, a succulent Dragon Fruit, a luscious Green Kiwi, a crisp Green Apple, a duo of Red Apples exuding freshness, and a radiant Orange.
For the best celebratory hamper, elevate the occasion with the Temple Street Cocktails x Flowers Gift Set (S$53.89 including tax). Embrace the art of celebrating victories, both momentous and subtle, with this cocktail and floral duo – as your recipient gets to enjoy two mini ready-to-pour drinks by Temple Street. Revel in the classic gin-based Negroni, where the symphony of London dry gin, Italian bitters, sweet vermouth, and a dash of chocolate liqueur orchestrates a harmonious melody. Indulge in the classic vodka-based Espresso Martini, where the rich notes of wheat vodka, espresso, brown sugar, coffee liqueur, and a subtle hint of spice waltz together. Complementing this beautiful symphony is a captivating flower arrangement, meticulously composed of button pom, statice, eryngium, Limonium, and eucalyptus cinerea.  
There is never a wrong time and place for a comforting cup of tea. Do your loved ones a favour and send them your love in the form of tea leaves with TWG's exclusive tea blends and amazing gift hampers.
Grab an assortment of flavours with the Bespoke Teabag Assortment(S$58) where you can get to mix and select 3 tea flavours from a wide selection of 16 different tea. For a fresh and minty selection, opt for the Marrakech Mint which is made from raw organic whole leaves of wild and pure Moroccan Mint. For the fruity option, Alfonso Tea is a great choice as it features a secret combination of TWG Tea fruits and flowers that is fragrant. 
Alternatively, pick the Collector Hamper (S$600) for a fellow tea enthusiast. Elegantly encased in TWG Tea's signature chic hamper box, adorned with the iconic TWG Tea sleeve and ribbon, this opulent treasure is a true embodiment of refinement. The heart of this ensemble is the Collector's Tea Tin, Haute Couture Tea (250g), a masterpiece that invites the senses on a journey of sublime indulgence. Additional delights await, each enclosed in an exquisite Collector's Tea Tin. The 1837 Black Tea (250g) promises a rendezvous with timeless sophistication, while the Geisha Blossom Tea (250g) awakens the palate with floral nuances. Golden Earl Grey Tea (250g) captivates with its regal infusion, and Singapore Breakfast Tea (250g) pays homage to the vibrant flavours of the city.
TWG provides free shipping within Singapore with a minimum spend of S$50. *Except orders with mooncakes and patisseries.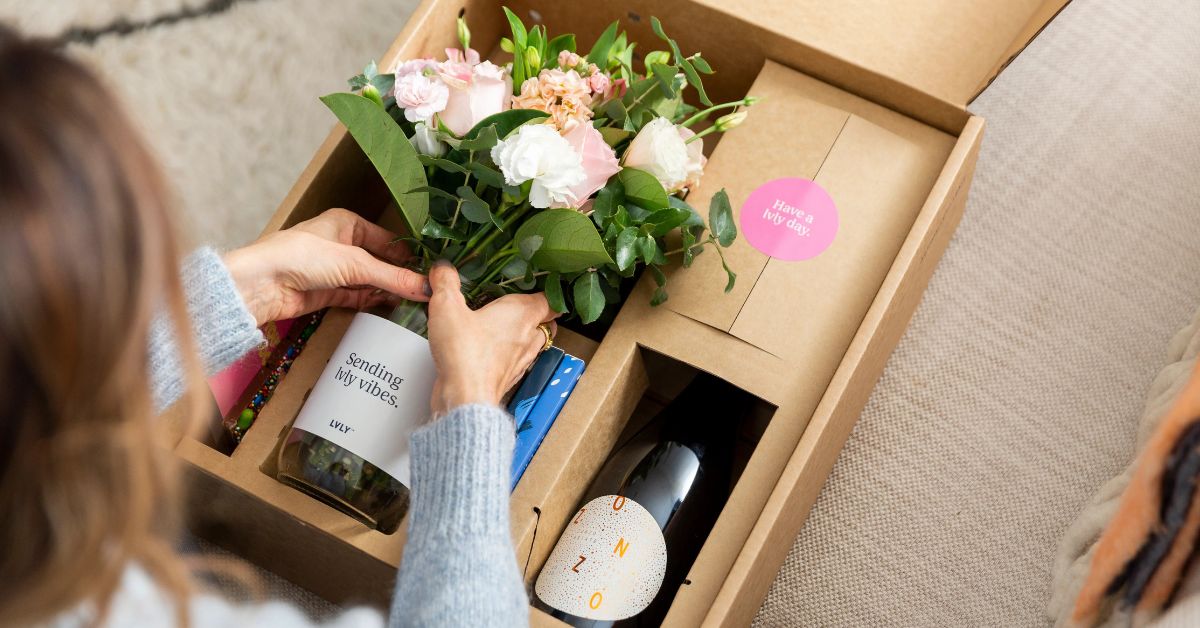 From birthdays that deserve a splash of vibrant cheer to expressions of gratitude that demand a touch of elegance, LVLY hamper delivery is a testament to the art of meaningful gifting.
Looking for the best gift for that one friend whose handbag doubles as a treasure trove? LVLY provides the perfect solution and gift with the LVLY Beauty Fixer Hamper. (S$74.90-S$89.90) Tailor-made for the handbag hoarder, this delightful combination of sumptuous hand cream and indulgent body lotion is sure to enhance their collection.
At the heart of this gift is the Nourishing Berry & Beech Leaf Hand Cream (80g), a luxurious elixir that pampers hands with a harmonious blend of rejuvenating ingredients. Its velvety touch transforms every application into a fragrant escape, keeping hands soft and supple. Adding a touch of elegance is the trademark LVLY Pretty Pastels flower jar, an exquisite vessel that cradles your chosen posy size. This stunning display exudes timeless charm no matter the size of your chosen flower arrangement. 
To enhance the sentiment, an LVLY glass jar accompanies the ensemble, adorned with assorted quotes like 'Have a LVLY day,' 'You LVLY thing,' and 'Sending LVLY Vibes.'
Best of all, you get same-day delivery! Simply order by 5 p.m. for same-day delivery from Monday to Saturday, 2 pm for Sunday, 7 days a week across Singapore!