Eyebrow embroidery and microblading in Singapore are amongst the top services that customers have indulged in after the lockdown. Aside from the fact that your eye area is most visible under a face mask, eyebrow embroidery or microblading is also a long-lasting procedure. This means that you'll get long term results for a relatively short amount of time spent in a salon. If you too are considering getting your eyebrows embroidered or microbladed, these salons in Singapore are best equipped to manage most skin types. 
Need a refresh of eyebrow embroidery or cleaning up of a microblading botched-up job instead? Don't hesitate to speak to the technicians, as the staff at these salons have truly been through it all.
Established in 2013, Dreamlash Korea is a premium Korean Eyelash Extension studio that focuses on creating the perfect lash and eyebrow designs for every client by using the most advanced techniques developed in Korea.
Amongst the popular non-eyelash services at Dreamlash is Korean Eyebrow Embroidery! You'll find two types of Eyebrow Embroidery at Dreamlash Korea, Korean Powdered Eyebrow Embroidery and Ombre Eyebrow Embroidery.
Korean Powdered Eyebrow Embroidery creates a light and even-toned looking brows which is suitable for those who prefer the no make-up effect. The result is a powdery misted effect with a colour that will suit your skin tone. Powdered effect eyebrow embroidery typically lasts for about 12 months before a touch up would be required. Given the light and natural effect, a touch up will be recommended every 12 months. Most customers love the powdered effect of natural-looking brows, and especially for those who adore the everyday Korean natural makeup look.
Ombre Eyebrow Embroidery creates a gradient effect using a special technique where the ends of the brows are specifically dark and gradually lightens towards the front. The Ombre Eyebrow Embroidery compliments very well with ladies who favour heavier make-up with eyeshadow and eyeliners.
The process to achieve these beautiful brows starts with a detailed consultation on the process for the brow artists to understand the needs and expectations of each client. After that, they'll start with trimming and designing the eyebrows. Once the client is happy with the design, numbing cream will then be applied to ensure comfort throughout the process. Post numbing, a selected pigment that is suitable to the client's skin colour is inserted into the skin with tiny disposable needles. The entire process takes around 2 hours and is only managed by a skilled and certified brow artist. Don't worry regardless of skin type - dry, oily or sensitive - Eyebrow Embroidery at Dreamlash Korea is suitable for almost anyone. Results are expected to last between 12-18 months.
Look make-up ready every day with Dreamlash Semi-permanent Eyebrow Embroidery services. Get $100 off and one complimentary touch-up session for your first Eyebrow Embroidery service, available at Dreamlash Compass One outlet and Dreamlash Guoco Tower outlet!
Dreamlash Korea. Compass One, 1 Sengkang Square, #04-24, Guoco Tower, 7 Wallich Street, #B1-13, Citylink Mall, 1 Raffles Link, #B1-09A. FB/IG: @dreamlashkorea
We love the one-stop-beauty salon Highbrow where you can get your eyebrow embroidery, eyelash extensions, nails and waxing, all under one roof. Now in their 9th year of business and having serviced thousands of customers since, Highbrow have maintained an authenticity and high quality that is hard to come by. Eyebrow embroidery is their key skillset and they have been able to achieve excellent brow works using special techniques, tools and aftercare products.
If you have oily skin and are wondering whether eyebrow embroidery will suit you, choose Ombré Brows at Highbrow. They will define your brow line with soft powdery strokes made of fine shading that are perfect for filled in brows or cover up. This process works best for oily skin and is very lasting. However if you'd like something more natural-looking consider 7D Brow Enliven. 
Giving a super natural look, made of strand-by-strand hair strokes, the 7D Brow Enliven service is a combination of strand-by-strand and Misty Brows. Most customer's find this technique to be on the same pain-level as tweezing and often do not feel a thing due to the application of numbing cream beforehand. You can expect your 7D Brow Enliven to last between 6-9 months after the first session. Pop by for a touch up within 6 months and you'll extend the life of your eyebrow embroidery to one and half to two years(depending on your skin condition, choice of colour, shape and after care).
If you've had a bad eyebrow job that needs to be fixed, also consider a visit to Highbrow. Having fixed plenty of botched eyebrow embroidery, Highbrow use Pico Laser to get rid of any unwanted pigment on your brows.
Highbrow has always been about creating a special eyebrow embroidery and eyelash extension experience for their customers by bringing new techniques and products to Singapore. Consider walking in for a consultation to see what makes them so loved!
Highbrow, Orchard Gateway, The Star Vista, Capitol Piazza and Parkway Parade. Call (+65) 87988988
Want an eyebrow specialist that understands different skin tones and is loved by both expats and local customers? As one of Singapore's most-trusted eyebrow embroidery and eyelash extension specialists, Jo Artysan has created a strong loyal following within the expat and local communities alike.
With more than 6000 beautifully shaped brows under their belt, Jo Artysan is helmed by a team of passionate and highly qualified artists including Founder and Director Jo herself. And unlike most salons, Jo Artysan believes in bespoke services - a philosophy that no two eyebrows are the same, and they shouldn't be! 
On a mission to "Beautify the world, one BROW at a time", the treatments here are tailored to suit each individual, i.e, YOU!  This means that any client who walks into their convenient Orchard Road location can be assured of the Jo Artysan promise. One that includes experienced, certified experts, treatments that undergo stringent quality control, and artists that come with years of experience to give you the best brows of your life.
Working by appointments only, Jo Artysan ensures not to rush the process allowing a generous 2-3 hours for each client so they are able to create those bespoke eyebrows that they are known for! 
Types of eyebrow embroidery covered include Ombre Brows, 6D Microblading, 9D Microshading, Signature Brows, Nanoblading and even brows for gentlemen. What's more, there are no hidden costs and absolutely no hard selling of packages!
Jo Artysan uses only 100% high-quality premium pigment, so your brows don't change to shades of blue, green or red post the process. The process is also safe, done with high service standards and comfortable. In fact, it is so comfortable that many clients fall asleep during the eyebrow embroidery process. 
Want to get other treatments done too? Jo Artysan offers a range of aesthetic treatments including Brows, Eyeliner, Lips, and Hairline embroidery for both men and women. 
Natural brows done by some of the best eyebrow experts in Singapore? We highly recommend you book in for a consultation at Jo Artysan soon!
Jo Artysan. 111 Somerset, Triple One Somerset #02-44 - #02-48 Singapore 238164. Hotline (+65) 8889 2880, Whatsapp (+65) 8889 2880
What distinguishes award-winning JPro Beauty from the other eyebrow embroidery establishments in Singapore? Looking at their ratings and accolades, you will soon realise what this eyebrow embroidery salon in Singapore is well-known for - their customer service and technical skills are second to none!
Skilled, meticulous, and patient as some customer reviews call them, JPro Beauty is clearly a favourite eyebrow embroidery salon in Singapore.  
You can be confident you will be getting the highest quality pigment specially curated from the US and Europe (no more colour fading or turning into green, blue or red ugly hue! ), high-end tools, and certified skilled artists from this company.
Choose the Misty/Ombre Powder Brows if you want a powdery misty gradient finish for a makeup-ready look. If you need a super-natural finish, try their Signature Microblading Brows, as this technique uses hair-like strokes to simulate real brow hairs.
Get the best of both worlds with JPro's Hybrid Combo Brow, combining the benefits of Powder Brow with their Signature hyper realistic hair stroke microblading to create the most natural and fuller defined brows.
JPro Beauty's latest NanoBlading Hairstroke is a great option for those that have an active lifestyle or experience oily skin. Concerns over softening or blurring of hairstrokes over time and brow longevity will be a thing of the past with their latest brow technique!
Brows that aren't quite right? If you've had a bad experience with eyebrow embroidery in the past, JPro Beauty is also the place to go for correcting or removing old or botched brows. They use a non-laser PhiRemoval procedure to correct your brows, so you won't have to worry about your arches or any remaining pigments any longer.
JPro Beauty - Brow. Lash. Nail. 104 Jurong East Street 13, #01-102, Singapore 600104 and 5 Coleman St, #03-22, Excelsior Shopping Centre, S179805. Phone: (+65) 98003928
As one of Singapore's best eyebrow embroidery providers, The Brow & Beauty Boutique have over 25 years of experience in the field of semi-permanent makeup. Started by Mdm Apple Sun, this eyebrow embroidery salon has grown to become one of the most popular options in Singapore, given its line-up of experienced artists, amicable service and long-lasting results, for all skin types. 
Senior Specialist & Artist, Tiffany Luo takes no more than 5 bookings per day, in order to ensure she has ample time to perform any procedure meticulously. Moreover, Tiffany keeps her skillset up to date with courses and seminars that add value to her creativity and knowledge. This means that you will get the latest trends, products and techniques, all accompanied by best in class industry service. Known for her signature "Microblading + Shading" embroidery artwork, Tiffany has the ability to design bespoke eyebrows for each individual client, so you can get long-lasting and natural results that look good on you.
The Brow & Beauty Boutique offers 3 types of eyebrow embroidery techniques to cater to diverse preferences of each client. Misty Embroidery is excellent for all skin types, especially women with oily skin. It is also suitable for women who prefer a well-defined, powdered makeup look. MicroBlading Embroidery on the other hand is ideal for both men and women with thin or sparse eyebrows as well as someone looking to redesign their brows. It helps to add hair-like strokes, volume and texture to perfect the shape of the brow.
And finally, Hybrid Embroidery is excellent for ladies with oily skin who prefers natural hair-like strokes. It is the perfect choice for ladies that want something bolder than microblading but less dramatic than Misty/Ombre Powder Brows. Want to correct a botched-up eyebrow job? This technique also provides an alternative option for covering old eyebrow embroidery and scars within the brow region.
Don't worry, your brows will fade naturally, without leaving any harsh lines. When you feel your eyebrows are getting thinner, just book yourself in for a touch-up session and bring those brows back to life again!
That's not all. If you want to get other semi-permanent makeup services, take a look at the service menu at The Brow and Beauty Boutique. Ranging from eyeliner embroidery, lip embroidery, hairline embroidery, Keratin Lash Lift, Eyebrow Removal and even PhiLings Treatment for better skin, there's a variety of options that will have you looking a better version of yourself!
The Brow & Beauty Boutique, 371 Beach Road (CityGate) #01-46 S199597. Phone: (+65) 9233 2543 / (+65) 8829 7701
Located in heartland Punggol, Beauty Canvas is a home-based beauty boutique that provides semi-permanent makeup services.
Trained and certified by various international renowned academies, founder Jillian Sue, constantly upgrades her skills with the latest technology. Sue is passionate about delivering the best results and quality to her customers. You'll notice that she spends a considerable amount of time during the consultation, understanding each client's preferences and natural features before mapping your brows. She also uses the golden ratio to craft the most ideal brow shape that will accentuate your natural features. 
Beauty Canvas uses premium, high-quality pigments that have gone through rigorous testing. These pigments are also vegan and cruelty-free and guaranteed to stay true to tone even after your brows have healed.
Beauty Canvas is known for their Combination Brows. This treatment combines microblading technique and shading effect to give natural, eyebrow-enhancing results. Using the finest nano blade (304 stainless steel), Sue creates hyper-realistic strokes to mimic the look of natural brow hair and completes it with soft shading. Result? The most natural-looking textured brows that won't lose colour or impact too quickly! 
Beauty Canvas Singapore, 168C Punggol Field. Whatsapp: (+65) 8186 3814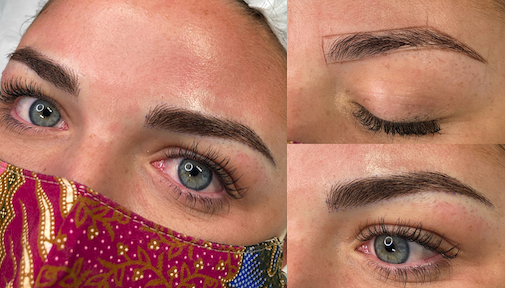 After a home-based eyebrow embroidery set up? If you want to get your eyebrows done in a cosy environment away from the mall, take a look at The Beaute Canopy, a home-operated embroidery and semi-permanent makeup salon. TBC is known for its premium semi-permanent makeup services and uses only high-quality products as well as disposable beauty tools from Germany. 
Founder Cheryl Lee left her corporate job to start the business that has now earned the reputation of one of the city's top places to get eyebrows, eyelashes and lip treatments done. 
A PhiBrows Royal artist, Cheryl uses her PhiBrows Divider to accurately measure the dimensions and shape of your eyebrows. Her customers value the time she takes to design brows that suit your face shape, marking the points and angles to work on.
A best-seller, The Beaute Canopy's Signature Nano-Microblading & Shading service helps to keep your eyebrow embroidery and shape as natural as possible. The shape of your eyebrow is calculated using facial morphology to achieve what is called the 'golden proportion'. This means that you get eyebrow embroidery for a shape that will truly enhance your features and face angle. This treatment uses the finest nano-blades, so you'll also get ultra-natural strokes that mimic the rest of your eyebrow hair. 
Contact The Beaute Canopy for an appointment and consultation to get the most natural embroidery eyebrows today! 
The Beaute Canopy, 266D Punggol Way. WhatsApp: (+65) 82330166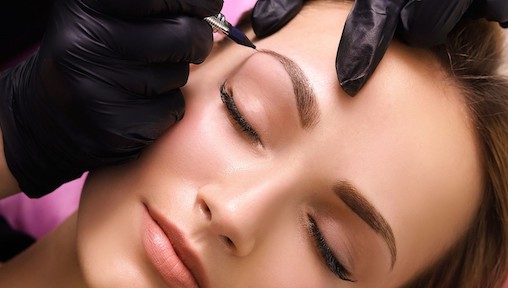 What better place to have your eyebrows embroidered than the academy that teaches leading salons in Singapore the art of permanent makeup. International Accredited Cosmetics Tattoo and permanent makeup course provider Brow Mastery have been teaching salons in Singapore semi-permanent makeup and eyebrow embroidery for over 15 years now. 
And you can expect the same level of professionalism and skill at your appointment too. They'll start with calculating your overall face ratio to ensure your brow shape suits all of your features. Brow Mastery also looks at the direction of your brow growth and your brow bone. Botanical-based and long-lasting, their pigments are strong enough to not require any touch-ups in between. 
If you have oily skin and are worried about getting eyebrow embroidery done, these botanical-based pigments are even suitable for you! 
As the Innovator and Trademark Owner of  ΜΕΣΟ ® a micropigmentation techniques - the world's 1st non-invasive, non-machinery, no downtime or aftercare procedure, Brow Mastery have broadened their skillset to other forms of permanent makeup as well. These include semi-permanent makeup services such as Ombre or Powder Eyebrow Micropigmentation, Eyebrow Hair Stroke Microblading, Eyeliner, Lip Blush and Hairline or SMP Scalp.
Take the time to make a free, no obligation first appointment at this medically-backed eyebrow embroidery salon. You'll come back with tons of new information and the confidence that Brow Mastery can truly help. 
Brow Mastery International. 82 The Atrix #02-05 Singapore 388409. (1min Link Bridge from Aljunied MRT). Email: [email protected]
A renowned one-stop beauty concierge, Isabella Aesthetics offers beauty services that help you achieve what you desire. With highly trained technicians at your service, get ready to be pampered and leave with a flattering look once you walk out the door! 
Their Korean Misty eyebrow embroidery is a popular service that helps create thicker and straighter eyebrows with almost no arch. Taking the industry by storm, this look enhances the face and brings out the golden ratio of your features. Carving the perfect on-fleek eyebrow predominantly depends upon the facial structure and the proportion of the features and this service ensures that. Oh and no swelling or bleeding!
If you are after a more natural form of embroidery or microblading, try Isabella Aesthetics' Korean Suji Microdotting Eyebrow Embroidery. This one-of-its-kind technique uses plant-based semi-permanent pigments that are stringently selected. Using their signature embroidery techniques, the semi-permanent pigments are infused into the epidermis layer of the skin enhancing the shape of your brows instantly.
This latest specialized Korean Suji Microdotting Technique is adopted to create a natural-looking pair of brows with soft, gentle and light Korean suji micro dotting incisions and is suitable for anyone looking for a natural subtle look.
Isabella Aesthetics, Jurong Point and Scotts Square. Whatsapp (+65) 8298 9291.
Want meticulous detail and care when getting your eyebrow embroidery done in Singapore? Browart Studio is known to work with detail, care and expertise and is amongst the most popular salons for eyebrow embroidery and microblading in Singapore. 
Having worked with many actresses and celebrities on the red dot, Browart Studio are known for their skilled expertise in eyebrows, permanent eyeliner and lip embroidery too! Exceptional designing with natural-looking eyebrows matched with the latest beauty trends and techniques keeps the staff at this eyebrow embroidery salon going. 
Using a high number of fine strokes, Browart Studio is able to ensure that your eyebrow embroidery lasts a long time. The process starts with the technician analysing the structure and condition of your current brows along with the expectations of the design. Newbie? Don't worry, as Browart Studio will also suggest options of shapes and shades along with a drawing so you can visualise what these would look like. 
You can expect the entire process to take up only 1 hour of your time, and with the help of the local anaesthetic, there is no pain involved!
Browart Studio, 290 Orchard Road, Paragon Medical Lobby F, #17-11. Singapore 238859. Call (+65) 6702 0768 / (+65) 9824 4400