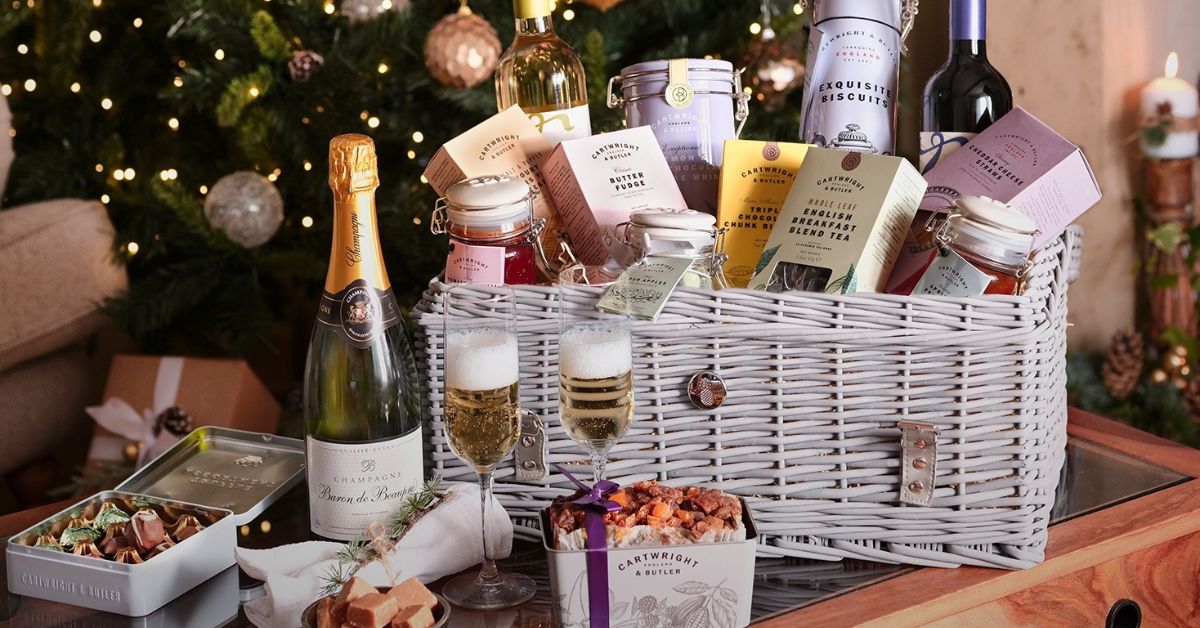 lifestyle
Best Christmas Hampers and Gift Baskets To Buy in 2022
Published Date
: 23 Nov 2022 09:30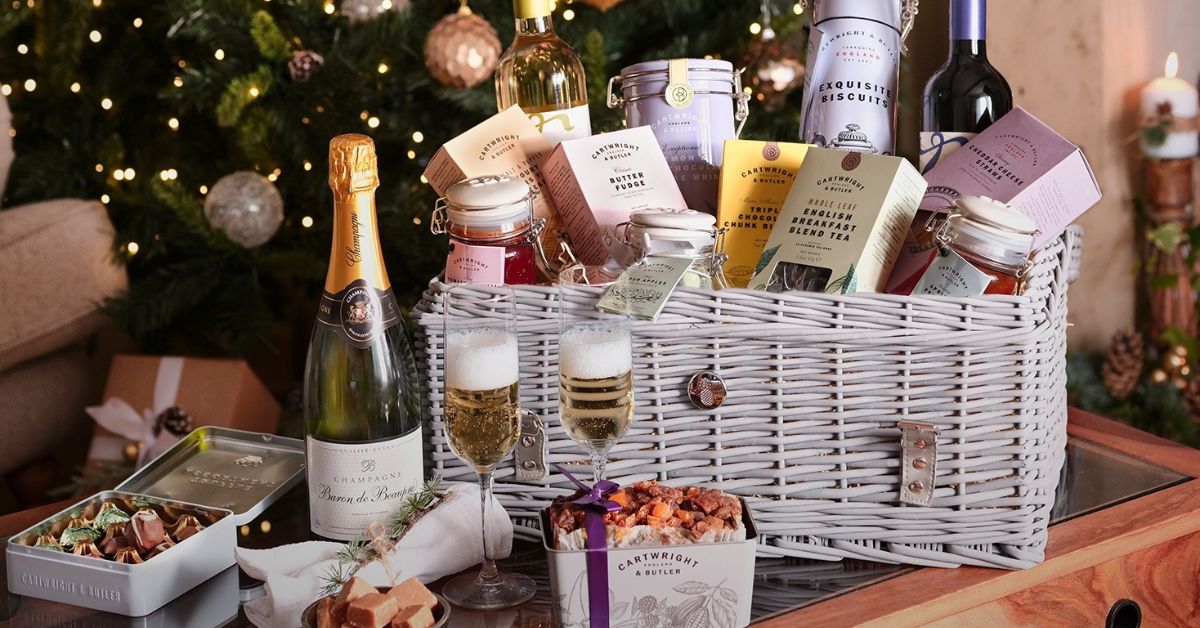 Beautifully packed, quality Christmas Hampers in Singapore to get the festivities started!
Hunting for the best Christmas gift hampers and baskets in Singapore? We got you! Whether you are looking to buy Christmas gift hampers for your team, or to send to send your friends and family, this list has it all.
From the best of European artisanal brands to sustainable eco hampers and health-boosting and indulgent comforting treats, we have curated a list of the best Christmas gift hampers in Singapore to make gifting a delight in 2022. 
Gourmet Grocery by OurChoice remains our top favourite for all things epicurean and gourmet food! Home to the best European brands Gourmet Grocery by OurChoice source from reputable suppliers, and sell the finest and freshest ingredients for both home gourmands and professional chefs alike. 
As the exclusive distributors for artisanal brands such as like Shortbread House of Edinburgh, Grandma Wilds, Pipers, Cartwright & Butler, Taylors of Harrogate, Tiptree Wilkin & Sons, Acetaia Leonardi Balsamic Vinegar, Rodda's, and plenty more, you get a bounty of quality premium brands perfect for home consumption and as the most beautiful of gifts.
This Christmas you will be spoilt for choice with the wide variety of Christmas gift hampers and baskets Our Choice has to offer. From standard hampers to customising as per your basket designs and budget, Gourmet Grocery by Our Choice promises a decadent and affordable Christmas like none other. 
Look forward to Christmas-themed gift tins and packaging that features classic Christmas scenes for that all-encompassing - festive feel. 
Our favourites include the Luxury Hamper, which comes with Grandma Wild's festive biscuits, Matthew Walker Classic Christmas Pudding, Taylors of Harrogate Yorkshire Gold Tea Bags, an assortment of goodies from Farmhouse and Shortbread House, Tiptree Orange Marmalade and a Bottega Non-Alcoholic Rose Drink - all packaged beautifully in a gold chest with ribbon and trimmings!  
You will also enjoy the Mistletoe Christmas Hamper featuring Grandma Wild's Embossed Golden Stags in a Christmas Tree Tin, Shortbread biscuits, Charbonnel Et Walker Caramelized Biscuits Truffles and Strawberries and Cream, Avantgarde No.1 The Martini Cocktail, in a Christmas Gift Box with Christmas sleeves! 
Prefer to customise your own hamper? Simply choose your preferred basket - from pastel-coloured gift baskets to leather chests, there's plenty to opt for based on your budget! Next, fill your Christmas gfit hampers with delicious treats including preserves, biscuits, chocolates, tea and coffee. And finally, add a personalised gift message and delivery date. Voilà! As easy as 1,2 and 3.
For those looking for Christmas gifts outside of hampers, their Christmas Gift Tins make fabulous stocking stuffers. Starting at just $6.50, these are easy, gender-neutral options for Secret Santa gifts! You can also shop for Christmas Panettone and Puddings that are delivered gift ready in boxes and tins.
Do you need to place a large corporate order? You can reach the Gourmet Grocery by OurChoice team for corporate discounts and wholesale pricing for large orders. Don't wait too long! 
Gourmet Grocery - OurChoice. Phone: (+65) 6686 4438. Whatsapp: (+65) 9058 9256
This year, aside from making the holidays merry and bright, why not make them a time for
wellness too? Innerfyre Co, Singapore's first candle brand using a sustainable wax blend made from coconut and rice bran wax pairs its signature Affirmation Candles with delightful tea options from Positivithé, another local brand.
As you remind your loved ones of their wisdom, love, beauty, serenity or strength, through
powerful messages such as 'I AM LOVED', 'I AM BLESSED' and 'I AM WISE', it's that thought of them that makes your holiday gift even more meaningful! 
Made with 100% pure essential oils, the brand's candles were born out of the founders' love for scents and their desire to create candles that not only look good and smell good but also have real mood-boosting and aromatherapeutic effects.
Meanwhile, with its proprietary Thérapy Blend, Positivithé's caffine-free tea selections boast wellness benefits derived from its three main herbs: Raspberry Leaf, Lemon Balm and Ashwagandha. Rich in antioxidants and known for their uses in traditional medicine, modern science has also found evidence that they are truly good for our health.
Like the messages of positivity from Innerfyre Co's candles, the tea blends also come with their own brand of empowering messages related to the health benefits they offer. For example, Be Perfect? Not Today, also known as the 'Wellbeing Elixir' has Rooibos, Orange, and Osmanthus to help you find your centre and keep the stressors of daily life at bay. Aside from helping to reduce your anxiety, and boost immunity, it can also reduce skin inflammation and improve cell regeneration due to the high Vitamin B3 content of Osmanthus.
And did we mention they're refreshingly delicious, too? Brewed hot or cold, each Positivithé blend boasts juicy, natural fruit flavours to make each sip a treat!
To complete the Wellness Wonderland Bundle, accessories such as the Tea Infuser and Candle Wick Trimmer are also included. The products are then thoughtfully packaged in a Christmas gift box — ready to bring on good cheer and wellness wishes this holiday season.
​Noel Gifts - Wide Selection of Over 100 Gifts and Hampers
As Singapore's leading flowers and gifts company, Noel Gifts is dedicated to bringing people closer with creative and quality flowers and gifts for all seasons since 1975. The brand boasts of good quality, value and service, with recipients sure to be delighted when receiving a gift hamper from Noel Gifts.
Their gift hampers are recognised as one of the best in Singapore, starting from $45 – affordable yet filled with quality items from well-known gourmet brands and spirits. 
We're certain you'll enjoy the Christmas Wedgwood Marvellous Hamper that includes a Chateau Alexandre Bordeaux AOC Rouge and a Bottega Petalo Pink Vino Amore Moscato Rose. Also included are bottles of Wedgwood Wild Strawberry Preserve, Wedgwood Signature Traditional Shortbread, Godiva Domes Crispy Hazelnut Chocolate and other delectable treats, packaged in a beautiful hamper box designed in-house by the brand.
For a sparkling gift, get the Christmas Teatime Wishes Gift filled with 12 delights for 12 days of joy. Enjoy Sparkling Juice, DV France Tartlets, Droste Dark Chocolates, La Mere Poulard Butter Biscuits, Brodies Peppermint Tea and several other mini treats wrapped in a festive Christmas-themed gift box.  
Did we mention how huge their selection is? With almost 100 different gift packages such as wine hampers, gourmet hamper baskets and many other gifts available, Noel Gifts is the one-stop shop for all your gifting needs.
Let Noel Gifts help make your celebrations a little warmer, bringing everyone closer with their latest collection.
Call (+65) 6299 1155 or visit noelgifts.com to order now.
Surprise your loved ones and colleagues with the luxury Christmas Gift hampers from the city's leading store, Gift Hampers Singapore. Offering a wide range of premium Christmas hampers and gift baskets, you can find something for everyone to celebrate the spirit of the festive season.
Choose from a selection of gift hampers featuring tea, imported biscuits, chocolates, snacks or even a bottle of wine or champagne. You can also personalise the greeting message for your recipient. 
We love their classic fruit hampers that come with champagne, wine and chocolate - the perfect choice for a birthday party, house-warming party or other Christmas celebrations. Or choose from a variety of lifestyle gift hampers that contain high-quality gourmet gifts including organic chocolate bars, delightful tea and other novelty products. 
Need gifts for other occasions? Gift Hampers Singapore also sell hampers suitable for everyday celebrations such as baby showers, moments of appreciation and to wish someone back to good health. 
With exquisite packaging and free delivery provided to most areas in Singapore, Gift Hampers Singapore adds convenience to your gift-giving. Order your Christmas gift hampers with them today!
For customization of gift hampers, contact the team at (+65) 6280 2212, Whatsapp (+65) +65 8668 7574 (messages only), or email at [email protected]. 
Perk! Get $15 off Christmas Hampers and Free Delivery when you spend $180. Just use code MERRY15OFF at checkout. Offer valid till 31 December 2022.
This Christmas, Marks & Spencer (M&S) is launching its range of iconic and special gifts, all at an exceptional value! 
Enjoy Christmas-themed goodies from the very best producers, sourcing the highest quality ingredients in the most stunning packaging. 
Need the most delicious of stocking fillers? Fill those stockings with enchanting products, such as the gingerbread men-filled Magical Gingerbread Musical House Tin or the unmistakable Percy-themed Christmas treats.
Plenty of sharing to be had with the Choc Corn Wreath, and Christmas Cosmo Cocktails. Don't forget to buy the customary M&S mince pies and mulled wine. From now till 30 November, purchase any two Collection Mince Pies ($12.9) and enjoy 20% off or buy any two bottles of Red Mulled Wine for $49.9 (u.p $29.9 each).
Can't decide what to get for them? Take a look at M&S' beautiful range of Christmas hampers. Available in eight different styles and ranging from $80 to $500, each hamper is packed with seasonal must-haves that everyone in the family will love. From delicious biscuits to fancy truffles and indulgent champagne, find the hamper that suits your budget and palate.
 ​HoneySpree - Support Underprivileged SAHMs
As one of Singapore's leading online gift retailers, HoneySpree provides you with an array of gift choices for a very special Christmas. Receive curated gifts hand-wrapped by their team of stay-at-home-mums (SAHMs) and through your purchase, support underprivileged SAHMs with financial independence! 
Surprise your eco-friendly friends with HoneySpree's Eco Christmas Hamper (S$59.90) which comes in an elegant and premium white gift box. Presented with dried natural greenery in the box to fit the theme, HoneySpree's exclusive Eco-Friendly Christmas Gift Set comprises of luxurious and sleek bamboo products. Made with natural bamboo, you can expect your gift recipient to love the Natural Bamboo Thermos Tumbler and Natural Bamboo Travel Cutlery Set. To ease one's way into living more sustainably, simply bring along the Bamboo Fiber Lunch Box with Bamboo Lid whenever you are grabbing a takeaway! Alternatively, pack yourself a nutritious meal using the Bamboo Fiber Lunch Box. The Christmas Hamper also comes with a 100% Cotton Tea Towel, Lifebuoy Hand Sanitizer to keep you safe and 2 Organic Handmade Honey Soaps. An all-rounded hamper, it is definitely a gift to get your hands on!
​The Hamper Story - Christmas Gift Hampers with Food and Fine Wine
A curation of delicious nibbles, fine wine and spirits and fun thoughtful gifts for all, The Hamper Story is the perfect place for the best Christmas gift hampers in town. Send over the Santa's Coming Home Hamper (S$198) that arrives in a multipurpose wooden crate decked in fancy fairy lights and festive decorations. In this charming crate, they can expect to delight in a bottle of Chateau Le Gay Red Wine and a bottle of Seigneur De La Tour Bordeaux 2017 Red Wine. To go with the wine, there is the fluffy Borsari Traditional Panettone that is imported from Italy, as well as a Shortbread House of Edinburgh Handmade Shortbread from Scotland. For a salty and indulgent snack, enjoy the rich Aroma Black Summer Truffle Potato Chips. If you're looking to satisfy one's sweet tooth, there is also a Set of 6pcs Macaroons by Annabella Patisserie. 
Alternatively, try the Christmas Miracle hamper - just under $100, this gorgeous hamper comes with Gryphon Tea, Maestri Pasticceri Borsari Panettone, Melvados Biscotti and plenty other treats all done up with fairy lights and Christmas decoratives. 
With over 8000 happy customers, same-day delivery islandwide, rest assured that your gifts will be in good hands. Looking for corporate gifts? The Hamper Story have handled tons of corporate orders and will put together just the right Christmas hamper based on your preferences and budgets. Reach their friendly team at (+65) 81810813 or email
[email protected] to find out more!
French chocolate for gourmands, Laurent Bernard Chocolatier is the place to go for a chocolate-filled Christmas this year. Celebrate this season with the luxury Christmas Celebration Hamper (S$410) that includes a small fruit cake, a box of chocolate (16pcs), a small Moet Brut and more sweet bites. Voted several times for the "Best Chocolate" and "Best Cake", you can count on Laurent Bernard Chocolatier to produce indulgent and excellent chocolates. Not only is the hamper stuffed with the finest desserts, but it also offers a large Snowman, a small and large Christmas ball and a small Christmas tree! These small little decor pieces help add to the festivities and make sure that your giftee feels joy and love during this season. 
Personalise the hamper with a message on the gift tag for free and feel free to also add on some wine or champagne to the hamper. To cater to all ages, opt to add the teddy bear (S$20) for a cute finishing touch to this deluxe gift box. 
​Bacha Coffee - Christmas Hampers for Coffee Fans
Coffee lovers on your gift list will love your Christmas hamper from Bacha Coffee. Specialising in 100% Arabica coffees, Bacha Coffee presents the opportunity for coffee fanatics to explore fragrant harvests from over 30 of the most well-reputed coffee-producing countries. Pick up the Grand Moka Matari Hamper (S$285) which features 1 Grand Moka Matari - Single Origin from their Signature Nomad Collection in whole beans and 2 Bacha Heritage Coffee Mug and Lid. Using the carefully shaped and crafted over low heat Bacha Coffee Scoop in Horn, one can scoop the medium-dark roasted Moka Matari beans for the ideal cup of joe in the morning. With a bright acidity, a full body, and a sweet flavour that carries notes of apricot, dark chocolate and dates, this Yemeni coffee is a wild and raw cup to sip on. 
For that extra hint of sweetness, the hamper also provides a Pure Tahiti Vanilla Bean Grinder – a 100% natural ready-to-grind vanilla bean for your drinks, sauces and desserts. Otherwise, one could also enjoy the exceptional Coffee Blossom Honey from Zaculeu, Guatemala which boasts of a velvety body with a ripe peach aroma complemented by notes of tropical fruits, apricot, orange blossom and ripe pear. However, do take note that since it is all natural and unprocessed, the honey may crystallise. Hence, do just place the jar in a vessel of warm water to liquify it! All these luxurious coffee accessories and products will then be sealed in a classic and sophisticated orange Bacha Coffee Hamper Box for you to gift to your loved ones.
​Hilton Gifts Collections - Muslim-Friendly and Halal Christmas Gift Hampers
For our Muslim friends and families, Hilton Gifts Collections (HGC) has a wide selection of halal Christmas hampers to choose from. Replacing alcohol from the hamper, the Non Alcohol Food Hamper (Halal Certified) - HY1 (S$55) features a sparkling juice instead. Packed with snacks to share during the festive season, the hamper is also filled with titbits such as Cadbury Finger Chocolate, Ken Ken Cuttle fish, London Pie Cake, Amico Crispy, Wafer Nutrition Choco, Camel Mix Nuts and more.
Who says that hampers can only be all about food? Keep the gifts interesting and useful by opting for the Mini Food Processor/Chopper - Electrical Hamper-HE 9 (S$75) for that person you know loves to cook! Wrapped in a pink ribbon and red striped box, it makes for the perfect gift for a cooking lover. Or if they need a blender for cooking or for a healthy juice fix, get the 3 in 1 Blender - Electrical Hamper-HE 11 for them instead! 
​Angel Florist - Gifts With Floral Arrangements
Offering hampers for all budgets and purposes, Angel Florist is one of the best places to go for beautifully decorated hampers. Brighten up someone's Christmas with the Wonderland Christmas hamper (S$138) – an exquisite arrangement of white lilies, blue hydrangeas and selected fine wine from France. Boxed and packaged with extra care and caution, these delicate flowers will be delivered in perfect condition to your loved ones. Add on a festive decorative tube of Christmas Pudding Biscuits (S$19.90) for some little indulgence! Made to the highest standards using the methods handed down through four generations of Grandma Wild's family, these fragrant biscuits are baked with only the best quality ingredients. After enjoying the treat, the tube's adorable Santa illustration will make it a great addition to the Christmas décor as well.
While you can order from the website, do note that you will have to email them at [email protected] for bulk or corporate orders! If you have any further queries about the delivery schedule, simply click here to make sure that your gifts will be able to be sent in time.
​Janice Wong - Edible Art For Dessert Lovers
No better way to get this festive season started than having some sweet chocolate delights from Janice Wong Singapore. Embracing food technology and innovation, you will be excited to gift these creations of edible art to your dessert-loving friends and family. Go for the Chocolate & Lys de France Bordeaux 2018 Wine Set (S$143) that has a Signature Chef's Choice Prepacked Box of 16 Bon Bons paired with Lys de France Bordeaux (worth S$98). Based on availability, the box of Bon Bons will include Janice Wong's classic favourites such as Salted Caramel and Yuzu. For something a little spicier (literally), there is the Chilli Padi flavour from the Singapore Signature Series. Sip on a glass of Lys de France Bordeaux as you take in the festivity of the season with a piece of chocolate in your hands.
Alternatively, for those who prefer a bubbly drink, gift the Chocolate with Laurent Perrier Champagne set (S$88). With the Signature Assorted Chocolate Box of 5 chosen by the chef, it is coupled with the Laurent Perrier Champagne and their well-loved Salted Caramel Vanilla Cookies. Do remember to remind your loved ones to keep the chocolates refrigerated at all times to enjoy these sweet treats at their best. Place your orders at least 24 hours in advance to avoid any disappointment as they do not do same-day deliveries! Self-collection is also made available from Monday to Saturday with the order being made at least one day before. 
​Eu Yan Sang- Health-Boosting Christmas Gift Hampers
Celebrate Christmas this year with a health-boosting Celebrate Joy Hamper (S$198) from Eu Yan Sang. Perfect for boosting beauty support due to the epidermal growth factor (EGF) found in Bird's Nest, this hamper comes with 2 Imperial Golden Bird's Nest With Rock Sugar and 2 Superior Bird's Nest With Wild American Ginseng. Suitable for all ages, these premium-grade Bird's Nest are great for growing children, ladies looking to bolster their beauty care regime, new mothers and seniors. Not just that, the hamper also has 3 bottles of Essence Of Chicken With Goji Berries & Red Dates, 3 bottles of Essence of Fish with American Ginseng and Cordyceps and 6 bottles of Essence of Chicken with Ginkgo Biloba! 
Complement one's daily diet with these nutritious supplements with ingredients such as American Ginseng to replenish energy levels, cool off excess heat and replenish lost fluid during those late nights. Also, did you know that Gingko Biloba is believed to be one of the medicinal herbs known to slow down the loss of memory and social skills? It also helps neutralise free radicals associated with deterioration and ageing of the brain and can possibly help to sharpen your thinking skills! Send these to your friends and family to keep them on top of the game and help improve their alertness and mental concentration. Topping it off, the hamper includes a bottle of Borgo Imperiale Moscato for a merry and joyous Christmas celebration. To make it a little more unique and personalised, add on a bouquet of the prettiest fresh flowers and surprise them with their favourite flowers!