beauty
Best Beauty Schools in Singapore for Eyebrow, Eyelash and Nail Courses
Published Date
: 18 Apr 2023 10:00

Looking for the best beauty school in Singapore with courses for eyebrow, eyelash or nail services? Enhance your skills with these beauty schools
If you want to pursue a career in the beauty industry or are looking to improve your skills in eyebrow, eyelash and nail services, keep reading! There is a wide range of beauty schools in Singapore that offer various beauty courses for you to choose from. Be it manicure, pedicure, eyebrow embroidery, or eyelash extension courses, there is a beauty school that can cater to every skill level and experience. If you need a qualification, these beauty schools also offer certification courses, workshops, and more ways to upskill. 
Look no further with our list of the best beauty schools in Singapore. Featuring eyebrow embroidery schools, eyelash extension courses, nail academies, and more. 
Best Beauty Schools in Singapore for Eyebrow, Eyelash and Nail Courses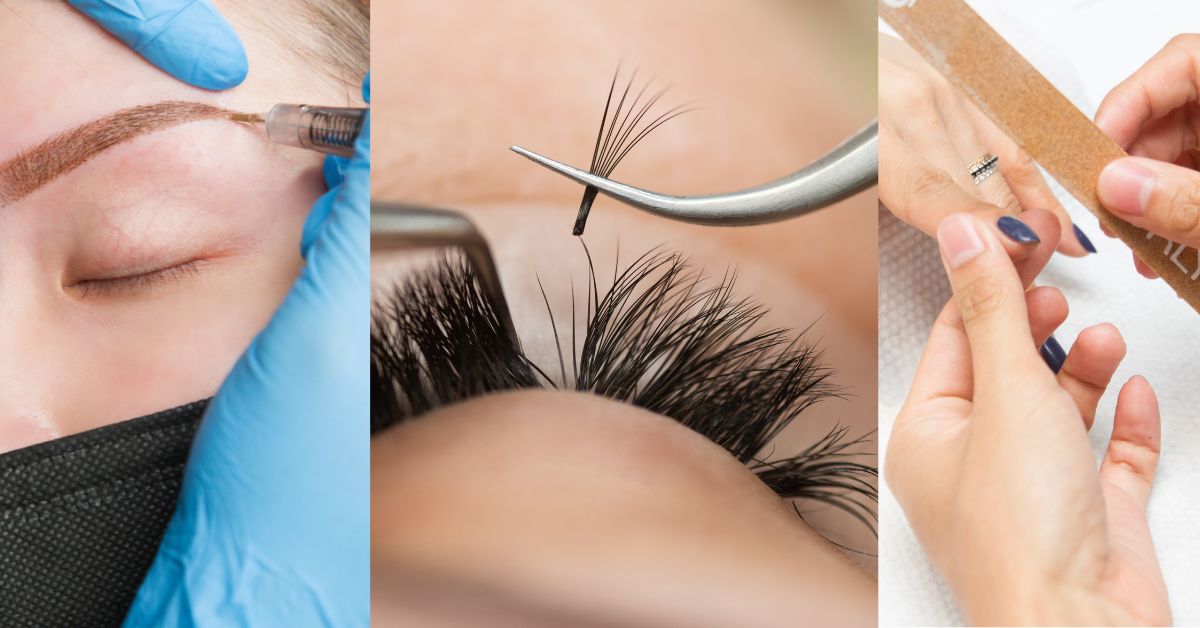 Whether you are looking to advance your career or start a brand new one, Brow Mastery International(BMI) Aesthetics & Cosmetology Academy is the right place to explore. Multi-award winner, it has been accorded the Award for 2021 Top 500 SME, 2020 Best Beauty Academy, Korea, 2021 Top Beauty Education Korea and 2023 Beauty Success Award in Malaysia. 
Founded by Doctor of Science, Dr. Jenny Wong, the school offers a variety of learning opportunities through highly-specialised training. Dr. Jenny Wong is a Board Director of The Asia Beauty-arts Experts Association, Korea, a Board Member of International Education Board, UK and also a Member of BABTAC, UK. She has trained more than a thousand students from around the world and is personally involved in the day to day works at BMI Aesthetics & Cosmetology Academy.
The academy also comes armed with internationally qualified and certified trainers. They offer small group classes and even 1 to 1 Personal Coaching options. This is real work experience! Not only will you gain immense knowledge from one of the best beauty schools in Singapore, you also get to practice on real models. 
The courses on offer include Permanent Makeup, Eyelash Extensions, Scalp Micropigmentation, Nail Technology, Medical Micropigmentation, Holistic Massage Therapy and Aesthetics Skin Treatments. If your next step is to upskill or move into beauty services as a next career step, there's certainly a course at BMI Aesthetics & Cosmetology Academy for you.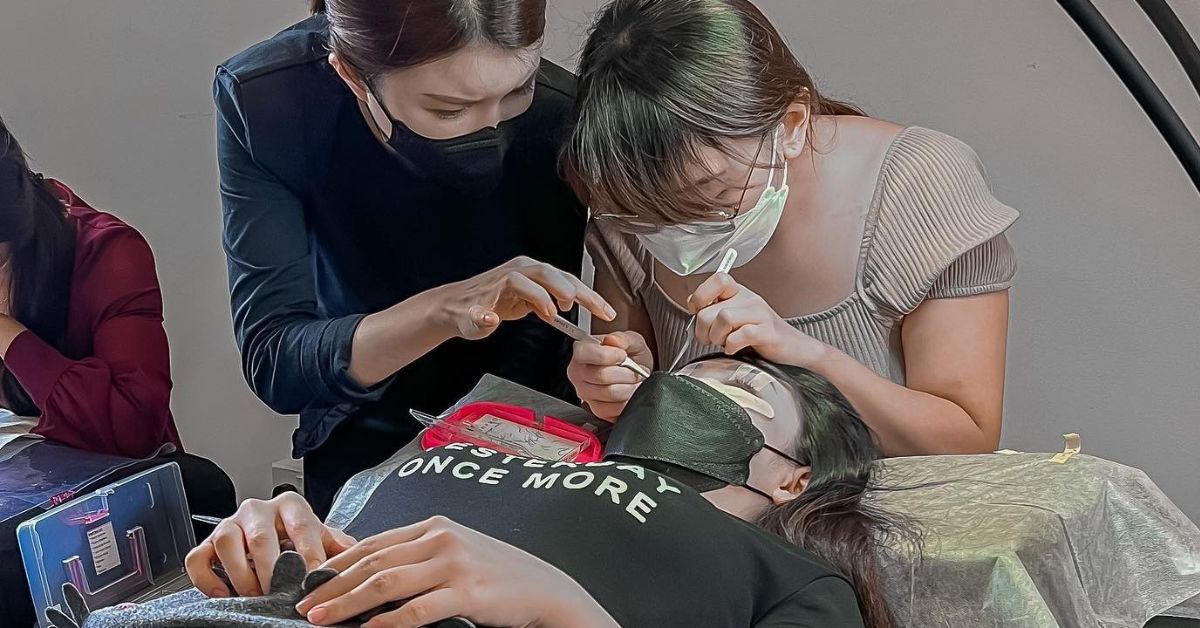 The Lash Academy is founded to focus on providing comprehensive classic and volume eyelash extension training to lash extension enthusiasts. This beauty school in Singapore has  partners with industry experts such as DreamlashKorea and Korean Eyelash Association to ensure their lash technicians are highly trained. 
As the first academy in Singapore to specialise solely in Korean and Russian Volume lash, their advanced Russian and Mega Volume training curriculum is crafted to train students to be the best. Students can expect to learn quick and easy methods of creating the perfect volume fan and the unique creation of the Asian EyeLid Lifting™ effect. Upon completion of the course, students have the opportunity to take the Korean certification exam.
Visit here to learn more about The Lash Academy's eyelash extension courses.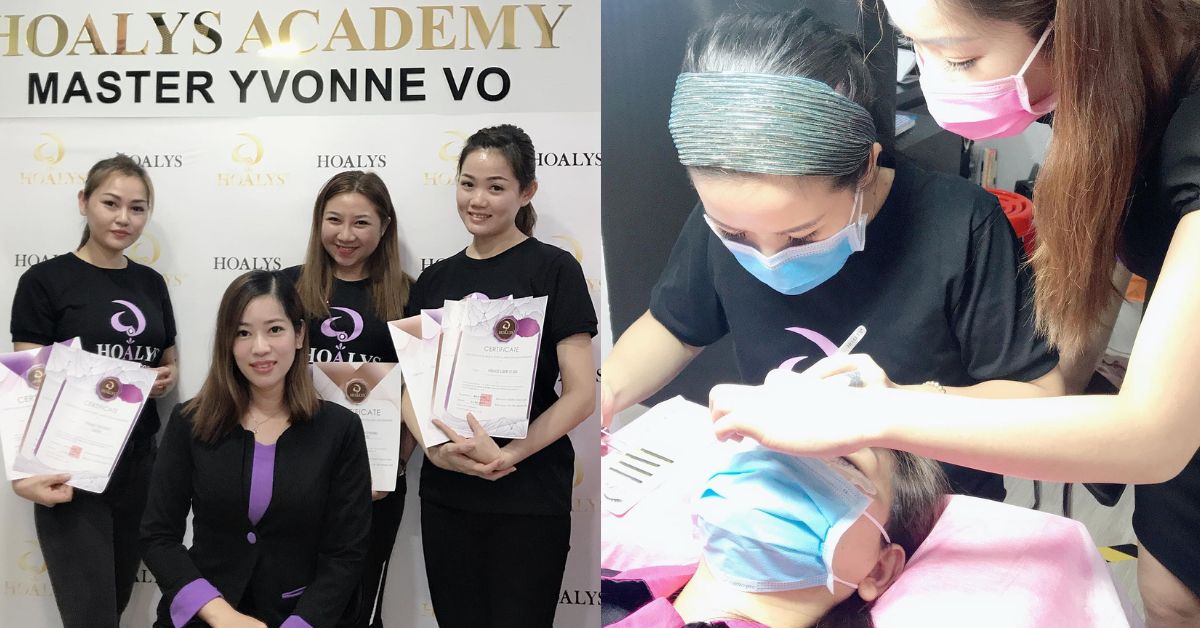 At Be You Tiful, they are committed to providing eyelash extension courses with the best possible learning experience. The award-winning lash course conducted by Yvonne Po, an experienced Pro Lash Master, teaches various techniques with high retention rates. Students can choose either the Basic or Advanced Course or even both. The Basic Course covers classic lash (1 by 1 lash), 2D lash, lash remover and eye spa, customer consultation, and three real models experiences, whereas the Advanced Course covers volume lash 3-6D, Camilia Lash 3-6D, Kim K style, hybrid style, lower lashes, and includes all the materials worth ($499) with four real models. Upon completion of the course, students can receive a certificate endorsed by Hoalys Academy.
Eyelash extension courses at Be You Tiful are priced from $888 onwards. Visit here for more information.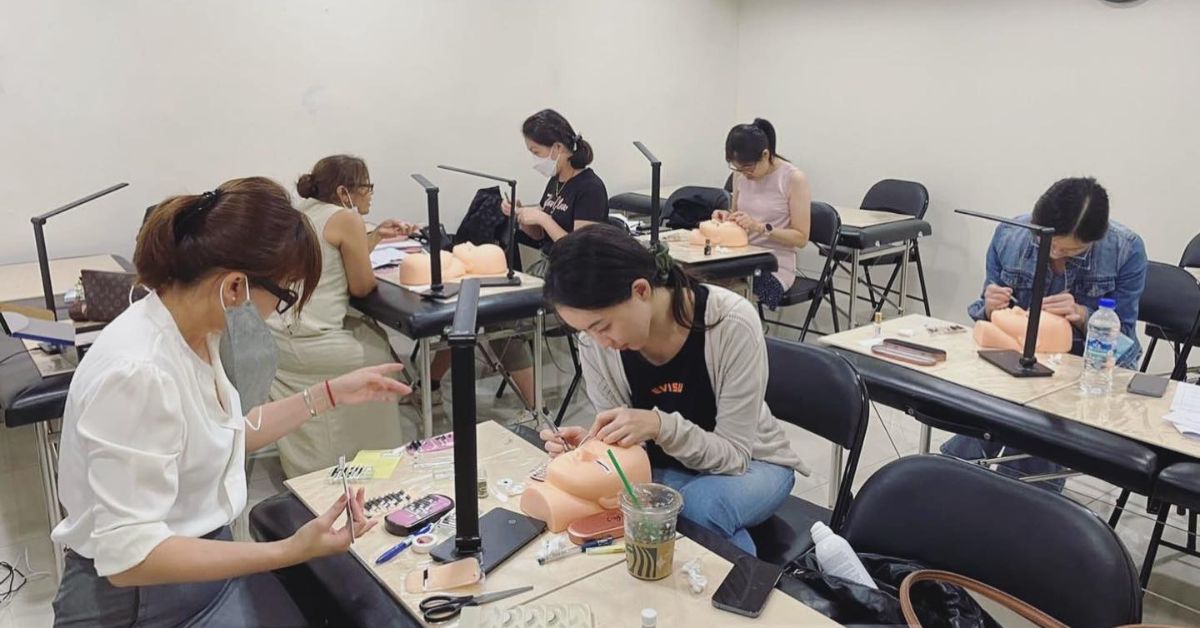 If you are looking for a trusted local training provider to pick up skills in eyelash, eyebrow or nail services, check out SOQ International Academy. SOQ International Academy is a registered private education institute that has guided over 32,000 students to establish their careers in the beauty care industry. They have been appointed as one of the SSG-approved training organisations to provide WSQ-accredited learning programs in the retail industry.
At SOQ International Academy, they provide a wide range of beauty courses that offer diplomas and certificates, as well as WSQ and non-WSQ courses. With over 25 years of training experience and besides offering brow courses, nail art courses and lash courses, they also offer courses in beauty, massage, makeup, TCM, and more. 
Visit SOQ International Academy website here.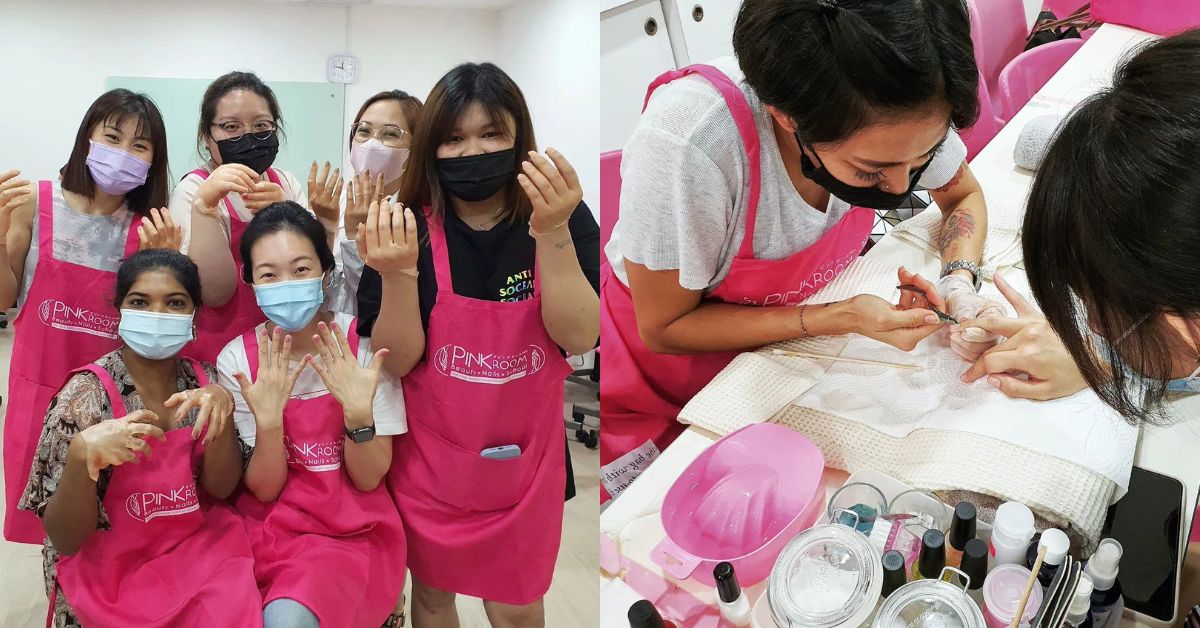 The Pink Room International Nail Academy was founded in 2003 by Ms. Rachel Tang, an acclaimed figure in the nail education industry who is licensed and certified in Japan. The academy has built a strong reputation for quality education and producing graduates with excellent technical skills in providing nail services. 
Training is provided through their local education team and is supported by an international network of nail masters and educators who conduct seminars and workshops to ensure that students receive the latest nail trends and techniques. At The Pink Room International Academy, you can expect nail art workshops and nail courses which offer professional certifications and diploma certificates in nail technology and techniques, as well as for beauty grooming.
Visit The Pink Room International Academy's course overview here.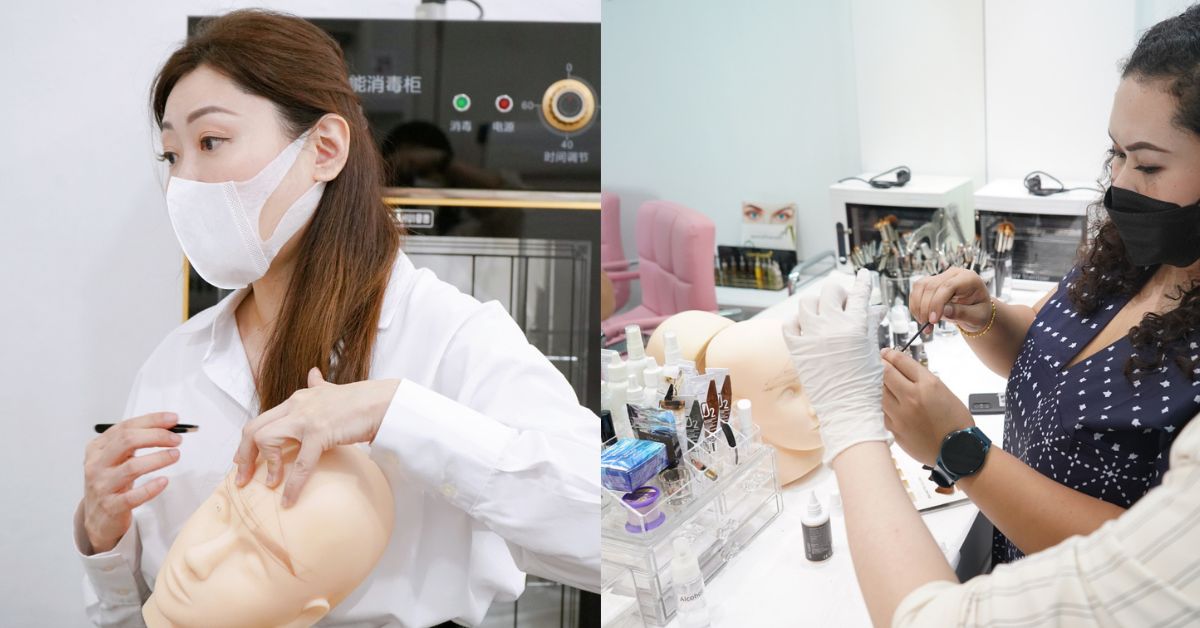 LashMagic was founded by Master Trainer Cherlyn Ng who is accredited by ACTA and has over ten years of experience in training eyelash and eyebrow services. With an immersive learning experience, a friendly support team and a small class size of 2 to 4 students, LashMagic assures that you will acquire valuable skills upon completion of their courses. 
In addition, LashMagic is BrowXenna's official distributor and training academy in Singapore and Malaysia. This means that students can get internationally certified by the world's #1 renowned brand in the brow henna sector without flying overseas. Brow courses they offer include brow henna or tint, brow lamination, brow architecture and shaping. 
With regards to their eyelash courses, they include Keratin Lash Lift & Lash Tinting, Russian Volume and Mega Volume Eyelash Extensions, and more. Furthermore, they use Cherlyn's very own line of eyelash products which are curated and produced according to Japanese and Korean standards. 
View LashMagic's courses for more information.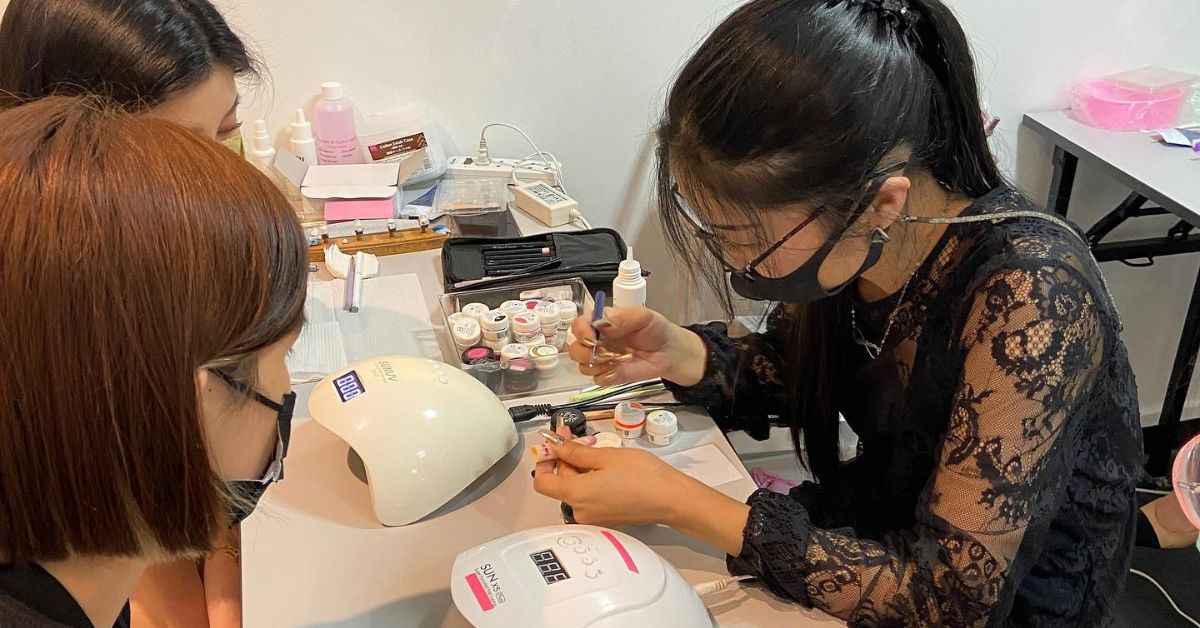 As the first professional certified school by Japan-Asia Nails & Eyelash Beauty Association (JANEA), Peony Tokyo Nails & Eyelash Academy specialises in Japanese style techniques and guides students on the highest standard of proper hygiene when performing nails or eyelash services. Since 2015, the beauty academy expanded its course offerings to include Japanese nail techniques as well as the latest Japanese eyelash extension techniques. 
Located in Tanjong Pagar, students can pick up Japanese high standards of nail techniques, customer service, and salon hygiene without having to travel to Japan. Furthermore, their Professional Japanese Eyelash Extension Course follows the standards of the Japan-Asia Nails & Eye Beauty Association and assures that their lash extension techniques are harmless, use safe products and have high sanitation standards. 
For more information, visit Peony Tokyo Nail & Eyelash Academy's website here.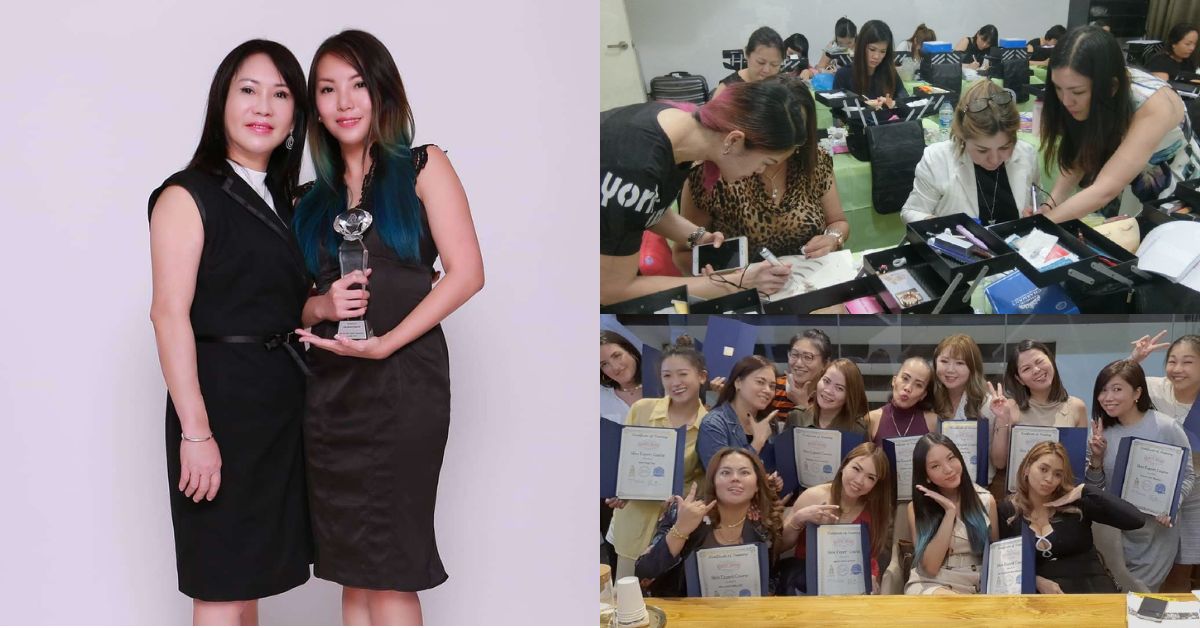 With more than 40 years of experience, Beauty Recipe has satisfied over 100,000 clients and trained more than 5,000 students from over 30 countries. The Beauty Recipe Academy offers over 30 beauty courses that are available both online and through live training. Besides eyebrow embroidery, and eyelash and nail courses, they also offer courses in skin care management, hair care, lip embroidery, and more. 
The Beauty Recipe Academy is the First Academy in South East Asia approved by both Eastern & Western Countries which is renowned to be Top Beauty Industry Approval in the United Kingdom and ABEA Korean Beauty Association which is the largest in the world. Additionally, they pride themselves on their friendly trainers with over 10 years of experience and are internationally trained, so you can expect to receive high-level support in the academy.
For more information, visit Beauty Recipe's website.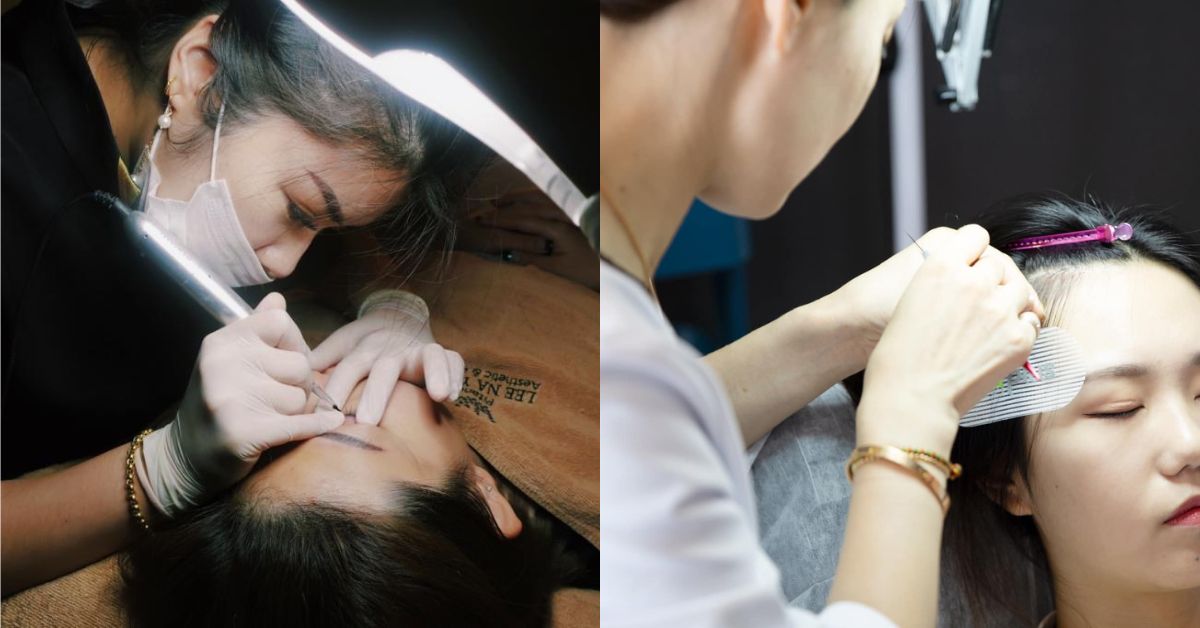 Want to learn more about Korean beauty services without having to fly over to Korea? Check out Lee Na Young Academy, which offers world-class Korean beauty aesthetic courses in partnership with Pitangui Medical and Beauty, a premier aesthetic medical practice in Gangnam, Korea. Their syllabus is designed by Korean aesthetic masters and the classes are conducted by Korea-trained aestheticians, to ensure you are learning from the best.
Their Self-Growth Eyelash Course is a 2-day program for students to acquire authentic Korean beauty techniques. The curriculum includes basic fundamentals and theory in self-growth eyelash treatment, equipment handling and maintenance, on-site eyelash care, post-treatment protocol, and more. E-certificate, training materials and an English textbook and lifetime continuous support are included. Besides eyelash courses, Lee Na Young Academy also offers other Korean beauty services specialising in Korean skincare treatments.
Visit here for more information regarding Lee Na Young Academy's Self-Growth Eyelash Course.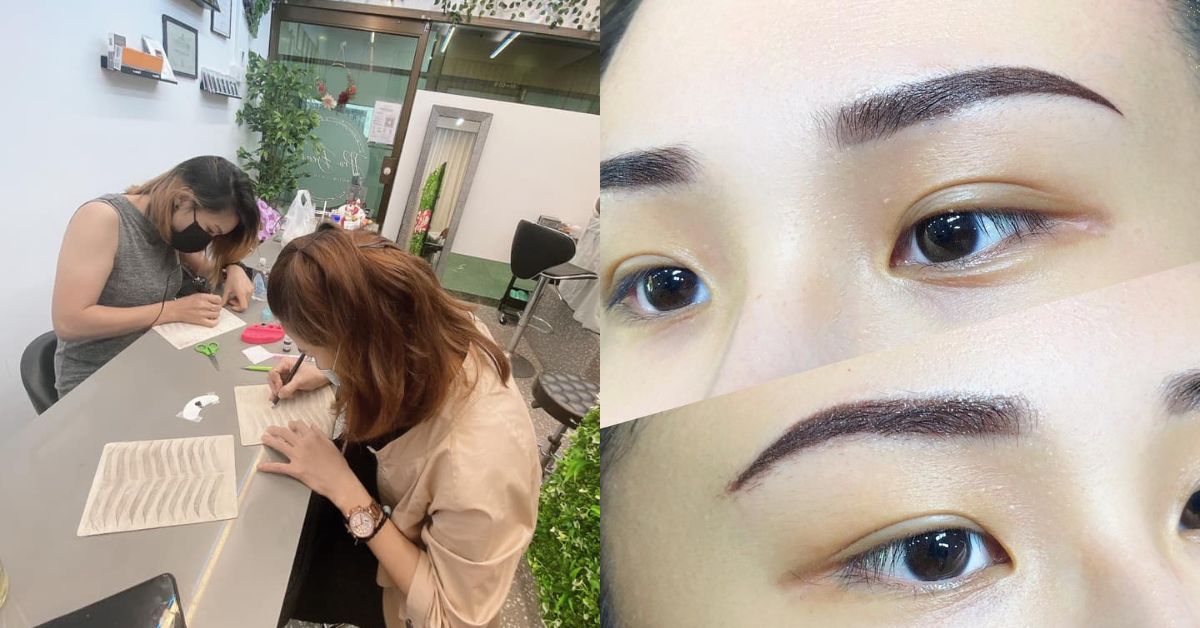 JPro Beauty started as a home-based salon providing eyelash extensions and eyebrow embroidery services. Due to their high popularity and expansion in client base, JPro Beauty is now a one-stop beauty salon offering beauty services which include manicures and pedicure services, brow and lash services, and more. Furthermore, JPro Beauty also offers their very own beauty courses. Courses offered include Classic and Russian Volume Eyelash Extension Courses, Microblading, Misty and Shading Eyebrow Embroidery Courses, as well as Basic Gellish Nail Courses. 
For more information, visit JPro Beauty's courses here.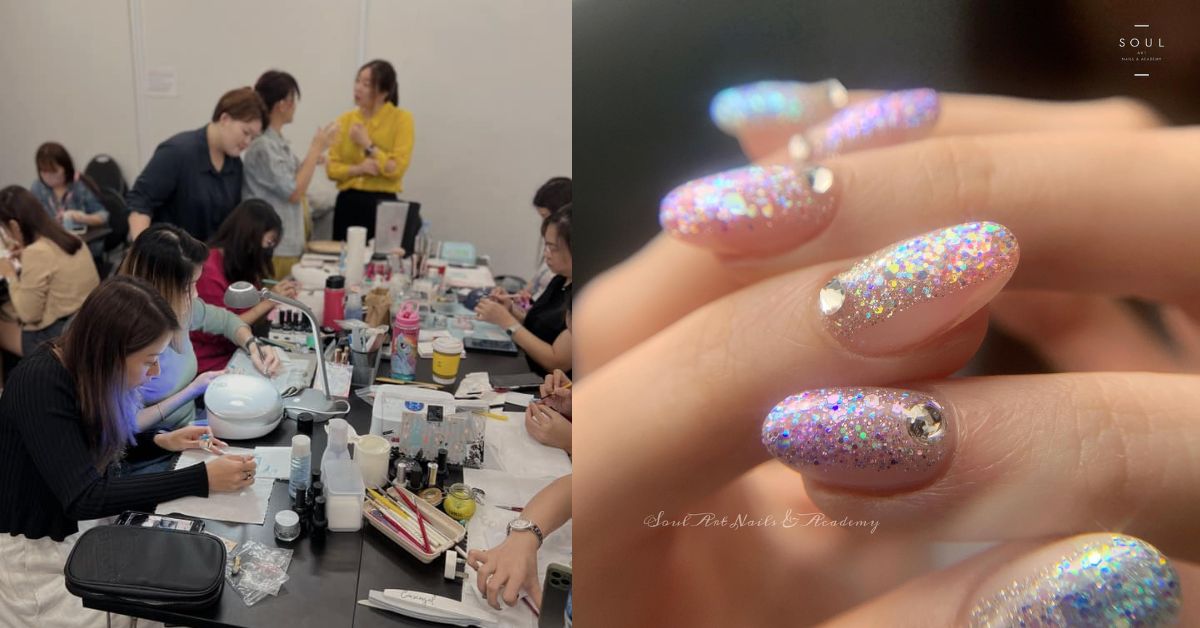 Soul Art Nails & Academy - Professional Nail Courses
If you are looking for courses specialising in nail art, check out Soul Art Nails & Academy. This nail salon and academy was founded by art director Yumi Lee who is an award-winning nail artist and educator since 2004. Located in Concorde Shopping Mall, Soul Art Nails & Academy houses a wide clientele over the years for their intricate nail designs and professional and friendly nail technicians. Kickstart your nail journey today with their Professional Basic Foundation Nail Course which includes basic foundation courses, gel application, e-filing courses, canoe tip extension courses and basic nail art design. 
For more information, visit Soul Art Nails & Academy's Facebook or Instagram page.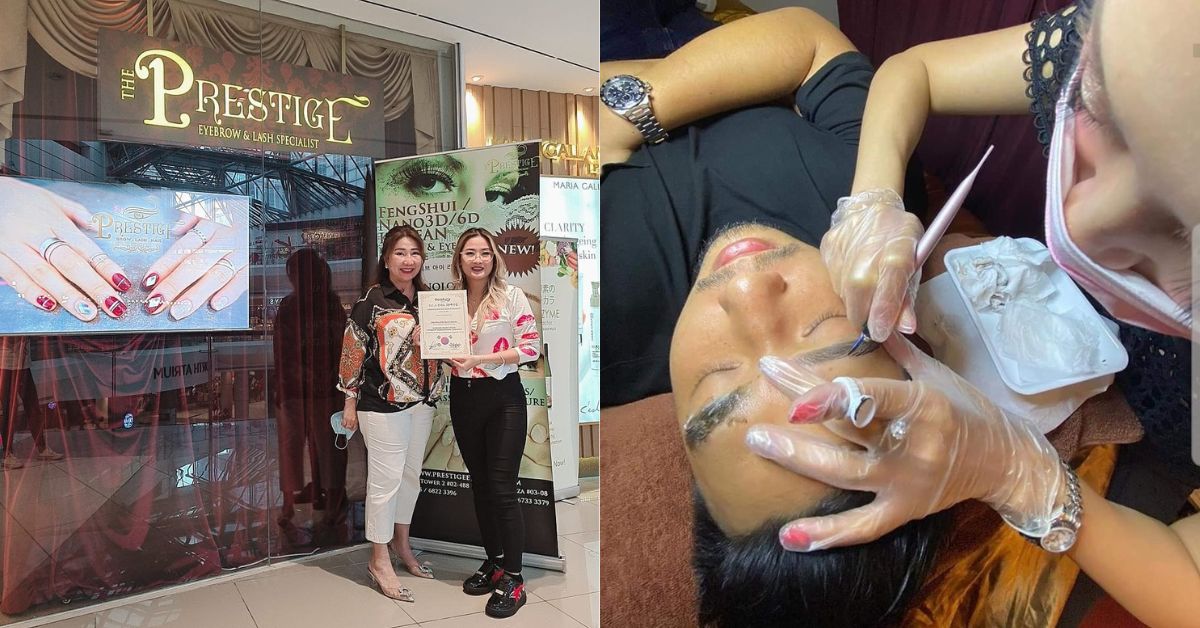 The Prestige Eyebrow is a beauty salon that offers a range of beauty services, including eyebrow embroidery and eyelash extensions. In addition to their beauty services, they also offer eyebrow embroidery, microblading enhancement and Japanese eyelash extension courses. Their eyebrow embroidery course uses the Korean Nano Tech method, which uses natural plant pigments and a silver needle to achieve a natural-looking, long-lasting effect that is highly sought after in the beauty industry. 
Furthermore, The Prestige Eyebrow has trained professionals and beauty industry leaders from various countries, which attests to the quality of their courses. The course covers a range of topics such as the latest embroidery techniques (3D to 6D nano brows, men's eyebrows), and comes with a full training kit. Upon completion of the course, students will receive a Korean S.E.A. Southern-East Asia Beauty Association Diploma Certification.
Visit here for more information on The Prestige Eyebrow's courses.