home & living
Best Air Purifier in Singapore For El Niño and the Looming Haze
Published Date
: 04 Sep 2023 10:00

Worried about the air quality dipping? These are the best air purifiers to get you through the upcoming El Niño and looming haze
Are you looking for the best air purifier in Singapore? Recent forecasts by the Singapore Institute of International Affairs have raised concerns about the likelihood of severe haze in the coming months. 
As Singapore braces itself for potential challenges posed by El Niño and the looming haze, the need to maintain indoor air quality has never been more important. 
El Nino and Haze, a climatic phenomenon characterized by the warming of sea surface temperatures in the Pacific Ocean, has a pronounced effect on Singapore's weather patterns. It often ushers in periods of extreme heat and drought. Coincidentally, these conditions create the ideal environment for the resurgence of haze, as drier weather and heightened fire risks become prevalent.
That's where air purifiers come in. Vital tools in safeguarding our living spaces against pollutants and allergens that can seep in from the outdoors, air purifiers offer reliable protection for your family and ensure a healthier environment for their well-being. 
What is an Air Purifier?
An air purifier is an appliance that filters indoor air to purify it thereby removing dust and pollutants. Air purifiers usually consist of a filter(s) and a fan that circulates air. The polluted air moves through the filter, and removes any particles, pushing back clean air into your space - and continues to do so, delivering better quality air into your home or work space. 
Air Purifier filters can be made of paper, fiber or mesh, and require regular replacement to maintain efficiency. Some air purifiers come with removable filters while others need a timely wash.
You will find that most modern air purifiers have a HEPA filter that can help capture pollutants, and even dust or pollen of all sizes in your home. Also called High Efficiency Particulate Air (HEPA) filters, these remove up to 99.97% of pollutants in the air. In order to remain completely effective, these HEPA filters need to be cleaned or replaced often.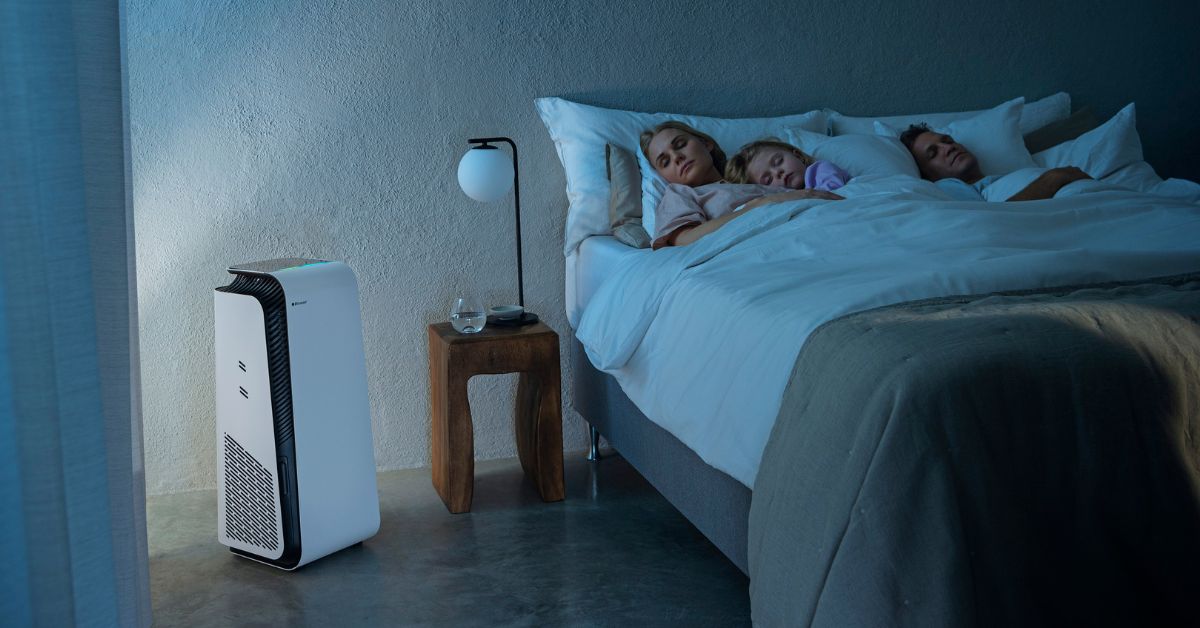 How can an Air Purifier in Singapore help with the haze? 
When it comes to protecting you from the haze, it is important that your air purifier is fitted with a HEPA filter. This is because the air pollutant of concern during haze is PM2.5, and it has a diameter of 2.5 micrometres or smaller - that is about 300 to 400 times smaller than human hair! HEPA filters can successfully filter these small particles and improve the quality of air in your home. 
You may be tempted to buy a small air purifier due to its price point and size, but another factor to consider is its clean air delivery rate or CADR. CADR measures the air purifier's effectiveness against the room space and volume of air that needs to be purified. CADR typically comes with 3 numbers, that highlight how well the purifier performs against dust, pollen and smoke - the smoke CADR is most relevant for haze particles. 
As per the NEA, the smoke CADR should be a number at least 3 times the volume of the room in cubic metres, or 1/12 times the volume of the room in cubic feet. A higher CADR number means the faster your air purifier will clean a closed room.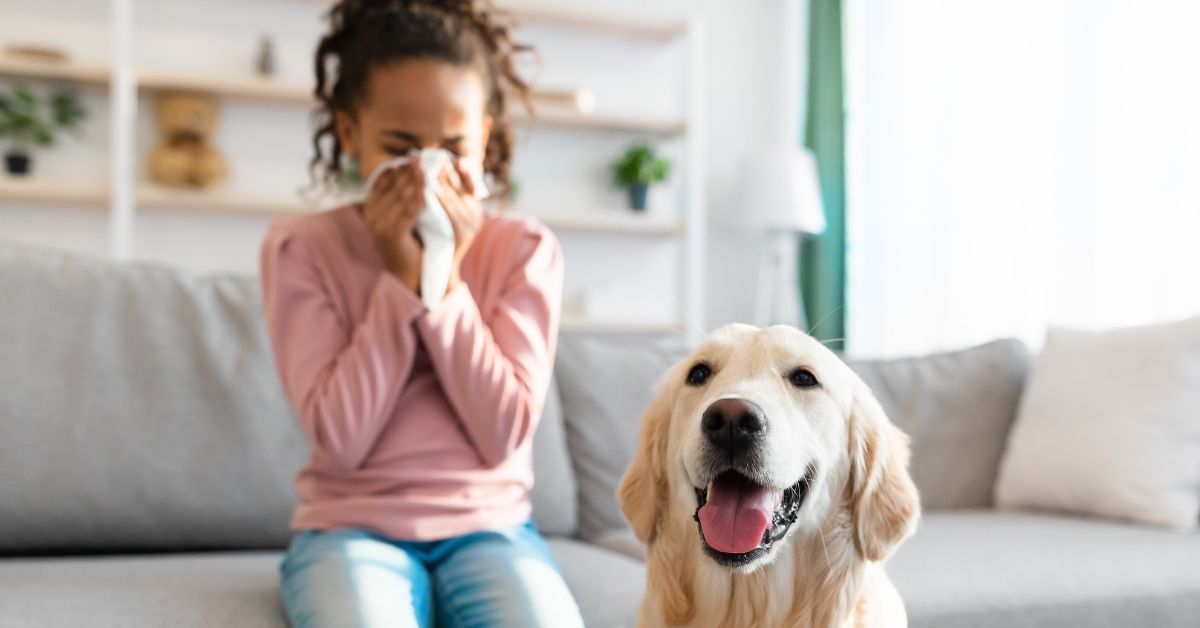 What are the other uses of an Air Purifier in Singapore?
The air outdoors can contain pollution, but your indoor living area can also harbour a substantial amount of allergens, pollutants and viruses. Singapore's humidity also encourages the growth of allergens like dust mites and mould. Air Purifiers can help filter out these pollutants and also benefit those with allergies or asthma symptoms. Struggling with pet dander at home? Contrary to popular belief, allergies from pets are triggered by pet dander(skin particles found in pet saliva and urine) and not their hair. Amongst other measures like giving your pet a bath often, and airing your spaces, a high-quality air purifier can also keep this dander at bay.
Best Air Purifiers in Singapore For El Niño and the Looming Haze
Amongst the daunting collection of air purifiers in Singapore, which one should you buy? Today, we take you through the best air purifiers available in Singapore so you can make a wise investment in your family's health and well-being. 
Choose well, and you can enjoy better-quality air for years to come.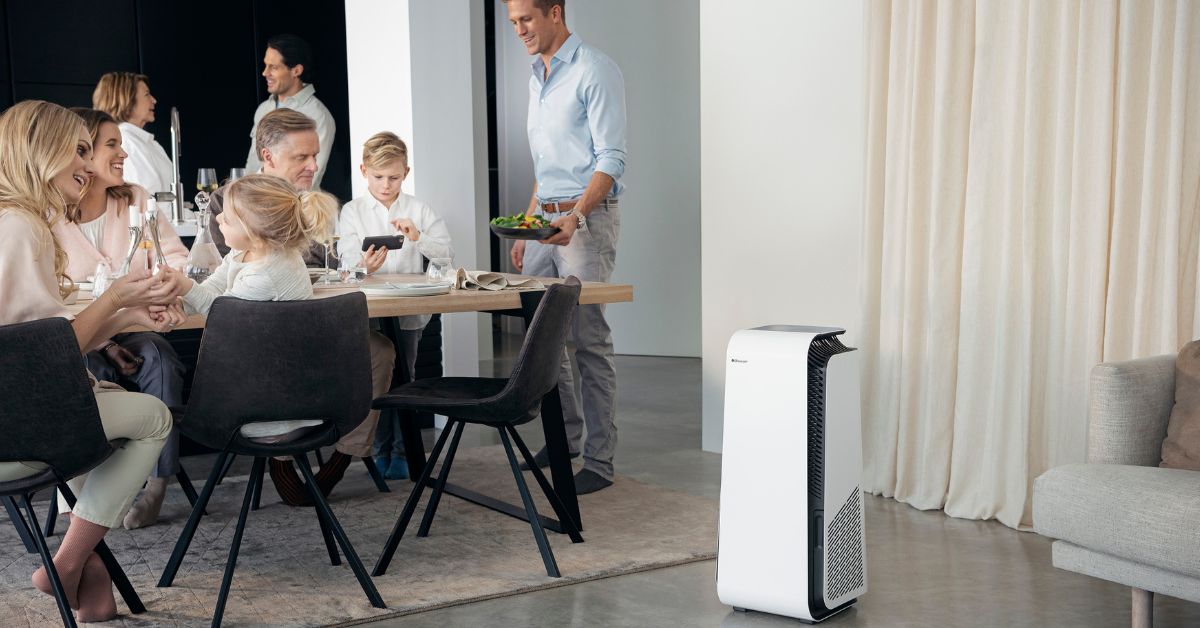 Singapore often faces a formidable environmental challenge: the return of the haze. As Singapore anticipates the possibility of a resurgence of haze, compounded by the threat of scorching heat due to El Nino, the latest Blueair HealthProtect 7470i offers a robust defence against these twin adversaries.
At the core of the HealthProtect 7470i is Blueair's HEPASilent Ultra™ technology, a revolutionary combination of mechanical and electrostatic filtration. It ensures that even the tiniest of particles, including those found in haze, are effectively captured, leaving you with air that's 99.99% and down to 0.1-micron pollutant-free.
Unlike other air purifiers that only push clean air to a small part of the room, its patent-pending SpiralAir™ outlets are uniquely engineered to deliver 360°, omnidirectional airflow - quickly circulating more clean air to every corner of the room - so you breathe clean air wherever you are. Its impressive Clean Air Delivery Rate (CADR) of 455 m³/h covers large spaces of 38m2 based on 5 ACH (Air Change Per Hour) and can quickly clear haze and other pollutants. 
Furthermore, the SmartFilter is a cutting-edge air filtration technology designed for optimal performance. Comprising an easy-to-replace particle filter layer and an active carbon filter layer, it efficiently eliminates gases, odours, smoke, VOCs, exhaust, smog, and chemicals from the air. 
What sets this SmartFilter apart is its intelligent RFID chip that keeps track of usage and communicates with the Blueair app, notifying you when it's time for a replacement. With a maximum lifespan of up to 1 year, you can trust that your indoor air quality remains consistently high.   
For larger rooms or different room sizes, you may also want to consider other members of the HealthProtect family, such as the 7340i and 7770i. 
Invest in a Blueair air purifier and reclaim your sanctuary of pure, clean air today!
Blueair. Brought to you by VISO Pte Ltd, the exclusive distributor of Blueair in Singapore.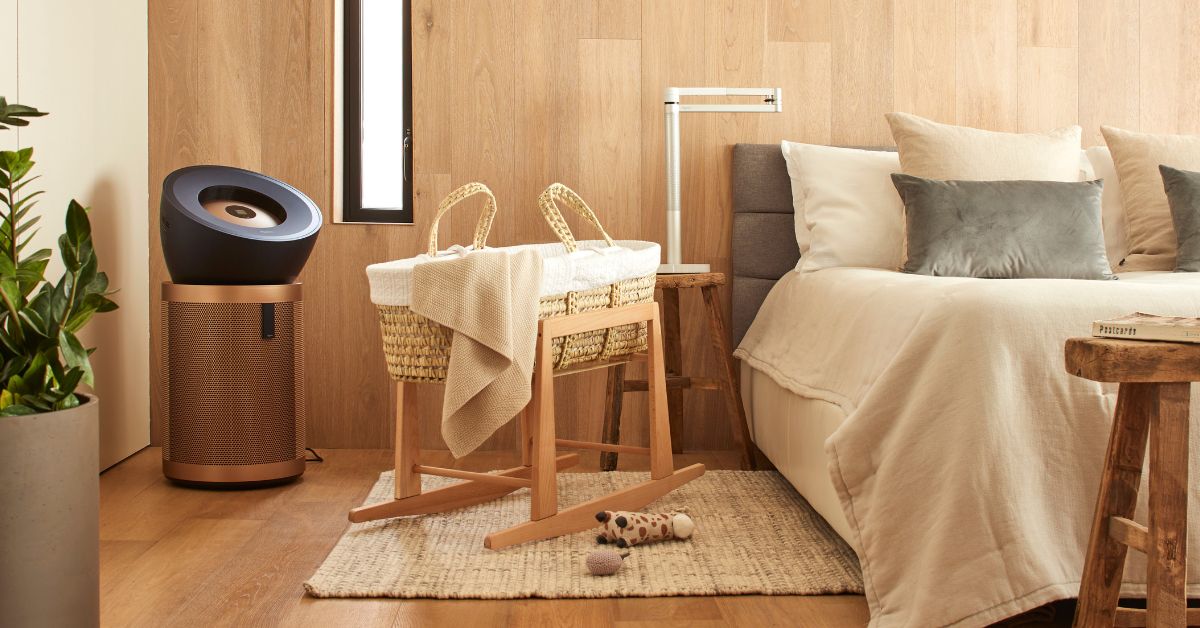 Aside from its good looks - and it's definitely the most stylish-looking air purifier we've seen, Dyson's latest purifier is equipped with upgraded filtration, and delivers double the airflow compared to previous Dyson air purifiers. Want more? The Dyson Purifier Big+Quiet Formaldehyde is Dyson's quietest and most powerful air purifier yet!
Designed for large homes, you can rely on it to purify over 10 metres of space, and capture dust, allergens and 99.5% of ultrafine particles as small as PM0.1. An improved three-phase filtration system means it removes 3x more NO2 compared to previous Dyson carbon filters and permanently destroys formaldehyde. Furthermore, the HEPA filters come with a long five-year life. 
Conventional large-format purifiers typically diffuse air upwards causing a weak airflow problem for large rooms. Dyson's new air purifier uses Cone Aerodynamics to merge two streams of air over a smooth surface, resulting in a powerful and condensed jet of air that can be projected of up to 10 meters, and with minimal noise. 
True-to-Dyson, its sleek design allows for easy manoeuvrability - the wheels(hidden) are made for hard surfaces while the included remote helps you adjust and tailor the device to your liking, even from a distance. 
An LCD screen reports indoor air quality in real-time and constantly monitors relative humidity, temperature, and pollutant levels in the room. Or simply download the MyDyson app to give yourself autonomy over your air quality, set schedules, and browse reports. 
Worried that you may have impulsively purchased the product? Dyson has a free 14-day return policy with a money-back guarantee! There is even a 4-month 0% interest instalment plan available with Grab PayLater for those of you who can't commit to the purchase all at once. 
The Dyson Purifier Big+Quiet Formaldehyde comes in two different colour ways: Satin Dark Blue/Gold (S$1,399) and Bright nickel/Prussian blue (S$1,299).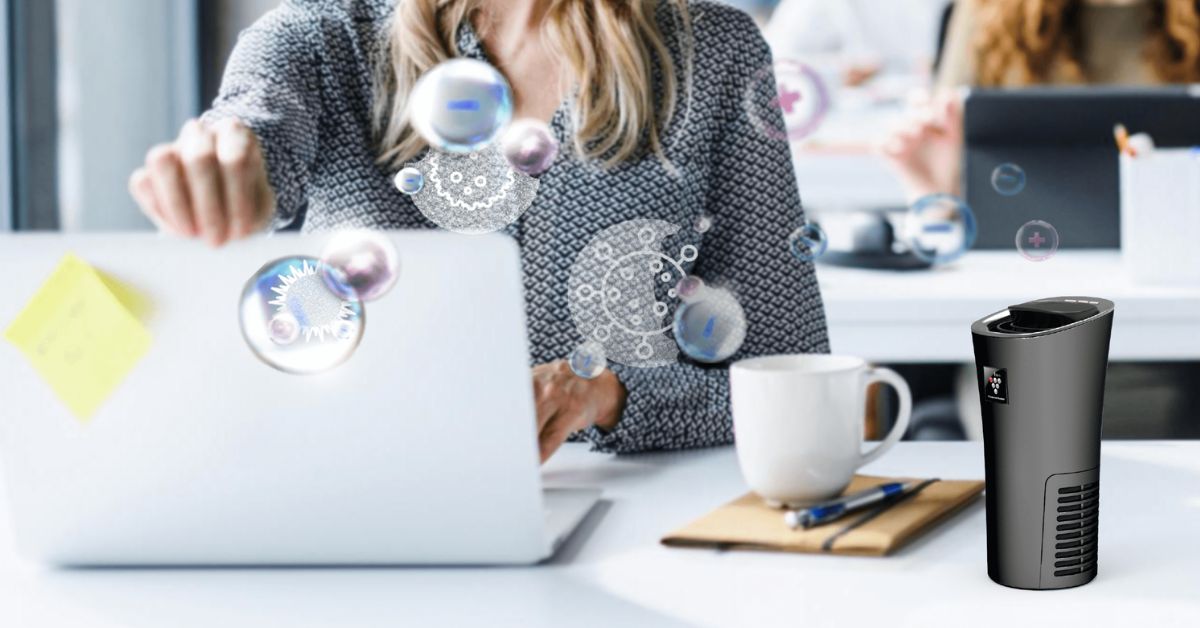 Other than your homes, consider buying an air purifier for your car as well. The SHARP 3.6m² Car Ion Generator IG-NX2E-B is designed with advanced air purification technology to provide you with unparalleled comfort and clean air within your vehicle or personal space. Equipped with Plasmacluster ion density of 50,000 and a Quick Clean mode specially crafted to swiftly eliminate odours and unpleasant smells, this innovative device boasts a Pm10 dust catcher filter for thorough purification. Small yet powerful, SHARP's renowned Plasmacluster Ion Technology is at the heart of this purifier, offering a natural and effective solution to airborne mould and viruses.
The Turbo Plus mode works wonders, suppressing viruses at a distance of 50cm from the air outlet, ensuring healthier surroundings after just 10 hours. And don't worry about power – the included USB cable and 2-port USB car adapter ensure uninterrupted usage and even smartphone charging. For a larger air purifier to be placed in your living spaces, the 16 Inch PCI Fan PJ-H16DE-W also comes with the Plasmacluster Ion Technology with an ion density of 7000. Along with 8 fan speed levels and a timer, you can easily customise your preferred settings.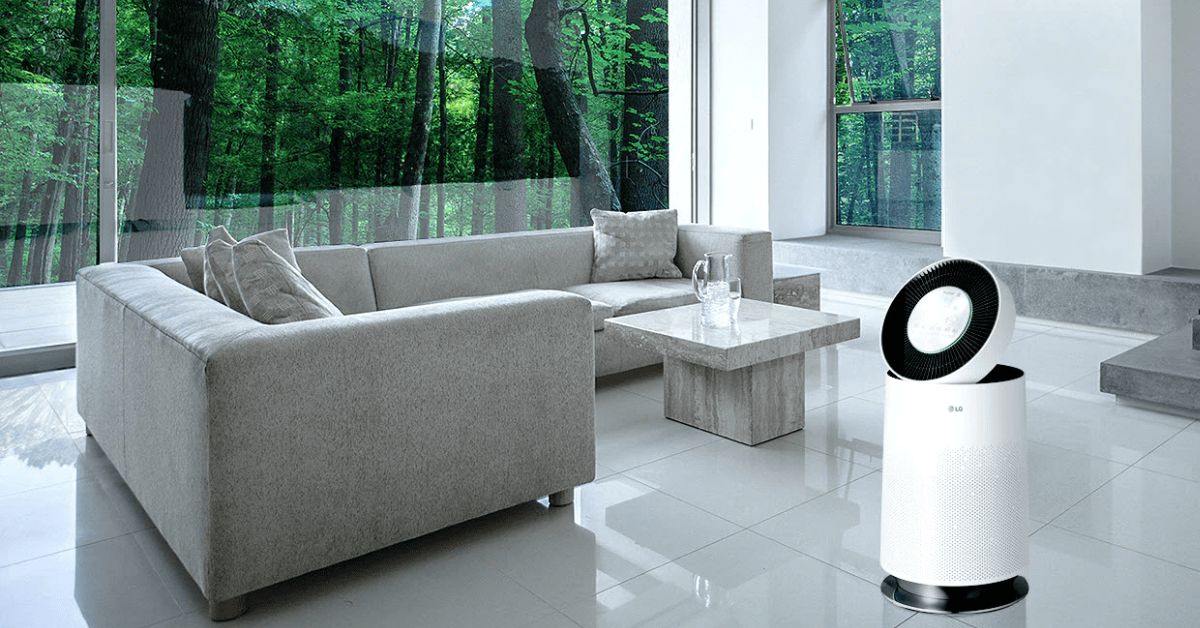 Elevate your indoor air quality to the next level with the LG PuriCare™ Air Purifier(HEPA). Encompassing an array of cutting-edge features, this purifier is your ultimate provider of clean and fresh air. Harnessing the power of 360º purification, it ensures that every nook and cranny of your living space benefits from its prowess. The meticulously designed 360 Degree Direct Fan guarantees powerful air purification by minimising air resistance while the proprietary Clean Booster extends its reach up to an impressive 7.5 meters, delivering fresh air with unparalleled efficiency.
Dive into a realm of advanced purification with the Multi-Filtration System and Ionizer, specially designed to capture and neutralise unwanted particles, from bacteria and viruses to dust and allergens. The Safe Plus Filter goes the extra mile, eradicating up to 99.9% of bacteria and viruses, providing an environment that's as safe as it is fresh. You can also keep a close eye on your air quality with the Smart Sensor & Indicator, a real-time visual representation of your indoor air purity. Designed with your little ones in mind, the LG PuriCare™ brings pure air to the ground level, ensuring that the air they breathe is pristine. With the convenience of Auto Mode, let the purifier adapt to your surroundings seamlessly, ensuring optimal air quality without you lifting a finger.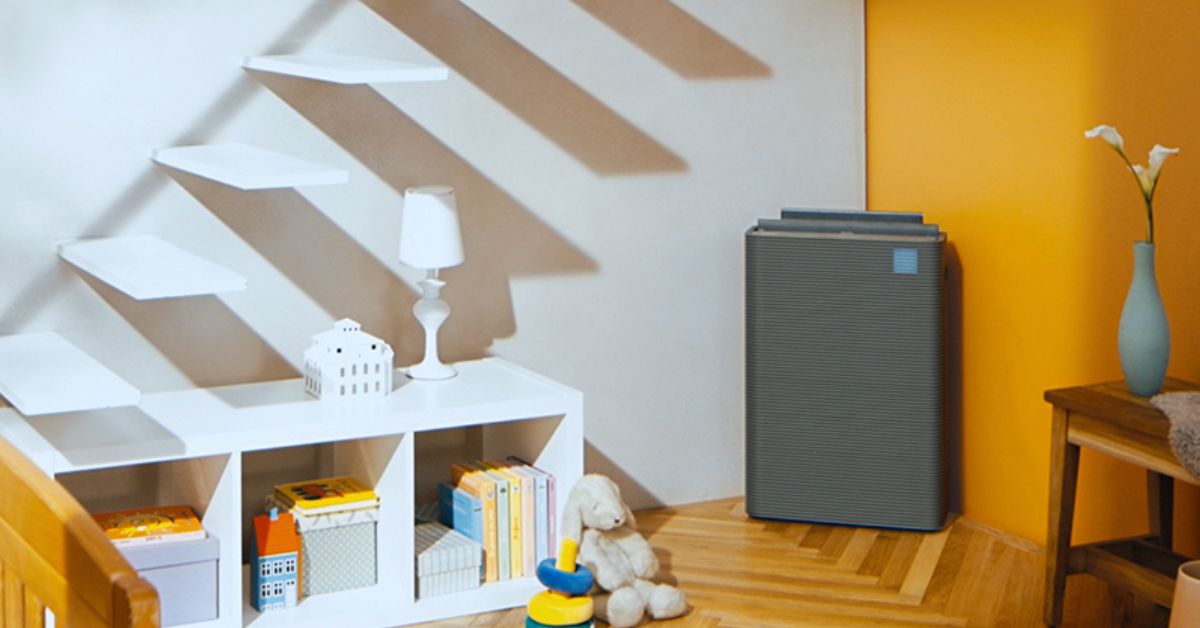 Awarded the "iF Design Award 2020, Gold Award" in Berlin, Germany, in February 2020, Hitachi's Made in Japan Air purifier models are as aesthetically pleasing as they are powerful in purifying the surrounding air. Take the EP-PF120J (S$1,199) which boasts an unmatched blend of style and functionality. Hitachi's original air pathway design and ultra-efficient fan motor collaborate harmoniously to achieve an astonishingly high air delivery rate, covering an expansive 84m2 floor space. Utilising the capabilities of state-of-the-art technology, the Antimicrobial Allergen-free HEPA Filter serves as your companion on the journey towards pristine and revitalising air. Exhibiting exceptional efficiency, it seizes an astounding 99.97% of fine particles at 0.3μm and an impressive 90% of ultrafine particles, measuring a mere 0.02μm3. This signifies that allergens, airborne bacteria, and mould are effectively thwarted, creating an environment that's rejuvenated and infused with a refreshing aroma.
Hitachi's commitment to excellence is exemplified through its innovative features, such as the Massive Air Volume of 12m3/min, ensuring that every corner of your space benefits from purified air. The powerful air delivery technology is driven by an ultra-efficient fan motor and precision air pathway design – creating an atmosphere of purity and comfort, complemented by stylish auto louvres that distribute purified air throughout the room.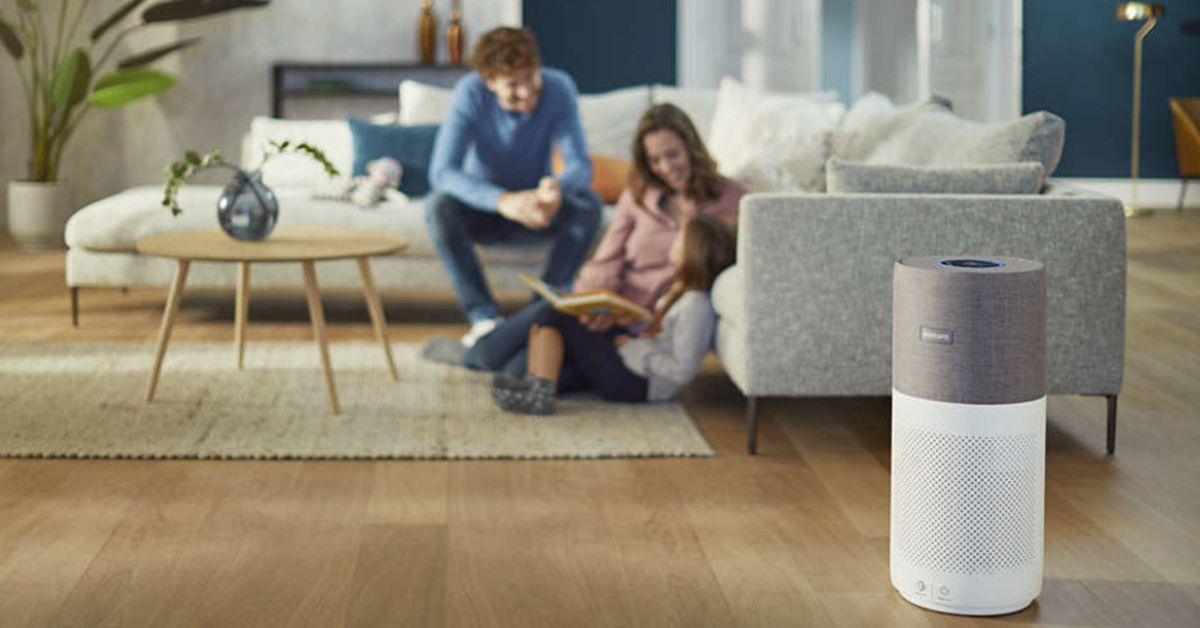 Promising you cleaner air for a happy, healthier home, Philips's air purifiers are of top-notch quality and help effectively remove viruses, allergens, aerosols and pollutants in your home to instantly deliver cleaner, healthier air to your family. The Air Performer 7000 series presents the ultimate 2-in-1 Air Purifier and Fan(S$639), the AMF765/30, delivering a smart and versatile solution to your air purification needs. Seamlessly balancing thorough air cleansing and cooling capabilities, this intelligent device removes an impressive 99.97% of unseen particles while adapting its performance to your preferences. Experience the luxury of pure and fresh air throughout the year, perfectly tailored to your environment. For spacious rooms up to 70 m2, the Air Performer employs a robust CADR (Clean Air Delivery Rate) of 270 m3/h(1), effectively eradicating bacteria, viruses, pollen, dust, pet dander, mould spores, and more, safeguarding your surroundings. Philips' exclusive NanoProtect HEPA filtration, combined with active carbon and pre-filter, ensures an unparalleled removal of particles as small as 0.003 microns, outperforming traditional HEPA H13 filtration.
The 3000i Series presents an equally exceptional air purification solution for XL rooms up to 135 m². Achieving a remarkable 520 m³/h clean air rate (CADR), it combines HEPA and Active Carbon filtration to remove 99.9% of viruses, allergens, and pollutants, creating a healthier environment. With the Philips Air+ app, your air quality is effortlessly monitored and optimised. Featuring Self-Adaptive Technology powered by Artificial Intelligence, this intelligent system reacts to various factors such as room size, outdoor data, and behavioural patterns, ensuring optimal performance while maintaining minimal noise and energy levels.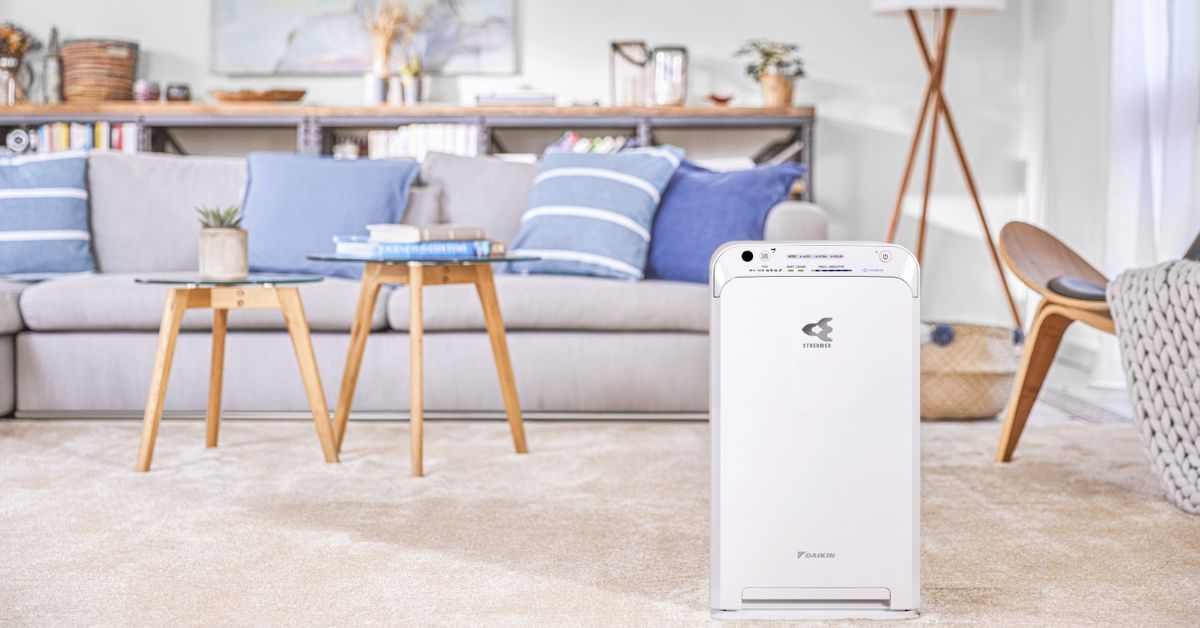 Experience the epitome of safety and comfort with Daikin's Streamer Air Purifier, a proven solution that eliminates up to 99.9% of influenza viruses, bacteria, allergens, and pollen, ensuring a haven for you and your family. Designed to provide peace of mind, this air purifier guarantees worry-free moments spent with your loved ones. Addressing the pressing concern of haze, caused by airborne pollutants that endanger both visibility and health, the Daikin Streamer Air Purifier incorporates specialised features to combat this issue, creating a secure and cosy environment for you and your family.
The Daikin Streamer Air Purifier MC30YVM7 (S$408) encompasses an array of remarkable features, from a 10-year Electrostatic HEPA filter lifespan to its powerful three-directional suction that maximizes air purification. Its tower design optimizes air intake, and its compact dimensions belie its impressive power. Operating with a soothing quietness, thanks to the fan's strategic positioning below the filters, it even incorporates a child lock to prevent unintended operation by young ones. Daikin's patented Streamer technology takes centre stage in the air purifier – effectively decomposing harmful substances, such as viruses, bacteria, allergens, and odours. This technology preserves the cleanliness of filters and water tanks, preventing mould and bacterial growth, and thus reducing the frequency of filter replacements.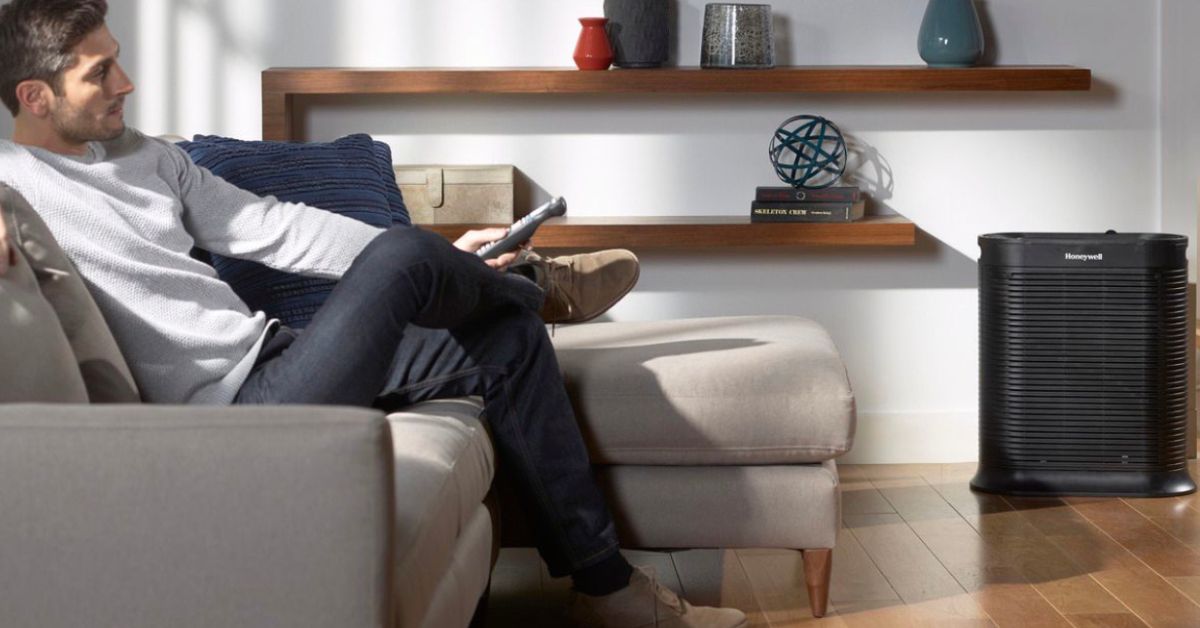 Find the right air purifier for every space with Honeywell's advanced range of air purifiers. The Honeywell True HEPA Air Purifier Allergen Plus Series(S$269.95) is a revelation for extra-large rooms. Engineered to perfection, it captures up to 99.97% of microscopic airborne allergens and particles, including dust, pollen, pet dander, dust mite debris, and smoke. Its activated carbon pre-filter effectively seizes larger airborne particles while combating odours and VOCs. With AHAM verification and the capability to circulate and filter room air up to 4.8 times per hour in a 465 sq. ft. space, it ensures optimal air quality. The user-friendly touch controls offer three cleaning levels along with a Turbo Setting, providing an ideal solution for allergies. The Honeywell HPA300 Air Purifier carries the ENERGY STAR label, symbolising its adherence to energy-efficient guidelines.
For a portable option, the Honeywell Enviracaire Portable True HEPA Air Purifier (S$299.95) in White is a marvel that delivers exceptional air purification for large rooms. Equipped with True HEPA filtration, it captures up to 99.97% of microscopic airborne particles, including dust, pollen, pet dander, and smoke. Designed with SurroundSeal Technology and a patented 360° air intake, it maximises efficiency by minimising air leaks and ensuring thorough filtration. The electronic filter indicator reminds you to clean the HEPA filter and replace the pre-filter, making maintenance hassle-free. With AHAM verification for rooms up to 390 sq. ft., this air purifier guarantees an amazing 4.8 air changes per hour.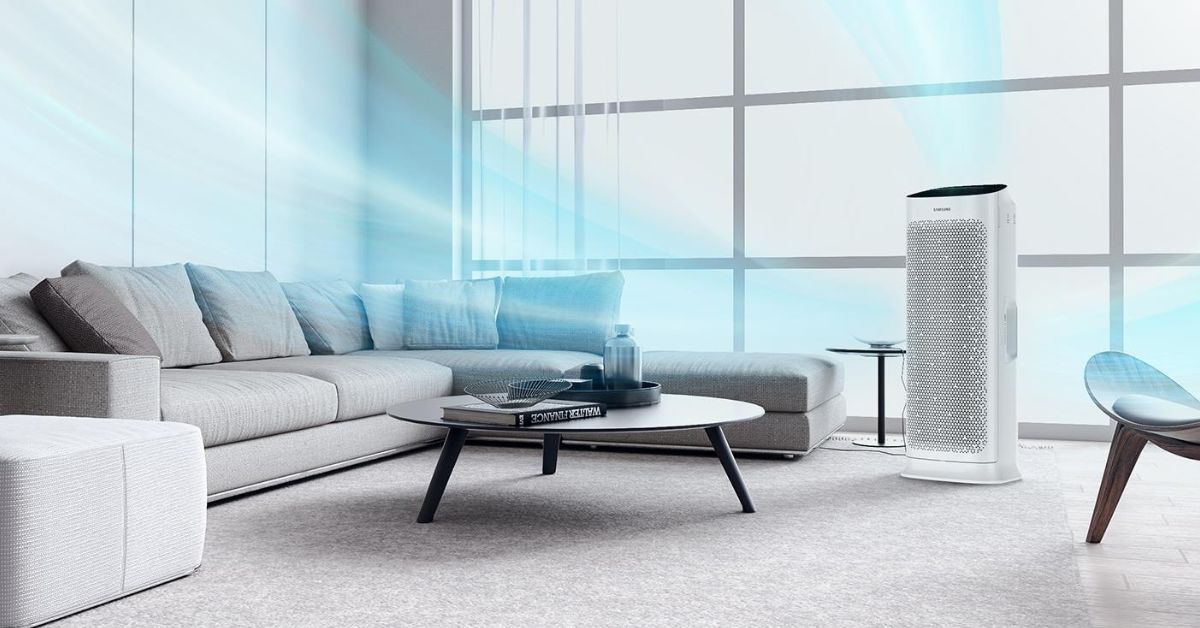 Designed to provide you with a safer and purer environment, the Samsung air purifiers are a great addition to your spaces – especially during these hazy periods. The intelligent Samsung 90m² Smart Air Purifier (S$659.01) boasts of a cutting-edge solution that harnesses a Multi-Layered Purification System, starting with the extraction of larger dust particles, followed by an Activated Carbon Deodorization Filter that eliminates harmful gases, and culminating in an ultrafine dust filter that captures up to 99.97% of ultrafine dust and inhibits bacteria. This three-filter approach ensures comprehensive air purification and safety. The 3 Way Air Flow design guarantees swift and powerful purification in all directions, effectively cleansing large spaces with a CADR of 701 cu. meters per hour. Effortlessly manage your air quality through the Wi-Fi Control provided by the SmartThings App, facilitating remote monitoring and adjustments. 
Whether you're activating or deactivating the purifier or assessing air pollution levels, you have the ability to operate these functions with ease using uncomplicated touches or voice commands. The Auto Mode adapts power and fan speed according to real-time air pollution data, fostering efficiency and conserving energy. In the meantime, the Sleep Mode guarantees tranquil slumber with a gentler and quieter airflow.Furthermore, the Samsung Smart Air Purifier showcases a sleek design that optimises space utilisation while simplifying the upkeep of filters. Its user-friendly attributes encompass a Filter Change Alarm that signals when a filter replacement is necessary, a Timer for scheduling power on/off cycles, and a Child Lock to prevent unintended adjustments.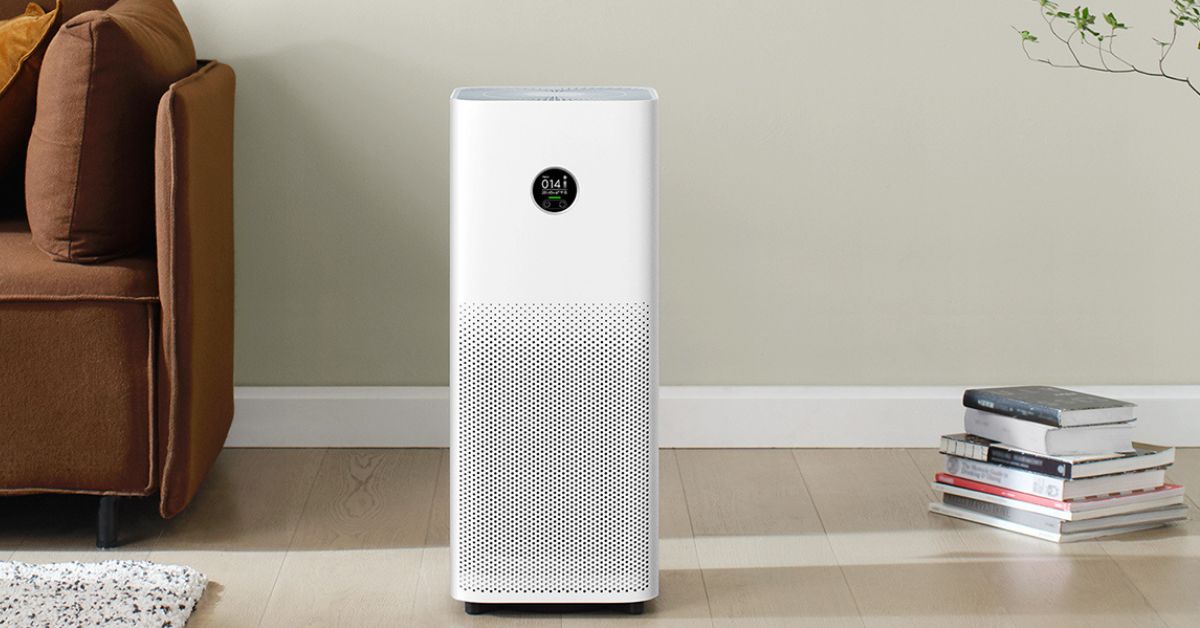 Introducing the Xiaomi Smart Air Purifier 4, this air purifier is your gateway to clean and healthy air. Experience the transformation as it purifies a spacious 20m² room in approximately 10 minutes, operating at an impressively low 32.1dB(A) noise level*. With its advanced filtration system and innovative features, this air purifier takes your indoor air quality to new heights. Benefit from an expansive effective coverage area of 28-48m², ensuring that every corner of your space is purified with exceptional efficiency. The three-in-one filtration process eliminates up to 99.97% of 0.3μm particles, capturing dust, pollen, pet dander, smoke, and more, offering all-day protection for individuals prone to allergies and respiratory issues. Certified by TÜV Rheinland for Allergy Care, the Xiaomi Smart Air Purifier 4 is specifically designed to filter allergens, providing peace of mind to allergy sufferers and pet owners.
Combatting airborne bacteria is a forte of this purifier, effectively reducing harmful microorganisms. The inclusion of high-quality activated carbon means you'll enjoy a continuous flow of fresh air as odours and VOCs are eliminated. Furthermore, the negative air ionization feature releases refreshing ions, enhancing your living environment's ambience. Simplify your life with a long-lasting filter that only needs replacement every 6-12 months, backed by the convenience of One-touch Auto Mode for hands-free purification. Real-time monitoring and adjustments are at your fingertips through the OLED display, and with voice-control support for Alexa, managing your purifier has never been more convenient. Engage Night Mode for a serene sleep environment, and revel in the portability and efficiency of Xiaomi's High-Efficiency Filter.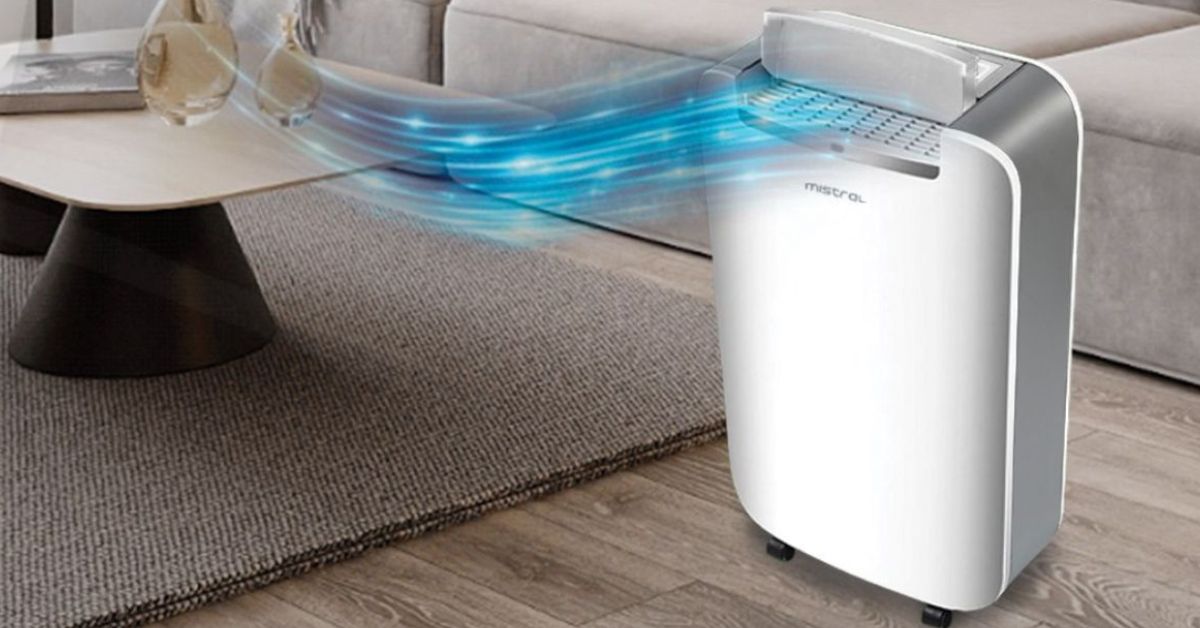 Discover the innovative air purification solutions by Mistral. The Air Purifier with HEPA Filter, model MAPF03 (S$148), presents a sophisticated blend of technology and convenience to enrich your living spaces. Equipped with sensor touch buttons and an LED display showcasing temperature and humidity percentages, it ensures effortless control. The air quality indicator offers real-time insights, while the UV triple-effect sterilization guarantees a refreshing environment. With three distinct modes—auto, turbo, and sleep—this purifier caters to your needs: day and night. The sleek desktop design effortlessly complements smaller rooms and office spaces, making it a perfect addition to your lifestyle. The HEPA filter, pre-filter, and activated carbon work in harmony to purify the air, and the filter lifespan tracker ensures optimal performance.
For a more elevated experience, opt for the Noir by Mistral Air Purifier with Remote Control (S$369). Designed to harmonize wellness with fragrance, it comes with a free 10ml bottle of Mistral x Hyuuga essential oil blend, valued at $69. This purifier is your ultimate companion for creating an inviting atmosphere infused with your favourite scents. By incorporating essential oils, you can enjoy benefits such as respiratory support, aromatherapy, air freshening, and emotional well-being. The sensor touch buttons, LED display, and aroma diffuser attachment add a touch of modernity, while the triple-layer medical filter and UV sterilization ensure exceptional air quality. With up to 8 hours of timer setting and a filter lifespan tracker, the noir by Mistral Air Purifier offers a holistic approach to enhancing your space. Elevate your surroundings with both purity and the power of essential oils, perfectly encapsulated in Mistral's exceptional purifiers.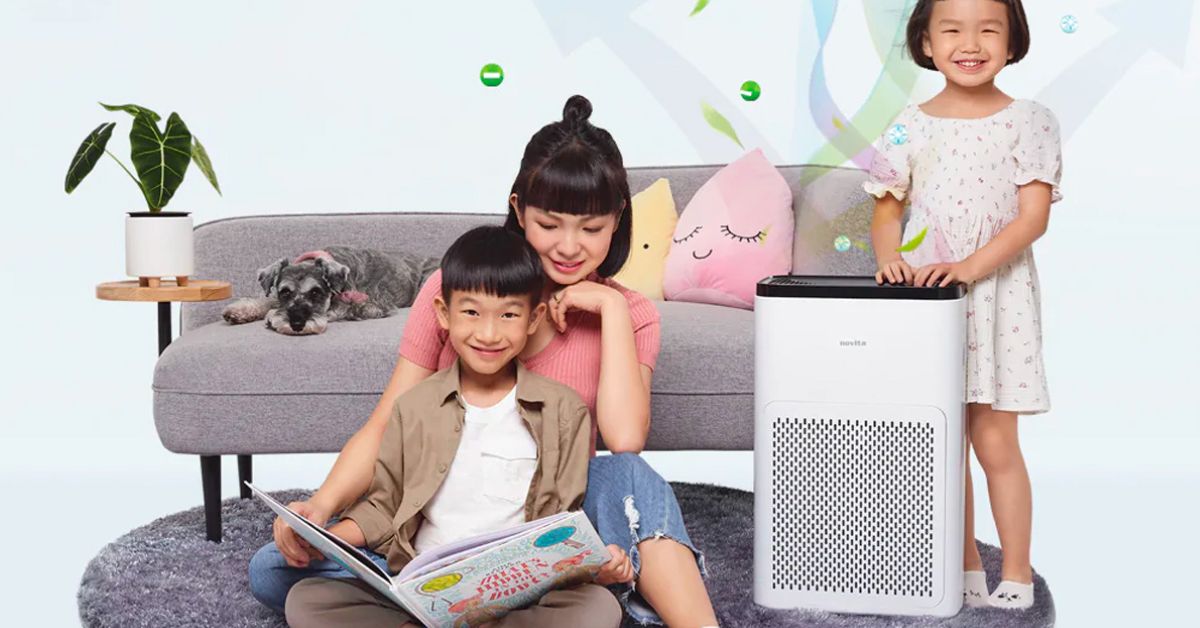 Improve your indoor air quality with Novita's exceptional air purifiers. The PuriClean™ Air Purifier A5 (S$228, U.P.S$328) stands as a testament to purity and well-being, recognising the significance of air in our lives. With pollutants posing a threat to our health, Novita's air purifier ensures protection for all, particularly children, seniors, and those with respiratory concerns. It features the H13 PuriPRO® filtration system and an integrated ioniser releasing over 20 million/cm³ of negative ions. A DC Brushless Motor System propels its exceptional performance, coupled with an AHAM Smoke CADR rating of 272.6 m³/hr. Practical features like the PM2.5 sensor and display and smart auto mode optimise your air quality seamlessly. With a compact design and energy efficiency, the A5 is an essential addition to your environment.
The PuriPRO® Air Purifier A5 is a compact yet powerful solution to polluted air. Designed to encompass both form and function, this air purifier harnesses the power of the HEPA H13 PuriPRO® filtration system and a semi-permanent ioniser to combat allergens and germs. Powered by a DC Brushless Motor System, the A5 boasts a remarkable air flow rate of 400 m³/hr, effectively covering areas of up to 861 ft². The filtration system includes a granular activated carbon filter, a cool catalyst filter, and an H13 HEPA filter, ensuring comprehensive purification. The built-in ioniser releases millions of negative ions to enhance air quality. Count on Novita's air purifiers to revolutionise your breathing experience and ensure a healthier, safer environment for you and your loved ones.